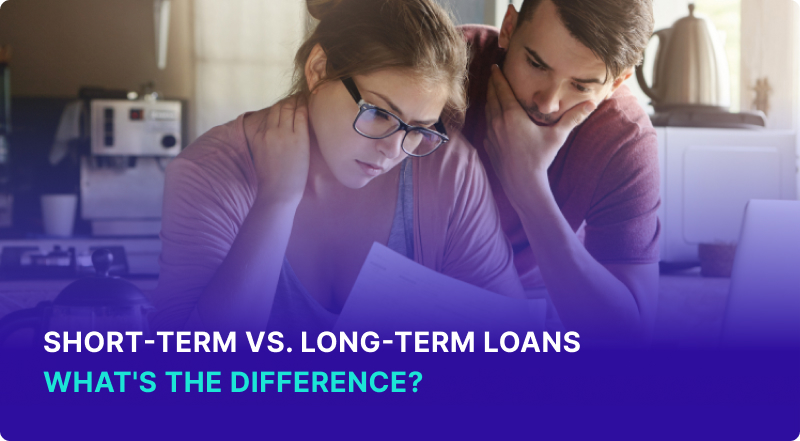 All content presented here and elsewhere is solely intended for informational purposes only. The reader is required to seek professional counsel before beginning any legal or financial endeavor.
Long-term loans have lower monthly payments but typically have higher overall costs. They're good for larger investments in growth. Short-term loans have much higher monthly payments and may have higher fees. They're best for handling unexpected situations.
Key Points:

Don't borrow unnecessarily – debt means paying interest, which is an expense your company might be able to avoid
However, don't fear debt – businesses that don't borrow when they should grow much more slowly than they otherwise could
What is a short-term loan?
A short-term loan is a loan that has a relatively short repayment period. Typically, you'll be expected to pay the loan back in one year or less.
These loans typically have much higher monthly payments than long-term loans. They can also carry very high fees. Payday loans are a well-known example of short-term loans with predatory rates and fees.
Before applying for a short-term loan, it's important to do your due diligence, look at your options, and try to find the lender that charges the lowest fees and interest rates.
What are short-term loans used for?
Short-term loans can be useful in a few different scenarios. However, the unifying factor is that they all require short-term infusions of cash.
For example, if you have an unexpected expense, like a medical bill or car repair, a short-term loan can help you cover it. It is also possible to take out short term business loans to cover company expenses.
Any scenario where you need a small amount of cash quickly and expect to be able to pay it back quickly is a reasonable time to consider a short-term loan.
Pros and cons of short-term loans
Short-term loans are useful tools, but there are drawbacks to consider.
Advantages of short-term loans
You can access cash quickly. Some short-term loans can be funded the same day you apply for them, making them some of the quickest ways to borrow money.
There are plenty of borrowing options. Short-term loans come in many forms, including credit cards and personal loans. You shouldn't have trouble finding a lender to work with.
They don't tie you into repayments for several years. Assuming you can repay the loan when it comes due, you'll be done with the loan quickly and won't have to worry about years of monthly payments.
Disadvantages of short-term loans
They charge higher interest rates than standard loans. Many short-term loans charge much higher interest rates than long-term ones, making them an expensive source of cash.
They may carry fees and charges. Origination fees and other charges can drive up the cost of these loans, even if you repay them quickly.
There will be a limit to the amount you can borrow. Short-term loans can have very strict limits on how much you can borrow, so they're best for small financial needs.
They can lead to further debt problems if you miss repayment deadlines. Some short-term loans can be very expensive, making it easy to be unable to repay them. You may have to roll your balance into a second, equally expensive loan that causes you to fall into a spiral of debt.
What is a long-term loan?
Long term loans are what most people think about when they think about borrowing money. They let your borrow money for a set period, typically measured in years. You can get these loans from banks, credit unions, and specialized lenders.
In general, the better your credit history and income, the less expensive these loans will be.
Types of long-term loan
There are many types of loan-term loans, including:
Personal loan. Personal loans are flexible loans that you can use for almost any purpose. Typically, you repay them over a period of 3 to 7 years.
Peer-to-peer loan.

Peer-to-peer loans

are very similar to personal loans. However, these loans come from other individuals or groups of individuals rather than a bank.
Secured loans/mortgages. Secured loans are

loans that are backed by a collateral asset

. For example, mortgages are backed by homes, and auto loans are backed by cars. These typically have the

lowest interest rates

and the longest terms.
Pros and cons of long-term loans
There are many pros and cons to long-term loans.
Advantages of long-term loans
You can borrow more than short-term loans. Long-term loans have much higher borrowing limits. Some personal lenders will let you borrow $100,000 or more and mortgages can easily reach $1 million or more so long as you have the income to cover the payments.
Interest rates will usually be lower than for a short-term loan. Long-term loans, especially secured loans, often have much lower interest rates.
You can choose from many providers. There are many different lenders on the market, making it easy to compare offers and find one that fits your needs.
There are personal loans available to most types of credit profiles. If you need a personal loan, there are companies specializing in all types of borrowers, from those with excellent credit to those with

damaged credit

or no credit at all.
Disadvantages to long-term loans
You are committed to the debt for a longer period of time. Long-term loans mean long-term commitments. You might be making monthly payments for decades.
Extending debt terms will increase the overall amount you have to repay. Long-term loans leave much more time for interest to accrue on the loan, so you can expect to pay much more than you borrowed.
They may carry fees and charges. Long-term loans can carry many fees, like origination fees or underwriting fees, that increase their cost.
What are the differences between short-term and long-term loans?
The following table outlines some key small business loan terms for short-term and long-term loans:
| | | |
| --- | --- | --- |
| Factors | Long-term loan | Short-term loan |
| Loan term | Long-term loans can have repayment periods as long as thirty years for mortgages. | Short-term loans typically have repayment periods of a year or less. |
| Collateral | Many long-term loans, like auto loans or mortgages, require collateral, though some do not. | Short-term loans very rarely require collateral. When they do, the asset won't be collateralized for long because the loan does not last a long time. |
| Interest rate | Long-term loans, especially secured loans, will have low interest rates. | Short-term loans often have very high interest rates and fees. |
| Payments | The monthly payment for long-term loans is lower than short-term loan payments. | Short-term loans usually require higher monthly payments. |
| Funding speed | Long-term loans can take much longer to fund. For secured loans, the underwriting process can last weeks. | Short-term loans can be funded in as little as a day. |
Conclusion
Loans can be a valuable source of money to take advantage of financial opportunities or cover unexpected costs. Before you apply for a loan, consider whether a short-term or long-term loan is a better fit for the situation. Regardless of the type of loan you choose, compare multiple lenders to make sure you get the best deal. If a short-term loan is your choice, you might like to visit our list of the best short-term business loan offers.

Frequently Asked Questions (FAQs)
Before you choose between a short-term and long-term loan, it's important to understand how they work.