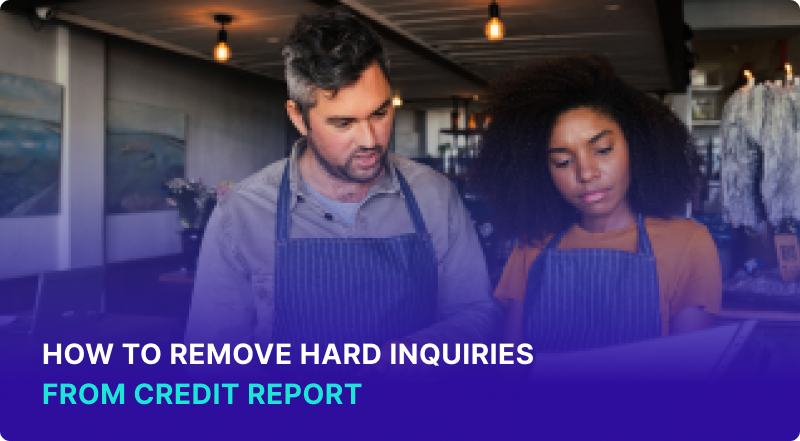 All content presented here and elsewhere is solely intended for informational purposes only. The reader is required to seek professional counsel before beginning any legal or financial endeavor.
When a lender runs a hard credit check on your credit report, it can harm your score. While the impact may be small - up to a five-point decrease - if you're trying to improve your credit score or recover from bad credit, those five points can make a difference.
However, you may be in a situation where you need to give someone permission for a hard inquiry despite the impact. Fortunately, there are ways to remove hard inquiries from your credit report.
Key Points:

When is it necessary to permit someone to carry out a hard inquiry?

Should I give my lender permission to conduct a hard inquiry?

How can I remove a hard inquiry from my credit report?

Are there different ways to remove a hard inquiry for a credit report?
What is a Hard Inquiry?
A hard inquiry occurs when you give a creditor or lender permission to access your credit file so you can obtain approval for some type of transaction. Sometimes you'll hear it referred to as a "hard pull" or "hard credit check."
There are numerous reasons why a hard inquiry is needed. Here are some common reasons:
Applying for a mortgage or refinancing.
Obtaining an auto loan.
Getting a new credit card or increasing your credit limit.
Renting an apartment.
Difference Between Hard and Soft Inquiries
Not all inquiries fall into the "hard inquiry" category. There are also ones considered a soft pull or soft credit check. These are typically inquiries you are unaware of, such as when you get quotes from lenders before submitting an application or when a credit card company sends you a pre-approval letter. When you monitor your credit each month, it falls under the soft credit check umbrella.
A soft inquiry versus a hard inquiry will look different because soft inquiries do not impact your credit score. Only you can see a soft inquiry listed on your credit report, whereas a hard inquiry is visible to anyone who performs a hard credit pull.
Hard inquiries stay on your credit report for 24 months, although the impact on your score typically only lasts six months. A hard inquiry can cause a decrease of about five points to your credit score, but a soft inquiry does not have any impact.
Why it's Important to Remove Hard Inquiries from Your Credit Report
Since hard inquiries impact your business credit score, you will need to monitor your credit regularly and check for any inaccuracies. If you didn't request a hard inquiry from a company and it shows up on your report, you will need to take steps to get it removed.
You do not want your score to be unfairly impacted due to a mistake or fraud. Five points can make the difference regarding the score category you fall under, affecting your quoted interest rates.
You should note that if you permitted a lender or creditor to perform a hard credit pull, you would not be able to remove it from your credit history. But again, after 24 months, it will naturally disappear.
How to Dispute Inaccurate Hard Inquiries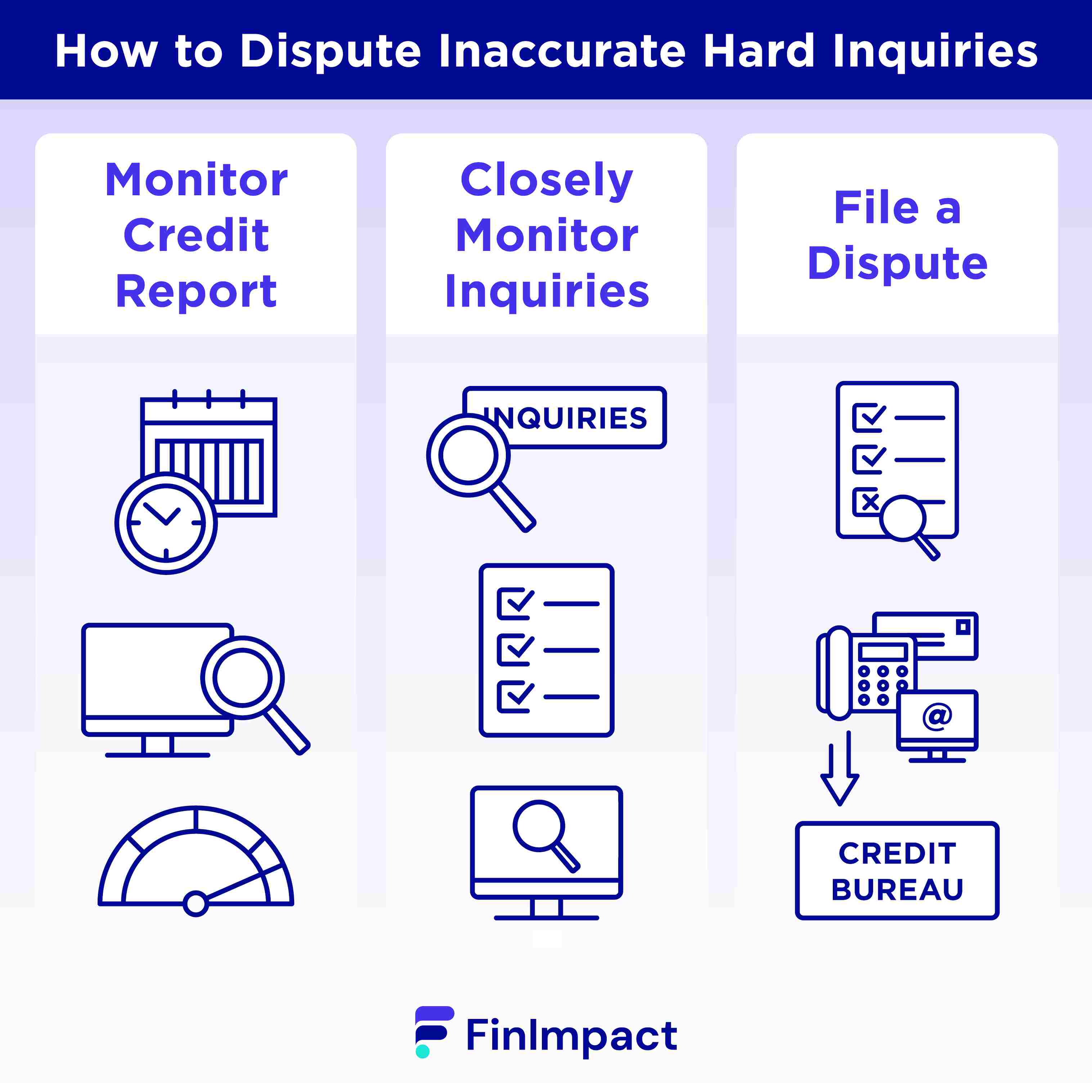 How do you know if a hard inquiry is on your credit report that shouldn't be there? And more importantly, what should you do if you find one?
Mistakes happen, and you'd be surprised at the amount of inaccurate information on credit reports. Remember, the three credit bureaus are dealing with billions of entries each month, so it's in your best interest to review your credit profile and check for errors.
1. Regularly monitor your credit report
The first step is to make it a habit to check your credit report.
As a consumer, you are entitled to three free credit reports each year. You can receive one report from each credit bureau (Experian, Equifax, and TransUnion) by signing up at annualcreditreport.com. Because of COVID-19, the reports are available for free each week for a limited time.
You can also sign up for various credit monitoring services, which will give you access to both credit reports and scores. These accounts range in price from free to $24.99 per month, but you can likely get the information you need without paying for anything.
2. Pay close attention to inquiries
When you access your credit report, you will notice a section under "Inquiries." This section is where any hard inquiries will be listed, and this is where you should review who has accessed your profile.
You may also notice names of accounts that do not sound familiar but keep in mind many companies do business under another name or partner with another bank for a credit card. Before you become concerned, a simple Internet search can probably confirm the company's name for you.
3. File a dispute
You may find a hard inquiry on your report that doesn't belong there. It could be a genuine case of a company conducting a hard credit check without your knowledge, or it could be a case of fraud. It may also be the result of a mistake. Either way, you should dispute the finding right away.
You must file a dispute with each of the three credit bureaus, even if it's the same information you're submitting each time. Once you do, the bureaus have 30 days to respond to your dispute. Fortunately, each bureau has very user-friendly methods for filing disputes.
Experian
Equifax
TransUnion
File online through the TransUnion Portal
Mail a dispute to P.O. Box 2000 Chester, PA 19016
By phone: 800-916-8800
Each bureau will have step-by-step instructions for filing a dispute. The most important point is to gather any supporting documentation you have and including copies.
4. Keep monitoring your credit reports
If your disputes are considered valid, you should see the inaccurate hard inquiries removed within 30 days. No matter the result of the disputes, you should make it a regular habit to check your credit report.
Most financial experts recommend reviewing your credit report at least once per quarter. Remember, your credit score will not be affected by your viewing, so it's good to perform a credit check once every few months.
The Bottom Line
If you're wondering if it's worth your time to learn how to remove hard inquiries from your credit report, then the answer is yes. It is definitely worth the effort because the impact will stay with you for several months, and it can cause an issue if you do need business funding or credit.
Whether you're a consumer or business owner and trying to improve your credit score, paying attention to your credit report is the best course of action for dealing with hard inquiries. And suppose you are a business owner trying to secure small business funding through a company like Upstart. In that case, you will want to make sure your credit report reflects the most accurate credit usage information possible. You might also like to visit our page about the best small business loans for bad credit to review and compare a variety of recommended offers.