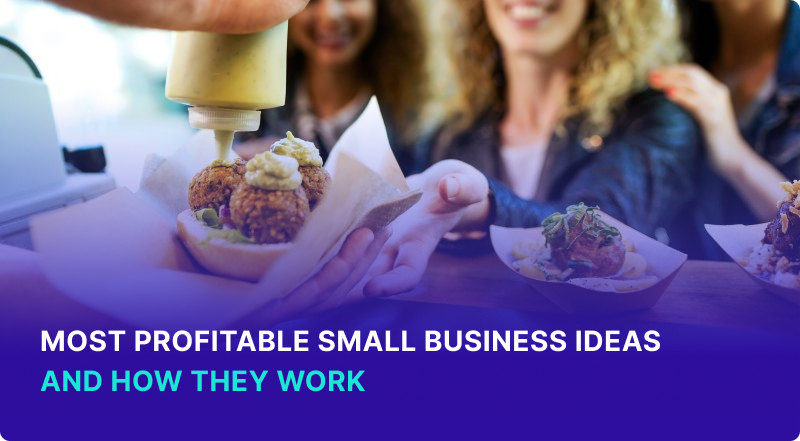 All content presented here and elsewhere is solely intended for informational purposes only. The reader is required to seek professional counsel before beginning any legal or financial endeavor.
Business ideas, such as consulting, digital marketing, social media management and selling online courses, are a few examples of businesses requiring small investments but capable of turning a big profit.
Practical Advice:
What small business idea creates interest for you? Success and profit are not always the same thing, success looks different for everyone and may not always mean earning the highest profit. Creating a high profit small business that you can duplicate with other business ideas will lead to greater success.
The 20 Most Profitable Businesses for 2023
Here are the 20 most profitable small business ideas:
1. Food trucks
Food truck owners take care of all aspects of running a food truck business. This includes creating menus, ordering supplies and ingredients, advertising their locations, and managing the staff. Americans love food trucks for their convenience and often the fun takes on food. Some lenders even offer dedicated loans for food truck business owners in need for extra funding.
Pros: It's a creative entity where you're in charge of all aspects and involves less risk versus a traditional restaurant.
Cons: Startup costs can be hefty, including the staff and actual truck, while food costs continue to rise in 2023.

2. Car wash services
With over 276 million vehicles on the road in the U.S., no matter if it's a new or used version, car owners need to clean their cars. Offering a mobile car wash service, or a brick-and-mortar operation, are a profitable idea. Washing vehicles, managing staff, and marketing are a few of the skills needed to grow a profitable car wash service business.
Pros: Requires minimal investment to start and is quick to earn a profit.
Cons: Tends to be a seasonal business, there's a lot of competition in the market, and you're at the mercy of your car wash machines.
3. Auto repair
The same 276 million vehicles that need a car wash also need the occasional repair. Auto repair continues to be an in-demand service and a fixture in every town and community. Tasks range from repairing vehicles, managing staff, and ordering supplies and equipment.
Pros: High profit margins on parts and low overhead costs are a winning combination for this business.
Cons: Longer sales process for clients, since this is often a big expenditure for household budgets.
4. Personal trainers
Personal trainers help individuals with fitness and nutrition goals. They often devise custom workout plans, create customized menus, and hold clients accountable to their workout schedule. Personal trainers can specialize in building strength, losing weight, or whatever personal goals someone has.
Pros: Rewarding career with minimal

startup costs

.

Cons: Your hours are based on your client's schedule, not yours.
5. Newborn and post-pregnancy services
Babies will always be a part of life which means mothers and fathers need care and guidance post-delivery. From taking care of physical needs, such as feeding and sleeping, to guidance and offering nanny services.
Pros: Very few startup costs needed with little inventory or supplies to keep.
Cons: Relies heavily on marketing and word of mouth and you may not have your customers for an extended period of time.
6. Business Consulting
Consultants are needed for everything from software and technology, to human resources and marketing needs. If you have a skill with proven success then you can easily offer consulting services. The only costs involved are usually related to marketing, such as advertising and using online platforms for scheduling or marketing.
Pros:

Work from home

with virtually no overhead required, other than a computer. Connect with a variety of people.

Cons: Constant networking and marketing for this crowded space and your income is unpredictable.
7. Real Estate Agents
Whether it's a bust or a bubble, an expert real estate agent helps buyers find the right property for their budget. They also help sellers list their homes for maximum amount of revenue. Contract negotiations and keeping the sales process moving along are two very important aspects of being a real estate agent.
Pros: You can develop lasting relationships with clients who end up becoming repeat customers or give you referrals.
Cons: Your life is centered around your clients schedule and it could take months (sometimes years) to see a commission from the work you've put in.
8. Cleaning Services
Cleaning services are needed for residential and commercial clients, including medical offices, brick-and-mortar businesses, and any other store. Cleaning services are needed all year long and you can easily grow the business by adding more workers.
Pros: Very low startup costs with no inventory needed. You can scale the business as necessary.
Cons: Cleaning costs tend to get cut during economic hardships and managing a staff is a major part of the business.
9. Social Media Management
Business owners and entrepreneurs can not afford to miss out on social media and many of them turn to social media managers to help them with this important business task. From creating and writing posts, to managing editorial content, and answering inquiries, social media management is a must-have for many.
Pros: Low startup costs and easy to scale the business.
Cons: Generous amount of competition and the payoff may take months for your client to realize or for you to get paid.
10. Creating Online Courses
ELearning is more popular than ever and people's thirst for knowledge never ceases. Creating an online course either on your own website or platform means sharing your knowledge on a particular topic while people pay to take your course. Other parts of online course management includes answering questions and engaging the community.
Pros: Almost no startup costs needed and can make money quickly with a sale.
Cons: To stand out from the crowded online course marketplace you will need to partner with the right platform and constantly market your course.
For more business ideas you can conduct online check out our in-depth article online small business ideas.
11. IT Support, Technology Consulting, and Repair
Information Technology, or IT, is an integral part of any business. This sector needs workers to support the latest technology, security, software, and tackle repair issues. This is a highly profitable industry and your company can specialize in various aspects of IT support.
Pros: Low startup costs and quickly ramp up to full-scale production.
Cons: Need specialized degrees or certifications and experience and will need to hire workers (or contract out) to scale.
12. Accounting and Tax Preparation
Accounting is not only one of the most lucrative fields concerning profit, but the demand is strong for this industry. Accountants advise on financial management of a business, prepare tax returns, provide consulting for finances, and work with either individuals or businesses.
Pros: Requires little overhead or startup costs and demand continues to outpace the number of workers.
Cons: Requires specialized knowledge such as an accounting degree while a Certified Public Accountant (CPA) or Enrolled Agent (EA) designation may even be needed to stay competitive.
13. Marketing and PR Services
Marketing and public relations services provide plans for businesses (or individuals) in the marketing and PR realm. A marketing agency implements various marketing strategies for companies to meet certain goals, such as reaching a new audience, building brand awareness, or other goals. A PR agency promotes an individual or company by using different communication strategies.
Pros: A great option for those who have a large network and have experience running marketing or PR campaigns.
Cons: It's a crowded space, so you'll need to stand out. You'll likely have to hire additional people to scale the business.
14. Telemarketing
Telemarketing involves calling to sell a good or service to someone over the phone. This practice has been around for years and isn't going anywhere anytime soon. Telemarketers need very little to operate and stay efficient - except a phone and access to a computer - making it ideal for turning a profit quickly. As an agency owner you can staff employees to make the calls and gain sales.
Pros: Low startup costs, low overhead, and can scale the business for growth.
Cons: Bad reputation and you must provide thorough training to each employee or contractor.
15. Bicycle Repair
Bicycles are a mainstay in the U.S., either as a mode of transportation, sports and exercise, or for kids across the neighborhoods. A bicycle repair business offers tune-ups, repairs tires and gears (and other bicycle accessories), and sells accessories to keep bikes in top shape. Bicycle repair shops can either be brick-and-mortar or can be offered as an in-home service where people schedule repair appointments via a website or app.
Pros: The low overhead and operating costs makes this business highly profitable.
Cons: Your hours may be subject to whatever your customers need and it's hard to predict a typical month in business.
16. Coffee Shop
Coffee shops are a staple in every community and people can't get enough of their favorite drink. Coffee shop owners manage a wide range of tasks for a shop including maintaining the physical appearance, ordering coffee and supplies, creating menus, managing staff, and marketing.
Pros: Coffee shops allow you to express creativity and create a welcoming respite for the community.
Cons: Major competition and food and beverage costs continue to rise, forcing coffee shop owners to adjust pricing.
17. Tutoring services
Kids and adults rely on tutoring services to learn basics or advanced concepts for school or to prepare for testing and certifications. Tutors are needed for all ages and now, thanks to technology, tutors can be located on the other side of the world. Running a tutoring service involves hiring tutors and advertising services on a regular basis.
Pros: Startup costs are limited and you're helping people one on one achieve their learning goals.
Cons: You have to work when your clients are available, which is usually afternoons, nights, and weekends.
19. Delivery services
A delivery service business transports everything from packages to groceries, to furniture and flowers. Businesses rely on third-party delivery services to finalize and fulfill their customer's orders, making this an in-demand service.
Pros: With great service, you can quickly retain long-term and loyal customers.
Cons: High gas prices eat into profits and you'll need access to vehicles and drivers - both of which are in short supply in 2023.
20. Digital marketing services
Digital marketing services is a broad term but typically refers to setting up digital ad campaigns for clients. Digital marketing ads are bought through Facebook, Pinterest, Google, and many other sites, to promote businesses. A digital marketing servicer creates a detailed campaign to drive awareness or build a brand.
Pros: Extremely

small startup costs

and you can use various metrics to show your clients how successful the campaign is.

Cons: If you can't generate results for a client then it's hard to win repeat business.
What To Consider Before Launching a Small Business?
The definition differs by industry. There is no hard number of employees however the SBA defines a small business as having assets under $10 million and less than 25 employees. This is a rather loose definition, which means a small business can vary in its setup, size, purpose, and products. One of the biggest questions you have to answer before launching a small business is how you want your own business to be set up and organized.
The most common business structures for small businesses are:
Sole proprietorship: One person runs the business and there is no legal separation between the person and business.
Partnerships: Two or more people form a legal business relationship and own a company together.
Corporations: A separate legal entity that is defined legally as being separate from the owner. This means if the business runs into trouble the opener can not be held accountable.
Limited liability companies (LLCs): Legal entities designed to separate the owners from the business, legally, while also offering pass-through tax opportunities for the business owner.
How to start a profitable business
There are numerous steps to getting started but it's worth it to set your business up for success (and profitability). In a nutshell, be prepared to at least:
Do your

market research

and narrow down a niche and business idea

Choose the business model

Create a

business plan

outlining the critical details of your business

Choose the

business financing method

, such as personal savings,

small business loans

,

investors

, or donations

Apply for

licenses

, permits, and any other

legal requirements for starting a business

Open a small business account

Decide on where to operate your business, online, physical store, or both

Register with the appropriate government offices and create a tax ID with

the IRS

Set up a website and create a marketing plan

Determine business insurance needs

Create launch plans, network, and advertise
What is the most successful business to start?
Success looks different for everyone and it depends on how much you are willing to invest up front. Low-cost startup ideas with high profit margins include online ventures such as blogging, social media management, consulting and coaching, and other marketing ideas. See our article home business ideas, if you wish to work from home and save on set-up costs.
Other profitable ideas requiring a much larger investment up front includes real estate and car washes or dry cleaners.
What Makes a Small Business Successful?
First you need to define what success means to you. Is it the highest profit margins or most revenue possible? Perhaps it's running a business where you make a profit within the first month or two, or achieve a greater work-life balance versus what you currently have. Making a small business successful usually involves a few steps:
Create a specialized product or service

Constant and consistent networking is the key to growth

Digital marketing is no longer a nice-to-have, but a must-have

Scale your business by adopting processes and systems you can duplicate over and over and eventually with other businesses
The Most Profitable Business by Sector
A comprehensive study conducted in 2017 by Sageworks, a financial information company, showed detailed analysis of the most profitable businesses by sector. For the study, the businesses with the highest EBITDA margins, which is short for Earnings Before Interest, Taxes, Depreciation, were evaluated. Here are the most profitable business sectors with the percentage listed as the amount of profit as percentage of revenue:
Accounting: 18.4%

Lessors of Real Estate: 17.9%

Legal Services: 17.4%

Management of Companies: 16%

Activities Related to Real Estate: 14.9%

Office of Dentists: 14.8%

Offices of Real Estate Agents: 14.3%

Non-Metallic Mineral and Mining: 13.2%

Office of Other High Practitioners: 13%

Medical and Diagnostic Labs: 12.1%

Privately-held Companies: 8.9%
FAQs On Most Profitable Small Businesses