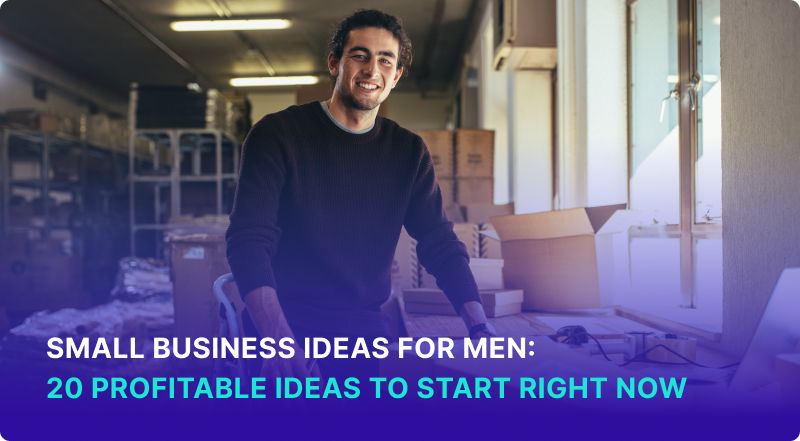 All content presented here and elsewhere is solely intended for informational purposes only. The reader is required to seek professional counsel before beginning any legal or financial endeavor.
Each small business idea for men comes with its own unique challenges and rewards. If you're having trouble picking a business that makes sense for you, ask yourself these questions to help narrow down the ideal business for you: What am I good at? What am I comfortable with? What am I passionate about?
Choose the Right Business Idea for You
All small business ideas for men comes with its own unique challenges and rewards. If you're having trouble picking a business that makes sense for you, ask yourself these questions to help narrow down the ideal business for you:
What am I good at?

What am I comfortable with?

What am I passionate about?
20 Small Business Ideas for Men
Once you answer the above questions, you'll have a ballpark idea of what business is best suited to you. To help you narrow down the list further, here are 20 profitable business ideas for men:
Construction Trades: Whether it's commercial or residential real estate, the building industry is quickly growing in today's market. This opens opportunities to specialized jobs such as welding, carpentry, painting and flooring. The more niched down you are, the more you can charge.
Home inspection: The priority for real estate clients is safety and functionality. If you know the ins and outs of home systems such as electrical and plumbing, you could become a home inspector. In this job, future homeowners will hire your services to evaluate the condition of a property they're seriously considering buying. What's great about this kind of work is it's flexible and with enough clients you can eventually transition into making it your full-time work.
Restaurants: Some of the world's greatest chefs have been men. When picking the kind of

restaurant you want to open

, consider what food you want to serve to make sure you are targeting a specific audience that knows to come to you for specialized food.

Barber shop: Even though the primary clients that go to barbers shops are men and young boys, you may get occasional female clients. If you're a people person, this may be right for you. However, before

getting started with your business

, you must consider that initial investments are usually between $150,000 to $200,000 and earning potential is normally around $35,000. The good news is this is a scalable business, and you can increase your profits by opening other locations.

Personal Male Fashion Stylist: Picking what to wear is time-consuming and requires a lot of thought when it's done right. If you are good at understanding the image people want to project to achieve their goals, being a male personal shopper and stylist can be very profitable.
Male Focused Website: Motherhood and beauty influencers are taking the internet by storm. However, there is also a market for male counterparts. By starting your own website about product reviews, financial advice, or talking about supplements, you could start partnerships with brands that pay you a commission for sharing their products on your platform.
Open a Bar: Even though opening a bar is one of the most profitable small business ideas for men, bar businesses can easily fail if there isn't enough capital. Before getting started, make sure you get some experience at one that is already up and running and adjust your expectations. Bars often start making a profit after being open for six months.
Toy Store: According to

studies

, U.S. retail sales of toys generated $28.6 billion in 2021 compared to $25.4 billion in 2020. Selling toys can be a profitable business. However, it requires a significant initial investment for products and understanding what children and their parents are looking for.

Bakery Business: Whether offering fresh-baked bread or a variety of cakes, bakeries have always been a small-town go-to. Although it can be a very lucrative business, it's not for the faint-hearted. Bakeries often start work at 4 a.m. If a bakery is a business idea you've been thinking about, you might like to get familiar with the list of

equipment needed to start a bakery

.

Skin Care products Business: The skin care market is mostly targeted towards female customers. This leaves a big gap for male product lines that can be very profitable. Before diving in, you can reduce startup capital by offering basic skin products and reach out to local cosmetics centers.
Bookshop and Stationery Business: This is one of the best home business ideas for men because it can be done fully online. You'll need to split up your time between printing, delivering, designing and building a strong social media presence to build a customer base.
Event Planning: Whether it's weddings, birthdays, or company gatherings, event planning can easily become overwhelming to people. This is where you step in. Making events run smoothly and creating memorable moments is what you can charge your service fee for. Make sure before starting that you have strong organizational and communication skills.
Blogging: Starting a blog can come with

no initial startup investment

. However, to make it successful, you'll have to invest time and be persistent to grow it. Pick a niche you are knowledgeable in. If you're not sure, think about what people often come to you for advice for. For more online business ideas check out our review

online small business ideas

.

Vacation Rental: If you live in or have a property in a touristic area of a city, vacation rentals can be a great way to get additional ongoing income.
Self-Service Car Wash: There's a high demand for getting cars washed because it's a time-consuming activity that is needed regularly. By setting up mobile car washing services you can make good money with low investment. All you need is to get your equipment and start spreading the word.
Moving Company: 2020 saw over 7 million

households move

. With an increasing demand for movers, starting a moving company is one of the best business ideas for men.

eBay Seller: Starting an eBay store comes without an investment. All you need is to find items around your house that other people may need and resell them. However, keep in mind eBay's fees when you're thinking of your item's price.
Coaching & Consulting: What are you an expert in? Offering your knowledge on a specific topic to people is a great way to earn extra cash. If you

don't have funds to start

your own website, no problem, get a strong social media presence going at no cost.

Real Estate Investor: Even though investing in real estate sounds intimidating, grand and basically something for rich people, it's actually a business that is easy to get into. Companies like

Roofstock

make it simple to invest in real estate and guarantees you'll have a tenant in the property within 45 days, or they will cover 90% of the mortgage payment. If you don't have a ton of money to invest but still want to get into real estate you can do it through

DiversyFund

. The company gives you access to commercial real estate for as little as $500. If you want to get started with even less,

Groundfloor

lets you start investing with just $10.

Launch a Cleaning Business: Whether it's a home or a business, people need it to get cleaned periodically. By offering reliable and thorough services, word of mouth will soon spread, growing your client base. Consider offering specialized services that come easier to you as a man such as cleaning smoke damage, mold, crime scenes, and construction cleanup. You could also consider doing this as a

side business idea

.
I Have the Right Business Idea. What To Do Next?
Great! So you've finally picked one of the small business ideas for men. Here are some things you should look into before starting operations:
Getting a business license: Before you begin, determine whether your business needs a general city business license or a professional license with a quick search.
Drafting a business plan: It's challenging to know where you're going without a plan. A business plan helps as a guide to fulfill your vision.
Looking for funds/loans: Whether it's through a bank or online lenders, research your small business loan options and figure out which one charges the lowest interest rate.
Looking for investments: Investors provide capital for start-up businesses in exchange for (typically) 30% return on their money or ownership equity. By creating a comprehensive business plan including financial projections, detailed marketing plans, and specifics about a target market, you can approach potential investors with confidence.
Looking for small business grants: You can find small-business grants at government agencies, state organizations and private corporations with a quick search for the ones in your area.
Final Word
When you're choosing which of these business ideas for men is best suited to your lifestyle, make sure to go with something that is profitable, scalable, and you can do regularly. By keeping this in mind, you'll be able to build a business that's exciting and can grow sustainably.