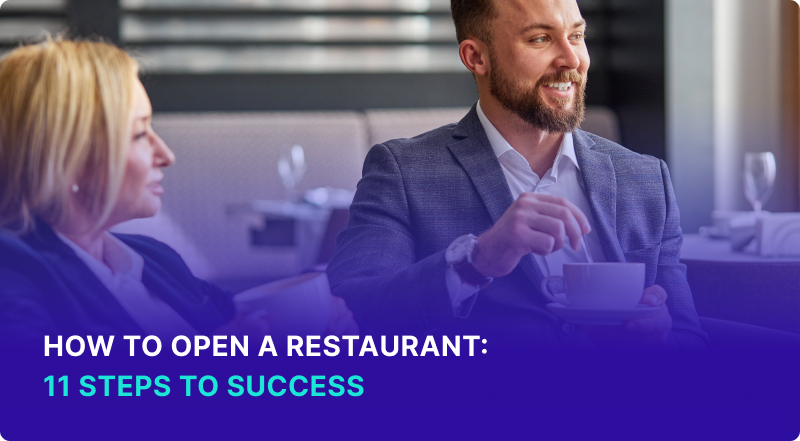 All content presented here and elsewhere is solely intended for informational purposes only. The reader is required to seek professional counsel before beginning any legal or financial endeavor.
The restaurant business is highly competitive, with more than 1 million different eateries in the United States and 60% of new restaurants failing within one year. If you're thinking about entering the industry, being absolutely clear on how to open a restaurant will not only smooth the process for you but also provide you with insight on how to stand out and be different from all the competition.
1. Conducting market research before opening a restaurant
Before you open any kind of business, it's important to research your potential market. You should ask these kinds of questions:
What kind of products do my customers want?
What products do my competitors sell?
Is there an unserved niche I can target?
How will I differentiate myself from similar competitors?
For example, lots of Americans like burgers, but there are burger restaurants all over the place. If you're going to open a burger joint, you need a way to differentiate yourself from all of the other burger places near you.
On the other hand, if you're opening a restaurant with unusual menu items, you'll need a plan to change consumer habits and draw them to your location, such as strong advertising.
2. Choosing the right concept when opening a restaurant
There are many different types of restaurants that you can open. Explore unique restaurant ideas for inspiration. Choosing the right concept for your restaurant plays a big role in its success.
Bistros.

A bistro is a small restaurant with a focus on well-priced, simple food in a cozy setting. If you're looking to create a relaxed atmosphere and straightforward, but quality menu items, this is the way to go.

Fine dining restaurants.

Fine dining focuses on high-end food and excellent service. You can charge high prices but need to back that up with quality, well-trained staff, and an impeccable atmosphere.

Specialty restaurants.

Specialty restaurants focus on a specific type of food or a specific cuisine. This is the type of business to open if your goal is to share your favorite cuisine with customers.

Fast food restaurants.

Fast food restaurants

rely on quick service and a large volume of customers. If you're going this route, consider

buying a franchise

.

Buffets.

Buffets involve large portions of food, minimal wait staff, and let customers serve themselves. These are a good choice if you want to create a casual atmosphere.
Have a plan – restaurants are a lot of work and involve spinning a lot of plates. Know what you're going to do before you do it…
3. Choose your restaurant's name and legal structure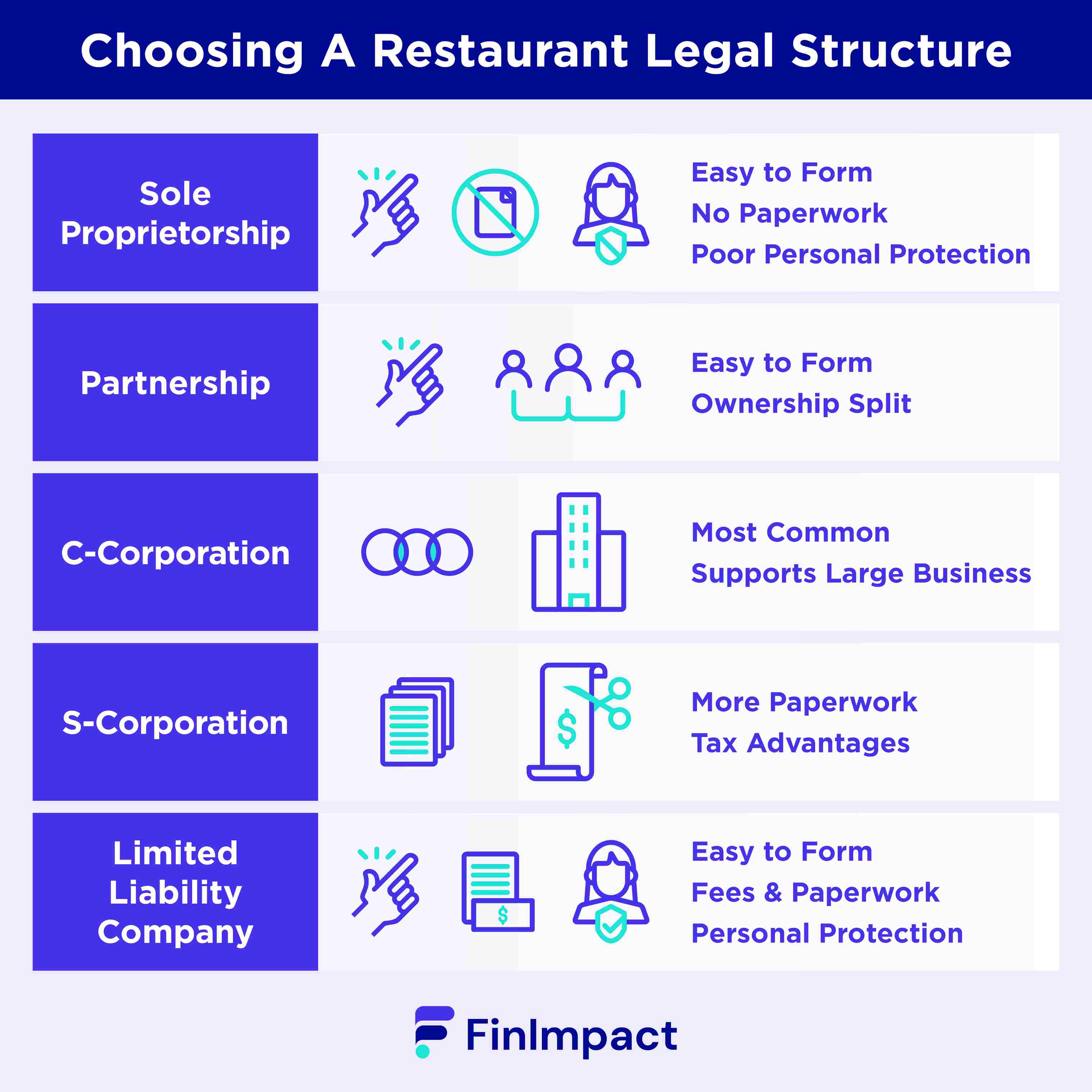 A good name for a restaurant is an essential piece of your marketing plan. See how to write a business plan for a restaurant for further details. You want a name that is catchy and immediately lets people know what type of food you sell.
You also have to decide how to structure your company.
Sole proprietorship.

These are the easiest businesses to form, requiring no paperwork or filing, but offer the least personal liability protection.

Partnership.

Partnerships are also relatively easy to form but allow you to split your company's ownership with other people.

C-Corporation.

C-Corporations are the most common type of corporation but likely aren't a good choice unless you grow very large.

S-Corporation.

An S-Corporation requires more paperwork to form than a partnership but offers tax advantages.

Limited Liability Company (LLC).

LLCs are relatively simple to form but involve paying some fees and filing paperwork. They provide some protection for your personal assets, separating your business and personal finances.
4. Scoping out the perfect location for your restaurant
Depending on the type of restaurant you open, you'll need to find the right location.
For example, a fast food restaurant should be in a high-traffic area where people are often busy and looking for a quick meal. A bistro or fine dining establishment should be in a quieter location and one that is closer to a more affluent population.
Focus on the important things – it's easy to get bogged down in small details: Keep your eyes on the essentials: sourcing good food, hiring good staff, and providing great service…
5. Get a tax identification number for your restaurant
Every business owner needs to get an Employer Identification Number (EIN) for their business when they're first getting started. An EIN is like a Social Security number for your business. It's essential for things like opening a business bank account, getting a business credit card, paying your employees, and paying taxes to the IRS.
6. Apply for Restaurant Licenses and Permits
Restaurants are typically regulated by state and local governments. You'll need to apply for the various licenses and permits required to operate, such as:
Certificate of occupancy.

Shows that your building is safe to use and lists the maximum occupancy.

Sign permit.

Gives you permission to place signage outside to advertise your restaurant.

Food service license.

Shows that you have the proper training to safely prepare and serve food.

Health department permits.

Shows that local authorities have examined your restaurant and ensured that it follows essential health codes.

Restaurant insurance.

Protects your business by offering coverage against things like fire or liability.
7. Register your restaurant for state and local taxes
Nobody likes paying taxes, but they're a fact of life. In addition to paying federal income tax, your company will need to pay state and local sales, employment, and other taxes.
How these taxes work can vary from state to state. Some, for example, may charge a prepared meals sales tax and pay into an unemployment fund while others will have fewer taxes such as food and beverage. Work with a local tax professional to make sure you're tracking and paying all required taxes.
Ask for help – you can't do everything on your own. Good help, like an accountant or business attorney, can help make running your restaurant much easier...
8. Set up accounting documents
Having clear accounting is essential for any business. It helps you keep track of your company's income and expenditures and makes taxes much easier to handle.
Consider hiring an accountant to help you create monthly/weekly Sales reports:
Balance sheet.

Gives you a view of your company's assets, liabilities, and equity

Income statement. This describes all of the income that your company receives and the expenses incurred to generate that income
Cash flow statement.

This tracks the sources and uses of your company's cash
9. Invest in the right tools for your restaurant
Your restaurant will need tools to prepare food, but it will also need things like a point-of-sale system to track orders and customers' bills.
It's important to consider the kitchen equipment and tools your restaurant will need and to budget for that when you're first starting the business. Skimping on tools is a bad idea that can cause problems down the road, so make sure you get good equipment that will last for a while.
10. Keep up with your restaurant's tax obligations
Your business, like any other, will have to pay taxes. Make sure that you always stay on top of your tax obligations. The last thing you want is to have the IRS knocking on your door or placing a lien on your business assets.
Income tax.

You have to pay income tax on any wages you pay yourself, including withholding income from your paycheck.

Self-employment tax.

As a self-employed person, you're responsible for both the individual and employer's portion of payroll taxes, such as Social Security taxes.

Estimated tax.

Business owners may need to make estimated quarterly tax payments if they expect to owe money to the IRS at the end of the year.

Employment taxes.

Employers have to withhold certain taxes from employee paychecks and pay payroll taxes, like Medicare and unemployment insurance.
11. Secure Restaurant Capital
No matter how you plan to open a restaurant or the type of restaurant you plan to open, it's expensive to get started in the industry. Some franchises can cost millions of dollars to start. To find out more check out how much does it cost to open a restaurant. You might also like to
It's a good idea to have a plan for where you'll get capital to finance your new restaurant.