All content presented here and elsewhere is solely intended for informational purposes only. The reader is required to seek professional counsel before beginning any legal or financial endeavor.
The costs of opening a restaurant can add up quickly. The median startup costs for a restaurant is $375,500. However this can change dramatically: Location, renting or buying equipment, menu and many more. The best practice is knowing what all the expenses are, research and then calculate.
11 Restaurant Startup Costs
Restaurant startup costs will vary based on your location, concept, size, and required equipment. A recent survey conducted by Restaurant Owner found that restaurant startup costs can range from $175,500 to $750,500.
That's a lot of variables to consider. But the bottom line is that it can get expensive to open a restaurant. So, what restaurant expenses are contributing to this? Here's what you'll need to keep in mind.
1. Commercial space
First things first, you'll need commercial space to run your restaurant. There are two ways to go about obtaining a commercial space. You can either sign a commercial lease with a several-year commitment.
You can also buy a storefront or a property to build a restaurant. Building a restaurant from the ground up is often more expensive than building an existing building.
In either case, you'll need to make a sizable deposit. But typically, it is much more affordable to go with the leasing option.
2. Renovations
Once you've selected the location, you'll need to fund any necessary renovation costs. The extent of renovations the space must undergo will vary based on the original condition and your restaurant concept. Beyond the customer-facing space, you may need to renovate the kitchen area to streamline your operations.
As you consider renovations, it is good to stick to the minimum required. Make the space functional and clean. But consider holding off on extra customizations until the business can cover the costs.
Be proactive - do your research, find out all you can about your niche area, and put your knowledge into practice...
3. Kitchen Appliances and Equipment
Any restaurant is going to need functional kitchen appliances and equipment. Examples include ovens, stoves, dishwashers, pots, cutting boards, prep tables, and refrigerators.
It is unlikely that the space you obtain will have all of the necessary equipment in working order. Depending on your needs, it could cost several thousand dollars to outfit your kitchen appropriately.
4. Restaurant Technology
There is specific technology designed to help your restaurant run efficiently. The software you need may not be free.
Here are a few technology systems to include:
Point of sale system

Kitchen display system

Employee scheduling system

Reservation tool
These systems will come with a monthly cost to implement in your business. But you'll need to buy electronic hardware to run the systems. The hardware will include iPads, receipt printers, and payment terminals.
5. Restaurant Furniture
You can't expect your customers to dine without appropriate seating. Amassing the furniture required for customers isn't always cheap. Be prepared to spend several thousand dollars on furniture unless you are willing to shop for a used deal.
6. Licenses and Permits
Before opening your restaurant, you'll need to obtain the required licenses and permits. The exact requirements will vary in your state and local government. But you can expect to need at least a food service license before you open your doors.
If you plan to serve alcoholic drinks, you'll also need a license. Generally, choosing a beer and wine license is more affordable than a full liquor license.
Seek out resources - look for support from professionals who can guide you and your decisions...
7. Restaurant fixed expenses
After you've launched the business, there are fixed expenses to keep up with. These are costs that won't vary on a month-to-month basis. Here's a closer look at the most common fixed expenses:
8. Building Costs
Whether you choose to buy or rent the building, there will be ongoing costs.
If you rent the building, you'll need to pay your rent every month. If you bought the building, you might need to make mortgage payments or cover the tax bill.
9. Ongoing Licensing Requirements
After obtaining the original license, many government entities require continuing fees to maintain the license. For example, you may need to pay a yearly fee to keep your license.
10. Insurance Costs
As with any business endeavor, insurance is a necessary component. The right insurance policy will protect you from the liabilities associated with running a restaurant.
At the first least, you should pay for general liability insurance. But beyond that, you should consider insurance for product liability, liquor liability, and commercial vehicle liabilities. Insurance costs will likely add up to at least $5,000 per year.
11. Marketing Costs
Marketing costs are another essential part of maintaining your business. The customers you seek may not even know that you exist without effective marketing. With that, a monthly marketing budget is a key fixed cost.
Restaurant Variable Expenses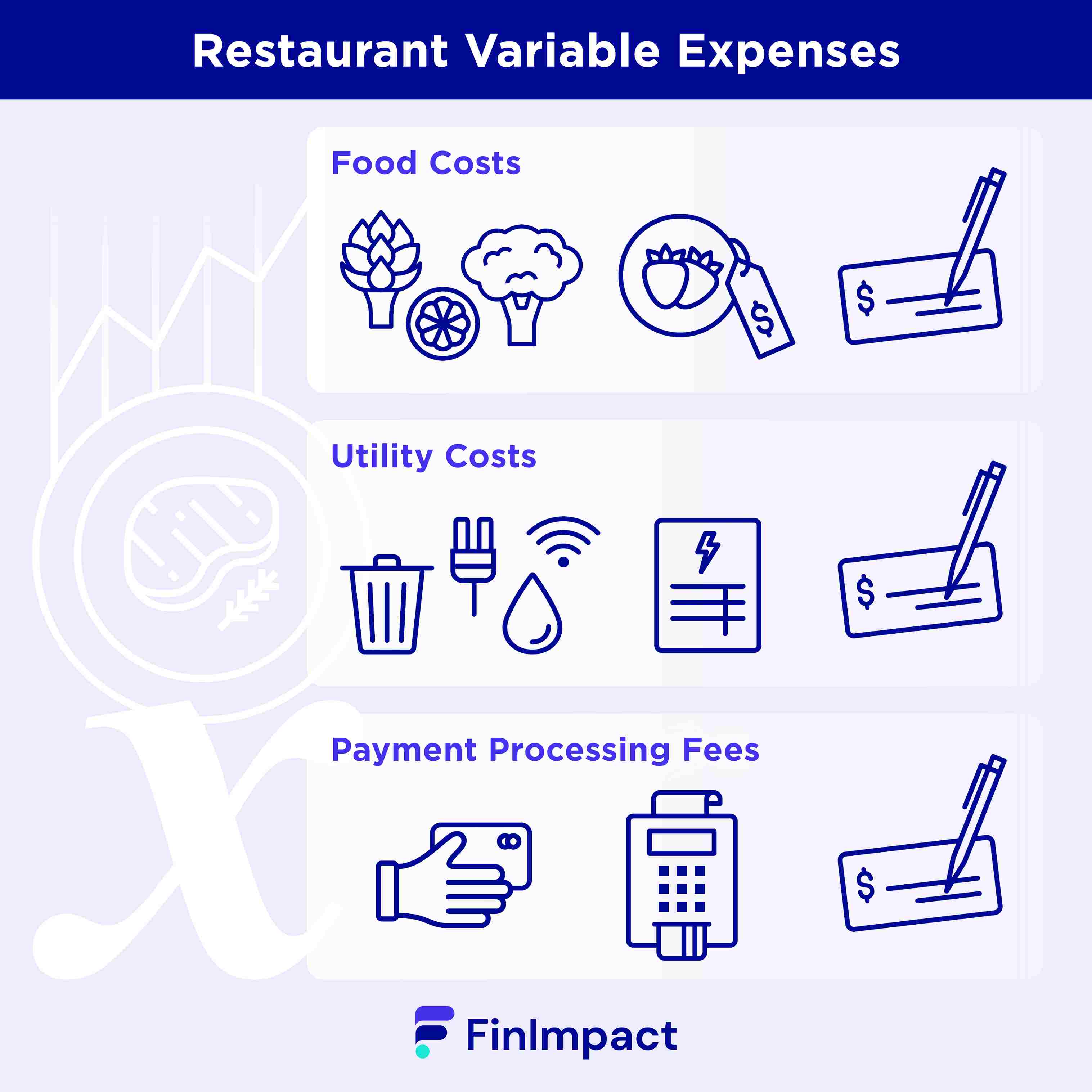 Variable expenses can be more difficult to budget for because the costs can change regularly. But it is important to keep these variable expenses in mind as you build your restaurant.
Food costs
Since you can't operate a restaurant without food, these costs are essential. But food costs fluctuate regularly, making it difficult to budget.
You'll need to keep food costs in mind to set menu prices. The changing costs may require regular updates to your menu's pricing.
Pace yourself - don't rush into anything. Remember, slow and steady wins the race...
Utility costs
Like any other building, you'll have to pay for utilities like water and electricity at your restaurant. The larger the space, the more expensive your utility bill will be.
Payment processing fees
If your customers pay with plastic cards, you'll pay a processing fee. The exact fee will depend on the provider. You can avoid these fees by only accepting cash, but many customers prefer the convenience of credit cards.
Restaurant Mixed Expenses
Last but not least, there is one big mixed expense to consider.
Labor costs
If you have a combination of salaried and hourly workers, the labor costs of your business will be a mixed expense. The cost of salaries is a fixed expense. But hourly workers with a variable schedule will be part of a variable labor expense.
As you set up your business, you can choose the right mix for your situation.
Be bold - seek out new possibilities, and don't be afraid to assert your business needs
Final Word
Although the average restaurant cost will vary based on your area, you can see that the expenses will add up quickly. You'll need to find a way to cover the costs. One efficient way to do this is with a restaurant business loan.

The right lender can help you fund your restaurant startup costs. Take some time to explore the top lenders — Fora Financial, Fundbox, and Credibly. Each of these lenders offers a streamlined approach for business owners ready to open their restaurants.