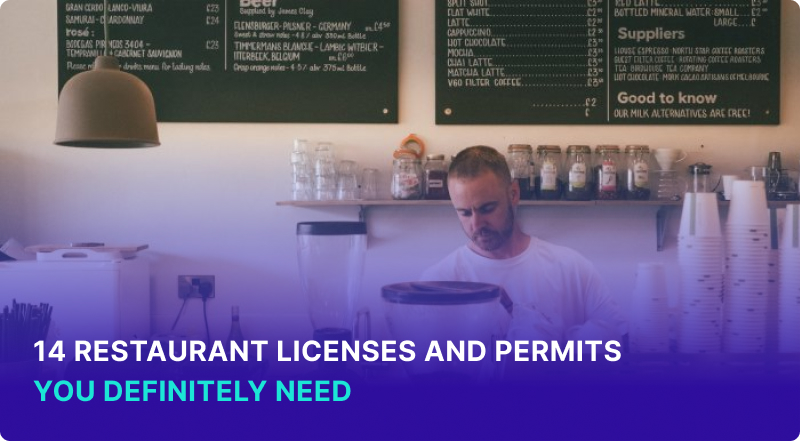 It can not be overstated how important it is to invest enough time to be appropriately diligent to make sure you have all the right licenses and permits needed to open a restaurant. It will save you from the snowball effect of getting it wrong that becomes not only a legal hindrance to making a profit but a motivational killer to your dream of being a restaurant owner.
14 Restaurant Licenses and Permits You Need to Open Your Busines
While exact permitting and license requirements can vary from state to state, these are some of the ones that are required almost anywhere.
| | |
| --- | --- |
| 1. Restaurant Business License | 8. Dumpster Placement Permit for Restaurants |
| 2. Restaurant Food Service License | 9. Sign Permit for Restaurants |
| 3. Restaurant Liquor License | 10. Restaurant Certificate of Occupancy |
| 4. Food Handler's Permit | 11. Restaurant Sales Tax Permit |
| 5. Employer Identification Number (EIN) | 12. Restaurant Resale Permit |
| 6. Live Entertainment and Music License | 13. Restaurant Building Health Permit |
| 7. Pool Table License for Restaurants | 14. Restaurant Valet Parking Permit |
1. Restaurant Business License
Before you can open any business, you need to have a business license. That holds true for restaurants as well.
You can get a business license from your local city or state government. The requirements for getting the license can vary, being as simple as paying a small fee or more involved, such as providing a business plan.
Depending on your location, these can cost about $50.
2. Restaurant Food Service License
Restaurants serve food to customers and food-borne illnesses can be a serious problem. You'll need to get a food service license from your local health department to certify that you know how to follow US Food and Drug Administration procedures to prevent food safety issues.
This will also include an inspection of your restaurant's locations and operating procedures, as well as regular, often unannounced visits to make sure you stay in compliance.
Food service licenses can cost between $100 and $1,000.
3. Restaurant Liquor License
Alcohol is one of the highest-margin items a restaurant can sell. It's also one that's tightly controlled by governments because of its intoxicating properties and the dangers it brings, such as drunk driving or aggressive behavior.
Getting a liquor license can help your restaurant make more money but takes work. You'll need to work with your state's Alcohol Control Board to get this license and many offer different types of license, such as BYOB licenses, wine, and beer licenses, and full liquor licenses.
Prices can vary widely, with some states charging little while others with tight restrictions charge thousands.
4. Food Handler's Permit
On top of getting a food service license to show that your location is safe for food and that your operating procedures include proper food safety, you'll also need a food handler's permit.
Getting this permit means getting training for your staff to make sure they understand local regulations for sanitation and safe food storage. You and your staff may need to attend classes to get this permit, paying course fees of up to $600.
These permits can expire over time, meaning you may need to renew them every once in a while.
5. Employer Identification Number (EIN)
Every business needs an Employer Identification Number (EIN). You use the EIN like a Social Security Number when you open a bank account or credit card for your company. It's also needed when you pay your staff and your business' taxes.
EINs are free to get and you can apply for one for your restaurant directly on the IRS website.
Restaurant Licenses and Permits You Might Need
When you are at the planning stage of your restaurant business and are looking into how to write a business plan for a restaurant, you should consider which additional restaurant licenses and permits you might need. While the above restaurant permits are required before you can get started running your business, these are some others that you may want or need.
6. Live Entertainment and Music License for Restaurants
One great way to make your restaurant stand out from the competition is by having live entertainment or music. You could have a rotating cast of local bands or something quiet and refined like a local pianist. Whatever you do, music and entertainment can draw in customers.
Some locales require special licensing for entertainment to ensure it doesn't disturb neighbors and is done safely, so look into licensing requirements for your area.
7. Pool Table License for Restaurants
If you're running a bar or a more casual restaurant, you might want to add a few pool tables to give customers something to do. They can also draw in crowds looking to hang out, drink, and shoot some pool.
Typically, bars and restaurants need a license for this type of entertainment, so make sure to get permission from the city before you start adding pool tables.
8. Dumpster Placement Permit for Restaurants
While minimizing waste is important, your restaurant will inevitably generate some amount of trash. You'll want a dumpster to dispose of the trash and get it hauled away.
Your local government might require permits or licensure to purchase a dumpster and place it somewhere on the property, so check to see if you need to do anything before hiring a dumpster service.
9. Sign Permit for Restaurants
A big sign outside your restaurant can draw passersby in for a good meal and good drinks. It's a major part of your advertising and brand. Just think about companies like McDonald's and how essential their golden arch signs are to their brand identity.
If you want to build a sign outside your restaurant, there are likely regulations about its size, how you can illuminate it, and so on. Check with your local government about these rules and see if a permit is required.
10. Restaurant Certificate of Occupancy
Most businesses need a certificate of occupancy that shows where they are located and that their location has been inspected to be safe to operate. To get this certificate, you'll want to contact your local building or zoning board. It may require an inspection to make sure the building is in good repair. This certificate might also serve as the fire permit showing the maximum occupancy of the building.
11. Restaurant Sales Tax Permit
If you live in a state that charges sales tax on restaurant meals, you'll want to make sure you get a sales tax permit. This permit is required for you to be able to charge this tax on your meals and to send those tax payments to your city or state government.
12. Restaurant Resale Permit
If you live in a state that charges sales taxes, a resale permit can help you avoid double taxation on your goods. With this permit, you can purchase products tax-free from your suppliers so long as you intend to use them in your business. Otherwise, you'd pay tax on the raw materials your restaurant buys, then charge more tax to your customers when selling them.
If this permit is needed, you can usually get it from your local city or state government.
13. Restaurant Building Health Permit
Following health codes is an essential part of running a restaurant. Getting a building health permit is a requirement before you can start operating.
This permit shows that your building is properly designed for serving food and has essential food safety features such as adequate refrigeration. Getting the permit may also require showing that your restaurant operates in a way that meets food safety standards.
14. Restaurant Valet Parking Permit
Valet parking is a popular thing for high-end restaurants. Customers leave their keys with valets and don't have to worry about finding parking in busy locations.
To operate valet parking, you may need to get a permit by showing your local government how you plan to operate your valet parking, where you plan to park, and how you'll make sure drivers are properly licensed to drive.
Restaurant License Resources, by State
Restaurant licensing requirements can vary widely based on where you live. To find out what licenses are required, you'll want to check with your local and state governments.
The US Food and Drug Administration offers a useful list of the licensure requirements by state, as well as a directory of each state's relevant authorities.
What Happens if You Break A Rule or Operate Without The Right License?
As a restaurant owner, the last thing that you want to do is violate local health codes or operate without a proper license or permit. If word of your violations reaches the public, which it likely will, you can expect a significant impact to your restaurant's reputation, which can decrease its popularity and keep customers away.
On top of the damage to your brand, you'll have to deal with fines and penalties. For example, in New York, if one of your supervisors or managers doesn't have a valid Food Protection Certificate, you'll face a $500 fine. Handling hot or cold food improperly can cost $250 or more.
If you rack up enough violations, it can even lead to a revocation of your license to run a restaurant, destroying your business.
Final Word
Opening a restaurant is exciting, but it's important that you make sure you get the proper licenses and permits before you start operating. Do your research and work with your local government to make sure you know what licenses you need, then get everything in order before your opening day.
Obtaining necessary restaurant licenses can be costly. If you need additional funding to cover startup costs of your restaurant business, make sure to visit our list of the best restaurant business loans and review the recommended funding opportunities.