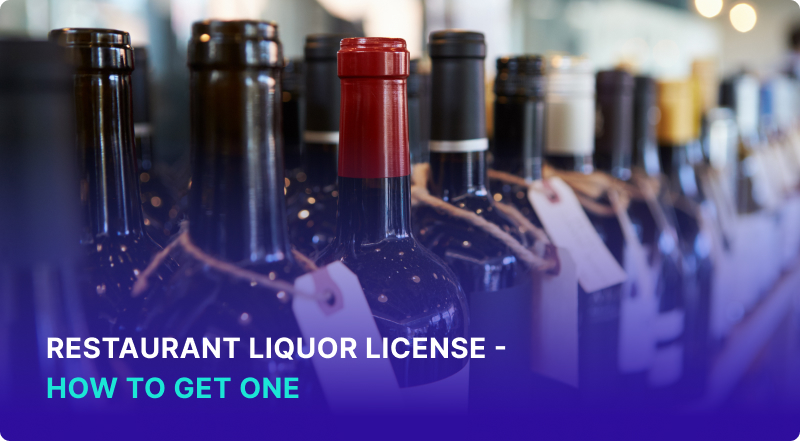 All content presented here and elsewhere is solely intended for informational purposes only. The reader is required to seek professional counsel before beginning any legal or financial endeavor.
Serving alcohol is a strategy to attract more customers to your restaurant. Yet, you will need a restaurant liquor license to offer alcohol - legally - on your premises. A restaurant liquor license is state-issued. It lets you serve alcohol to your customers. The laws in each state might vary concerning when you can provide drinks and how many to each patron. If you plan on serving alcohol in your restaurant, you must research restaurant licenses and permits.
Key Takeaways

A liquor license is state-issued, it permits you to sell alcohol in your restaurant

Being compliant with liquor laws allows you to

operate and grow your restaurant




A lack of compliance can result in penalties, fines, or forced closure.

You require an on-license liquor license if the alcohol you sell is consumed in your restaurant
What Is a Liquor License?
A liquor license is state-issued. This license gives you the right to sell alcohol in your restaurant. Different states have their alcohol laws. For instance, Oregon regulates the sale, consumption, and distribution of alcohol. Many states limit how many drinks you can sell to every patron.
Ensuring compliance with local regulations permits you to conduct business effectively. However, a lack of compliance can result in fines, penalties, or forced closure.
What Do Liquor License Laws Regulate?
The liquor laws impacting pubs, taverns, and restaurants vary. Here are some laws you might see in the United States:
One drink at a time per customer rule.
No happy hour or two-for-one discounts.
Patrons cannot take unfinished bottles of wine home.
Wine, liquor, and beer wholesalers cannot sell to restaurants that don't have current liquor licenses.
Insurance companies won't recognize claims concerning alcohol when a venue doesn't have a valid liquor license.
Types of Liquor Licenses
On-License vs Off-License
You can apply for two licenses to sell alcohol, on-license, and off-license. On-licenses are for businesses that sell alcohol for patrons to consume on-premise. Companies such as liquor stores need off-licences to sell alcohol for consumption off-premises.
Thus business owners of restaurants will require an on-license liquor license.
Tavern License
If your company focuses on liquor rather than the dining experience, then the tavern license is for you. If you predict your business will make greater profits from alcohol sales than food sales, you will likely need a tavern license.
Beer and Wine License
If your restaurant primarily wants to sell alcohol (such as wine and beer) together with food and doesn't intend to sell hard liquor or spirits, then the beer and wine license might be your best option. With a beer/wine license, you won't need to go through a complex license application process.
Brewpub Liquor License
You might need to apply for a brewpub liquor license if you intend to make your wine or brew your own beer.
Restaurant License
If you possess a restaurant license, you can typically sell any alcohol on-premise. However, states might limit the percentage of your earnings generated from alcohol sales. Generally, 40% of a restaurant's earnings can come from alcohol. So, you will need to keep track of your sales records.
Do You Need A Liquor License To Serve Alcohol In A Restaurant?
If you are a restaurant owner, you will need a liquor license to serve alcohol on your premises legally. If providing alcohol is an aspect of your business approach, you should conduct research. Explore what your state, city, and county require.
How Much Does a Restaurant Liquor License Cost?
A restaurant liquor license can cost from; $500 - $70,000, depending on where you live. You will pay a different fee for your liquor license, according to your state and perhaps your city. Most areas have a liquor license limit, and you might not get a liquor license if your town has reached its licensing limit.
How Long Does It Take to Get a Restaurant Liquor License?
Before opening a restaurant, you need to secure a liquor license. This activity can take a year, so start early. The application process to obtain a liquor license may be involved. If you have a criminal record, you might need to provide a letter of explanation. States and towns can reject a liquor license application due to past conduct. Generally, a town council should be the first to approve a license application. The public can join meetings to consider the application and the council notes and assesses their views. Once approved, the application goes to the state, where you may incur another processing fee.
Which States Have Liquor License Quotas?
Certain states restrict how many businesses can sell alcohol. These states are known as "quota states." Before starting your restaurant liquor license application process, check if your state is a "quota state."
What Are Restaurant Liquor License Requirements?
As well as personal background details, here are some items you might need to provide as part of your restaurant liquor license application:
Employee Identification Number (EIN)
A partnership contract/agreement
The constitution of your company
A potential food menu
Plans/ photographs of the restaurant
The premises' certificate for the title
How to Apply for Your Restaurant Liquor License
Many states have a group or a commission that assigns liquor licenses. Generally, you need to complete an application and wait for the approval. However, in certain states, you might need to post your application publicly and appear in a hearing open to public input. Also, some states have quotas on the overall number of liquor licenses.
For all liquor license applications, you will need to:
Give documentation stating which business you want to open (bar, restaurant, distillery, etc.)
State what kind of alcohol you wish to sell (spirits, wine, or beer)
Pay an application fee (separate from your license fee)
Step 1 - Get to know your state's liquor laws
Liquor laws vary according to state. You should learn the specific rules that govern alcohol sales in your town and state. Your state's alcohol beverage control (ABC) board (or a similar organization) should have an online site that explains each license type and how you can use that specific license.
Step 2 - Familiarize yourself with the kinds of liquor licenses
Although regulations vary a lot between license types and states, most liquor licenses fall under one of two groups: On-License v.s. Off-License.
On-license: These licenses are for companies that sell alcohol that patrons drink at, for instance, a restaurant's outdoor and indoor setting.
Off-license: This license lets you sell alcohol that patrons consume outside your premises.
Step 3 - Apply for and pay for your liquor license
Consult your state's ABC board website to see how to apply. Generally, you can apply online. However, particular States demand a postal application, and a few require in-person applications.
Some states want you to have an Employer Identification Number (EIN). They might also want to see that you have completed the Alcohol and Tobacco Tax and Trade Bureau permit steps. Here are some other documents you might need to show:
Completed application
Diagrams and photographs of your location/business
Lease or deed agreements
Background checks
Formation documents
Authorization from authorities such as the county commission or mayor
Management ABC training
Certain states might request funding sources for your business (such as loans)
Keeping Your Restaurant Liquor License
How do you renew a restaurant liquor license?
You must renew your restaurant liquor license according to your state and local laws, generally, every 1 - 3 years.
Can a restaurant lose its liquor license? How?
You must adhere to all liquor regulations and laws while holding a liquor license. If you break any liquor rules, your state or town might revoke your liquor license.
Here are some tips for serving alcohol:
Only hire certified staff
Check every person's ID
Don't serve a customer if they are noticeably intoxicated
Don't over-serve to start with
Ensure patrons don't drink in unlicensed sections
Final Word
Alcohol sales can greatly assist restaurant profits due to good profit margins concerning most hard liquors, beer, and wines. Yet, selling alcohol comes with accountability. States demand that businesses and restaurants have liquor licenses because they don't want everyone distributing liquor. Applying for a restaurant liquor license can be a lengthy process. So it is best to start researching requirements, compiling the relevant documentation, and completing your application as early as possible. Why not search the restaurant liquor license requirements in your state today?