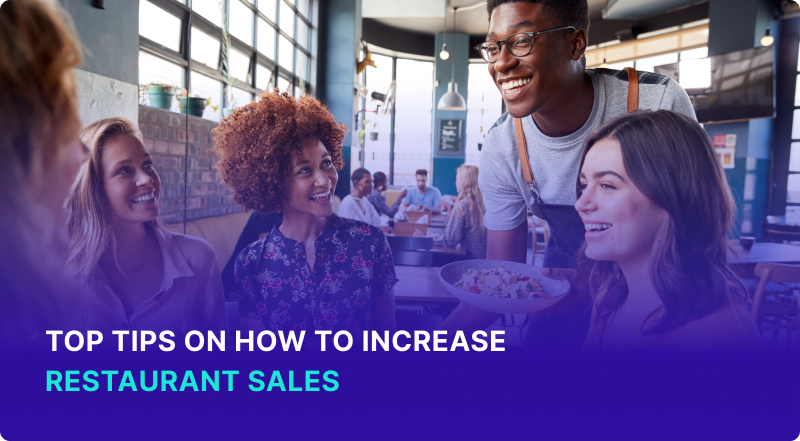 All content presented here and elsewhere is solely intended for informational purposes only. The reader is required to seek professional counsel before beginning any legal or financial endeavor.
It is not a secret that the restaurant industry is incredibly competitive. In order to increase sales you're going to have to get into the small details of your restaurant, specifically those details where small changes can be made with a big effect.
Key Points:

Be bold - go full steam ahead when it comes to promoting yourself and your business
Take action - look for ways to improve your business and then act on them
Have courage - don't shy away from difficult decisions, take a leap of faith
Be flexible - have a plan in place but be willing to modify things according to the market
Tips for increasing restaurant sales
It is important to have a sales strategy in mind when addressing how to open a restaurant. Here are the top strategies to increase sales in your restaurant:
Treat your customers right
A positive customer experience should be a top priority at any restaurant.
If you take the time to ensure that every customer is enjoying their meal, you'll be surprised by how many return regularly. A regular customer is a regular stream of income for your business.
Beyond securing regular customers, a satisfied customer will likely spread their good experience through word of mouth. A business may pick up based on your good reputation as the word spreads around town.
Create upsell opportunities
Upselling is one of the easiest ways to boost your restaurant sales. You can create an upsell opportunity by making upgrades and extra items available.
One good example of an upsell opportunity is to provide add-on options to popular orders. Giving customers the option to add complementary sides to their favorite dish can increase sales. Additionally, creating enticing appetizers or desserts can add to the total amount a customer spends at your restaurants.
It is not enough to make the extra options available. You will also need to convince your customers to spring for an upsell. That means training staff to broach the topic at the right time. Plus, potentially providing free samples for the new menu items.
Increase table turnover
As you find out how to get more customers in your restaurant, you'll need to consider your table turnover. An efficient table turnover can make a difference when boosting your restaurant sales.
Table turnover is the number of customers you can serve on a given day. Although you should not rush your customers through the experience, you should create an efficient process to bring in as many customers as possible.
A few ways to increase table turnover without rushing your customers include:
Sending orders to the kitchen immediately.
Presenting checks quickly.
Cleaning tables as soon as the customer leaves.
Efficient service creates an excellent experience for the customer. Plus, it is one of the best ways to grow your sales.
Offer specials
Want to know how to grow sales in a restaurant? One of the most effective ways is to provide specials and happy hours to entice customers to give your restaurant a try. New and existing customers are more willing to try out a new restaurant if they can get a deal.
Consider providing coupons or happy hours to draw in new customers. The exact discount you can offer will depend on your business. But make sure to advertise the deal widely to attract new customers.
Have a theme night
In the same vein, consider some unique restaurant ideas. For example, a theme night can draw in your customers. The right theme can draw a crowd.
For example, many restaurants host themed trivia nights on weekdays to boost the number of customers walking in the door. But you can also consider special themed menu nights to target a particular audience.
Increase your online offerings
Many customers would prefer to order their food from the comfort of their homes. If you have enough capacity in the kitchen to handle additional orders, consider expanding your online offerings to reach these customers in their homes.
You can work with a suite of apps to make your food available to delivery customers. A few popular apps include GrubHub and DoorDash. Why not give this avenue a try?
Sell products
Does every customer love your logo? Or is there a sauce that customers cannot get enough of? If so, it might be time to start selling products.
You can sell any related product with your branded logo to loyal customers. This avenue will provide an entirely new revenue stream and get the word out to new potential customers. After all, your customers might be willing to pay you for a shirt, which will act as free advertising for your business. Take a minute to brainstorm the possibilities of branded products in your stores.
Offer catered meals
Customers that love your food may want you to cater for their events. Take a look at your kitchen's capacity to see what kind of catering services you can offer.
If you dive into catering, it is smart to create menu packages to provide catering to customers. The packages will help customers visualize the options. Plus, it means fewer customizations that can get expensive quickly.
Create a loyalty program
A restaurant loyalty program can encourage customers to keep coming back to support your business. You've likely seen loyalty or rewards programs implemented by other restaurants.
A basic example would be a sub shop that offers a free sub after purchasing five.
You can go with an electronic system which will include the opportunity to send deals straight to the customer. But a paper punch card is more affordable. In either case, you'll build customer loyalty by offering a free item and your stellar service.
Host events
Events come in all shapes and sizes. But you can learn how to improve your restaurant business with the help of events. You can choose to rent out the entire restaurant or section off a space for a particular event.
The customer is willing to pay for the space and the food. You can build in a new revenue stream to increase your sales.
Boost your local marketing
The goal of creating a superior customer experience is admirable. But you'll still need help getting customers in the door. That's when restaurant marketing comes in.
The good news is that there are many affordable local marketing options, including local billboards, radio commercials, and digital ads. If you aren't comfortable making advertising decisions yourself, consider hiring an agency to get the ball rolling.
Make your digital presence attractive
When choosing to try a new restaurant, many customers take the time to look at the menu online. Your digital presence must be welcoming. That includes an attractive website with a menu easily read by mobile users.
Additionally, make an effort to address any negative reviews on popular sites like Google or Yelp. You don't want potential customers to see a bad review and skip your restaurant altogether.
Create combo options
A combo meal deal includes pairing popular items together.
With simple combos, you can attract customers who want a large plate at an affordable price. But behind the scenes, you can choose to pair low-cost menu items to increase your profit with each sale.
Get involved in the community
A local restaurant should make an effort to get involved in the community. The benefits are twofold. First, you will gain the benefits of building relationships around town.
But second, potential customers will see your restaurant in action. When you help others, potential customers want to help your business be successful.
A few ways to get involved include donating a portion of your proceeds to a local charity or sponsoring the local sports teams. Additionally, you can host workshops to facilitate community bonding. If you contribute to the community, the locals will feel invested in your success and support you along the way.
Increase prices
All of the tips above are great ways to boost your bottom line. But if you aren't seeing an increase in your restaurant turnover rate and the results you were hoping for, it might be time to increase your prices. Take a look around your market to see a competitive price point in your area. Although your prices should be competitive, you can increase prices to cover your costs.
If you decide to increase costs, make an effort to do this gradually. As an alternative, you can eliminate any menu items that are losing money.
The bottom line: It is possible to increase restaurant sales
You can learn how to increase your restaurant sales. Although it may take some time to figure out which method will work for your restaurant, the results can be worth it.
You may need financial help expanding to meet the increased demand as you increase your sales. Luckily, increased sales make it easier to qualify for a restaurant loan.

If you need help with restaurant financing, work with Fora Financial to efficiently obtain your funds.