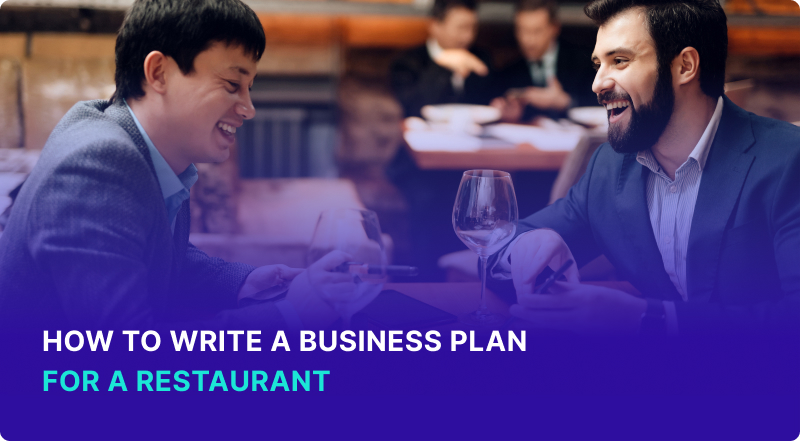 All content presented here and elsewhere is solely intended for informational purposes only. The reader is required to seek professional counsel before beginning any legal or financial endeavor.
A business plan communicates how serious you are to a potential investor. It shows you know what you are talking about, you did the research, and if you have invested this much so far, chances are you will invest much more to make it work.
Key Points:

Be realistic - set reasonable steps for you and your business to follow
Remain focused - keep your sights set on your goal and go for it
Seek out inspiration - look for innovative ideas in your environment
Be persistent - once you know you are on to a good thing, stick to it
Why Is A Restaurant Business Plan Important?
An investor funds your business idea and your potential as an entrepreneur. They want to know if you are a serious business person and if you have what it takes to make them a profit on their investment. They also want to see that you have the know-how when it comes to understanding how to open a restaurant. The business plan is not only a roadmap for your business. It is also a demonstration of your potential financial success.
The sad truth is that around 60% of new restaurants fail within the first year. Even if a restaurant makes it past the first year, over 80% close before their fifth year in business. With that sobering statistic, it is clear to see how competitive the market is. A well-thought-out business plan will illuminate to an investor just how committed you are to your business.
Potential investors and lenders can assess the investment opportunity your business offers based on your plan's details. A professional business plan that answers all of the questions an investor or lender might have about your business can streamline the process of obtaining the financing you need to execute your small restaurant business plan.
Essential Sections to Include in a Restaurant Business Plan
A restaurant business plan is important. But what exactly should you include?
Here are all of the essential sections that you cannot overlook:
Executive Summary
The executive summary kicks off your restaurant business plan with a high-level view of your future restaurant. It should discuss the goals you have for the business with any previous successes from the team highlights.
Additionally, you should share the basic category of the restaurant. For example, are you opening an upscale steak house or a tapas hot spot. Give the reader a sense of why you are opening the restaurant and your plans.
And finally, mention what kind of investment or financing you are searching for, in relation to how much it costs to open a restaurant. If you've already raised some money, briefly say that in this section.
Company Overview
The company overview will give the reader a deeper understanding of your restaurant plans. Although you may have touched on various topics in your executive summary, you'll need to provide more details in the overview.
A few essential details include the style of restaurant you are opening, the customers you hope to serve, and the legal structure of your venture. Information about the market you are entering is also useful to paint a picture of how your restaurant will fit into the scene.
Meet the Team
The right team can make all the difference in any business, including restaurants. Take the time to share details of your professional background. If you have dedicated staff on your team, highlight their professional accomplishments.
Finally, introduce any plans about ownership percentages that involve your team.
Market Analysis
You should design your market analysis to shed light on your target market. It should include information about the expected demographics and competitor analysis. Additionally, the market analysis must highlight a marketing strategy for your business to attract customers.
Sample Menu
No restaurant is complete without a sample menu. Of course, this means looking at the meals you plan to serve.
Beyond a sample of the tastes, you should include the prices you expect to charge. The expected prices should be based on your research into food costs and competition.
Operations
Use the operations section to illustrate how the location would run daily. It should include details about your staffing expectations and customer service procedures. Additionally, point out any systems that will need to be accounted for, such as a point of sale system or payroll system.
Financials
Last but not least, any restaurant business plan should include detailed financial information. An investment plan, break-even analysis, and expected cash flow are essential components of this section.
You'll need to outline a budget to launch the restaurant. Consider all the costs required to get your operations up and running, including how to increase restaurant sales further down the track.
If the business has any debt, include the exact terms and conditions. Any investor or lender will want to know what liabilities are on the books. And as a business owner, a clear understanding of your debts can help you make decisions to alleviate any pressure that debt might cause on the future success of your business.
If you seek investment or loan, you should include exactly how much you need. Plus, share exactly how you plan to use the funds.
The focus of learning how to write a business plan for a restaurant should be to provide a solid game plan for yourself. Beyond a roadmap, for you to follow, the plan should show potential investors and lenders that the business will be financially viable.
Restaurant Business Plan Examples
As with any type of writing, it can be helpful to look at a restaurant business plan sample before getting started. Luckily, there are several restaurant business plan templates available. Take a minute to check out our free business plan template.
A Business Plan Reflects Your Promise As An Entrepreneur, Demonstrating Your Investment Potential
Now that you know more about writing a business plan for a restaurant, it's time to put that knowledge into action. Keep potential investors and lenders in mind as you build out this plan. Make an effort to answer all of their questions about your restaurant business.
With your restaurant business plan in place, it's time to explore funding options. A loan from Fora Financial is the best place to find a restaurant business loan to suit your needs. Take the time to apply today!