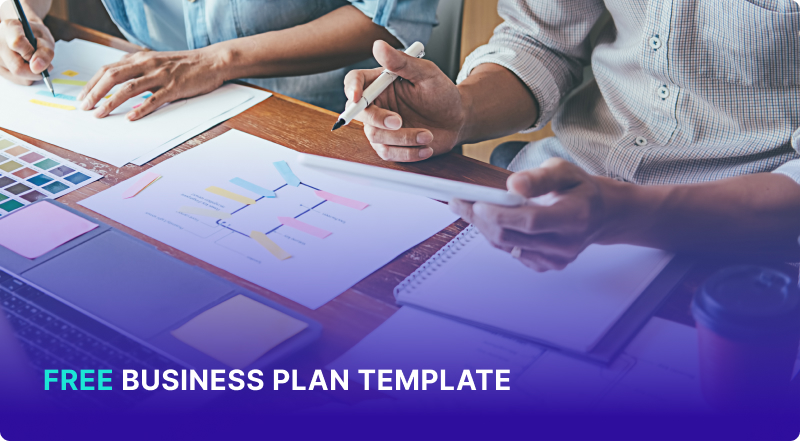 A business plan outlines the goals of a business and how those goals will be achieved. In this article, you'll learn about the different elements of a business plan, how a business plan template can help you get started, and find our free business plan template to make the process even easier.
Key Points:

A business plan is a formal document that outlines the goals of a business and how it plans to achieve them.
It is important for any business to develop a sound business plan before proceeding with operations, as your business plan is vital in securing investors and loans.
A business plan should include details on the products and services being offered, potential risks as well as strategies for mitigating them, potential growth opportunities, marketing plans, financial projections, and more.
There are a number of free business plan templates available online that are designed to help entrepreneurs create effective and comprehensive plans - we've included our free template below.
The 7 Most Important Points Our Business Template Covers:
Our Business Template is designed for a variety of industries to be used for. It covers all the most important factors that would need to be included in any business plan for any type of industry.
Executive Summary. The executive summary is an overview of the entire business plan. It provides key information such as the mission and vision of the business, the objectives, the industry and market, the strategy, and any key highlights. It is important to include an executive summary because it gives a brief overview of the plan and allows investors and lenders to quickly assess the business's potential.
Company Description. The company description should be included in your Executive Summary and is one of the most important parts of your business plan. It outlines the types of products and services that the business provides, its history, and how the business operates.
Situation Analysis. This is an important component of a business plan, as it provides an overview of the current market landscape and the competitive environment in which the business operates. It also highlights potential markets, target customers, potential risks, and potential opportunities.
Marketing Plan. The marketing plan outlines how the company will promote and advertise the products and services you offer, as well as how you'll capture a larger customer base. It's important to include this section in the business plan because it provides investors and lenders with an understanding of the company's approach to sales and marketing, which is ultimately how a business makes some of its revenue.
Operational Plan. The operational plan covers the processes and procedures that the company will use to produce and deliver its products and services. You'll include every plan you have to successfully operate your business. This includes how the business is organized, plans for onboarding suppliers, a legal plan, and much more.
Financial Plan: This section outlines the financial objectives of the business and provides an analysis of the current and projected financial performance of the business. This is the part investors and lenders will look at most closely. After all, they want to understand how they'll make money from your venture, too.
Conclusion and Appendices: This section contains additional supporting information and documents, including market research, financial projections, business registrations, and more. This wraps up your business plan and reiterates, in a concise way, what your business plan is.
Why Is It Recommended to Start With a Business Plan Template
When you're starting a business, it's easy to feel overwhelmed by the countless tasks you need to accomplish. One of the most important steps in the process is putting together a business plan—but where do you start? That's where a business plan template can come in handy. Here are a few reasons why it's recommended to start with a business plan template:
It's a great starting point and gives you an idea of what you need to include in your business plan.
It shows you the format and helps you organize your goals, strategy, and ideas.
It helps you think through potential problems and map out solutions.
You can customize it to make it unique to your business.
How to Write a Business Plan Using a Template
Writing a business plan is time-consuming, but it doesn't need to be difficult. A template can help make the process a whole lot easier. Here are the steps to take when using a template:
Choose the right template. Select a template based on the type of business plan you're writing and what type of information it should include. For example, a business plan will likely look a little different for a restaurant owner or food truck owner than it will for a carpenter opening his own business.
Customize the template. Once you've chosen your template, tailor it to your individual business by filling in the requested information. Make sure you thoroughly go through all of the sections, even those that may not be applicable to your venture.
Double-check your information. Make sure everything you included is accurate and up-to-date. Poor quality information can lead to serious setbacks down the line when trying to onboard investors.
Have a professional review the plan. Although you may have an idea of what needs to be included, it's wise to have a professional, like a business consultant, review the plan to make sure it adheres to industry standards.
Revise as needed. As the plan grows and evolves, go over it regularly (at least once a year) to ensure it's still relevant to your current business goals and objectives.
What to Avoid When Using a Business Plan Template
Writing a business plan is an important part of starting any new business. Using a template can be a helpful way to ensure that all the essential elements of an effective business plan are included. However, it is important to be aware of the pitfalls that can come with relying too heavily on a template.
Avoid following the template too closely. Templates are meant to provide a guide for what should be included in a business plan, but it's important to tailor the plan to fit the specifics of your business.
Don't rush through the process. Writing a business plan should not be a rushed process; take the time to carefully consider your business's objectives and strategy. In fact, filling out your whole plan will likely take multiple sit-down sessions with yourself and whoever else is involved in your business.
Don't forget to review your plan. Reviewing the business plan is essential to ensure that all components are accurate and up-to-date. The last thing you want to do is present a plan full of grammatical and mathematical errors.
Don't overlook the small details. Business plan templates often focus on the big picture, but it is important to pay close attention to the smaller details as well. The more you think about all of the details of your plan now, the less work you'll have to do in the future.
Always get feedback. Receiving feedback from business advisors, potential customers, and even friends and family can be very beneficial.
What Are the Main Purposes of a Business Plan?
A well-thought-out business plan is an invaluable tool when it comes to getting investors, securing bank loans, and managing the day-to-day running of the business. Here are some of the main purposes of a business plan:
To evaluate a business idea. By writing out your business plan, you'll be able to objectively evaluate the potential success of your idea.
To determine feasibility. Developing a plan will help you understand the real-world costs and skills required to launch the specific business you're thinking about.
To get investors onboard. Investors will want to understand the potential of the business before investing their money. A business plan is one of the best ways to do this.
To secure other types of financing. A well-crafted business plan should prove that you have a sound venture that is capable of making a profit, making it easier for lenders to offer you loans.
What Types of Business Plans are There?
Business plans are important no matter what kind of business you're running, and there are several different types of plans to consider. Let's break them down:
Startup business plan. This type of plan should outline the overall business concept, target market, and financial demands of the new business to convince potential investors it's worth investing in.
Strategic business plan. This usually covers a few-years period and is used to manage a business's operations with specific goals and strategies for reaching them.
Operational business plan. This plan focuses on the day-to-day workings of a business including how tasks are assigned and carried out.
Financial business plan. This type of plan focuses on the business's financials such as revenues, expenses, and profits as well as future financials.
Growth business plan. This plan looks at a business's overall execution and identifies ways to expand.
Tips for Creating a Successful Business Plan Based on Templates
Creating a successful business with the help of templates is a great way to ensure that all aspects of your business are taken into account. Here are a few tips to help your planning go smoothly.
Start by determining your goals and purpose. Figure out what you want to achieve with the plan, this is essential to establishing the structure of the document. You'll be able to quickly tell if you only have a half-thought-out idea.
Read through the template before filling it out. Familiarize yourself with the topics, this will make it easier to offer accurate information when filling out the template.
Spend a LOT of time doing your research. Your business plan won't just include your personal business's facts and figures. You'll also want to include a whole section on your competition and how you plan to compete in the market. This is going to take a lot of time and research, so be ready to hunker down.
Free vs. Paid Business Plan Templates
When creating a business plan, entrepreneurs can choose from two different methods: free business plan templates or paid business plan templates.
Free business plan templates are typically offered by government programs, business organizations, and other websites. These templates are often more comprehensive in their outline and offer helpful resources to explain the different component parts of good business plans. However, free templates may not be as robust as paid plans and can provide limited customization features and content suggestions.
Paid business plan templates are offered by various software programs and subscription services such as LivePlan. These services may provide more flexibility and customization for business plans and may include helpful information and resources for understanding the fundamentals of business plans. Additionally, paid services will often guarantee revised versions of business plans and offer further support from a customer service team.
Free business plan templates are ideal for small businesses that already have the necessary content and may just need a suggested format. Paid business plan templates are best for businesses seeking a more professional design and higher levels of flexibility and customization.
Business Plan Software - What It Is and How Does It Work
Business plan software is an easy and fun way to make sure your business ideas come to life. Whether you're planning to launch a new venture or are revamping an existing one, business planning software can help you stay organized, develop your business strategy, create an effective execution plan, and keep your project on track.
Simply put, business plan software is a set of user-friendly tools designed to help entrepreneurs by providing structure and guidance, helping to simplify the business planning process while keeping them focused and motivated. Business software automates the process of putting together a business plan. After entering your company information and data, you can quickly generate a professional document using pre-formatted templates. You'll also typically have access to interactive charts, project goals, and timelines that help keep you on track and organized.
A few examples of companies that offer business plans and business management include:
LivePlan, which costs $20 - $40/month.
Wrike, which offers a free version or paid subscriptions starting at about $10/month.
Aha!, which has paid subscriptions starting at $59/month.
FinImpact Downloadable Small Business Plan Template
Industry-Specific Business Plans
Food and Hospitality
Restaurant business plan template: Should provide a comprehensive strategy for setting up and establishing a successful restaurant, detailing the proposed concept and location, market analysis, and more.
Food truck business plan template: Should outline a custom plan for the business, detailing the goals and objectives, location, equipment needed, and a marketing and sales strategy designed to bring in new customers.
Coffee shop business plan template: Should lay out all of the details needed to start and operate a successful cafe, from the location to the suppliers to the pricing strategy.
Bakery business plan template: Should outline all of the information necessary for a potential bakery to get off the ground, from start-up costs to marketing plans to the unique products offered.
Franchise business plan template: Should outline the specifics of the business including the initial franchise fees to training and support to marketing.
Hotel business plan template: Should place an emphasis on the key strategies and tactics needed to launch and maintain a successful hotel chain, from cost-saving initiatives to renovation strategies.
Salon suite business plan template: Should provide a detailed business model outlining the costs and revenue projections, the space and employees needed, and other marketing initiatives.
Spa business plan template: Should provide an overview of the planned spa concept, the services and treatments offered, the target market and estimated expenses and revenue, and any unique marketing plans.
Event venue business plan template: Should outline necessary information regarding the business, such as the number of events planned per year, the necessary investments in infrastructure and equipment, and the marketing and promotional plans necessary to bring in customers.
Retail and E-commerce
Clothing line business plan template: Should focus on the needs of the market, how to organize production, and how to market the clothing line. It should also include financial projections and a plan for growth.
E-commerce business plan template: Should identify the company's target market and provide strategies for how to capture that market online. It should also include information about the unique selling point of the business, financial projections, and tactics to grow the business.
Online store business plan template: Should include detailed strategies for marketing the business, plans for capturing the desired target audience, and financial projections. It should also discuss any unique features that will set the business apart from its competitors.
Bookstore business plan template: Will focus on the bookstore's target market, competitive landscape, unique selling points, and financial projections. Additionally, it should contain detailed plans for acquiring and marketing books, as well as a plan for increasing revenue.
Health and Wellness
Gym business plan template: Should focus on the target market and potential customer base, outlining the financial forecasting, marketing strategies, and the steep operational costs that come from having to purchase equipment and hire employees.Healthcare business plan template: Should include an overview of the key services, staffing requirements, growth forecasts, and financing options that will be necessary to make the venture successful.
Medical aesthetics business plan template: Should include the scope of services, financial forecasting, branding and marketing strategy, and operational objectives that will be necessary to make the business profitable.
Medical practice business plan template: Should identify the need for the services and its target market, outline the financial forecasting and operational plans, and identify the strategies to help onboard and retain patients.
Esthetician business plan template: Should include the scope of services and target market, financial forecasts, management responsibilities, product needs, marketing efforts such as social media and physical advertising.
Service and Personal Care
Cleaning business plan template: Needs to outline the services you plan to provide, the marketing strategies you intend to use, the operational structure of your business, and the products and their health impact.
Daycare business plan template: Consider adding details such as the area you'll need to start a daycare, staff requirements, and any state-specific licenses needed to operate.
Event planning business plan template: Consider the type of events that you wish to organize and the marketing strategies to acquire clients.
Photography business plan template: Should define your photography services, the target market, the need for updated equipment, and the organizational structure.
Consulting business plan template: Consider factors such as the clients you are targeting, your pricing structure, the competition's pricing structure, and the specific areas you're willing to consult in.
Marketing business plan template: Consider important items such as the strategy to reach customers, the target demographics, and how you will measure the success of your plans.
Transportation
Trucking business plan template: Should consider the types of goods that will be transported and the routes that will be taken. It's also important to include any safety measures and regulations that must be followed in the industry.
Transportation business plan template: Should include an analysis of the target market, as well as information on the types of services offered. It's also important to address the resources necessary to operate a transportation business, such as drivers, vehicles, fuels, etc.
Car detailing business plan template: Should include types of services offered and the demands of the market. It's important to include pricing strategies for the services and to estimate any overhead costs associated with running the car detailing business.
Real Estate
Real estate business plan template: Should identify start-up costs, analyze market trends, and demonstrate long-term objectives.
Real estate investment business plan template: Should outline investment objectives, analyze the current market, identify potential competition, and develop a strategy for the real estate business.
Rental property business plan template: Should include an analysis of the rental property market, rental rates, and a marketing plan. A rental property business plan should also include a SWOT analysis, cash flow projections, and an overview of competitors and other related data. Additionally, it's important to structure the plan to include aspects such as risk assessment, financial projections, and potential long-term liabilities.
Arts and Entertainment
Mobile app business plan template: When creating a business plan for developing a mobile app, consider what platforms the app will be available on, the features of the app, the target audience, and an estimated budget for the development and launch.
Performing arts business plan template: Key areas of focus should include revenue streams, marketing strategies, collaborations, expenses, and organization. Additionally, it's important to have an awareness of the larger field and competitive landscape.
Film business plan template: Should provide an understanding of the financial aspects such as cost of production, staffing, equipment, marketing, and distribution. Additionally, creating a timeline for the project and developing a marketing strategy are essential components of a business plan for a film.
Agriculture
Farm business plan template: A farm business plan should focus on the effective production and marketing of a farm's agricultural products while balancing the need to meet budget goals. It should also take into account the unique pests, diseases, weather, and soil conditions that can affect a farm's long-term success.
Construction
Construction business plan template: Should consider the breadth of services and products offered, the scope of work for each project or contract, and the need for personnel and equipment. It should also account for insurance coverage, financial management, and compliance with applicable government regulations.
Nonprofit Organizations
Nonprofit business plan template: Should outline the organization's mission, vision, and goals, as well as the strategies used to achieve them. It should also include an analysis of the target population, potential partnerships, funding sources, and budget projections.
Final Word
Using a business plan template is a hugely valuable resource for those who are looking to get their business off the ground. Developing a business plan can seem daunting at first, but with the right guidance (and our free template), you can be well on your way to creating a plan that will help guide your business to success.