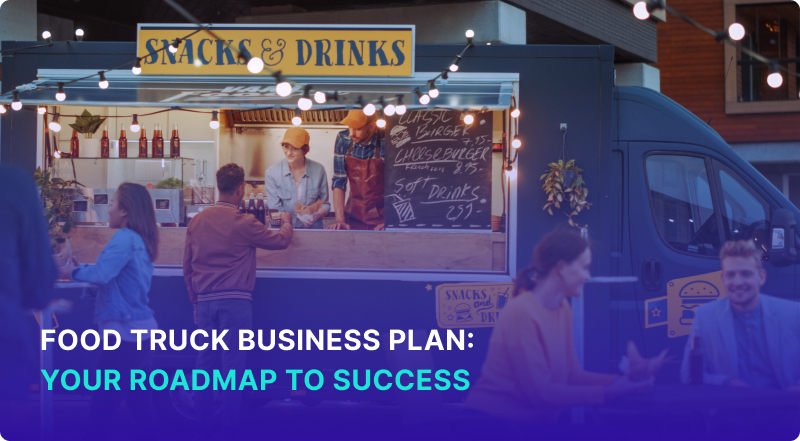 All content presented here and elsewhere is solely intended for informational purposes only. The reader is required to seek professional counsel before beginning any legal or financial endeavor.
A worthwhile food truck business plan will take some time and effort to create. However, this exercise serves as a place to think through potential issues before an unexpected roadblock stops you in your tracks. Having a well thought through business plan will have you prepared and instead of being overwhelmed you will relate to it as a challenge instead.
Key Points:

Building out a food truck business plan takes time and energy. Like most things in life, you'll get more out of a business plan if you take it seriously.

The results of your efforts will help you think of creative solutions to potential problems your business might face.

Every business faces challenges. A carefully researched business plan will help you avoid common pitfalls.
How to Write a Food Truck Business Plan
When opening a food truck, writing up a business plan can help you succeed. Not only will a business plan help you visualize your path to success, but it will also provide a space to work through potential problems ahead of time.
Below you'll find a complete look at how to write a business plan for a food truck.
Executive Summary
The executive summary should include a brief overview of everything included in the document.
Why it's important: When you share your business plan with others, this serves as a quick overview to pique their interest before diving into the details.
What to include: You can think of the executive summary like the elevator pitch for your business. Give potential readers a good first impression of where you want to take your business and how you plan to get there.
Company Overview
A company overview should include details about your company's plans. You'll need to nail down the overarching goals of the company. Plus, how your company is poised for success.
Why it's important: The company overview sets the stage for your business plan. Your vision of what your business will become a touchpoint as you make future decisions.
What to include: Be prepared to explain what kind of food you plan to serve, which customers you plan to serve, and what competitive advantage your business has to set it apart from the crowd. Additionally, include any details you can about the legal structure of your business and the management team.
Product and Services
On the most basic level, food trucks are likely going to provide food in some form. However, there is a wide range of potential menu items you could offer.
Why it's important: Getting specific on the details of your menu will help you showcase your flavourful intentions.
What to include: Describe the type of food you plan to offer. If possible, include a sample menu. Beyond the menu, you should detail the services you plan to offer. For example, will your food truck be available for events? If so, include that as a service offering.
Good business planning is 9 parts exception for every 1 part strategy." - Tim Berry
Industry Analysis
The industry analysis takes a look at both your local food truck market and the food industry as a whole. In this section, you'll determine where your business fits into the wider market.
Why it's important: An understanding of where your business fits in the marketplace gives you direction on how to reach your customers.
What to include: Find data that indicates the general direction of the food truck market. You'll also want to include realistic risks involved in the industry. Plus, look for where your food truck will stand out in the industry.
Business Operations
A food truck business is very versatile. Mapping out your plan for business operations will help you stay on track when you get up and running.
Why it's important: Every food truck has a slightly different strategy for business operations. Some focus on serving large events, while others find the perfect location for a dinner crowd. Deciding how you want to run your business upfront is helpful.
What to include: Describe what hours you plan to operate the truck, where you will park the truck, how your staff will take orders, how you will order supplies, and how you will land event bookings.
Competitive Analysis
The competitive analysis takes a look at how your food truck stacks up against the others in your area.
Why it's important: You want to find a competitive advantage that sets your food truck apart from the crowd. Look at what is missing from other food truck experiences in your area and try to deliver what the customer wants.
What to include: Create profiles of the other food trucks in your area. When you look at the competition, determine how your food truck can stand out. Additionally, include a SWOT (Strengths, Weaknesses, Opportunities, and Threats) analysis on your own business, which will help you identify where your business can shine.
If you don't know where you are going, you'll end up someplace else." - Yogi Berra
Customer Analysis
A customer analysis takes a closer look at your target market. You'll need to nail down what demographics and characteristics your key customers have.
Why it's important: A business cannot function without customers. If you want your food truck to thrive, you'll want to provide an experience that keeps customers coming back for more.
What to include: Get clear on who your target market is. Brainstorm ways for your business to serve these key customers.
Marketing Plan
A marketing plan offers a strategy for reaching your customers.
Why it's important: It's not enough to have a great menu. If no one knows about your amazing food options, then they can't give you a try.
What to include: Within your food truck marketing plan, you can include strategies you plan to use to reach your customers. Some of the necessary elements include creating a brand, setting your prices, running promotions, building out a social media presence, participating in local events, and gaining publicity through outreach activities.
Financial Analysis
Financial analysis is the heart of your business plan. After all, the end goal of starting a food truck business is to build a profitable operation. If the business is never profitable, then you'll eventually have to pivot to another source of income.
Why it's important: The financial logistics of running a business are the cornerstone of a successful enterprise. Without a clear understanding of the costs involved, it's challenging for business owners to reach financial success.
What to include: It's time to get into the nitty gritty details of paying for your company. You should include the capital requirements involved in getting started, how you plan to use the funds, sales projections, financing costs projections, cash flow statement projections, and any financial assumptions you are making with this business.
"A goal without a plan is just a wish." – Antoine de Saint-Exupery
Why Do You Need a Mobile Food Truck Business Plan?
It's tempting to skip the work involved in creating a business plan for your mobile food truck business. But starting your food truck business without drafting a business plan is like taking a whitewater rafting tour without a life jacket. Starting a business can feel like a rollercoaster ride. Instead of jumping in underprepared, use a business plan life to guide you safely through the fray.
Visualize success: When it comes to a small business, everyone has a different definition of success. Within your business plan, you can map out a path to a thriving business that meets your standards of success.
Answer questions: If you run into any questions about your business during the planning stages, you can get to the bottom of the issue before sinking a lot of time and money into your new venture.
Explore funding options: After writing a business plan, you'll have a good estimate of how much money you need to get the business off the ground. With this information, you can start exploring the best food truck funding solutions, including food truck loans.
Applying for funding: Not only is a business helpful while you explore funding options but it might be required by some funding sources. For example, many financial institutions and government agencies will require a business plan when reviewing a loan application.

Final Takeaway
It's a smart move to create a food truck business plan before you start a food truck company. As you draft your business plan, you can map out a streamlined path to success. With a clear direction for your business, you can move forward confidently. Plus, this business plan might come in handy when seeking out funding through a lender or investor.