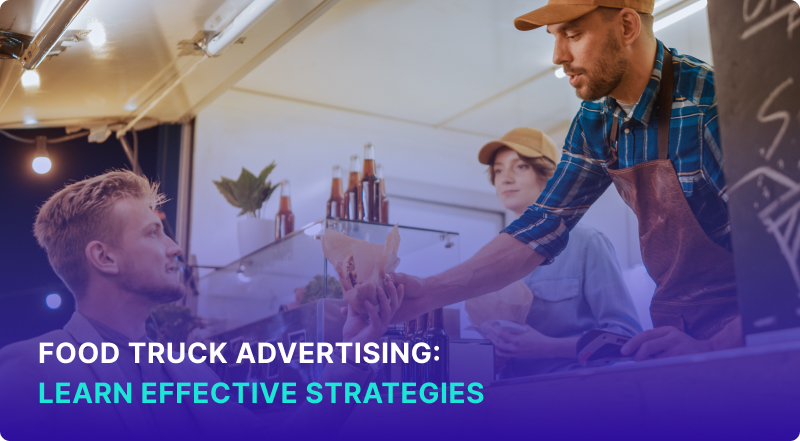 All content presented here and elsewhere is solely intended for informational purposes only. The reader is required to seek professional counsel before beginning any legal or financial endeavor.
Success does not only rely on great recipes (even though that's definitely a big part of it). Businesses that continuously make a profit have a strong food truck advertising and marketing strategy that continuously attracts and brings back customers.
Key Points:

Constantly adapt: The nature of food trucks is to be able to move, this means they need to be able to constantly adapt. If the usual parking spot isn't giving you the profits you have in mind, try a different location.
Discipline: Food trucks are part of the hospitality industry. This means that when your friends and family are out on a Friday night or on holiday, you need to show up and bring your recipes to strangers who are enjoying their weekend, as this is the most profitable time of the week.
Consistency: As much as it's tempting to continuously test out how to improve classics on your menu, customers crave consistency. The reason people keep coming back to your business is because they expect the same quality in food and service.
How to Develop a Food Truck Advertising Strategy
A marketing strategy is a plan designed to promote and ultimately sell a business's products or services. Food truck advertising is essential for your business to gain a competitive advantage in the market and grow profits. Here are five steps to create an actionable food truck advertising strategy:
Step One – Determine Your Marketing Budget: Ask yourself how much money you want to make in sales. Depending on this, you can determine what you're aiming for. Is it $20,000/month? or $100,000/month? If you don't have a set goal you can work towards, you can't strategize properly because you don't have a road map. Once you determine your income goals, your marketing budget should be a percentage of your revenue. For food truck businesses, it can be anywhere between 5 and 10%.
Step Two – Identify Your Target Market: Who are you making food for? Are these family-oriented meals? Are these best for friend groups on a night out? Ask yourself what your consumer's preferences are, their buying habits, and where they like to hang out.
Step Three – Create a Mission Statement: In your mission statement, you should make it clear what your food truck wants to achieve with its products. Determine why it exists and what it can provide to both customers.
Step Four – Determine Your Brand Identity: The visual elements that customers relate with your brand such as name, logo, colors, and food truck design should be consistent to have a clear brand messaging.
Step Five – Establish Your Presence Online: Nowadays, you don't need a huge budget to have an online presence. Ideally your online presence will consist of a website, social media, Google business page, and review site profiles. If you don't have enough budget, you can leave your website for further down the line.However, presence on social media is key, as well as review site profiles. Make sure you don't spread yourself too thin and pick 1-2 social platforms that you know your audience hangs out on. Also, when you're first starting out, consider providing discounts or other incentives to those who write reviews on websites like Yelp until you build a solid amount of reviews.
Step Six – Set a Marketing Schedule: When it comes to marketing, consistency is key. Set a schedule in which you will create content and schedule it throughout the week to remind people to come try your delicious menu.
Step Seven – Implement Your Strategy: Evaluate Results, and Make Adjustments as Necessary. No marketing strategy is perfect right out the gate. Food truck owners should evaluate the effectiveness of their strategy and make changes along the way to improve it.
Top 10 Food Truck Marketing Essentials
Congratulations! You've come this far, and now you're ready to get started with food truck advertising. Here are the top 10 marketing essentials you'll need to grow your business:
Branding: Since food trucks move around quite a lot, customers need to be able to recognize your business no matter where you're parked. By creating a strong visual narrative of your brand and inspiring people to have a positive perception of your company, you'll be able to build a solid customer base and ultimately grow your sales.
Website: A website gives your business legitimacy and is an opportunity to make a positive first impression. Because you're in the food industry, customers will often flock to your webpage to look at the menu and other key information before visiting your food truck.
Social Media: Connect and engage with potential customers where they are at: LinkedIn, Twitter, YouTube, Facebook, Instagram, or TikTok. With a strong social media strategy and the ability to create engaging content, you can engage your audience and attract them to your food truck.
Food Presentation: The very first experience people have with your food is visual. And guess what, they experience your food first through their eyes! Its aesthetic appeal is the first thing they will judge before the flavor. Also, with younger generations, "the phone eats first". Meaning customers will take pictures of your menu items to share on social media and this can be a key part to attract more people to your business.
Partnerships: A strategic collaboration whether it's with other brands or influencers helps increase brand awareness and reach, ultimately growing your customer base.
Location Strategy: Location can tell you a lot about your customers. What generation they are, spending habits, likes and dislikes. This is why when you pick a location, make sure your brand is something that will resonate with the area and there's enough foot-traffic so nearby potential customers will notice, visit, and buy from your business.
Loyalty Programs: This marketing strategy is a bit of a carrot at the end of the stick. By offering your customers discounts once they have purchased a certain amount of meals or spent a set amount on your food truck, they get a reward for continuing to return to your business. This will help you build a consistent customer base.
Food Truck Apps: You want to make it as easy as possible for your customers to order from you. So, whether you join a food delivery platform or create your own app, make sure online ordering is as convenient as possible for your customers.
Catering: Weddings, work events, and festivals are just to name a few places where food trucks can thrive at events. This is an additional revenue stream, keeps your costs low, and increases brand exposure. Who knows, maybe you'll book your food truck for another event if more of the guests love your food.
Merchandising: Not only is merchandising a great way to increase your sales, but it leads to improved exposure, boosts brand recognition, and makes for more engaged customers.
"The Taco Truck was started with the passion of spreading authentic Mexican street food throughout the Northeast. Our menu is unique and authentic and every part of the business—our truck, pop-up, cart, catering services, brick and mortar locations—stays true to that authenticity." — Jason Scott, owner and creator of The Taco Truck.
Food Truck Promotion Ideas
The way you promote your food truck will have a direct impact on your profits. Take advantage of your truck's unique features and what it brings to the table, and make sure everyone knows about them. Here are a few beneficial ways you can promote your food truck:
Attend festivals: Music festivals really get people hungry from all that dancing and walking around. Taking this opportunity will not only boost your sales at the festival, but if you take promotional materials with you like business cards, you could potentially get booked for other upcoming events from your new customers.
Host Live Events: From weddings to corporate meetings, hiring food trucks is an easy way for event planners to cater to numerous people. Additionally, food trucks allow event planners to avoid the high cost of renting a venue and, instead, host their event in a space off the beaten path. When guests see your food truck at a unique location, they may be inspired to do the same. Make sure you have your marketing materials at hand for people to reach out to you.
Work with Influencers: Collaborating with influencers gives food trucks access to a larger audience, increases reach, and boosts engagement. If you set up a type of selfie station in your food truck design, influencers, and people that visit as customers, will naturally share your food for free online.
Hold Contests: Whether it's live or a social media giveaway, holding contests is a great way to promote your food truck. Food truck contests aren't really about giving away free food and prizes. They are about attracting attention to your truck and getting people to try your food.
Offer Food Tastings: Trying out new recipes or tweaking old classics? Offering a tasting of new recipes is a great way to promote your food truck while getting feedback and doing market research before potentially launching a new recipe or even your entire operation.
Provide Discounts: Loyalty and first time customers should be rewarded. Discounts are a great way to encourage people to visit your food truck, and you ensure people keep coming back for more by giving a free meal for every 10 meals that are paid for.
Organize a Pop-Up: Partnering with your local bar or brewery is a great food truck marketing strategy. It will open the opportunity to access an already established customer base while building a business relationship with other businesses that complement your own in your area. Make sure you negotiate the percentage of sales you have to give to your host beforehand.
Help Your Community: The more involved with your community you are, the more people will learn about your food truck. Nearly every person you connect with at community events is a potential customer.
"It's something that's instilled in me that we actually also give. With eight siblings and that's what we were taught to actually give. To go into the communities and help build and feed and just love on them." — Patrice Hawkins, owner and creator of Oink and Moo BBQ.
Where to Find Funds For Your Food Truck Advertising Campaign?
Whether you're just starting out or want to revamp your food truck's design, accessing funds for your food truck is key to materializing the business you want. Generally, food truck start-up costs range from $50,000 to $250,000. The amount you need will depend on your food truck's design and the marketing strategy you'll use. Here are a few ways you can access advertising for food truck funds:

Final Word
Now that you have learned about different food truck advertisements, it's time to evaluate which strategies are best suited to your specific business needs. By dedicating time into reviewing these resources and carefully considering what your food truck advertising strategy will be, your business will be able to increase its profits.