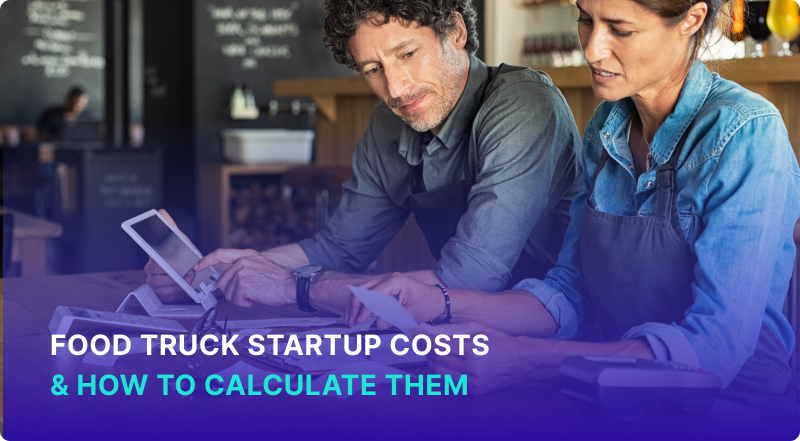 All content presented here and elsewhere is solely intended for informational purposes only. The reader is required to seek professional counsel before beginning any legal or financial endeavor.
Food truck startup costs tend to be much lower than the costs required to open a typical restaurant, but that doesn't make them cheap. You need to buy a truck and equipment, hire employees, get permits and licenses, and buy ingredients, which all add up.
We'll break down the costs of opening a food truck and how you can try to save some money.
How Much Does It Cost to Start a Food Truck?
While food trucks may be one of the cheaper ways to get into the food services industry, they still have high startup costs. You can expect to pay an average of $114,000 to start your food truck business before you can start making sales.
Once you've opened your business, you also have to pay ongoing costs, like maintenance, license and permit fees, and purchasing ingredients.
Licenses and Permits
To open a food truck business, you'll need a variety of licenses and permits, including food safety certifications, business licenses, and permits to sell food in specific locations.
These costs vary widely depending on where you live and where you plan to operate your food truck. Some places are very cheap while others are expensive. On average, you'll spend about $28,276 to operate for one year.
Truck Purchase or Rental
To run a food truck business, you need a food truck. Buying a truck is expensive, costing between $50,000 and $150,000 depending on whether you buy new or used.
You can reduce this cost by renting the truck, but that means paying an ongoing price and never owning the vehicle. Typical rents range from $2,000 to $3,000.
Kitchen Equipment
The equipment you'll require will largely depend on the type of food truck you're running. If you're selling ice cream, you'll need lots of freezers but won't need an oven or cooktop. A smoothie truck needs lots of blenders.
Common equipment includes:
Refrigerators
Freezers
Microwave
Oven
Stove
Cooktop
Knives
Cutting boards
The equipment you need to purchase will impact how much your truck costs to open.
Supplies and Inventory
Once you're ready to get cooking, you'll need to buy ingredients and supplies to actually make the food you plan to sell. You'll also need plants, plastic cutlery, and the like.
Expect to spend $1,000 to $2,000 for initial inventory and supplies.
Operational Costs
Food trucks have some ongoing operational costs, such as gas and maintenance that you also have to consider. Don't forget food truck insurance.
Food trucks are cheaper to open than typical restaurants, but can still cost more than $100,000 to start
What Are Some of the Hidden Costs of Operating a Food Truck?
Some of the costs of running a food truck are relatively hidden. You might not think about them until they come up, but you still have to pay for them.
Commissary Space
You won't be running your food truck 24/7, so you'll need a place to park it when you aren't out and about. Unless you have a big driveway, you'll need to rent a spot to keep your food truck situated, such as in a commissary space or commercial lot.
Expect to pay $500 to $1,000 for parking each month.
Gasoline and Propane
Your food truck needs gasoline to get from point A to point B and may use gas to power a generator. You'll also need propane to operate some of your cooking equipment and these costs can add up.
Expect to pay about $500 to $1,000 for gas and propane each month.
Truck Insurance and Maintenance
Hopefully, your truck won't break down, but you still need to do routine maintenance to keep it in good operating condition. You also need insurance to protect you from accidents or major breakdowns.
You'll pay about $5,000 a year for insurance, including business owner's insurance, truck insurance, and general liability coverage.
Commercial Kitchen Space
Food trucks sell food out of their vehicle, but you might want to rent some commercial kitchen space for a few reasons.
One is that you can use the space to prepare and store some of the food to increase your speed of service. You can also use the space to train your employees or test new recipes.
It's likely best to rent a shared space, such as a shared commercial kitchen or to use a restaurant's kitchen during its off hours. You'll pay about $250 - $750 a month.
Parking Tickets
Even if you do everything by the book, get proper permits, and do your best to only park where you're allowed to park, you'll probably wind up getting a parking ticket here or there. It's just a fact of life for food truck owners.
Parking ticket costs depend on how frequently you get tickets and local parking regulations.
Point of Sale System
You'll need a point-of-sale system to make it easy to calculate customer totals and handle credit and debit card payments. Many POS companies charge a monthly fee of about $50 or $100, plus a percentage of credit card transactions, such as 2.5%
Employee Uniforms
If you want your employees to wear a uniform, you'll have to purchase the uniforms for them. Depending on the number of employees you have and the complexity of the uniforms, costs can vary dramatically.
Marketing
Advertising is essential for any business, especially food trucks.
Traditional advertising can be expensive, so focus on low-cost alternatives like building a presence on social media. Don't forget that your food truck is a moving billboard for your company, so invest in an appealing and memorable brand and design for the truck.
Staff Wages
The average food truck employee makes $17.86 per hour, though wages depend on the cost of living in your area as well as minimum wage laws in your state.
The typical food truck takes about four people to operate during rushes. If you're one of those people, that means you need a minimum of three employees to keep the business running.
If each works for 40 hours a week at $17.86 an hour, you'll pay $2,143.20, plus payroll taxes, each week. That totals $111,446.40 plus taxes per year.
Keep in mind that you'll likely need more than three employees to account for time off and sickness. However, every employee might not work forty hours, so this cost can vary by a lot.
With some careful planning, you can keep upfront costs low
How Can You Minimize Food Truck Costs?
There are many ways to keep food truck costs low. Try some of these tips:
Simplify your menu. Most food trucks have simple menus that focus on just a few items. The fewer things you sell, and the more ingredients that cross over between menu items, the cheaper your costs will be.
Reduce waste. Ingredients are one of your highest costs, so the less you waste, the less you'll spend.
Compare POS options. Every POS provider has a different fee structure. If you can save even 0.1% or 0.2% on every credit card swipe, that can add up.
Rent instead of buy. In the short term, renting your truck and equipment will be cheaper than buying. That lets you avoid some of the upfront costs.
Do it yourself. It can be tempting to hire people to do all the work for you, but the more work you do in your truck, the less you have to pay in wages.
Preventative maintenance. Maintaining your truck costs money but making sure your vehicle is in good repair is important. Maintenance will cost less than fixing catastrophic issues and help you avoid losing business due to your truck breaking down.
How Do You Pay for a Food Truck Business?
There are many options for how you can fund your food truck business.

Remember that you have to invest in any business. With no risk, you'll get no reward.
Final Word
Starting a food truck is expensive. You'll likely spend more than $100,000 before you can even think about making your first sale. Despite this, a food truck is one of the cheaper ways to enter the food service industry and can generate large profits, making them a popular choice for entrepreneurs.