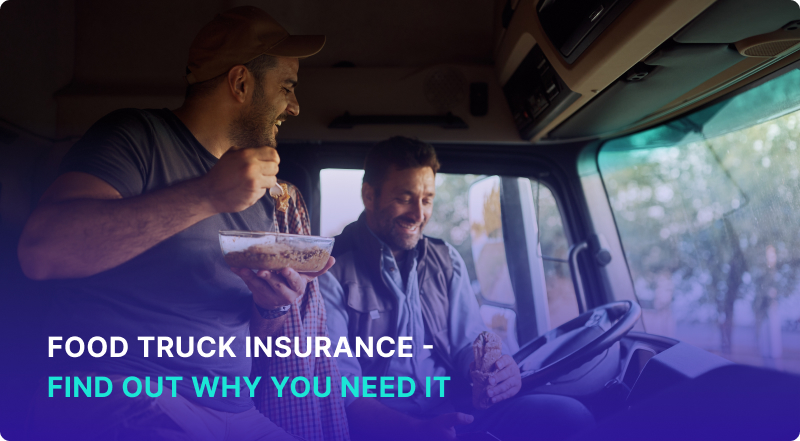 All content presented here and elsewhere is solely intended for informational purposes only. The reader is required to seek professional counsel before beginning any legal or financial endeavor.
If you're about to open a food truck business, you'll need to buy food truck insurance. Insurance can protect you from all sorts of issues, from customers getting sick due to a food problem to getting into an accident with your truck. In many cases, your local government will require certain insurance coverage.
What Type of Insurance Is Needed for a Food Truck?
Food trucks require multiple types of insurance. Some are the same coverages that every business must carry while others are unique to the food service or food truck industry.
General Liability Insurance
General liability insurance protects you from claims that customers file based on normal business operations. It can cover anything from property damage to physical injury. As its name implies, it's very generalized and can be used in a variety of scenarios.
Commercial Property Insurance
While commercial property insurance is typically used to cover real estate and buildings, it also covers tools and equipment that your food truck uses to operate. You can use this coverage to protect things like your stoves, ovens, and other specialized equipment.
Some insurers may also let you cover certain types of damage to your truck under this insurance policy.
Business Owner's Policy (BOP)
A business owner's policy (BOP) is a type of insurance plan that combines general liability and commercial property insurance into a single policy at a reduced rate.
That means that a BOP isn't its own type of insurance. You don't need it if you get both general liability and commercial property insurance. Alternatively, you can skip those two planes if you get a BOP.
Commercial Auto Insurance
A food truck is a type of vehicle, which means that you'll need auto insurance. Commercial auto insurance will protect your food truck from everything from fenders benders to large accidents. However, the equipment in the vehicle may need to be covered by another type of policy.
Workers' Compensation Insurance
Workers' compensation insurance can help pay for the costs of workers comp in the event that one of your employees gets injured on the job and files for workers' compensation.
Product Liability Insurance
As a food truck, you're mostly selling food to your customers. Improper storage of your ingredients or simple bad luck with the batch that you get from suppliers can cause foodborne illnesses in your customers.
This coverage protects you from damages caused by problems with the food you sell.
Liquor Liability Insurance
If you choose to get a liquor license and sell alcohol to your customers, you'll want to get liquor liability coverage. This protects you in case someone who purchases alcohol from you later injures themselves or someone else.
Food Truck Insurance: Average Costs
The average cost for different types of food truck insurance are:
General liability: $560 per year
Commercial property: $700 per year
Business owner's policy: $1,260 per year
Commercial auto: $1,620 per year
Worker's compensation: $1,270 per year
Product liability: $1,200 per year
Liquor liability: $1,100 per year
Food truck insurance can protect you from financial catastrophe
Factors That Affect Food Truck Insurance Rates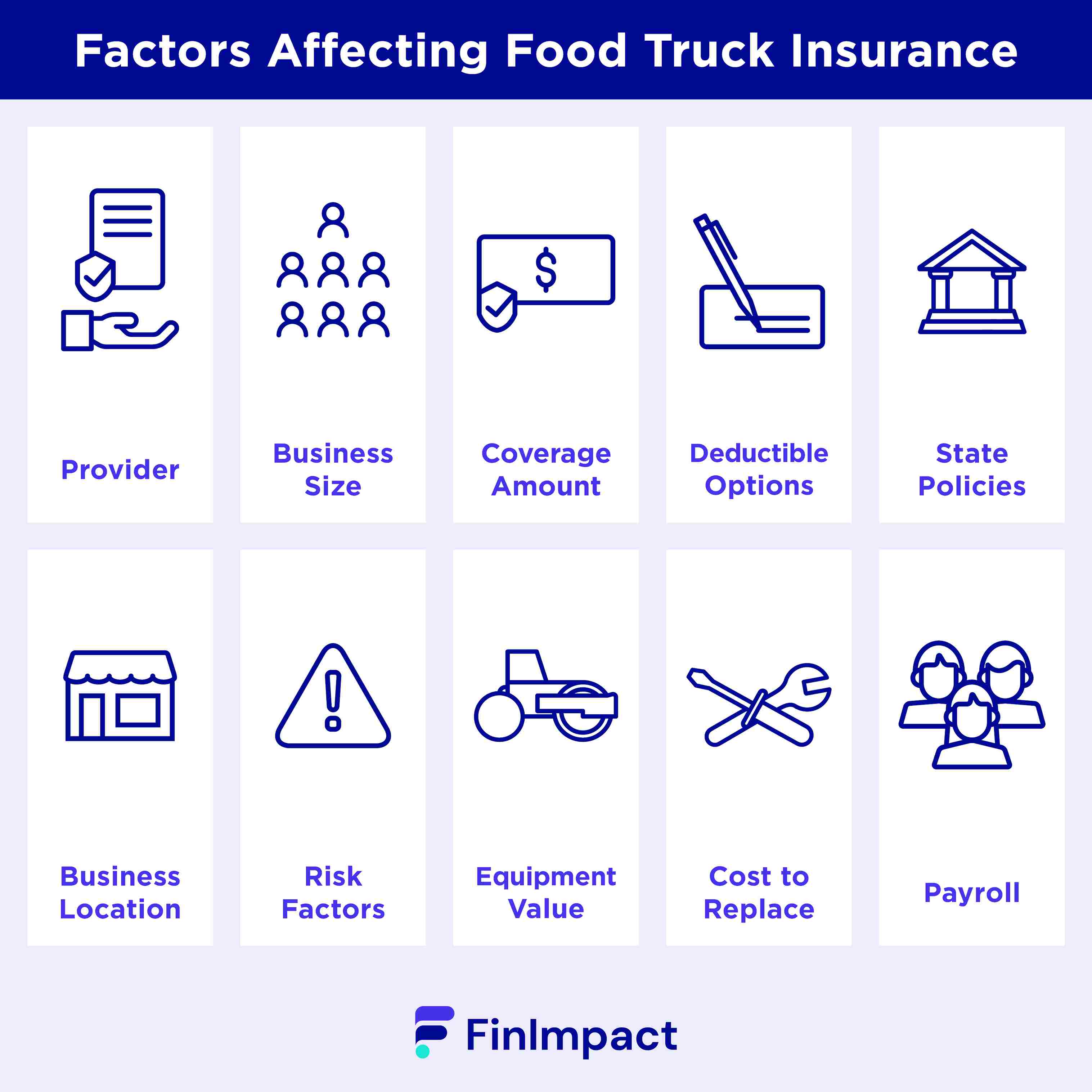 Provider
One of the most important factors in determining how much you pay for food truck insurance is the provider you select. Different insurance companies can charge incredibly different rates.
Shopping around and comparing providers is essential if you want to get the lowest possible rate.
Business Size
The size of your business also plays a factor in determining how much you pay. Generally, larger companies will pay more for insurance because they have more to insure.
Coverage Amount
The amount of coverage you desire is likely the biggest factor in determining the cost of coverage. The more risk the insurer takes, meaning the more coverage you purchase, the more you have to pay for the policy.
Deductible Options
A deductible is an amount that you have to pay before your insurance kicks in and helps cover costs. The higher the deductible you select, the less you'll pay for insurance.
State Policies
State policies can play a big role in how much you pay for insurance. Your state might mandate that you buy specific levels of coverage and types of insurance, setting effective minimum costs. They may also have regulations on insurers that limit rates.
Location of Business
Where you operate plays a big role in the risk your company takes, which impacts insurance rates. For example, if you're operating in a city with dense traffic, you'll likely pay more for auto coverage than in a suburb where accidents are less common.
Risk Factors
If your food truck has unique risk factors, that can cause insurance rates to change. For example, food trucks that sell sushi or other uncooked foods might pay higher rates because of perceived higher risks of food safety issues.
Equipment Value
The more costly the equipment you use, the more it will cost to replace if something damages it. That means your insurer will charge more for a policy.
Cost of Replacement
Just like equipment value, the cost of replacing things like your truck can impact insurance costs.
Employee Payroll
The higher your payroll costs, the more you have to pay for insurance related to employees and payroll, like workers' compensation coverage.
Who Needs Food Truck Insurance
Almost every type of food truck will need to buy insurance, though the types might vary slightly.
Mobile Food Trucks
A traditional food truck that drives around and operates from different locations will need all of the coverages we listed.
Catering Trucks
Catering trucks likely do a lot of their prep in commissary kitchens, meaning they might need additional coverage for their physical kitchen.
Concession Trucks
Concession trucks are not as mobile as typical food trucks, so you may be able to skip certain coverages, like auto coverage.
Vending Trucks
Vending trucks are often larger than other types of food trucks, meaning they might require more expensive policies.
Ice Cream Trucks
Ice cream trucks don't serve cooked and prepared foods, so they might require different policies than those that cook food in the truck. For example, fire safety might be less of a concern, which impacts the coverage you need.
Lunch Trucks
Depending on how your lunch truck operates, you may need different policies than those listed here.
How to Get Food Truck Insurance
To get the best deal on food truck insurance, follow these steps.
Do Your Research
The first thing you need to do is research the different types of insurance coverage you need and the companies that offer that coverage. Look into multiple insurance providers and choose a few that seem like they are a good fit for your business.
Assess Your Business
Assess your company. What seems like the highest risk that you need to insure against? What deductible can it handle paying if something happens? Answering these questions can help you choose the right levels of coverage.
Obtain Multiple Quotes
Go to a few different providers and request quotes. You'll get offers with prices, deductibles, and coverage levels.
Review Your Options
Compare the quotes you receive and choose the one with the best mix of coverage and price.
Purchase Your Policy
When you settle on a policy, fill out the paperwork and pay for the insurance coverage.
Reassess on Renewal
Each time you have to renew your policy, go through this process to make sure a different provider isn't offering a better deal.
Many types of insurance may be obligatory based on where you live
Where to Get Food Truck Insurance
You can get food truck insurance from many different sources.
Progressive Commercial
Progressive Commercial offers online quoting and multiple policy options for food trucks. You can get coverage in almost every state. As the largest commercial auto insurer in the US, the company has plenty of experience.
Farmers Insurance
Farmers Insurance offers customized quotes based on your company's specific insurance needs. However, it may have higher premiums than other options.
GEICO
GEICO is a well-known insurance provider that is a solid choice for food truck coverage. What sets it apart is that you can bundle your food truck coverage with other policies to save money.
Hiscox
Hiscox offers a number of low-cost insurance policies but does not necessarily focus specifically on food trucks. That makes it useful for cheap general insurance, but you may need to look elsewhere for food truck-focused policies.
Acuity
Acuity is an insurer focused on the food service industry, which means it's a strong choice for people entering the food truck business.
FLIP
FLIP is a low-cost online insurer that makes it easy to get a quote and pay for your insurance coverage online. It also offers instant certificates of insurance, which can be helpful if you're trying to get up and running quickly.
CoverWallet
CoverWallet is an online insurance broker that makes it simple to compare insurance offerings from multiple carriers. You can use the service to mix and match policies, though that can make claims complicated.
State Farm
State Farm is a well-known insurer that has a strong rating for customer service, which is essential when you're dealing with problems that would necessitate calling your insurer.
Comparing the Best Food Truck Insurance Companies
Name
Cost
Pros
Cons
Best for

Progressive Commercial

~$250 per month

Available in 49 states
Many policy options
Largest commercial auto insurer

Does not offer an instant certificate of insurance

Quick online quotes

Farmers Insurance
Not listed

Well-known insurer
Customized coverage based on your business needs

Reports of high premiums and mixed customer service

Customize your policy for specific needs based on your type of food truck

GEICO
Not listed

Online quotes
Bundle to save money

Does not offer an instant certificate of insurance

Bundling with other plans to save money

Hiscox
$30+ per month

Low costs
Variety of coverage types

Does not offer policies specifically designed for food trucks

Low costs on basic types of coverage

Acuity
Not listed

Food-service focused insurance
96% claims satisfaction

Focuses more on food service than food trucks

Insurer with lots of experience with food service

FLIP
~$90 per month

Instant certificate of insurance
Online policy purchase
Quick online quotes

Low costs for online coverage
CoverWallet
~$400 per month

Compare and select policy offerings from multiple insurers
Finance the cost of your policy

Complicated claims process

Getting coverage from multiple insurers
State Farm
Not listed

Well-known insurer with a large variety of coverage
Experience with food service

Poor credit might lead to high rates

Strong customer service
While it can be expensive, just think about how much insurance will save you should the worst happen
How to Reduce Food Truck Insurance Premiums
You can reduce your food truck insurance premiums with a few tips.
Only purchase essential coverage. The lower your coverage maximums and the higher your deductible, the less you'll pay for coverage.
Shop around. Compare offers from multiple providers to find the best deal possible. It's especially important to do this when you renew as many companies increase rates at renewal time.
Bundle. Many insurers offer discounts if you bundle policies. Check with the insurance provider you use for personal policies or other business policies to see if you qualify for a discount.
Where can I get food truck loans to cover my costs?
There are many options for funding your food truck business.
Food truck sellers. You can often get financing directly from the seller of a food truck.
Friends and family. If you feel comfortable doing so, you could ask friends and family for help with funding.
Business lenders. Business lenders let you borrow money for any company, including food trucks. Visit our list of the best food truck financing companies and find out what they have to offer.
SBA lenders. The Small Business Administration's loans offer low rates and high limits but can take longer to apply for.
Food truck grants. Federal government provides multiple grant opportunities for small business owners, including food trucks.

Business Mentoring Organizations That Could Help
When you open a food truck, having a mentor can make a big difference. There are lots of places to find a good business mentor.
SCORE. SCORE is a nonprofit organization with more than 300 mentorship groups across the country.
Local networking events. Many cities and towns have business networking events where you can find a mentor.
Women's Business Centers. Many areas have women's business centers where you can connect with entrepreneurial women and build a support network.
Small Business Development Centers. The government offers a database where you can find these centers. Many have some form of mentoring program.
On top of giving you advice when you're starting out, mentors can also give you some tough love. In an interview, Scott Kaplan, a successful food truck owner said that one of his mentors "tore me a new one. It's the best thing that could have happened to me. He said, "You've gotta get this clean, your menus are terrible, they're garbled, I can't see the pricing, and by the way your price point's too high. Imagine every surface that your customer can see. It's gotta be sparkling clean." If he hadn't done that I wouldn't have made the changes and I wouldn't have had the perspective. I've made feedback a key component in my business."
Conclusion
Business insurance is essential for any company. Food trucks especially need good coverage. Shop around and compare policy offerings to find the best deal for your business. Once you find the right insurance, make sure that that your business is qualified to pass all necessary food truck inspections.