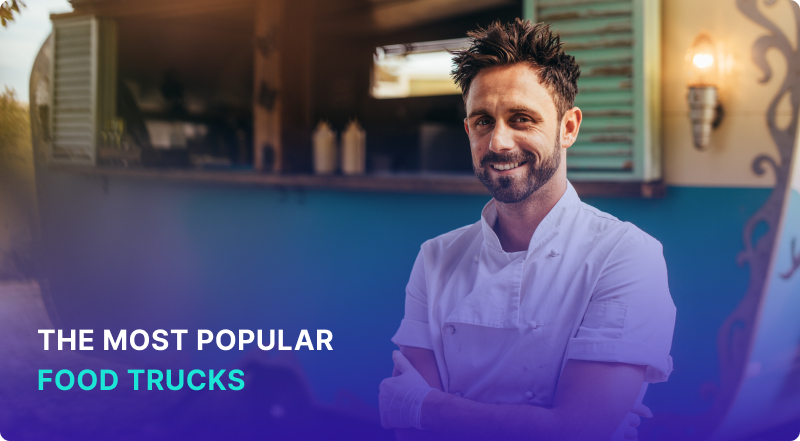 All content presented here and elsewhere is solely intended for informational purposes only. The reader is required to seek professional counsel before beginning any legal or financial endeavor.
Food trucks have become a very popular trend in the U.S. offering every type of cuisine imaginable. We have compiled a list of the most successful food trucks and the states they operate in to help cut down your research time. We have also provided a list of the licenses food trucks require.
The Most Popular Food Trucks in America
Food trucks are one of the hottest trends in the culinary world, offering convenience and delicious food choices from all kinds of different cultures. From tacos to burgers, waffles to kebabs, there's something for everyone. Here we look at the most popular food trucks in America that are serving up amazing food and gaining fans across the country.
Hippea Camper Huntsville, Alabama
Hippea Camper is Huntsville's very first plant-based food truck. An adorable tag-along camper houses the kitchen where various southern-comfort food recipes come to life. Their menu includes hot tamale supreme, vegan chorizo tacos, vegan nacho chorizo, and more. You can find the camper at either Honest Coffee Roasters or Beezr.
Yeti Dogs in Anchorage, Alaska
Rated one of America's best food trucks by the Food Network, Yeti Dog is a hot dog and sausage truck. They cater to just about everybody, offering vegan hot dogs, reindeer sausage sandwiches, beef hot dogs, and more. During the summer, you can find Yeti Dogs parked in Kincaid Park, and during colder months, they post their schedules on their Facebook page.
Mustache Pretzels in Phoenix, Arizona
Mustache Pretzels sells exactly what the name implies: mustache-shaped pretzels. Pretzel lovers can find flavors from just salt and butter to cinnamon sugar, garlic parmesan, and salted caramel with crushed nuts. You can book the truck for your private events or find where they're parked that day through their online calendar.
Cypress Knee Food in Little Rock, Arkansas
A rustic food cart, Cypress Knee Food offers southern and Cajun food options. The owner is Chef Benjamin Lee LaFoon, who actually self-proclaimed himself the second most interesting man in the world. Based on the food he serves, it's easy to believe. You'll find food like BBQ chicken sliders, shrimp and grits, catfish tacos, gumbo, and much more.
Kogi BBQ in Los Angeles, California
One of LA's most popular food trucks, Kogi has provided short rib tacos since back in 2008. The business grew beyond just a food truck and now consists of a bar, a taqueria, and a rice bowl counter shop. The truck's founder, Roy Choi, helped pilot the food truck movement. He has since had his own TV show and was the first recipient of the LA Times Restaurant of the Year award.
Quiero Arepas in Denver, Colorado
Quiero Arepas is a Venezuelan food truck that sells arepas, a corn-meal-based dough with various fillings inside. Based in Denver since 2010, Quiero Arepas serves food such as the El Caribe, an arepa made with salmon, capers, avocados, and cheese. Gluten-free folks will be pleased to know that the truck is 100% gluten-free. They even were voted the best gluten-free truck by Westword.
Lobstercraft in Fairfield, Connecticut
Located in the charming coastal town of Fairfield, Connective, Lobstercraft serves everything from lobster rolls to clam chowder and lobster tacos. For a twist, many of their lobster rolls come with unique toppings such as steak or avocados. Lobstercraft has also expanded, with locations in Block Island, RI, Greenwich, CT, and Sarasota, FL.
Doggie Style in Wilmington, Delaware
Doggie Style is a quirky food truck that offers gourmet foot-long hot dogs. Customers can get unique flavor pairings including the "Little hillbilly", a hot dog topped with beef chili, a cabbage salad, onions, and brown mustard. Or there's "The Farmer" for veggie lovers, topped with zucchini, yellow squash, peppers, mustard, hot sauce, and tepochi sauce. The truck is open seven days a week on Maple Ave. in Wilmington.
Ms. Cheezious in Miami, Florida
Ms. Cheezious is a hot spot in Miami for a reason. They take everyone's favorite: grilled cheese, and somehow make it even more delicious. Their menu consists of delicious delicacies like a crab salad grilled cheese, chili and Fritos grilled cheese, southern fried chicken and waffles melt. Ms. Cheezious is actually made up of three food trucks and a brick-and-mortar location.
Blaxican in Atlanta, Georgia
Blaxican is famous for their collard green quesadilla. That right there should give you a sense of the food you'll find on the menu. The founder, Will Turner, founded Blaxican in 2010 and quickly became a go-to eat in Atlanta. In 2015, Blaxican also was awarded #1 Food Truck and Restaurant Concept in America by Mobile-Cuisine.
Big Wave Shrimp in Haleiwa, Hawaii
A long-time food truck in Hawaii, Big Wave is actually a food bus. Offering Hawaiian-style meals and a permanent location, Big Wave has plenty of picnic tables and shade to relax and eat. You can choose from garlic butter shrimp, spicy shrimp, crunchy shrimp, and much more. You can visit Big Wave between 10:00 am - 6:30 pm every day.
The Kilted Cod in Boise, Idaho
The Kilted Cod is a bright red trailer that offers fish & chips throughout Boise. The family-owned business found a love for fish & chips while traveling to Scotland and decided to bring it home to the States.
Aztec Dave's in Chicago, Illinois
Aztec Dave's serves authentic Mexican cuisine to the people of Chicago. Their secret seasoning they put on their tacos and burritos keeps customers coming back again and again. They also offer a huge selection of beer, cocktails, and tequila. Those looking for a milder drink can still grab a delicious Mexican Coke.
Dashboard Diner in Indianapolis, Indiana
Dashboard Diner, located in Indianapolis, provides a mix of classic diner food and creative twists on comfort food. The truck began as the food served in Edwards Drive-In and after over 60 years, the business moved to a decked-out food truck. They offer their famous breaded pork tenderloin, as well as pulled pork sandwiches, cheeseburgers, and more.
Food trucks have grown rapidly in popularity since the early 2000s, and allow chefs to bring gourmet food to customers all over the country.
Island Vybz Mobile Rasta-rant in Iowa City, Iowa
The Island Vybz Mobile Rasta-rant is a Caribbean-inspired truck that serves up delicious dishes such as jerk chicken, curry goat, and oxtail. The jerk chicken is served with a side of plantains, rice, and beans, and the curry goat is cooked to perfection with a blend of fragrant spices. All of the dishes are made with fresh and locally sourced ingredients, and the truck offers vegan and vegetarian options.
The Flying Stove in Wichita, Kansas
If you're hungry in Wichita, The Flying Stove's gourmet street food is hard to beat. Their menu changes weekly, but you can expect to find dishes like the All American Burger, made in part with local beef and a local Kaiser bun, and Truffle Fries, tossed with truffle oil, thyme, and parmesan. Not only can you see The Flying Stove's schedule on their website, but you can also take advantage of their online ordering feature to ensure your food is waiting for you when you arrive.
The Celtic Pig in Louisville, Kentucky
The Celtic Pig can't be missed in Louisville, just look for the Blarney Green truck. When you find it, you will be rewarded with locally sourced Scottish and Irish food, like perfectly fried fish and chips and scotch eggs.
Diva Dawg in New Orleans, Louisiana
Diva Dawg is an eclectic food truck best known for its creative and delicious twists on hot dogs. One of the most popular dishes includes the Red Bean Chili Dawg which is a hot dog topped with fried chicken and aioli ketchup.
Bite into Maine in Cape Elizabeth, Maine
Did you really go to Maine if you didn't eat lobster while you were there? Don't make that mistake! Instead, head on over to one of Bite of Maine's three Maine-based food trucks (including one right next to a lighthouse in Cape Elizabeth) and bite into the ultimate Maine delicacy: a lobster roll. If lobster rolls aren't quite your thing, Bite into Maine still has you covered, offering delicious chowder, sandwiches, and burgers.
Flash Crabcake Company in Baltimore, Maryland
Flash Crabcake Company does two things so well that they are the only things on their menu: crabcakes and cream of crab soup. Owned by self-described "Maryland people," Flash Crabcake Company is dedicated to serving you the best Maryland crab cake that they can.
Bon Me in Boston, Massachusetts
Bon Me is a beloved food truck in Boston that serves up delicious Asian-fusion fare. The truck is known for its inventive and flavorful dishes, all of which use fresh and locally sourced ingredients. The truck has been around since 2011 and has quickly become a favorite among locals. The menu includes items like their famous Bahn mi sandwiches, filled with pickled vegetables, herbs, and your choice of meat or tofu; the Vietnamese rice bowls, featuring a mix of vegetables, herbs, and your choice of protein; and their flavorful noodle salads.
Hero or Villain in Detroit, Michigan
Hero or Villain is a superhero (and villain) themed food truck that serves some of the best sandwiches Detroit has to offer. The Thor, for example, has turkey, cheddar, bacon, lettuce, tomato, and mayo on sourdough. There are also rotating specials like the Sinister which has cheddar, mozzarella, herbed goat cheese, grilled onions, arugula, and dijon, all on rye.
Tot Boss in St. Paul, Minnesota
Tot Boss celebrates potatoes in their most glorious form: the tot. They boast a simple menu, ranging from a humble basket of plain tots to a loaded basket of pizza tots, and even gluten-free options for those who are sensitive to it. Tot Boss was founded by Dan Docken, a former cabinet maker, and has been awarded several accolades since going into business.
My Big Fat Greek Food Truck Jackson, Mississippi
A family-owned and operated business, My Big Fat Greek Food trucks offers up a host of different Greek food on nights and weekends around Jackson. Their location rotates frequently and can be found on their Facebook page.
The Wild Way Coffee Camper in Kansas City, Missouri
Looking for a good cup of coffee in Kansas City? Look out for The Wild Way Coffee Camper, Kansas City's first mobile coffee camper. Not only does their camper look cool, but it serves up some of the finest Kansas City-sourced coffee, alongside other offerings like chai tea and yogurt bowls. What sets The Wild Way apart from other mobile coffee vendors in KC is their dedication to sustainability, which is reflected in their fully compostable cup program.
KnucklHed BBQ Kalispell, Montana
KnucklHed BBQ makes traditional barbecue, smoked meats, and handmade bratwurst. The bratwurst has a twist, with funky flavors like pepperoncini and garlic and blue buffalo wing. The food truck also features mac & cheese, nachos made from your choice of fries, and pulled pork sandwiches.
MotorFood in Lincoln, Nebraska
A black bus adorned with bright red flames, MotorFood offers comfort foods like loaded french fry nachos, loaded mac & cheese, grilled cheese, and various sliders. The truck can mainly be found at events around Lincoln Nebraska. You can find their schedule via their website.
Fukuburger Truck in Las Vegas, Nevada
Fukuburger, located in Las Vegas's Chinatown, makes some of the most interesting burgers that you will ever eat. Their all-American meets Japanese flavors keep customers coming back again and again, so much so that they were voted Las Vegas's best burger. Fukuburger's namesake burger, the Fukuburger, features an all-beef patty, American cheese, tomato, onions, and two sauces: wasabi mayo and Fuku sauce.
TOLA Rose Italian Eats in Goffstown, New Hampshire
TOLA Rose Italian Eats Food Truck offers Italian-style classics, like spaghetti and meatballs, sausage sandwiches, homemade cannoli, and tiramisu. You can find them at local events, like the Goffstown Arts and Craft Fair, or parked in the parking lots of local businesses.
Oink and Moo BBQ in Florham Park, New Jersey
Oink and Moo came to life after the owner's toured the southern "Barbecue Belt" and decided to bring their findings to the people of New Jersey. Mixing together a unique blend of BBQ styles, Oink and Moo sells the classics, like baby back ribs, as well as pork fries, and tacos, to name a few.
Food trucks bring food fusion to a whole other level, exposing diners to a variety of new cultures.
Bang Bite Filling Station in Santa Fe, New Mexico
Bang Bite Filling Station is a big orange food truck that doesn't hold back on flavor. Serving up burgers and sandwiches stacked tall with toppings like spicy toasted peppers and jalapeno mayo, they are a favorite amongst locals. Plus, if you are a fan of fish and chips, you can't go wrong catching them on a day that they are serving it!
Uncle Gussy's in New York City, New York
Uncle Gussy's serves authentic Greek food like gyro, pork, and souvlaki. A family-run business, Uncle Gussy's uses ingredients imported right from Greece. The original founder of the truck, Gussy, started his very first food truck business way back in 1971 - long before the food truck craze.
Pho Nomenal Dumplings in Raleigh, North Carolina
Winners of season six of the Great Food Truck Race, Pho Nomenal Dumplings offers some truly phenomenal-sounding dishes that combine Asian and American cuisine. Diners can find corn dog banh mi, Taiwanese spaghetti, beef pho, and more. Their food truck is still operational, but they also have a physical location called OFU Shoppe.
Sweet Prairie Food Truck in Tolna, North Dakota
Converted from an old bread truck, Sweet Prairie offers a variety of foods such as loaded fries, street tacos, burgers, hot dogs, and an assortment of desserts. The truck itself, named Clyde by his owners, is still new to the scene, with 2022 being the business's second season. You can find Sweet Prairie at festivals and events all throughout North Dakota.
Dos Hermanos in Columbus, Ohio
Lisa and Vicente Gutierrez started Dos Hermanos Taco Truck in 2012, offering authentic Oaxacan-style recipes. They're dedicated to using the best local ingredients, which has clearly paid off considering they now have expanded to three brick-and-mortar locations as well. Diners can enjoy street tacos, burritos, and quesadillas, or book the truck for events and receive a taco bar.
Scotty's Treats in Helena, Oklahoma
Scotty's Treats originally began as a small trailer and now also includes a bus. They offer 24 flavors of shaved ice, vanilla soft serve, and Dole whips. The business regularly posts the schedule of locations and events on their Facebook page, but you can also sign up for texts to stay in the loop.
Potato Champion in Portland, Oregon
Potato Champion has a very accurate name, offering potatoes in two main forms: twice-fried Belgian-style fries and poutine. Over the years, they created more and more eclectic versions of fries, offering them to late-night customers. You can find Potato Champion in their permanent location off of Hawthorne Blvd.
Cluck Truk in Erie, Pennsylvania
The Cluck Truk doesn't have just one specialty, as they're open for breakfast, lunch, and late-night snacks. They're also available for private bookings. You'll find a variety of sandwiches, wraps, and sides to choose from. From sliced brisket subs and pulled pork sandwiches to loaded greek nachos and Texas baked beans, there's a little something for everyone on their menu.
Poppin Minis in Cranston, Rhode Island
Poppin Minis is a Cranston-based mini donut concession trailer with a rotating menu. They go to festivals throughout the warmer seasons and even during the winter on occasion. You can keep up with their schedule through their Facebook page.
Roti Rolls in Charleston, South Carolina
Based in both Charleston and Atlanta, Roti Rolls makes their meals from local ingredients so you can enjoy the freshest food possible. Roti Rolls has been voted Charleston's best food truck every year since 2010. You can find their full calendar, including the events they'll be attending right on their site.
Fat Kid Fillys in Sioux Falls, South Dakota
Fat Kid Fillys is a family-owned food truck that serves up some of the most delicious Philly cheesesteak-style sandwiches outside of Philadelphia. Based out of Sioux Falls, Fat Kid Fillys features everything from the Plain Jane, a classic Philly cheesesteak, to fully loaded sandwiches like the Monster, a smoked sirloin hoagie topped with bold flavors like jalapeno and teriyaki sauce.
Grilled Cheeserie in Nashville, Tennessee
Everyone clearly loves grilled cheese, as this is the second grilled cheese-based truck to make the list. The Grilled Cheeserie offers some daring sandwich options including the B&B of Tennessee which consists of white cheddar, local bacon, and caramelized apple shallot jam, all on multigrain bread. The Grilled Cheeserie has a physical location in Hillsboro Village, but you can also find out where the truck is each day through the company website.
Waffle Bus in Houston, Texas
The Waffle Bus began as a bus that sold waffles with a twist. Now a physical location, with a food truck you can rent for private gatherings, the Waffle Bus has been named one of the top eats in Houston on numerous occasions. The Waffle Bus offers tons of savory waffle-based sandwiches and sweet waffles like the Strawberry Irish Creme Brulee which is custard topped with caramelized sugar and sliced strawberries topped with powdered sugar all wrapped up in a warm waffle.
The Salty Pineapple in Salt Lake City, Utah
Offering Hawaiian-inspired goodies, The Salty Pineapple was founded in 2016 by Daysha Filipe when she was just 21. On the menu, you'll find classic Hawaiian BBQ as well as plenty of vegetarian options. You can pair these delicious meals with their unique Guava Cake.
Jamaican Jewelz in Westminster, Vermont
Offering a kick of spice for the cold weather in Vermont, Jamaican Jewelz serves Jamaican-inspired foods. Julian Johnson "Chef Jewelz", moved to Vermont over 10 years ago and finally pursued her dream of opening a food truck. Her menu rotates frequently, but you can always expect some form of jerk chicken to be on the menu.
Bikini Panini in Richmond, Virginia
Bikini Panini (say that five times fast) is a Mediterranean and Cote d'Azur-inspired food truck that specializes in sandwiches. The menu features classic panini sandwiches and salads, as well as seasonal specials. The truck is open for lunch and dinner and can also be booked for private events.
Every state is home to a few food trucks, but most are concentrated in major cities
Off the Rez in Seattle, Washington
Off the Rez is Seattle's first native food truck, owned by couple Mark McConnell and Cecilia Rikard. The menu is expansive with BBQ pork tacos, chili tacos, various burgers, and a few different salads. The bright blue truck can be found throughout Seattle, you can check out where they are via their Facebook page.
Fava Pot in Washington D.C.
You'll find a menu full of Egyptian cuisine at Fava Pot, with meals like chicken kabob bowls, baba ganoush, and my personal favorite, baklava. All of the ingredients are locally sourced and there are plenty of vegetarian and vegan options. Since their founding in 2013, Fava Pot has grown to be both a food truck and a brick-and-mortar location.
The Lunchbox Food Truck in Bridgeport, West Virginia
The Lunchbox Food Truck might be brand new on the Bridgeport food truck scene, but it is quickly becoming a favorite amongst local foodies. Their menu is ever-changing, but you can expect to chow down on dishes like Filipino eggrolls, chicken tacos, and smash burgers.
Streetza in Milwaukee, Wisconsin
Streetza is exactly what you would expect: a pizza food truck. They don't just sell any old pizza, though. Streetza was named "The Best Food Truck in the U.S." by Bloomberg Businessweek. With incredibly unique pizzas, this title isn't surprising. One of their current offerings, "The @TODDZ Twitter Spam Slice" comes loaded with tomato sauce, spam, pineapple chunks, green peppers and red onions, and is topped with mozzarella cheese and a blend of five other cheeses.
Double Dubs's in Laramie, Wyoming
For all things chicken, Double Dub's has your back. You can get chicken wings, chicken biscuit sandwiches, half and whole chickens, chicken fingers, and more. You can top your whole meal off with ice cream sandwiches made from ingredients from local bakeries and ice cream shops. They post their schedule on their Facebook page daily, and go all throughout Laramie.
What Licenses Do Food Trucks Need?
Food trucks often require a number of licenses in order to legally operate and serve food or liquor. The specific licenses or permits you need vary by state, but generally, you'll need the following:
Business license.
Driver's license.
Health department permit.
Food handler's permit.
Parking permits, if you're city requires them.
Fire safety certificates.
Seller's permits.
Special events permit.
As part of the food service industry, food trucks are also obligated to undergo various food truck inspections.
Where Do You Get Food Truck Loans?
Food truck loans can be found from a variety of sources, including traditional lenders such as brick-and-mortar banks, online lenders, and SBA loans. Many traditional lenders offer specialized loan products for food truck businesses, so it's important to shop around and compare offers from different lenders to find the one that best meets your needs.

Additionally, alternative lenders such as peer-to-peer lenders may be able to provide financing for food truck businesses. These pool money from individuals or investors. Crowdfunding sites like GoFundMe and Kickstarter are good places to start. Or, you could try for a more conventional peer-to-peer loan from sites like Lending Club.
Final Word
Food trucks offer a wide variety of delicious cuisine. From traditional favorites to unique fusion dishes, these top food trucks have something to satisfy everyone's tastes. Whether you're looking for a quick bite while on the go or a full-fledged meal, these food trucks are a few of the best food trucks ever and are sure to hit the spot.