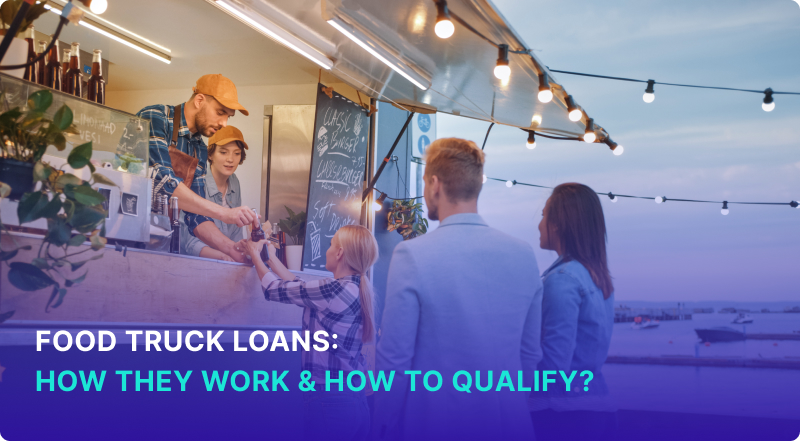 All content presented here and elsewhere is solely intended for informational purposes only. The reader is required to seek professional counsel before beginning any legal or financial endeavor.
If you don't have the money to purchase the food truck or you have purchased a food truck but don't have the funds to renovate it or you have succeeded in buying the food truck, renovating it but have run out of funds to buy supplies, knowing what type of loans and how they work can solve many monetary conundrums all small business owners find them self in.
"If you don't have the cash to cover all of the costs that come with running and growing a food truck, it's certainly worth considering."
Understanding Food Truck Loans
If you own a food truck or hope to do so in the near future, food truck loans can come in handy. In fact, these financial products might be just what you need to meet (or exceed) your business goals.
How Does a Food Truck Loan Work?
Put simply, a food truck loan is designed to help food truck businesses pay for a wide array of expenses. If you don't have the cash to cover all of the costs that come with running and growing a food truck, it's certainly worth considering.
While there are different types of food truck loans available, most of them require you to repay what you borrow with interest and potential fees over a predetermined set of time.
What Are the Qualifications for Food Truck Loans?
Each lender that offers food truck financing has their own specific requirements. But in general, they require that you've been in business for at least six months and earn a revenue of at least $10,000 per month or $100,000 per year.
Ideally, you'd also have a credit score of at least 680. If your credit isn't the best, however, you might have to offer cash or collateral as a down payment. A lender may also request that you apply with a cosigner.
In addition, a lender will likely require documentation to support your food truck loan application. This may include a business plan, financial statements, and tax returns.

What Type of Loan Is Best for a Food Truck Business?
The most common types of food truck loans include:

Equipment Loans: Equipment financing may help you cover the cost of new and used equipment for your food truck. You'll likely need an invoice from the equipment company or dealer as well as a down payment between 5% and 20% of the total cost.
What Can Food Truck Loans Be Used For?
Food truck loans are flexible, meaning you can use them to fund a variety of expenses. Here are some of the most common uses for food truck financing.
What Rates and Terms Are Offered on Food Truck Loans
The terms and rates you receive on a food truck loan will depend on several factors, such as the lender, type of financing, and what your credit looks like. With a business term loan, for example, you can expect rates between 5.99% and 35.36% with terms ranging from 1 to 5 years.
Food truck lines of credit usually come with credit limits of up to $250,000 with rates starting at 5%. If you opt for an equipment loan, you may qualify for millions of dollars in funding and repayment terms of 1 to 6 years. A microloan from the SBA may offer rates in the 0% to 13% range and terms of up to 6 years.
Where Can You Get Food Truck Loans?
Since food trucks are more popular than ever before, there are many places you can turn to food truck financing, such as:
Banks: Large banks as well as smaller regional and community banks offer food truck loans. As long as you have good credit, you may qualify for financing with low rates and favorable terms. The caveat, however, is that the application and funding process may take a few weeks or months.
Credit Unions: Credit unions may extend food truck financing as well. But you'll have to join a credit union before you get approved for it. If you already have an established relationship with a credit union, you might want to inquire about their food truck loans.
Online Lenders: Compared to banks and credit unions, online lenders offer streamlined, online applications and fast funding. Plus many of them are willing to accept startups as well as those with less-than-perfect credit.
How to Get a Food Truck Loan
If you're interested in a food truck loan, follow these steps.
Check Your Credit: Before you apply for food truck financing, it's important to know where you stand credit wise. If your credit score is lower than you'd like it to be, it may make sense to improve it. Also, if you notice any errors or inaccuracies on any of your credit reports, dispute them with the appropriate credit bureau.
Shop Around: Not all food truck loans are created equal. That's why you should do your research and explore all your options. Compare interest rates, repayment terms, fees, and perks so you can hone in on the ideal loan for your unique situation.
Apply: Once you've found the right food truck financing solution, it's time to formally apply for it. Most lenders will let you apply online, from the comfort of your own home or office. Be prepared to share basic personal and financial information. You may also need to submit documents, such as a business plan, bank statements, financial projections, and tax returns.
Wait for Approval: Depending on the lender, you might get approved for a food truck loan the same day you apply, within 24 hours, or in a few business days. Loans from banks and credit unions may take longer.
How to Choose the Right Food Truck Loan for Your Business
As you look for food truck financing, be sure to compare the following:
Loan Features: This refers to the minimum and maximum borrowing amounts as well as the terms or how long you'll have to pay back what you borrow.
Application Process: Some lenders have quick, online applications while others request a more extensive application with many documents.
Interest Rates and Fees: Ideally, you'd choose the option with the lowest rate and minimal to no fees.
Qualification Requirements: Pick a food truck loan with credit score, annual revenue, and business history criteria you can meet.
Customer Service: You want to ensure the lender you choose is easily accessible via phone, email, and/or live chat.
Perks: Some lenders go above and beyond with extras such as hardship assistance and payment flexibility.
How Do I Buy a Food Truck Without Taking Out a Loan?
If you decide that food truck financing isn't right for you, consider these alternatives.
Friends and Family
Do you have friends or family that believe in your food truck venture? If so, they might offer to lend you money with low interest or even no interest. If you go this route, make sure you outline the repayment terms in writing so that everyone is on the same page. Pay back your loan as you agreed to or you might ruin your relationship with someone special.
Crowdfunding
Crowdfunding can help you launch your food truck. This is where you find investors that support your business. While some types of crowdfunding require you to repay the funds you receive, others ask that you reward donors to thank them. If crowdfunding piques your interest, you can use a crowdfunding platform, such as Kickstarter, Fundable, and Indiegogo.
Credit Cards
Credit cards are a great way to cover everyday expenses related to your food truck, such as payroll and supplies. If you have good credit, you can even land a card with a 0% APR promotional period where you don't have to pay interest for a certain period of time. Many business credit cards also offer rewards, such as cash back and travel points.
Truck Rental
Depending on your situation, you might want to rent or lease a food truck and other equipment instead of buying it outright. Since you won't need a down payment, a truck rental is likely the more affordable, short-term option. Just keep in mind that rental companies will likely look at your credit to determine whether to approve you.
Business Mentoring Organizations That Could Help
If you're looking for assistance with your food truck business, these organizations might help you out.
Conclusion
With food truck loans, you can turn your dream of running a successful food truck into a reality. Before you commit to financing, however, be sure to consider all of your options. No matter what you choose, repay your loan according to the agreement to avoid a cycle of debt. Best of luck with your food truck!