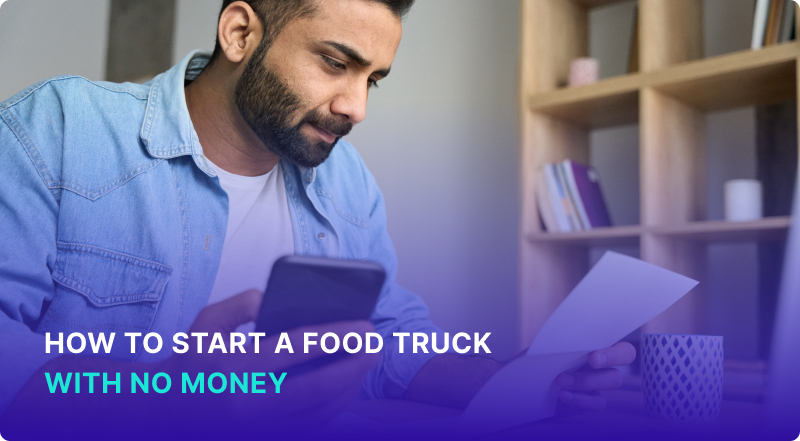 All content presented here and elsewhere is solely intended for informational purposes only. The reader is required to seek professional counsel before beginning any legal or financial endeavor.
Food trucks have the benefit of being cheaper to open than traditional restaurants, but they're by no means inexpensive. You can expect to spend tens of thousands of dollars to open your first food truck. We'll teach you how to get started, even if you don't have that amount of cash on hand.
How to Start a Food Truck Business with No Money
Starting a food truck takes a lot of effort. Making sure you can do it with no money adds more complications.
Food trucks have a lower startup cost than traditional restaurants, but still take money to start
1. Learn About the Industry
When you're about to start any type of business, it's important to make sure you understand the industry you'll be operating in. Knowing the industry inside and out will help you build a successful and profitable company.
A good way to learn about the food truck industry is to work in food service. If you can work in a food truck, that would be the ideal way to learn about how they work.
2. Conduct Market Research
Research your local market to understand the niche your food truck can fill. If there are dozens of trucks selling burgers, you might want to choose a different food niche. If every dessert truck in your area fails in a few months, avoid opening a dessert truck.
3. Understand Local Laws
Every state and city has different rules and requirements for food trucks. At a minimum, you'll need to get licenses and certifications, but you also must know what rules and permits govern where you can park and serve food.
4. Settle on a Niche
Use your market research to settle on a niche. Consider what markets are unserved in your area and whether there's demand for a specific type of product. For example, if you've heard that many people like the idea of a food truck selling grilled cheese, but there are none out there, you could fill that niche and build a successful business.
The niche you choose will influence your branding and the equipment you need to purchase.
5. Select a Business Model
In the food truck industry, you can consider franchising or starting your own company.
Franchising gives you a prebuilt brand and process and may come with some financial assistance or financing from the franchisor. However, you have to pay royalties to the franchisor, cutting into your profits.
Starting your own truck gives you much more freedom and saves you money on franchise fees, but you'll also have to build everything from the ground up.
6. Choose a Location
Choosing a location for food trucks is important. Even though you have the freedom to move your truck, you'll need a few locations you can regularly operate at. You also have to decide which cities and towns you'll serve.
Local regulations, your ability to work with property owners and events to find space to operate, and the presence of a potential customer base impact your choice of location.
7. Calculate the Costs
Food trucks can be expensive, costing between $50,000 and $175,000 depending on whether you buy used or new. Overall, you can expect to need $114,000 to get your operation off the ground.
8. Find Funding
If you have no money, you'll need to find a source of funds to start your business. Consider asking friends and family or applying for food truck financing.
9. Develop a Business Plan
Every business needs a good business plan. You should write down your plan for starting and growing your company and include information such as:
A summary of your business – food types, location, pricing, goals
Market analysis
Legal structure
Management and employee structure
How you'll source ingredients
How you plan to secure funding
Financial projections
10. Register Your Business
Make sure to register your business with the government and get any necessary documents, such as an Employer Identification Number so you can hire employees and pay taxes.
11. Get the Necessary Licenses, Insurance, and Certifications
At a minimum, your company will need food service licenses and food safety certifications. You may also need permits to operate in specific areas and a food truck insurance.
Work with your local government to figure out all of the paperwork you need to complete before you can start operating.
12. Acquire a Food Truck
A food truck business needs a truck to operate out of, so you'll need to lease or buy one. You can buy food trucks new or used at prices ranging from $50,000 to $175,000. Most people will use a loan to finance this purchase.
13. Purchase Essential Supplies and Equipment
Once you have a food truck, you'll need equipment you can use to prepare your food and the raw ingredients that you'll use in your recipes. Buy everything you need and get your truck ready for cooking.
14. Hire Employees
Running a food truck is a lot of work. It takes as many as four or five people to keep a food truck going through a lunch or dinner rush. Don't forget that people don't want to spend every minute working and you need to account for sick days, vacations, and other time off, so you'll need to hire a number of employees to operate at top capacity.
15. Open for Business
Finally, you're ready to start operating. Drive to wherever your customers are, open the doors, and get ready to cook.
You can turn to typical business financing options, or specialized food truck loans
Tips for Starting a Food Truck Business Without Capital
If you don't have much cash but want to open a food truck, here are some tips.
Operate a Food Stall First
Food stalls are an even cheaper way to get into the food service industry. They're usually small, fixed stands or mobile carts that you can push around, and they focus on just one or two items.
You can use a stall to get experience in the industry, build a brand, and save money for a truck.
Start with a Minimum Viable Product (MVP)
A minimum viable product is the minimum thing that you can sell to build a business. Focusing on an MVP keeps costs low and lets you prove your business concept. You can reinvest the profits you earn in expanding the company.
Rent Equipment or Buy Secondhand
For a food truck, the truck itself, plus the cooking equipment inside it, are huge portions of the required startup costs.
If you rent your truck or equipment or buy it used, you can save a huge amount of money over buying it brand new, keeping costs down.
Use a Credit Card with 0% APR
Depending on how much money you need, a 0% APR credit card might offer sufficient financing to get your company off the ground. You won't be able to borrow a huge amount, but so long as you can pay the balance off within the 0% APR period, you'll pay no interest.
Borrow from Family and Friends
Family and friends are great sources of funds when you're trying to start a business. However, mixing money and family can get messy, so make sure to set clear expectations to make sure feelings don't get hurt.
Try Crowdfunding
Crowdfunding can be a great way to get support from people to start your business. This is especially effective if you're known in your community or already have a brand you want to expand.
Try to get a food truck loan from an online lender
Online lenders are a great way to borrow money thanks to their typically low interest rates. Some online lenders offer generic business loans while others have specialized food truck loans specifically for buying a food truck or starting a food truck business.

Find a Business Partner
If you can find a business partner who is willing to invest in your company, that can get you the funding that you need to start operating. However, this means giving up some of your ownership in the business, as well as some of the decision-making power.
If you borrow money, make sure you have a strong business plan so you can afford your debt payments
Final Word
Starting a food truck can be exciting, but it also takes a lot of money. Thankfully, if you don't have the capital to invest in a food truck, there are some ways that you can try to get started. Use these tips to fund your food truck startup and you'll be on your way to building a profitable business.