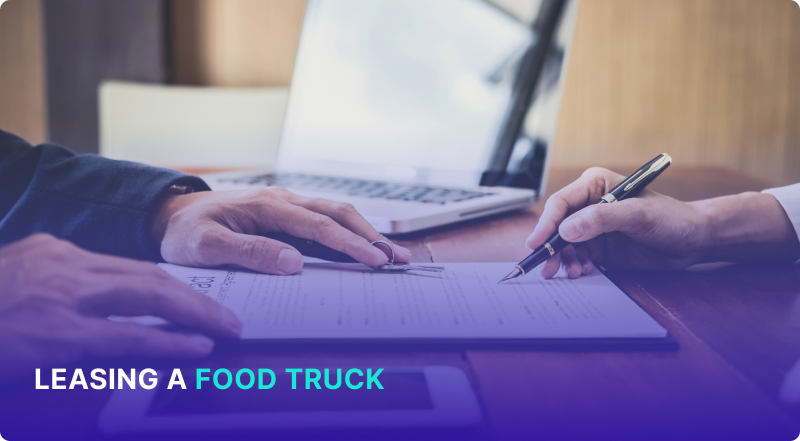 All content presented here and elsewhere is solely intended for informational purposes only. The reader is required to seek professional counsel before beginning any legal or financial endeavor.
Food truck businesses are becoming increasingly popular since they provide an easy way to start a business without a ton of overhead. Leasing a food truck is a great option for many entrepreneurs to experience owning a food truck without putting up the heavy upfront cost or buying a truck outright.
Key Points:

Leasing a food truck offers

young entrepreneurs

the flexibility they may need to get started in the food industry.

Buying a food truck

can cost hundreds of thousands of dollars, while leasing consists mostly of the small monthly payment you make to the truck owners.

Leases are more flexible, coming in short-term commitments, long-term commitments, and lease-to-own options.
What Is a Food Truck Lease?
A food truck lease is an agreement between a company that owns a food truck and you, the lessee who will essentially borrow the food truck for a specified amount of time. The lease agreement outlines the terms and conditions of the lease, such as the rental rate, the length of the lease, and how many days the truck can be operated. The lease also stipulates the conditions of the truck and any repairs or modifications that must be made before it can be operated.
The lessee is often entirely responsible for all costs associated with the truck, including fuel, some maintenance, and insurance. The lease also outlines any restrictions on the types of food being served, as well as other legal requirements, such as obtaining the necessary permits. In most cases, the lessee is also responsible for any taxes or fees associated with the lease.
"I think every chef should have a food truck. It's a good way to test the markets, to invest in meeting the future restaurant goers. So you know, this is a good thing for more business." - José Andrés, a James Beard award-winning chef
Advantages of Leasing a Food Truck
Leasing a food truck offers a number of advantages over owning a brick-and-mortar restaurant location. Below are some of the benefits you can expect from leasing a food truck.
Lower Expenses
Leasing a food truck is often much more cost effective than owning a restaurant. You will pay a much lower upfront cost for the vehicle and the equipment, and you will have much lower ongoing expenses, such as utilities and maintenance costs. Since food trucks are mobile, you won't have to worry about rent or property taxes.
Additionally, finding used food trucks for lease can save you even more, as long as you're willing to do a little extra upkeep on the vehicle.
More Accessibility
One of the biggest advantages of a food truck is that it's much more accessible than a stationary restaurant. You can take your business to wherever your customers are, which can help you reach a large array of people. Plus, you can shift your location easily so you can always be in busy areas during peak hours.
Greater Customization
Another great thing about leasing a food truck is that you can customize it to your exact specifications. You can choose the size, equipment, and amenities, allowing you to create a food truck that perfectly meets your needs. This gives you more freedom to create a unique experience for your customers.
Improved Flexibility
Leasing a food truck gives you greater flexibility than owning a restaurant. You can change your menu and pricing more easily, and you can move to a different location quickly if you need to. Additionally, if you ever move, your business can move with you!
Disadvantages of Leasing a Food Truck
While many people love the food truck industry, there's no denying that there are some downsides. These include:
Lack of Ownership
When leasing a food truck, you're essentially renting someone else's property. You don't own the truck and therefore, have no equity in it. Additionally, you're subject to the terms of the lease and may not be able to make modifications to the truck or keep the truck longer than the length of the lease.
Truck Returns
When you decide to return the food truck at the end of the lease, you may be charged for any damages done to the truck or for any additional miles added during the lease period. Depending on the condition of the truck, you may also have to pay for any necessary repairs before returning it.
Limited Mileage
Leasing a food truck usually comes with a set number of miles allowed for the duration of the lease. Going over the set mileage can result in additional fees, so it is important to be aware of the mileage restrictions of your lease before signing.
Higher Cost
Leasing a food truck may be more expensive in the long run compared to buying one outright. You're still making monthly payments to lease the truck, and you'll also have to pay for the necessary insurance and maintenance of the truck, as well as any additional fees named in the lease.
Food Truck Leasing Companies
When you want to lease a food truck, where do you find someone willing to lease to you? There are a variety of places you can start your search, including:
Roaming Hunger. Roaming Hunger is a popular site for food truck owners and customers alike. You can find local trucks to eat at in your area, or, for those looking to buy or lease a truck, you can visit their marketplace. Their "Lease a Truck" landing page provides you with everything you need to know to get started.
Mobi Munch. Mobi Munch offers both short and long-term options for leases. Their trucks are brand new and come with a beginner training session as well as the truck itself.
Food Truck Franchises. Franchises like Kona Ice, The Dapper Doughnut, and ZooHoo's Eatery offer opportunities to lease their trucks and products to start your own food truck. You'll have to pay franchise fees and possibly a monthly fee to use the truck, but it's an affordable and quick way to get started.
Types of Food Truck Leases
When leasing a food truck, there are several different types of leases you can enter into. It's important to know the differences between them in order to make the best decision for your business. You'll typically find one of the following options when you go to lease a food truck:
Open-ended lease. The most common type of food truck lease is an open-ended lease. This type of lease is typically used for newer food trucks or for those that require frequent repairs. With an open-ended lease, you're responsible for the truck's maintenance and repair costs. You'll also have the flexibility to terminate the lease at any time with a certain notice (usually a 30-day notice).
Close-ended lease. This type of lease is typically used for food trucks that have fewer maintenance needs. With a closed-ended lease, you're responsible for a fixed number of payments for the duration of the lease. At the end of that duration, you may be offered a new lease or you may have to return the truck.
Short-term lease. This type of lease is best for food trucks that are used for special events and need to be leased for a shorter period of time. With a short-term lease, you are only responsible for the payments for the duration of the lease period.
Lease-to-own food trucks. A lease-to-own option allows you to make payments toward the purchase of the truck over the course of the lease. At the end of the lease, you'll own the truck outright. This is a great option for those who want to eventually own the truck, but don't have the cash up front to purchase it outright.
Food Truck Leasing Costs
When it comes to leasing a food truck, there are a variety of costs associated with it. From the monthly lease payment for the truck itself to any necessary equipment and supplies, each cost should be taken into account when budgeting for a food truck business.
The following table outlines some of the common food truck leasing costs that business owners should consider:
How to Lease a Food Truck
Leasing a food truck isn't a complex process, but it will take time. Here's a step-by-step guide on leasing a food truck.
Step One: Develop a Food Truck Business Plan
Creating a business plan is an essential step in leasing a food truck. A business plan should include information such as:
A description of the food truck concept.
A description of the target customer.
A financial analysis.
A food truck marketing plan.
A business plan should be well-researched and well-thought-out, as it will be used to prove you'll be making enough money to make your lease payments. Additionally, a business plan can help provide insights into the operations of the food truck, such as staffing needs and other operational costs.
Step Two: Check Your Qualifications
To lease a food truck, you must first check that you have the necessary qualifications. Make sure you have a valid driver's license and the ability to meet the financial obligations that come with leasing a vehicle. Additionally, you should check for any local regulations that may affect your ability to lease a food truck in your area. You can ask about these qualifications at your State's Small Business Association page.
Step Three: Prepare Financial Documentation
Luckily, when you're leasing a food truck, you won't have to provide as much documentation as someone buying one. You'll likely need to provide personal details and proof that you can make payments. This can mean tax returns, profit and loss statements, and other financial documents.
Step Four: Find a Truck to Lease
You can research different types and sizes of food trucks to determine which one is best for your needs. Consider the cost, size, and features of each option before making a decision. Additionally, consider the local regulations and restrictions on food trucks in your area.
You can find trucks for lease on sites like Roaming Hunger and Mobi Munch.
Step Five: Negotiate Your Food Truck Lease
After you've identified a food truck to lease, it's important to negotiate the terms of your lease with the owner of the truck. Make sure that you understand the terms of the lease, such as the length of the lease, the monthly rental fee, and any other fees associated with the lease.
Be sure to discuss any additional costs or services that you may need in order to ensure a successful food truck business, such as maintenance and repair services, insurance, or other services.
Step Six: Finalize Your Lease
Carefully review the lease agreement and all associated documents. Ensure that all terms and conditions are acceptable. Sign all required documents and make sure to keep copies for your records.
Step Seven: Insure Your Food Truck
Once you have finalized the lease agreement for your food truck, it's important to make sure that you have the appropriate insurance coverage. Be sure to research the insurance requirements in your area and purchase a policy that will adequately cover the truck and its contents.
Nearly all states require car insurance for any vehicles on the road, and food trucks are no exception. You'll need liability coverage, comprehensive coverage, and collision coverage, as well as personal property coverage for the equipment in the vehicle.
Food Truck Leasing vs. Loans
When it comes to financing a food truck, there are two major options available: leasing and financing.
Leasing a food truck is a great option for those who want to save money upfront, as there is usually no down payment required. Additionally, you may be able to take advantage of lower monthly payments and a shorter commitment. However, be aware that you will likely not own the truck at the end of the lease and you may be subject to additional fees or charges.
On the other hand, taking out a loan to finance a food truck can be a great option for those who want to own the truck at the end of the loan period. Typically, you'll need to pay a larger sum of money up front and the interest rate may be higher than a lease. However, you will have the advantage of being able to customize the truck to your own needs.
Ultimately, the best option for you will depend on your specific circumstances. If you have limited funds and are looking to save money, a lease may be the better option. However, if you have more cash available and you want the ability to customize the truck, a loan may be the better option. You might like to take a look at our list of the best food truck financing options for more information.

Final Word
The decision to lease a food truck is a big one, and it's important to consider all the factors involved before jumping in. While often a more affordable option than buying, leasing a food truck still comes with substantial costs. However, with the right knowledge and preparation, you can make a smart decision and get a food truck that's perfect for your needs.