What Is an Equipment Lease Agreement?
An equipment lease agreement is an agreement where one company, the lessee pays, another, the lessor, for the right to use a piece of equipment. The lessee makes monthly payments to the owner of the equipment for the length of the lease agreement.
The lessor remains the owner of the equipment and might be responsible for maintenance and repairs of the equipment. At the end of the lease, there may be a buyout clause that lets the lessee purchase the equipment from the lessor.
A lease is like a rental agreement where you pay someone in exchange for the right to use the equipment
Types of Equipment Leases
There are two main types of leases.
Operating lease. These leases are more traditional rental agreements. You make monthly payments for the right to operate a piece of equipment.
Capital lease. These leases are closer to ownership than operating leases. They either require or have an option to purchase the equipment at the end of the lease or last for most of the equipment's useful life.
Who Is Involved in an Equipment Lease Agreement?
With a typical lease, there are two parties.
Lessee. The lessee is the organization who uses the equipment and makes payments for that right.
Lessor. The lessor is the business that owns the equipment and that is renting it to the lessee in exchange for payments.
What Can an Equipment Lease Agreement Be Used For?
Equipment lease agreements are used when a company needs a piece of equipment but does not wish to purchase it outright. For example, you could lease things like:

Manufacturing equipment
Restaurant equipment
Vehicles
Machinery
Gym equipment and exercise machines as the main cost of starting a gym
Leases usually don't involve transfers of ownership, but some may allow the lessee to purchase the used equipment at the end of the lease.

When Should an Equipment Rental Agreement Be Used?
Equipment rental agreements are a good fit in a few different situations:

Typically, leasing is cheaper than buying or financing a piece of equipment. If your company is looking for the least expensive way to acquire equipment, leasing can be a good choice.

Leases also make it easier to change equipment as your needs change. If you buy a machine, you have to either scrap it or sell it before replacing it. You may also have put a lot of money into the equipment, which could mean wasting resources. If you know you want to replace a piece of equipment every few years, leasing might be more flexible.
How Long Do Rental Agreements Typically Last?
There are two types of equipment rental agreements:
Fixed term agreements. These agreements have a set term and a date on which they end. Depending on the fine print, they may be extendable. A typical rental agreement lasts three, five, seven, or ten years.
Indefinite agreements. These leases have no set end date. Instead, either party can end the agreement with a pre-determined notification agreement.
With an indefinite agreement you will always be paying a monthly amount and you will never own the equipment when either you or the lender ends the payments
Why Use an Equipment Lease Agreement?
There are many benefits to using lease agreements.
No upfront cost. Leases often have no upfront costs. Equipment financing or equipment loans may require a down payment if you want to buy equipment.
Lower monthly cost. Leasing usually is cheaper on a monthly basis than financing an equipment purchase.
More flexibility. With a lease, you don't have to deal with disposing of a large, valuable asset when you want to replace it. You have more freedom to replace or upgrade equipment.
Less responsibility. With some lease agreements, the lessor may have the responsibility to perform maintenance, repairs, and upgrades.
Where Can a Small Business Get an Equipment Lease?
Small businesses can get equipment leases from many sources:
Equipment Dealers and Distributors. Equipment sellers often offer leasing programs, so you can go direct to the source for the equipment.
Leasing Companies. Specialized leasing companies purchase equipment from distributors and lease it out to other businesses. Captive leasing companies are offshoots of manufacturers that only lease that brand of equipment. Independent leasing companies are separate businesses that can lease many brands.
Banks and Credit Unions. Your bank or credit union might have leasing programs available. They may specialize in specific lease types or in leases that include options to purchase. This means you stand a better chance of getting equipment funding, even with bad credit.

Brokers or Packagers. An equipment broker can help you find companies that offer leases.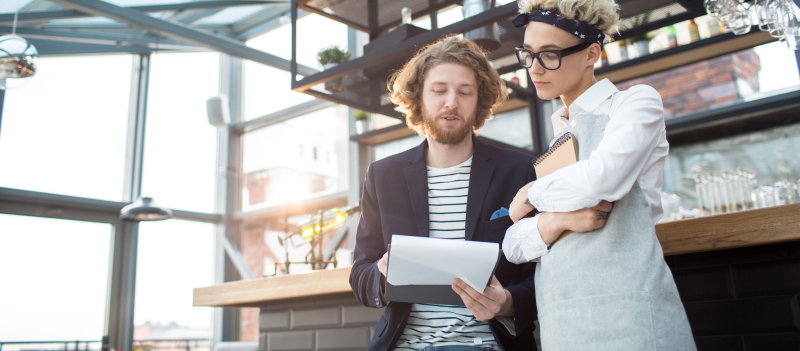 How to Lease Equipment for Your Business:
Define Your Equipment Needs
The most important thing to do before leasing equipment is to make sure you understand what equipment you need to run your business. You don't want to lock yourself into a lease for something that doesn't help your bottom line or hamstring yourself by forgetting an essential piece of machinery.
Determine Your Monthly Budget
Look at your company's revenue and figure out how much you can afford in lease payments. You might also want to project how the equipment you lease can increase your revenue to see if leasing more expensive equipment might be a better plan.
Decide How Long You Need the Equipment
While there may be a way to get out of a lease before it would expire, that usually involves paying penalties and fees. Think about how long you want to lease the equipment before you upgrade and try to find a lease deal for that length of time.
It's important to consider the equipment's life cycle. Don't sign a ten-year lease on equipment that will be obsolete in three.
Research the Market
Research the market to find both the right piece of equipment for your company and the lessors offering the best deal.
Find a Lessor
Once you've found a few lessors, compare the terms of their leases as well as other factors such as their customer service to determine which is best to work with.
Complete the Equipment Lease Application
Settle on the lessor you'll work with and complete the application. This usually means detailing things like what you want to lease and how long you want the lease to last. You'll also have to provide business info like your revenue and expenses.
Receive Approval and Finalize the Lease
If your lease application is approved, sit down and read the fine print, then sign the contract and get ready to receive the equipment.
Tips on Choosing a Lessor
Choosing the right lessor is important because you'll be working with them for the next few years. Of course, you'll want to consider the cost and terms of the lease agreement to make sure it's affordable but look at other things as well.
For example, you might want to look into the lessor's customer service reputation. You don't want to deal with a company that's impossible to get help from when something breaks. Also, consider the lessor's payment system to make sure payments are easy to make.
7 Steps to Write an Equipment Lease Agreement: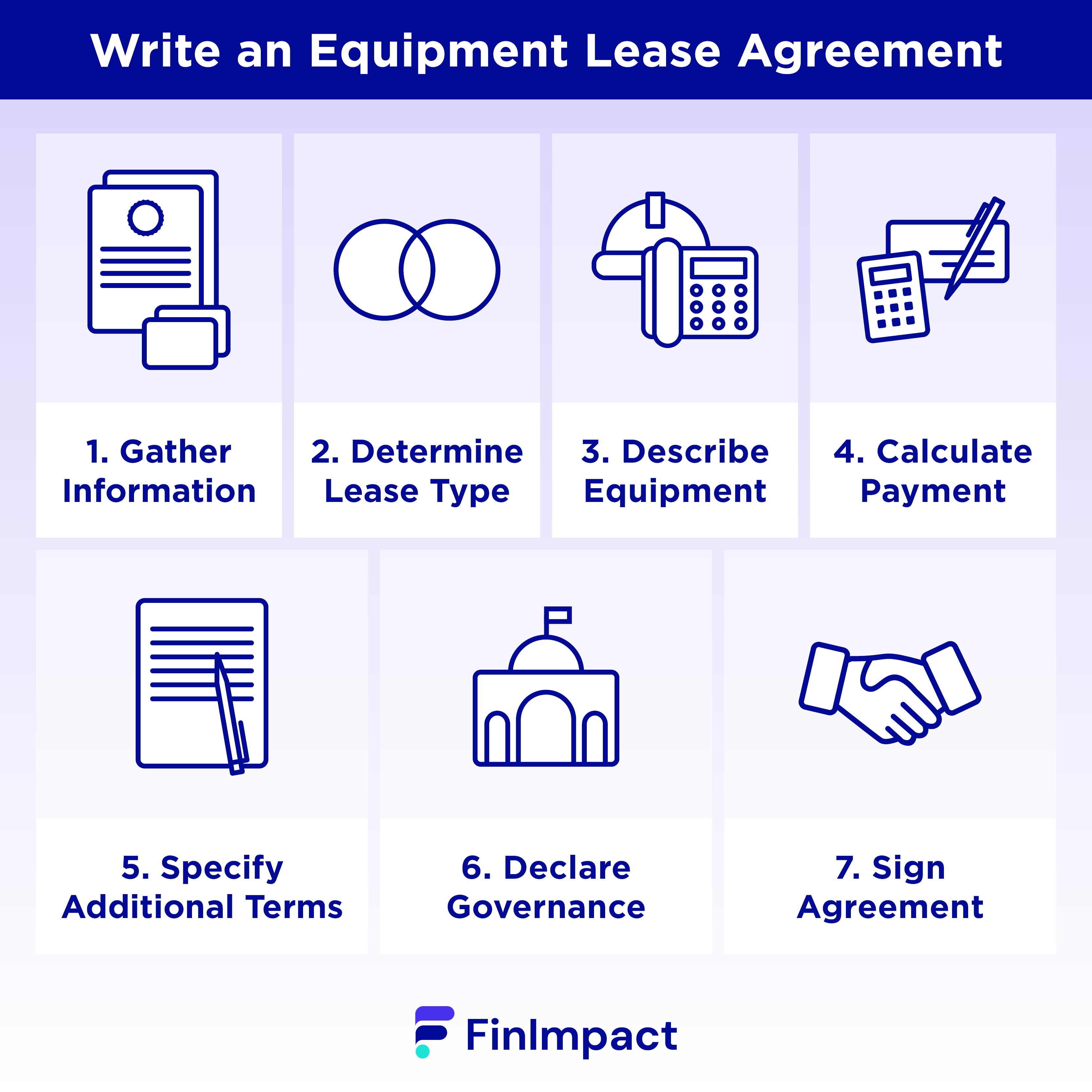 Writing a lease agreement can be complicated. Work with a legal professional to make sure everything is written down properly, but you can use these steps as a guide.
Step One: Gather Lessor and Lessee Information
Any lease contract should include information about both the lessor and lessee, including their business names and addresses.
Step Two: Determine the Lease Type
Figure out the type of lease you'll use, whether it's a capital lease or operating lease, and specify that in the contract.
Step Three: Describe the Equipment
Clearly describe the piece of equipment involved in the lease, such as its brand and name. Also, describe how it will be used. If the equipment has serial numbers or some other unique identifier, make sure to include it here.
You should also note the market value of the equipment here.
Step Four: Calculate the Payments and Deposits
Figure out the cost of the lease and any deposit requirements.
Clearly describe how much is required for a deposit and where the deposit will be held. Also note payment terms, how much each payment should be, and how payment will be sent and received.
Step Five: Specify Additional Lease Terms
There are a lot of details to cover surrounding how the lease will operate. Make sure you cover things like:
Will the lessor or lessee move the equipment to the facility where it will be used?
Is there any warranty on the equipment?
Are returns permitted?
Can the lease be canceled and are there penalties?
Where will the equipment be located?
Who pays for repairs and maintenance?
Can the lease be renewed and at what cost?
Who is responsible for insurance and taxes?
Can the lessee sublet the equipment?
How will disputes be handled
Can the lessee purchase the equipment at the end of the lease?
Have a legal professional read the contract to make sure all important aspects of the lease are detailed.
Step Six: Declare the Governing State
Each state has different laws regarding equipment leases. If you operate in a different state from the lessor, note which state's laws govern the lease.
Leasing equipment usually cost less per month financing for purchasing
Step Seven: Sign the Lease Agreement
Once a lawyer reviews the agreement and makes sure it is up to snuff, you and the lessor can sign the agreement.