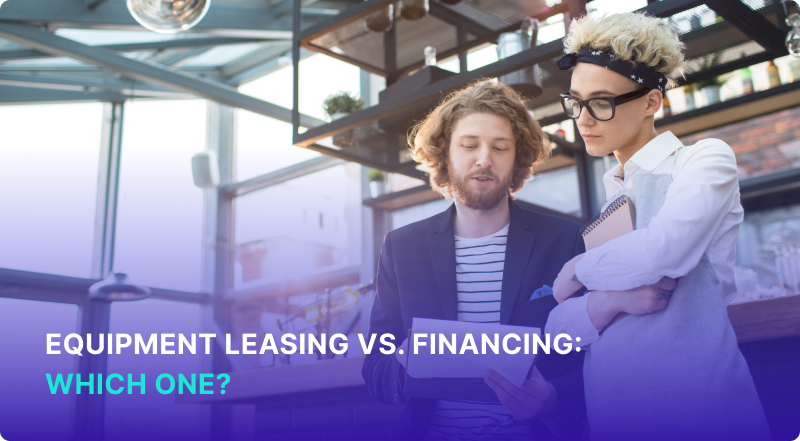 When you own a business that requires any kind of equipment, you probably know how much it sucks when something breaks down. The dread sits in as you suddenly realize you'll need to spend thousands on a new piece of equipment which might mean you need a loan and the capital to guarantee it. On the other hand, instead of buying new equipment you could simply lease a new one.
Practical Advice: " Financing works best for equipment that has a long life or a good resale value. Small businesses with less cash flow may want to prioritize leasing since there's no collateral or down payment required "
The Difference Between Equipment Leasing and Equipment Financing
When you finance equipment, you're taking out a loan that you'll pay back over months or years. Equipment leasing involves making monthly payments to a lender who holds the title to the equipment, but you'll be the one using it.
The major difference between leasing and financing equipment is ownership. At the end of your financing terms, you'll own the piece of equipment you've been paying on. With equipment leasing, on the other hand, you're paying to use the equipment on a monthly or yearly basis. If you no longer need the equipment, you can return it and cease making payments.
Additionally, leasing equipment can be a more affordable option for smaller businesses, since they can be for shorter periods of time. Equipment financing can be costly and comes with high interest rates for those with less than stellar credit. Plus, if you're financing costly equipment, you may be on the hook for payment for years.
What is Equipment Financing and How Does it Work?
Equipment financing allows you to take out a loan or line of credit in order to purchase equipment that is necessary for your business to operate. Since equipment can be a costly purchase, most businesses don't have the cash to pay upfront. Equipment financing lessens the burden.
The actual financing will work like any other personal or business financing in that you'll make monthly payments to whichever lender you decide to work with, plus you'll pay interest over the life of the loan. Some lenders will also require a down payment or collateral if you don't have good credit or take out a huge loan.
What is Equipment Leasing and How Does it Work?
Leasing equipment involves renting a piece of equipment for a set amount of time from a lender. Instead of paying a monthly payment to eventually own the equipment, you're making a payment in order to continue leasing the equipment. You'll still pay interest on the lease since that's how the lender will make their money.
Leases are ideal for those looking to switch out equipment frequently or work in an industry with quickly changing technology. These leases typically don't require a down payment or collateral, making them a good option for those who want to keep their business's cash flow completely open for other endeavors.
Equipment Leasing Pros and Cons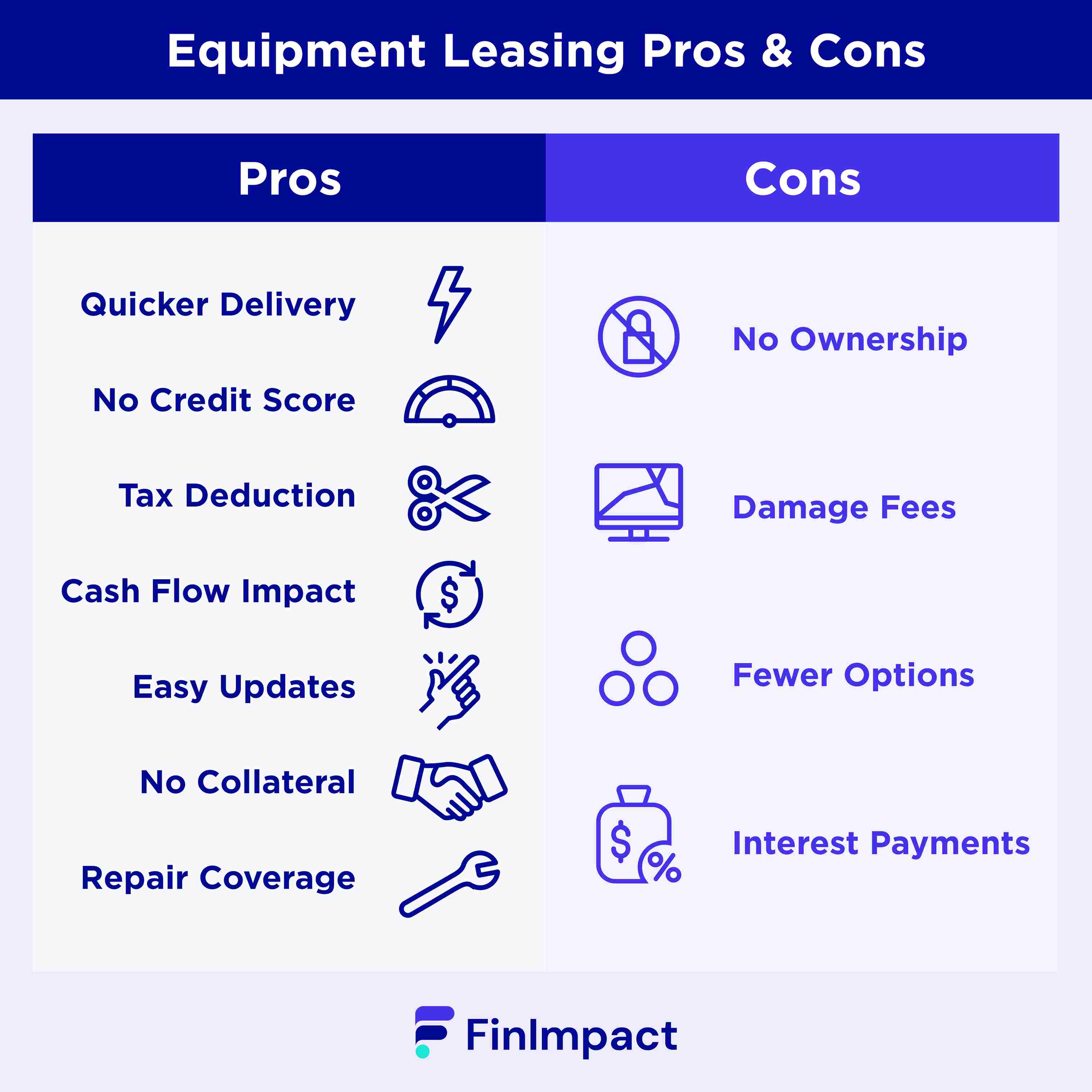 While leasing has a lot of positives, it may not be the right choice for every business owner. Here's a look at the pros and cons of equipment leasing:
Pros:
You'll receive the equipment faster: Leasing equipment can take just a few minutes if what you need is available in your area. For example, if you need to

lease a few trucks

for a couple of weeks while working a specific construction job, you can do so at a local U-Haul or Enterprise by filling out some paperwork.

Your credit score isn't always needed: Not every leasing situation will require your credit score. It's up to the lender, though.
Your lease could qualify you for a tax deduction: When you finance or lease, you may qualify for the

Section 179 deduction

, which can help you reduce the overall cost to your business.

Less harmful to your business's cash flow: Since leases often have smaller price tags, that leaves more money available to you that you can use for other business needs.
You can more easily update your equipment: Certain pieces of equipment (anything based on the latest technology, for example) become outdated in a matter of years. When you finance equipment, you end up needing to start the financing process over again when you need updated equipment. With equipment leasing, you can simply end your lease at the end of its term and pick up a new one for the newer equipment you need.

No collateral or down payment is needed: When you lease, you won't be required to pay a down payment or put up the equipment as collateral like you would if you were financing.
Necessary repairs will be covered by the lessor: Any necessary repairs needed to the equipment must be done by the lessor. Make sure to read your

lease agreement

, though, as this will lay out the exact conditions.
Cons
You'll never own the equipment outright: No matter how long you lease your equipment, at the end of the day, it still belongs to the lender. If the equipment you're leasing won't go out of date anytime soon, consider if it's worth it, in the long run, to have your business own it.
You may pay fees if you damage the equipment: If you seriously damage the piece of equipment you're leasing, you'll likely be on the hook for the full cost of the repairs, or at least a hefty fee from the lending company.
You'll likely have fewer options: Not all equipment is available for lease. Specialized equipment may not make rental companies much money since it won't be as in-demand, so they avoid purchasing it. This means you'll need to finance it outright yourself.
You'll still pay interest: Lenders aren't leasing you equipment out of the goodness of their hearts, they're in it to make money. This means you'll likely pay interest on your loan. Often, it'll be lower than

equipment financing interest rates

, making leasing still a more affordable option.
Equipment Financing Pros and Cons
New or used equipment financing is an option many businesses choose. After all, it's a direct path to ownership. Let's take a look at the pros and cons of financing your next piece of business equipment:
Pros
You'll have ownership eventually: The biggest pro for financing your business equipment is the fact that after your loan has been paid off, the machine will be yours and you won't have to continue making monthly payments.
Some equipment can have resale value: Once you own a piece of equipment, you can sell it if you want to.

Construction equipment

,

kitchen equipment

, and

vehicles

all have potentially high resale value, so you could make back some of what you spent.

You can buy any piece of equipment you want: When you get a loan, you can often use it to purchase absolutely any equipment you want. So you won't be limited to the selection of your local equipment rental companies.
Cons
It can take a while to get the funding you need: While some online lenders might be able to fund your loan in as little as 24 hours, not all equipment financing happens that quickly. Depending on how much you need and where you're getting the loan, the financing process can take weeks.
You may have expensive monthly payments: Equipment financing is often more expensive than leasing, but that will depend on the type of equipment you're financing. If you have to take out a small equipment loan of a couple of thousand dollars, monthly payments may be more manageable. If, on the other hand, you need hundreds of thousands of dollars, your monthly payments are likely going to be high.
Equipment can become outdated quickly: It can be a real bummer if you've finally paid off your loan for your equipment only to realize the latest technology is substantially better. For certain pieces of equipment, this can lead to an endless cycle of equipment financing.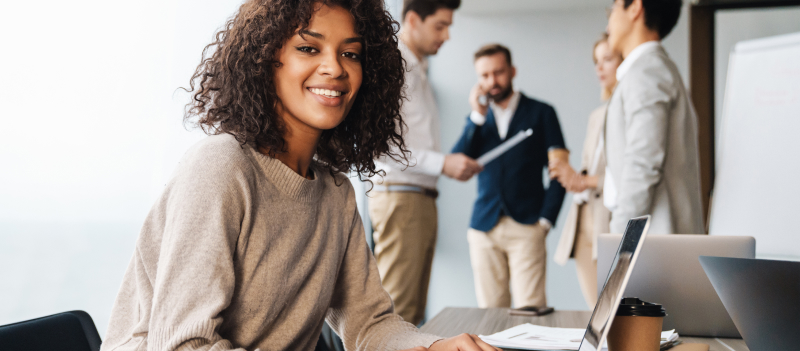 Equipment Lease vs. Finance: Which is Right for Your Business?
Ultimately, whether you lease or finance is going to be a personal decision that depends on the equipment you need, your business's current cash flow, and your borrowing history. Here are a few scenarios:
If your business has considerable cash flow, consider buying
Large-scale businesses with the available cash flow may want to consider buying if the equipment is going to be used long-term. This gives complete ownership and provides a valuable asset that has a high potential resale value.
Once you've decided to finance equipment, you might like to explore the best equipment financing options we have gathered in our list.
If you won't need the equipment for your entire career, consider leasing
If you need equipment for a short period of time, leasing is almost always going to be the best option. That way you won't be responsible for repairs and you don't have to worry about what to do with the equipment once you're done.
If the equipment will last a lifetime, consider buying
Long-lasting equipment is worth buying if you plan to continue using it for a while. It saves you from continuously paying monthly payments since you'll pay off the loan eventually.
If you'd like to know how to insure your equipment in case of damage or breakdown, learn more about equipment breakdown coverage.