All content presented here and elsewhere is solely intended for informational purposes only. The reader is required to seek professional counsel before beginning any legal or financial endeavor.
Semi-truck financing provides you with the opportunity to start or grow your business with the minimal amount of capital usually needed to secure a loan. There are, however, other factors that will determine the amount you will be offered, truck loan term and interest rates.
Financing Semi-Trucks: An Overview
The process of financing a semi-truck can be complicated, with a variety of choices accessible to people who wish to buy or lease a commercial vehicle. Understanding the many financing alternatives available, determining the best financing terms and rates for your unique circumstances, and ensuring that you have the appropriate documents and insurance to obtain the loan are the most critical factors to consider when financing a semi-truck.
It is essential to research and compare offers from numerous lenders and finance companies to discover the best price and to ensure that you have all the necessary information and requirements to acquire financing for the purchase or leasing of a semi-truck.
Determine your budget: Determine how much you can afford to spend on a semi-truck before seeking financing. Consider your income, expenses, and credit score, as well as your present financial condition.
Research lenders: Look for lenders who specialize in semi-truck finance. You might begin by looking online, requesting suggestions from other truckers, or contacting a trucking association.
Consider your down payment: The majority of lenders require a 10% to 30% down payment of the truck's buying price. Determine the down payment amount you can afford and include it in your budget.
Lease or buy a semi-truck: Depending on the sort of finance you choose. Consider the pros and cons of each alternative to determine which one best suits your needs.
Check Your Credit Score: Your credit score will affect the interest rate you can obtain on a loan. Check your score and, if required, take efforts to improve it.
Update Your Documents: Lenders will want evidence of income, proof of insurance, and other papers. Before applying, gather all required documentation.
Leverage Your Purchasing Power: Don't settle for the first financing offer you receive; do your research. Find the best interest rate and terms by shopping around.
Comprehend the terms: Ensure that you comprehend the terms of your loan or lease, including the interest rate, payment schedule, and any fees for early or late payment.
Consider your maintenance costs: In addition to your monthly payments, you will also need to budget for semi-truck maintenance and repairs. Include these expenses in your budget.
Determine your schedule of payments: Choose between monthly, biweekly, and weekly payments for your finance. When making this selection, consider your income and expenses.
Repair Costs: Determine the types of physical damage coverage and additional insurance policies that you require.
Evaluate your business plan and the financing's support for your objectives.
8 Steps To Acquire Financing for a Semi-Truck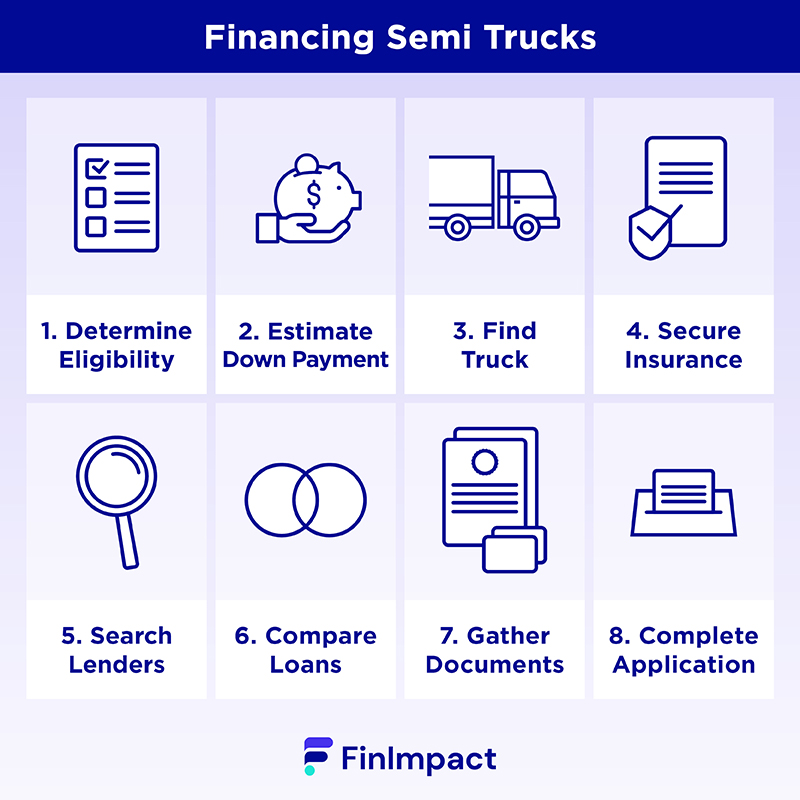 1: Determine Your Eligibility
Not all lenders are created equal but many look for the same criteria. They'll consider your credit score, time in business, down payment, truck insurance, and the truck(s) you'd like to purchase. To determine your eligibility, it's a good idea to get preapproved with lenders who will perform a soft inquiry that won't hurt your credit.
Have a Good Credit Score: Your credit score is one of the most significant determinants of your eligibility for semi-truck finance, since it demonstrates your ability to repay the loan.
Build Up Your Business Credit: Establishing and enhancing your company credit is crucial, since it can help you qualify for better interest rates and larger loan amounts.
Show Proof of Income: You must demonstrate to the lender that you have a continuous source of income in order to repay the loan. This can be accomplished by submitting tax returns, bank statements, and other pertinent documentation.
Maintain a Good Debt-to-Income Ratio: Your debt-to-income ratio is a key determinant of your eligibility for financing. Maintaining a low debt-to-income ratio helps demonstrate to the lender that you have sufficient money to cover your loans.
Build your business history: Numerous lenders require a minimum period of time in operation before extending credit. To increase your chances of being approved for semi-truck finance, build your business history and demonstrate that you operate a successful, steady business.
2: Estimate Your Down Payment
Next, figure out how much you can afford to put down upfront. Even if you plan to purchase a used semi-truck, you might have to come with thousands or tens of thousands of dollars for a down payment. While some lenders offer no money down loans, you'll likely need good credit to qualify and pay more over time.
A down payment, typically, of at least 10% of the purchase price is required to obtain financing for a semi-truck.
The down payment amount can vary based on the lender, credit score, and other variables.
If you have a low credit score or is a first-time homebuyer, the down payment is typically more.
When evaluating the down payment, it is essential to consider the overall cost of financing.
Your down payment should be reasonable and no more than what you can comfortably afford.
3: Find the Truck You Want
Now comes the fun part, deciding what type of truck(s) you'd like. When you shop around for a truck, pay attention to the make, model, and year, mileage, condition report, and how it accommodates your needs. Also, note that some lenders might have age or mileage requirements. In addition, it might be easier to finance a fleet of semi-trucks than a single truck.
Consider the overall cost of ownership, including fees for repairs and upkeep.
Compare the pricing of multiple vendors to verify you are receiving the greatest bargain.
Verify a dealer's credibility by reading internet testimonials.
Drive the vehicles to get a sense of the size and horsepower you require.
Obtain a thorough truck examination to ensure that its condition meets your requirements.
Check the fuel efficiency of each truck and don't rely on what the dealer tells you.
4: Secure Truck Insurance
Before you apply for equipment financing, you'll need to lock in semi-truck insurance. Most lenders will require liability coverage, physical damage coverage, bobtail coverage for non-trucking use, and cargo and storage coverage that will protect you when you're not hauling.
Liability coverage: This sort of insurance protects against bodily injury and property damage caused by the truck.
Physical Damage Coverage: This coverage protects against damage to the truck itself.
Cargo Insurance: This sort of insurance protects against the loss or damage of items being transported by truck.
Uninsured Motorist Coverage: This sort of insurance pays for medical expenses and missed wages if an uninsured motorist causes an accident involving your semi-truck.
Non-Trucking Liability Insurance: This sort of insurance covers accidents that occur when your truck is not being used for business purposes.
5: Search for Lenders
Fortunately, there are many lenders who offer semi-truck loans to small business owners and entrepreneurs. These include but are not limited to banks, credit unions, online lenders, and direct lenders. Do your research and explore all your options. Be sure to read lender reviews.
Credit Standards: Ensure that the potential lender has credit requirements that you can meet.
Loan Terms: Before signing any documentation, you must comprehend the loan terms to which you are consenting.
Interest Rates: Compare interest rates to find the best financing option for your semi-truck.
Prepayment Penalties: Be aware of any prepayment penalties that may be attached to the loan.
Collateral Requirements: Determine whether the lender demands collateral to secure the loan.
Fees: Inquire about any loan-related fees, such as origination and closing fees.
Repayment Options: Be careful to comprehend the different repayment options.
Customer Service: Evaluate the responsiveness of the lender's customer service personnel to enquiries and concerns.
6: Compare Loan Options
Once you hone in on several reputable lenders, look at the types of loans they offer. These might be specifically designed to purchase semi-trucks or not. When you compare loans, focus on interest rates, terms, fees, down payment requirements, and eligibility criteria. Here other types of loan options apart from Equipment Financing and knowing about them can only be to your advantage.
Lease financing: An alternative for semi-truck owners who wish to make truck payments without owning the vehicle entirely.
Loan financing: Loan financing enables truck owners to borrow a lump sum to acquire a semi-truck and repay the loan in installments.
Line of credit: A line of credit is a revolving loan that permits truck owners to borrow funds as needed, up to a certain amount.
Merchant Cash Advance: A merchant cash advance is a short-term loan that is returned with a share of the daily credit card sales of the firm.
7: Gather Documentation
Lenders will ask you to submit a number of documents when you apply for a commercial truck loan. Be prepared to share proof of your business licenses and certifications, tax returns, bank statements, financial statements, like balance sheets as well as a current profit and loss statement, and driver credentials, including your CDL number, U.S. Department of Transportation number, and your Motor Carrier number. Don't forget your proof of insurance. Here is a list of other documents you be required to provide:
Proof of Identity: Typically, a valid driver's license, passport, or other government-issued ID is necessary to demonstrate that the borrower is who they claim to be.
Employment and Income Verification: This document demonstrates the borrower's ability to make regular equipment loan payments.
Proof of Insurance: This document demonstrates that the borrower is financially responsible and carries insurance on their semi-truck.
Copy of Lease Agreement: This document provides the lender with information regarding the semi-truck equipment being acquired and the terms of the lease arrangement.
Business License: This document demonstrates that the borrower operates a legitimate, registered, and in good standing business.
Business Plan: This document describes the borrower's company aims and objectives and can assist the lender in determining the borrower's creditworthiness.
Social Security Card: This document is required for the lender to confirm the borrower's identification and establish their creditworthiness.
Proof of Residency: This document is required to establish the address of the individual.
Bank Statements: These documents are required to demonstrate the borrower's financial history to the lender.
Business Tax Returns: These documents are required to demonstrate the financial health of the business to the lender.
Equipment Purchase Documents: This document is required for demonstrating to the lender what equipment is being acquired and how much it will cost.
Credit Report: A borrower's credit score and risk assessment cannot be determined without a credit report.
Registration: In order to verify ownership, the borrower must present registration for the semi-truck.
Business Financial Statements: Financial Statements for Business: These are used to evaluate the financial health of the applicant's business.
Proof of Ownership: This is used to verify that the applicant is the owner of the semi-truck.
Purchase or Lease Contract: This is used to verify the agreement between the borrower and the lender.
Vehicle Inspection Report: This report certifies that the semi-truck is in excellent operating condition.
8: Complete the Application
Lastly, apply for a commercial truck loan online on the lender's website or in-person at a local branch. Provide all of the required documents and fill out each question accurately. Double check your work before you complete your application as errors and missing information can lead to delays with approvals and funding.
Follow up: After submitting the application, you should confirm with the lender that it has been received and is undergoing processing. This will assist guarantee that your loan application is processed quickly.
Keep copies of documents: Make sure you have copies of all paperwork: Upon completion of the application.
Talk to a lender representative: Consult with a lender representative: A lender person can answer any questions you may have about the loan application procedure.
Ask about additional fees: Inquire about any additional fees that may be linked with the loan, including origination fees, late payment fees, and prepayment penalties.
What Interest Rates Are Available on Semi-Truck Financing?
In general, semi-truck interest rates range from 5% to 30%. But factors like your credit score, time and business, and the type and condition of the truck you hope to finance will all play a role in the rates you receive. Your down payment amount may also impact them.
If you have a credit score of at least 600 and have been around for a few years, an interest rate between 5% and 6% is feasible. In the event you're a new business or have a low credit score, you can expect higher rates in the 7% to 30% range.
How Long Can You Finance a Semi-Truck?
Repayment terms for semi-truck loans are usually anywhere from 12 to 84 months. Keep in mind that while a longer loan means lower monthly payments, it will also cost you more in interest over time. The repayment terms you land will depend on the lender, your credit, and the state of the commercial vehicle.

Where Can You Find Semi-Truck Financing?
Commercial truck financing is offered at a number of places, including:
Banks: Usually offer attractive interest rates and favorable repayment terms on semi-truck loans. But you'll likely need good credit, sufficient annual revenue, and at least a few years in business under your belt to qualify for them.
Credit Unions: Also

offer low

rates on equipment financing

. To take advantage of them, however, you'll need to meet certain requirements and become a member.

Online Lenders: Alternative lenders can be a good option if you're looking for fast approvals and funding. Depending on the lender, you can receive the funds for your semi-truck the same day you apply, within 24 hours, or in a few business days. You might like to visit our article about the best equipment financing companies and find out what these recommended online lenders have to offer.
Direct Lenders: Direct lenders specialize in commercial truck financing. If you're having trouble getting a semi-truck loan elsewhere, direct lenders are worth exploring as they're typically flexible with their eligibility requirements.
Can You Finance a Semi-Truck with Bad Credit?
You may still be able to finance a semi-truck with bad credit, especially from an online lender or direct lender. Since the vehicle itself serves as collateral, many truck lenders are willing to approve borrowers with poor or fair credit or a history of delinquencies. Just remember that if you fail to make your payments, the lender can repossess your commercial vehicle. Also, you might have to settle for a higher interest rate, which may increase your overall cost of borrowing.
Is Financing Available to Purchase Used Semi-Trucks?
If you're interested in used equipment financing so you can save some money, rest assured that you may still be able to finance that used semi-truck . Here is some information about equipment financing for second hand or used trucks:
Dealer Financing: The majority of dealerships offer financing alternatives for customers seeking to acquire used semi-trucks.
Leasing: Leasing a used semi-truck is an excellent choice for individuals who desire lower monthly payments.
Government Assistance: The government offers firms and individuals grants to purchase old semi-trucks.
Banks, credit unions, and online lenders provide semi-truck financing: Traditional brick-and-mortar lenders and internet lenders who may specialize in semi-truck financing offer financing options.
Credit criteria vary by lender: Because financial requirements vary by lender, it is essential to search around to locate the lender that best suits your credit position.
Used semi-trucks are generally eligible for financing, allowing you to purchase a truck that meets your budget and demands.
Down payments are often required: Depending on the lender and kind of financing, the majority of lenders will require a down payment of 10 to 20 percent of the purchase price.
Financing terms vary: Depending on the lender and kind of loan, financing terms might vary from a few months to several years.
Large dealerships specializing in heavy-duty vehicles offer financing for the acquisition of pre-owned semi-trucks. Many provide reasonable financing terms and packages that make the acquisition of old semi-trucks more affordable.
The majority of banks and credit unions offer financing alternatives for the acquisition of used semi trailer trucks. These loans typically need a down payment and have higher interest rates than dealership financing.
Numerous third-party, independent lenders specialize in financing old semi-trucks. Typically, these creditors provide competitive terms, reduced interest rates, and flexible repayment choices.
There are also internet lenders that offer used semi-truck financing choices. Typically, these internet lenders offer fast approvals and competitive interest rates.
Some manufacturers may also offer used semi-truck finance packages. These programs might offer additional incentives and discounts on purchases to customers.
Financing Semi-Truck vs Leasing
When you finance semi-trucks, you'll own them outright once you make all your required payments and pay them off. Leasing, on the other hand, is when you make payments to borrow or rent semi-trucks over a specific period of time. Once your lease expires, you won't own the semi trucks, unless you decide to purchase them from the lender.
Pros and Cons of Financing vs Leasing
Financing
Leasing
Pros

-Once you pay off your loan, you'll own the semi-truck outright.

-It's less expensive in the long run.

-There are a number of places to go for financing including banks, credit unions, online lenders, and direct lenders.

-After your lease is up, you can return the semi-ruck.

-It involves a smaller upfront investment.

-You can get newer, better commercial vehicles than you'd be able to if you went the financing route.

Cons

-You may need a larger down payment and better credit score.

-You're responsible for maintenance and repairs.

-You might pay more for a lease in the long run.

-Monthly payments can be high as maintenance is included in leases.

-You won't own the truck outright at the end of your lease.
Is It Better to Lease or Finance a Semi-Truck?
Whether it makes more sense to lease or finance a commercial truck depends on your unique business goals and priorities. If you plan to use a semi for many years, financing it is the more cost-effective option.
But if you're a startup and don't have the cash or financials to qualify for a truck loan, leasing is worth exploring as this option comes with lower upfront cost. Commercial truck leasing might also be a solid choice if you're a consumer facing business and want to impress your customers with the latest and greatest models.
Financing New vs. Used Semi-Trucks
The advantages of financing a new semi-truck versus a used one include reduced interest rates, more financing alternatives, and access to the latest technologies. However, financing a used semi-truck may be more cost-effective due to the reduced initial cost. Prior to making a decision, it is essential to consider the benefits and drawbacks of each alternative in order to ensure you make the best choice.
Pros of Financing a New Semi-Truck:
Lower interest rates
More financing alternatives
Access to cutting-edge technology
Reduced maintenance expenses
Cons of Financing a New Semi-Truck:
High starting price
Increased monthly payments
Pricier repairs and components
Pros of Financing a Used Semi-Truck:
Lower initial expenses
Reduced monthly obligations
Capability to acquire a higher-end model at a cheaper cost
Greater diversity of financing alternatives
Cons of Financing a Used Semi-Truck:
Increased interest rates
Greater likelihood of unplanned maintenance expenses
Older technologies could be less effective.
Less available funding choices
Challenges to Semi-Truck Financing: Common Pitfalls
The world of semi-truck financing can be daunting to navigate. With so many options and lenders offering enticing rates, it can be challenging to determine where to begin. When financing a semi-truck, it is vital to realize that, as with any significant purchase, these are common mistakes to avoid:
Lack of research: failing to investigate the various potential financial possibilities and opting for the first one encountered.
Misjudging your credit score: Not knowing your credit score before applying for semi-truck finance.
Not reading loan contracts: failing to completely comprehend the terms of the loan and failing to read the fine print.
Exceeding your budget: spending more than you can afford to pay back and exceeding your budget.
Not shopping around: Not looking around for the best semi-truck loan rates and terms.
Not factoring in the entire cost of ownership: not considering the total cost of ownership while deciding on semi-truck financing.
Not knowing the payment plan: lacking knowledge of the loan's payment schedule and due dates.
Not being informed of the interest rate, the length of the loan, and the repayment choices.
Unaware of additional fees or hidden costs related to the borrowing.
Not being pre-approved: Not being pre-approved for the financing prior to shopping for the semi-truck.
Not having a decent credit score and being unaware of how it can affect the loan process.
How to Improve Your Credit Score Before Applying for Financing
A low credit score can hinder an individual's ability to obtain financing for a semi-truck. Lenders frequently interpret a low credit score as an indication of a borrower's lack of dependability and fiscal responsibility. A low credit score can result in higher interest rates, down payments, and shorter payback terms, or the loan application could be denied entirely. Before applying for financing, it is essential to perform the following procedures to improve your credit score:
Examine your credit reports: Examining your credit reports from each of the three major credit agencies is an essential step in determining your credit score. This can assist you in identifying any incorrect or outdated information that may be driving down your score. By analyzing your credit reports, you can identify any inaccurate information so that you can dispute it before submitting a loan application.
Pay off all outstanding debts and bills: Paying off any outstanding debts and invoices can significantly enhance your credit score. By removing existing debt, you may demonstrate to prospective lenders that you can meet your financial responsibilities on time.
Pay on time: Making payments on time will help you improve your credit score over time. Payments that are missed or made late can have a negative influence on your credit score and make it difficult to obtain financing.
Set up automatic payments: Automatic payments are a simple technique to ensure that you are never late with a payment. Explanatory: Automatic payments allow you to establish a track record of on-time payments, which can boost your credit score.
Avoid opening too many accounts: Opening many accounts in a short period of time can have a negative impact on your credit score. Multiple account applications can be perceived as an indication of financial trouble, which can damage your credit score
Consider a credit-builder loan: Consider a loan for credit-building: The purpose of a credit-builder loan is to help persons with limited or low credit improve their credit score. Explanatory: By making timely payments on a credit-builder loan, you can demonstrate your creditworthiness to prospective lenders and raise your credit score.
Limit credit inquiries: When you apply for a loan or credit card, the lender may do a credit investigation, which can temporarily impact your credit score. Explanatory: Limiting the amount of credit queries you make can help you avoid unwarranted damage to your credit rating.
Utilize a secured credit card: Secured credit cards are an excellent method for rebuilding credit and establishing a strong payment history. By using a secured credit card responsibly, you may demonstrate to lenders that you can responsibly manage debt and increase your credit score.
Monitor your credit score: By monitoring your credit score, you can identify any changes that may impair your ability to obtain financing.
Before applying for financing, improving your credit score will help you acquire the most favorable loan terms and interest rates feasible. By taking these measures, you may begin to establish a favorable payment history and boost your chances of obtaining semi-truck finance.
What to Do if You Can't Make Your Semi-Truck Financing Payments
Payments for semi-truck finance should not be treated lightly. If payments are not made on time and in full, this could have severe repercussions. If you find yourself in a position where you are unable to make your semi-truck loan payments, it is imperative that you take swift action to prevent any potential damage. Here is what to do if you are unable to make your semi-truck loan payments:
Contact Your Lender: It is essential to contact your lender as soon as you recognize that you may have trouble paying payments. Inform your lender of your existing circumstances and be straightforward about what you can afford. Your lender may be able to provide guidance and solutions.
Consider Re-Financing: Refinancing your loan can help you reduce your monthly payments and interest costs. This may make your obligations more bearable.
Consider Debt Consolidation: Consolidating your debts might minimize your monthly payments and the amount of interest you pay. This procedure can also assist you in comprehending your overall financial condition and improve your ability to make payments.
Prioritize Your Bills: By prioritizing your debts, you may choose which payments must be made immediately and which can wait. With some creditors, you may be able to negotiate payment arrangements that allow you to make smaller payments over a longer period of time.
Negotiate with Your Lender: You can negotiate with your lender in an attempt to obtain a more beneficial agreement. Be careful to describe your existing situation and be open to negotiation.
Consult a Financial Counselor: If you require assistance evaluating your financial status and discovering viable solutions, you should consult a financial advisor. They can assist you in managing your debts and developing a payment strategy.
Tips for Refinancing Your Semi-Truck Loan
Refinancing a semi-truck loan is an excellent strategy to reduce monthly payments and save money over the life of the loan. To refinancing a semi-truck loan, you must have a strong credit score and show income evidence. When refinancing a semi-truck loan, it is important to compare lenders to obtain the best rate and terms.
Check Your Credit Score: When considering refinancing a semi-truck loan, the first step is to check your credit score. Knowing your credit score will provide you with an estimate of the interest rates and terms you may be offered.
Comparing Lenders: When refinancing a semi-truck loan, it is essential to compare lenders. Different lenders will offer varying interest rates and terms, so it is essential to compare options.
Know Your Vehicle's Value: Know the Value of Your Vehicle Knowing the value of your semi-truck will aid you in refinancing. It is essential to comprehend this information in order to obtain the finest loan terms.
Research Loan Terms: When refinancing your semi-truck loan, conducting research on loan terms might assist you in making the right selection. Read the loan agreement carefully, and if anything is unclear, ask questions.
Consider the Length of the Loan: When refinancing a semi-truck loan, consider the loan's length. Loans with a longer term will have lower monthly payments, but the total interest paid will be greater.
Have the Necessary Documents: When refinancing a semi-truck loan, ensure that you have all the required documentation. This includes income verification, insurance verification, and the vehicle title.
Financing Organizations and Government Bodies That May Provide Help For Semi-Truck Financing
SBA Loans: The Next Best Alternative to Equipment Financing
Loans by the U.S. Small Business Administration (SBA) can help you finance semi-trucks for your business. The SBA 7(a) loan program, for example, offers up to $5 million in funding with repayment terms of 25 years. Its interest rates are also attractive and may save you thousands of dollars on your investment.
The downside, however, is you'll need a minimum credit score of 680, sufficient annual revenue, and proof of at least two years of business. In addition, you can't have any foreclosures, bankruptcies, or defaults on other government loans. Lastly, you may have to wait weeks or months to receive the funds.
Business Mentoring Organizations That Could Help
These business mentoring organizations can support your trucking business.
SCORE: SCORE is part of the SBA and offers confidential mentoring, workshops, webinars, and many other resources for entrepreneurs and small business owners.
Launch Chat: Launch Chat is a free online community you can use to connect to and share knowledge with other business owners.
Interise: Interise is worth exploring if you're a minority owned business or based in a lower income community as it offers educational services that can help you access capital or grow your venture.
Women's Business Centers: There are hundreds of Women's Business Centers across the country, which can support you through workshops and conferences if you're a female owned business.
Video: Semi-Truck Financing Explained
Final Word
While truck purchase is a large investment, it can help you take your business to the next level. Before you move forward with commercial truck financing, however, make sure you shop around and explore all your options. By doing so, you can find the right solution for your unique budget, needs, and preferences. Best of luck!