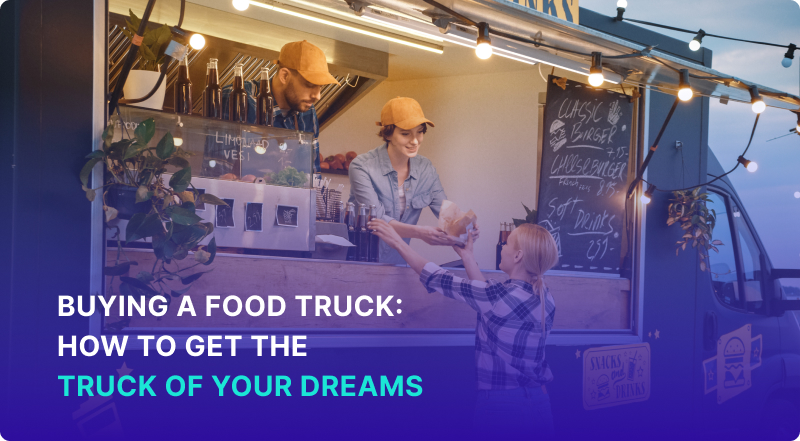 All content presented here and elsewhere is solely intended for informational purposes only. The reader is required to seek professional counsel before beginning any legal or financial endeavor.
Buying a food truck is a great way to bring your culinary ideas to life and be your own boss. However, right in the beginning and more important than being successful or even making a profit, is being meticulous in your planning. This stage is really about planning not to fail. The more you plan not to fail, the higher your chances of success.
Key Points:

Owning a food truck

can be a lower-cost way for chefs to live out their dream of owning a restaurant.

Depending on how much you're looking to spend, you can choose from new, used, and customized food trucks, ranging from a few thousand dollars to hundreds of thousands.

Since the food truck industry grew so rapidly, there are a dozen ways you can find a food truck, from Craigslist to other food truck owners looking to sell their old trucks and upgrade.
How to Buy a Food Truck
Buying a food truck is a similar process to buying any other vehicle. You'll just need to consider a few extra factors since you're buying a truck and a kitchen on wheels at the same time. Generally, you can expect the process to look like this:
Research your local regulations. Before you buy a food truck, it's important to research the local regulations in your area to make sure you are in compliance with all applicable laws. Your truck likely has to meet certain codes since you'll be serving food.
Choose a truck model. You'll need to decide what type of food truck you'd like to buy, such as a concession trailer or a fully outfitted food truck.
Set a budget. Next, you'll need to establish a budget for the purchase. Take into consideration the cost of the truck, any necessary repairs or upgrades, and any additional equipment you may need. For example, are you buying just the truck and outfitting it with a kitchen yourself? Or are you looking for all the bells and whistles?
Find a truck. Now comes the fun part: actually shopping around for a truck that fits your needs. Consider factors such as the condition of the truck, the price, and any necessary repairs or upgrades.
Get it inspected. Before driving your truck or even making an offer on it, have it inspected by a professional mechanic to ensure it is safe to operate. No matter who you're buying the truck from, if they don't want to let you bring in a mechanic to look at it, don't buy it. There should be no problem with you wanting to do this, after all, you're paying tens of thousands of dollars for the truck, and you want to make sure you're getting your money's worth.
Make an offer. Once you've found the perfect truck, make an offer. Whether you're paying in cash or using a loan, make sure you're not overspending. Create a realistic payment plan that you know you can follow.
Get insurance. Once the sale is finalized, it's time to get insurance for your truck. In fact, you should already have the company you plan to work with lined up before you buy, as most states require proof of insurance when you register your truck.
How Much Does a Food Truck Cost?
Buying a food truck is a dream for many small-time chefs. But it's not cheap, no matter what food you're selling.
How Much Does It Cost to Buy a New Food Truck?
When you buy a new food truck, you're paying a pretty penny for a truck that will most likely run well for a few years before you need to start replacing parts. You're paying a lot for this security, though. New food trucks can run you $100,000 – $175,000. You're buying both a new truck and a brand new kitchen in that food truck, so you're getting everything you need right from the start.
How Much Does It Cost to Buy a Used Food Truck?
You can go a couple of different ways with a used food truck. You can buy a used truck with a new kitchen, which comes with a cost of $75,000 – $100,000, or opt for a used truck and a used kitchen that might need some work. You'll pay between $50,000 – $100,000, on average, for this option.
If you opt for a truck with a new kitchen, you won't need to spend thousands to replace any equipment, but you may find yourself spending more time at the mechanic for the truck itself.
How Much Does It Cost to Lease a Food Truck?
If you're not sure if you want to go all in on your food truck dreams, food truck leasing for a short amount of time could be a better option. It's not an inexpensive option, though. On average, you'll pay $3,600-$3,800 each month for a brand-new truck lease.
New, Used, or Leased: Which Food Truck Option Is Better?
The truck you buy is going to be one of the biggest decisions when you decide to start a food truck. But which truck option is right for you? Let's look at the pros and cons of each of your options.
Pros and Cons of Buying a New Food Truck
Pros
The truck will run more smoothly. A brand-new truck won't have the wear and tear of a used or leased truck, so you'll find that it's a smoother ride.
You will get a brand-new kitchen. A new truck also comes with a brand-new kitchen, which can make the cooking and selling process a lot easier and a lot quicker.
You will have a few years to budget for major repairs. A new truck should go a few years without needing any major repairs. Buying new allows you to slowly save for these repairs.
Cons
New is the most expensive option. New food trucks can be over $100,000, which is no small chunk of change.
You may have to pay for unexpected repairs. While a new food truck shouldn't need the engine replaced or any major part replaced for a while, things happen. You may run over a nail and need to replace tires, or an accident could cause you to need costly repairs.
Pros and Cons of Buying a Used Food Truck
Pros
This is a more affordable option. A used food truck can shave off $50,000 from the price of a new truck, making it a more realistic option for business owners just starting out.
Some elements may still be new. If you opt for a new truck, it still may come with an updated kitchen or vice versa. You can pick your poison in a way. If you want a newer kitchen and think you can manage some of the repairs on a used truck on your own, buying used is a great way to save.
You may find more options. In cities where food trucks are popular, owners sell from time to time, so you may find that you have a larger selection, at a much lower cost.
Cons
You'll need to be prepared to make repairs. With any used vehicle, you'll have to make repairs a lot sooner than you would with something new. When you buy a used truck, it pays to set some money aside for any immediate repairs.
You'll need to rebrand the truck. Food trucks are often painted to represent the business. If you buy used, you'll need to rebrand to the specific food you'll be selling.
Pros and Cons of Leasing a Food Truck
Pros
You can see if the food truck industry is right for you. Those new to the industry might not be 100% sure it's the right industry for them. Leasing a truck for a short period of time can help you decide if it is.
This is the most affordable option, short-term. While leasing isn't cheap, it's not nearly as expensive as purchasing a new or used truck outright.
You may not be responsible for repairs. When you're leasing, the company you're leasing from may be responsible for any and all repairs, not you.
Cons
You can't make any significant changes to the truck. When you're leasing a food truck, you may not be able to customize it the way you'd like since you don't own it.
You'll never own it outright. With a food truck lease, you'll continue making monthly payments until your lease is up and you return the truck. At least with a new or used truck, your monthly payments will pay off and someday you'll own the vehicle outright.
How to Pick Between a New, Used, or Leased Food Truck
When deciding between a new, used, or leased food truck, it's important to consider a few key factors, including:
Your budget.
How long you plan to keep the truck.
How much customization you want.
If you have a more limited budget, a used truck may be the best option. Just be sure to check the condition of the truck and have it inspected by a mechanic before making a purchase.
Leasing a food truck is a great option for those who want to try out the business without committing to a purchase. Leasing terms can vary from a few months to several years and you may have the opportunity to purchase your truck after the lease is up.
New trucks, on the other hand, offer the most customization options and you'll have the peace of mind that comes with the latest technology and safety standards. However, new trucks come with the highest price tag.
Where to Buy a Food Truck
There are many options for finding a food truck. Where you'll want to look depends on the type of truck you're looking for and how much you're willing to spend.
Purchase a Food Truck on eBay
Food trucks can be found through auction sites like eBay. Search for "food truck" or "mobile kitchen" to get a list of items for sale. When bidding, be sure to read through the item description, check the seller's feedback, and ask any questions you may have before committing to a purchase.
Find a Food Truck on Craigslist
Craigslist is a great resource for finding used food trucks. Be sure to thoroughly inspect the truck in person, if possible, and check with the local health department to make sure it meets all applicable regulations. Additionally, Craigslist is well-known for its scam listings, so do your due diligence and be 100% sure you know what you're getting.
Buy a Food Truck through Specialty Sites
There are many websites dedicated to helping people find food trucks. These sites usually have a wide selection of trucks to choose from and make it easy to compare prices and features in your area. Food Truck Empire's marketplace is a good place to start, as is usedfoodtrucks.com.
Source a Truck from a Corporate Fleet
Some large companies have fleets of food trucks that they no longer need. Contacting the company directly or searching for used trucks on their website may reveal great deals on high-quality food trucks.
Order from a Custom Manufacturer
If you want a brand-new food truck, you can order one from a custom manufacturer. Many companies offer custom designs and features, so you can create the perfect truck for your business. You can customize trucks on sites like All American Food Trucks or Prestige Food Trucks.
Search through Classified Ads
Classified ads in newspapers and online may be a little old-school, but this can be a great way to find a used truck. Check regularly for new listings and be sure to ask questions and inspect the truck thoroughly before buying. Luckily, if you find an ad in the classifieds it's probably coming from another food truck owner, so it's likely a safe buying option.
Ask Other Food Truck Owners
If you know other food truck owners, asking them if they know of any available trucks can be a great way to find one. They may also be able to provide advice and tips on finding a great deal and may know other members of the community looking to offload an old truck that's still in good condition.
What to Look for When Buying a Food Truck
There's a lot that goes into choosing the right food truck for your business needs. Make sure to think about the following features before making a purchase:
Truck vs Trailer
One of the most important considerations when buying a food truck is whether to choose a truck or a trailer. A truck offers greater mobility, but a tag-along trailer offers more space. Tag-alongs will need to be towed by another vehicle, which adds another layer of consideration. Usually, you can get away with a smaller sedan for pulling these trailers, though.
Used vs New
When buying a food truck, you can choose between a used or a brand-new one. A used food truck can be a great option if you're looking to save money, but make sure to inspect the unit thoroughly before making a purchase. New food trucks are more reliable and come with a warranty, but can be extremely expensive.
Gas vs Electric
Most food trucks are powered by either gas or electric motors. Gas-powered trucks are less expensive and easier to maintain, but they are less efficient and require more fuel. Electric-powered trucks are more efficient and environmentally friendly, but they are more expensive and require more maintenance. Plus, with an electric vehicle, you need to have a place to charge it.
Size
Food trucks come in a variety of sizes, from small to large. Consider the size of your truck based on the type of food you will be serving and the number of customers you plan to serve. Owners that need to bake, grill, or cook more complex dishes will likely need a bigger cooking area, while owners with pre-made or simpler food will mostly just need storage and a few small cooking elements.
Manufacturer
The food truck manufacturer you choose can make a big difference in the quality of your truck. Research the manufacturer and read reviews to ensure you are getting the best truck possible for your specific needs.
Mileage
The mileage of the food truck is an important factor to consider. A used or new truck with low mileage will be more reliable and will likely require less maintenance right away. A truck with high mileage may need more frequent maintenance and repairs but is often substantially cheaper than low-mileage options.
Appliance Type
The type of equipment you install in the truck will depend on the type of food you plan to serve. Make sure to research the types of appliances available and the best options for your needs. If you need specialized appliances, you're better off buying a used truck that needs a new kitchen. That way you can customize it to your needs.
Essential Accessories
A food truck should come with essential accessories such as a generator, a water tank, and a fire extinguisher. Make sure to check that these items are included before making a purchase.
Special Features
Some food truck manufacturers offer special features such as satellite radio, awnings, and security systems. If you're looking for something extra, make sure to consider these options when making your purchase.
How to Finance Your Food Truck Purchase
Buying a food truck comes with a substantial cost that most buyers can't pay upfront. Thankfully, there are plenty of financing options, including:

What to Expect If You Special Order a Food Truck
If you special order a food truck, you can expect to wait for several weeks to several months for your food truck to be ready for use. Depending on the size and complexity of the food truck, the order time can vary.
You can also expect to pay a higher price for a custom-made food truck than for a standard model. The custom-made food truck will be designed to meet your exact needs and specifications. After the food truck is designed and built, you will need to arrange for the necessary inspections and permits before it can be used. After that, it should be delivered right to your door or a nearby dealership.
Final Word
Buying a food truck is a great way to start your own business. Just make sure you're doing your due diligence long before you make the purchase. Make sure to research different food trucks, decide on a budget, and look into financing and insurance options. With careful planning and a bit of hard work, you can soon have your very own food truck and be serving up delicious eats in no time!