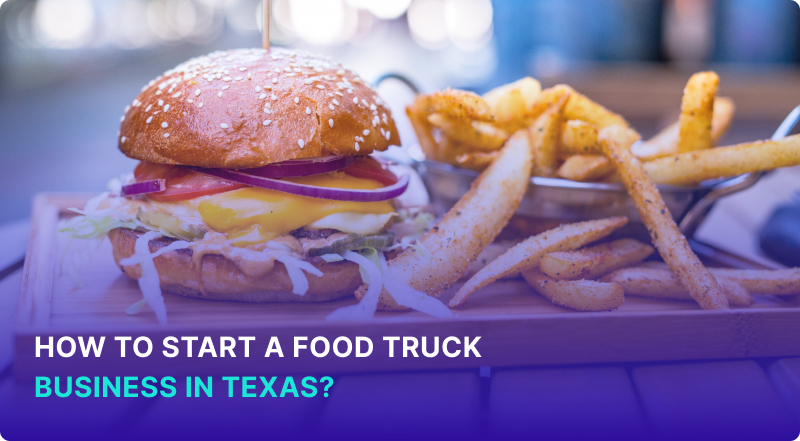 All content presented here and elsewhere is solely intended for informational purposes only. The reader is required to seek professional counsel before beginning any legal or financial endeavor.
In general, Texas is considered a great place to start a business. In terms of food trucks, the growing urban areas make starting a food truck business an idea that has a high chance of success. However, planning is the key and being prepared to invest time and effort.
Key Points:

Opening a food truck business in Texas requires several steps. But the potential rewards might be worthwhile.
Don't let the paperwork involved sway you from your food truck business goals.
Always make decisions with the customer in mind. Your ultimate goal is for customers to love your food truck.
How to Start a Food Truck Business in Texas
If you want to start a food truck business in Texas, there are a lot of steps you have to take before you can legally serve a meal. Although there are many steps, it's completely possible for you to get a food truck business off the ground in Texas.
1. Research the Local Food Truck Scene
The first step to starting up your own food truck is to scope out the competition. This sometimes tasty step can help you get started on the right foot.
Evaluate local food trucks: Take stock of your local competitors. Check out their menus, locations, and customer base.
Look for ways to differentiate yourself: The food truck scene can be competitive. Find ways to set yourself apart from the crowd. Ask yourself how you can better serve the customers in your area.
2. Pick a Concept for Your Truck
A unique concept can help your business stand out in a sea of food options.
Get creative: When brainstorming a concept, don't be afraid to get creative. If you have a great idea, customers might love it.
3. Register Your Business with the State
Before you register your business, you'll need to decide on which entity structure is best for you. Some of the options include a sole proprietorship, LLC, and corporation.
While many business owners opt for a sole proprietorship, other food truck owners choose to set up an LLC to protect their personal assets better. Once you know what kind of business entity works for your goals, you can file the necessary paperwork.
Register with the local county clerk's office: If creating a sole proprietorship or partnership, you'll likely need to register the business name with your local county clerk's office.
Register with the Secretary of State's office: If forming a corporation, you'll need to register with the Secretary of State in Texas. It's possible to file this paperwork online.
4. Get an Employer Identification Number (EIN)
An Employer Identification Number (EIN) is a nine-digit number issued by the IRS. This string of numbers identifies your business for tax purposes.
How to get an EIN: Apply for an EIN online by filling out an application through the IRS.
Why get an EIN? You'll need this number for tax filing purposes and when you hire employees.
5. Create a Business Plan
A business plan lays out all the information you need to get your business off the ground.
What's included in a business plan? This document includes market research, competitive analysis, financial projections, marketing strategies, and more.
How to write a business plan for your food truck: Build a business plan with the help of our full guide.
If you don't build your dream, someone else will hire you to help build theirs." -Tony Gaskins
6. Secure Financing
Although starting a food truck might be more affordable than a brick-and-mortar location, you'll likely still pay thousands of dollars to get the ball rolling. If you need outside capital, there are several ways to get the funding you need.
Online lenders: Many online lenders provide loans to food truck operators. Avoid borrowing more than your business can comfortably repay. Explore some of the best food truck loans here.
SBA loans: The Small Business Administration backs loans for new business owners. In some cases, these loans are right for food truck owners.
Find an investor: Investors put up their capital in exchange for a share of the profits. Some investors strictly offer capital, while others provide valuable feedback on your business operations. The right investor can make all the difference.

7. Purchase or Rent a Food Truck
Obtaining the physical food truck is a key part of moving forward with your business. But you'll have to choose between buying or renting the truck:
Buying your food truck: Although the cost of buying a food truck is high, you are in full control of the customizations. If you are buying a custom food truck, expect the manufacturing process to take several months.
Renting your food truck: If you are comfortable working in a predetermined setup, renting or leasing a food truck often involves fewer upfront costs. It's a great way to test out your concept. If things go well, you might decide to upgrade to your own custom food truck.
8. Obtain Food Truck Insurance
Insurance is a critical aspect of any business operation. Consider discussing your insurance needs with a professional to make sure you are covered:
Vehicle insurance: In order to drive your food truck around, you'll need to carry a minimum amount of insurance.
General liability insurance: Life is unpredictable. If a customer sues you, this policy should offer some financial protection.
9. Register Your Food Truck with the DMV
Before your food truck hits the open road, you'll need to register this moving vehicle with the Department of Motor Vehicles (DMV).
Make an appointment: The DMV is notoriously slow. You can possibly skip some of the hassles by making an appointment.
Bring all the necessary paperwork: You'll need the vehicle's title, your license, and more to register a food truck. Gathering all the paperwork ahead of time will help you avoid painful delays.
10. Find a Central Prep Facility
The Texas Department of State Health Services requires food truck operators to maintain a separate central prep facility. The central prep facility must be permitted and inspected before use.
Why is this required? Central prep facilities give you a place to prepare your food before heading out in your food truck. Although it's an extra cost, it is often a convenient place to store and prepare food.
How to find a central prep facility: Seek out an individual or shared commercial cooking space that is up to the health department's standards.
11. Acquire a Texas Sales and Use Tax Permit
As a vendor in the state of Texas, you are required to collect and remit sales tax to the state.
Where to apply for your sales and use tax permit: You can apply for the sales tax permit through the Texas Comptroller's office.
Why it's required: You cannot collect and remit the necessary sales tax without this permit.
"A good chef has to be a manager, a businessman, and a great cook. To marry all three together is sometimes difficult." -Wolfgang Puck
12. Get a Food Managers Certification
The Texas Department of State Health Services requires food truck operators to complete the Certified Food Manager Program. If you pass the program, you will receive the certification.
What will you learn? You'll learn food safety standards that your food truck must adhere to.
Where to put your certification: When you obtain this certification, you'll need to put it in the window of your food truck.
13. Obtain Any Additional Permits and Licenses
Before serving your first customer, there are a few other permits you must obtain. These include:
Mobile Food Unit permit: The health department requires an inspection before you can receive your mobile food unit permit.
Food vendor license: If you are only selling prepackaged food, then you'll need a roadside vendor permit.
Food handling permit: All food truck employees who will handle food must obtain this permit.
Sign permits: You'll need outdoor signage and a permit to place this outside of your food truck.
Alcohol license: Most food truck operators will struggle to meet the requirements to sell alcohol. In order to get an alcohol license, the establishment must have adequate seating. If your food truck is often on the move, you might not have the necessary seating for this permit.
14. Complete a Background Check
In some parts of the state, you'll need to complete a background check to move forward.
Why is a background check required? The background check is in place to prevent those with a serious criminal history from opening a food truck.
Where to get a background check: You can request a background check at your local police station.
15. Make an Appointment for Inspection
The health department requires a final inspection before you start serving customers.
The final hurdle: An inspection gives the state an opportunity to confirm that you are following all of the rules. Its goal is to keep the public safe.
16. Get Ready to Hit the Road!
At long last, it's time to start selling food from your new truck. After all of your hard work, it can be very rewarding to serve your first customer. Spread the word and head to a prime location for people to try your food.
The sole purpose of business is service. The sole purpose of advertising is explaining the service which business renders. ― Leo Burnett
Inspection Checklist for Texas Food Truck Businesses
In 2011, the Food Safety Modernization Act was passed with the goal of preventing contaminations instead of simply responding to contamination events. Like the rest of the country, Texas food truck operators must follow strict food safety handling procedures to prevent contaminations.
Here's a checklist to consider before inspection:
Location: The food truck cannot be closer than 20 feet to any structure, 15 feet away from fire hydrants, and not block access to Fire Department Connections.
Electrical: The truck cannot have electrical outlets within 6 feet of a water source, limited use of extension cords is allowed, breaker boxes are required, wiring must be covered, and a licensed electrician must inspect the electric system each year.
Propane cylinders: You cannot have more than three cylinders totaling 84 pounds. Cylinders must remain upright and must be stored at least 10 feet away from combustible materials.
Fire extinguisher: You must have a proper fire extinguisher that is serviced annually.
Generators: All generators must be properly grounded and stored in vented compartments.
Want to see the nitty-gritty details? Check out this checklist from the City of Austin.
Business Mentoring Organizations That Could Help
Local organizations can help you navigate the process of starting your own food truck in Texas. Here are some places to ask for help:
Women's Business Center: WBCs aim to help women start and grow businesses.
Small Business Administration: The SBA offers a range of resources to help you get your business off the ground.
Chamber of Commerce: Your local Chamber of Commerce might be able to point you in the direction of helpful resources.
Conclusion
Know you know the nuts and bolts of how to start a food truck in Texas. Although the list of necessary steps might be long, you can tackle them one at a time. With a little bit of patience, you'll be on the road sharing a love of food with your city.