All content presented here and elsewhere is solely intended for informational purposes only. The reader is required to seek professional counsel before beginning any legal or financial endeavor.
Did you know that 54 of the Fortune 500 companies have their headquarters in Texas? There are good reasons why these companies chose Texas for the base of their operations. The talent pool is extensive, multiple types of tax benefits, support for new businesses and quality of work life. You need to have a strategy: Where to begin and how to proceed.
Video: How to Start a Business in Texas in 4 Steps
1. Draft a Business Plan
A business plan will help you visualize the steps you must take to bring your business idea to fruition. Although crafting a business plan can take some time, it is well spent. A good business plan will help you stay on track to work towards your business goals and move forward.
Your business plan should include a realistic strategy. Here are some of the details you should include in your business plan:
You may also wish to start a business in Texas checklist to keep track of your progress. For a more in-depth read, check out this Legal Business Requirements page.
2. Register Your Business in Texas
First, consider: do I need a business license? The registration steps you need to take may vary according to your Texas business license.
Here are the registration requirements for different business structures in Texas:
After your initial registration, you will have to keep up with annual report filing requirements. The report itself is typically very brief. But you'll need to pay a renewal fee of $200 each year.
Once you have the appropriate business license in Texas, you'll need to carefully document any financial activity to accurately report and pay your taxes. As a small business in Texas, you'll have to apply for a sales and use permit with the Comptroller of Public Accounts.
Additionally, certain businesses may need to apply for required licenses and permits. For example, construction businesses will need to file for additional permits.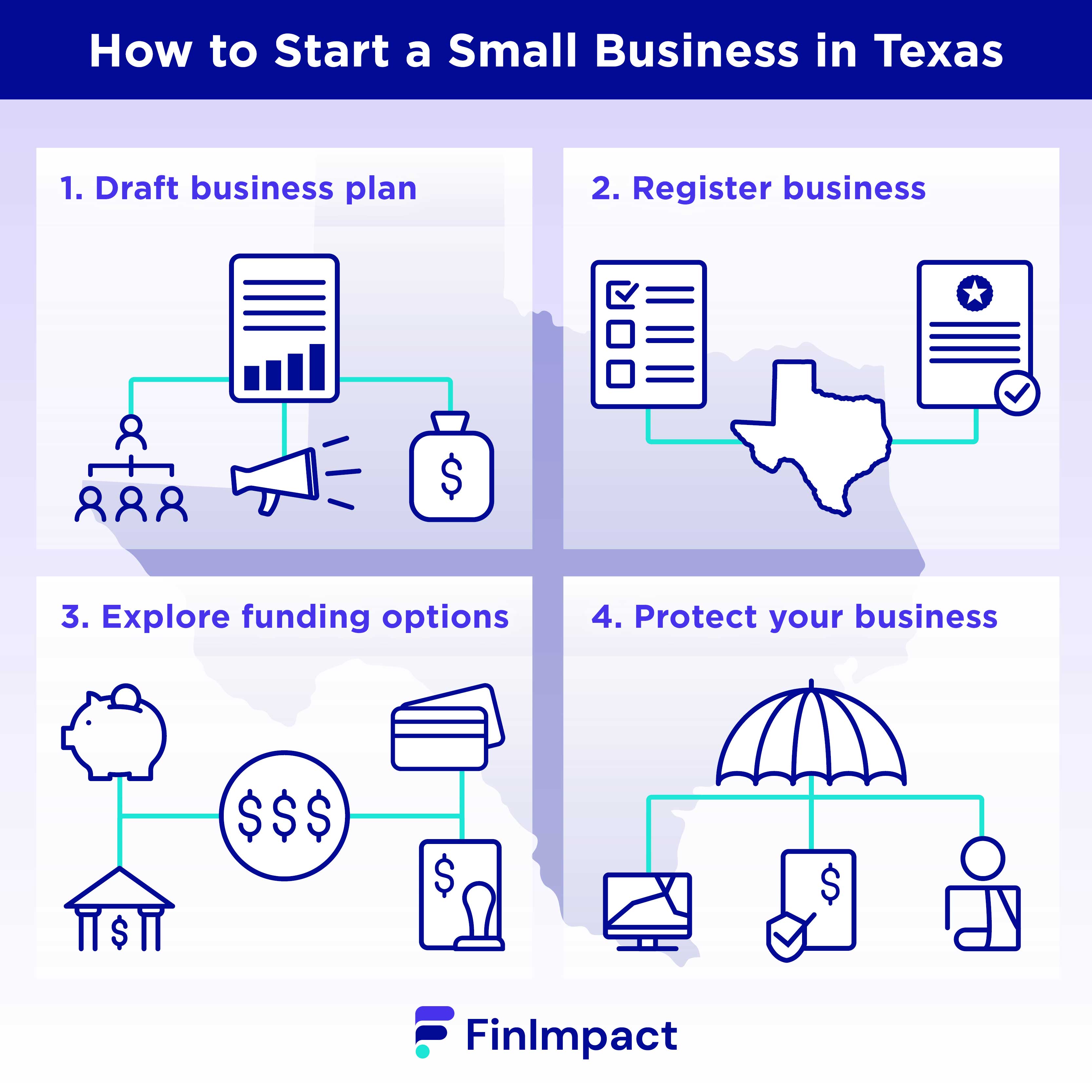 3. Explore Your Funding Options
A key element of success is to obtain the funding you need to get your business off the ground. With so many options and so many ideas about how to raise capital for a startup, it can be difficult to narrow down your search. A great place to start your search for a competitive business loan is Torro. The lender provides the funds you need to move your business idea forward.

If you struggle to find funding for your new company, consider revisiting your business plan. A polished business plan highlights how your business stands apart from the crowd. Investors and lenders might be more willing to get on board if you have the right details in your Texas business plan.
4. Protect Your Business With Insurance
Business owners of all sizes should consider purchasing an insurance policy to protect themselves and their business operations. Of course, every business owner hopes that everything goes smoothly. But the right insurance policy can ensure your assets are safe, providing peace of mind.
Texas Small Business Statistics
Here are three reasons why starting a business in Texas is a great idea:
Given that 79.19% of Texas startups survive their first year, it is easy to see why so many small businesses begin in this state.

Final Word
Texas offers small business owners the tools they need to succeed. Although building a small business in any state is no small feat, Texas provides a favorable environment to foster growth. The state puts up very few obstacles to stand in the way of your success.
You can join some of the top businesses from around the country by starting your business in the Lone Star state. The massive state with business-friendly policies might be the perfect place to build the business of your dreams.
Ready to jump into building your small business in Texas? Explore the best startup business loans that can provide the funds you've been searching for today.
Resources