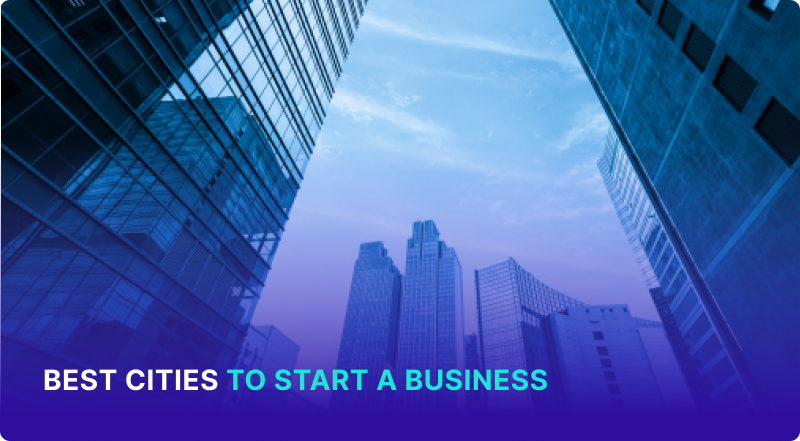 All content presented here and elsewhere is solely intended for informational purposes only. The reader is required to seek professional counsel before beginning any legal or financial endeavor.
Where you start a business can have a direct impact on its success. Your targets should include areas that are experiencing growth, job creation, and have a proven track record of supporting entrepreneurs.
Key Points:

Your business' location can play a key role in its success

Larger cities are not always the best places to start a business

Look for factors like the median income level, rate of other successful businesses, and cost of living in the area
Best Cities to Open a Business
You can decide to open a business anywhere and find success. However, these cities stand out as being some of the best options for entrepreneurs due to having a thriving economy, low start-up costs, and strong retention rates for new businesses.
Austin, TX
Austin is the capital of Texas and has a population of just under 1 million. The city is very welcoming to entrepreneurs and has a growing art, culture, and music scene that encourages consumers to get out and explore new businesses.
In Austin, the rate of entrepreneurship has grown by 8% and the net business creation rate is 4.1%. This means more businesses are being established and staying open than the number of businesses that close.
Read our Texas business guide for more information to help you get started.
Durham - Chapel Hill, NC
More than 78% of new businesses survive to see their first anniversary and beyond in the Durham - Chapel Hill areas of North Carolina. This city also has a lower cost of living and lower start-up costs for businesses.
Raleigh, NC
Raleigh is another top destination to start a business since North Carolina has lower corporate tax rates and low unemployment rates. Nearly 54% of Raleigh's population is in their prime working years between the ages of 25 and 54.
The one-year survival rates of starting a business in Raleigh is high and the city has the 4th most educated population in the country. Forty-seven percent of the local talent hold a bachelor's degree or higher.
Salt Lake City, UT
Salt Lake City has become a major tech hub and home to corporate giants like Adobe and Oracle. Salt Lake City has a positive net business creation rate and it costs less than $100 to register your company with the state.
Nashville, TN
Nashville, TN is a fast-growing city that's home to more than 20 colleges and earns its nickname 'Music City' due to its significant historic role in the country music scene. The city welcomes thousands of tourists each week.
Home to six of the nation's 10 biggest for-profit hospital chains, this city is an excellent option for healthcare businesses as well as many other business genres. The rate of new entrepreneurship is 7.9%. Even though the cost of living is higher than other cities, business start up costs are generally affordable.
Orlando, FL
Orlando is a major family vacation destination bringing in tons of tourists regularly. The city is also home to more than 200 aviation and aerospace companies. If you're looking to start a tourism business and help others explore all Florida has to offer, Orlando is a great city to consider.
Boise, ID
In Boise 80% of new businesses survive the 1-year mark and around 20% of those businesses see 20 years. The cost of living in Boise is low along with the unemployment rate. The Idaho Commerce also provides customized assistance and consulting for small business owners through a Business Retention and Expansion Team.
Denver, CO
Denver is another state that technology entrepreneurs are flocking to. From a general business growth standpoint, this state has a 8.7% entrepreneurship growth rate.
Miami, FL
Miami is another tourism city that sees a lot of start-up growth. This city provides many opportunities for immigrants as well and has the highest growing rate of entrepreneurship in the county.
Read our Florida business guide to help you get started.
Minneapolis, MN
Minneapolis is home to 19 major corporations including Target and General Mills. The city also has a net business creation rate of 7.8% and it's a great place to receive venture capital funding.
"One of the marks of successful people is they are action oriented. One of the marks of average people is that they are talk oriented." – Brian Tracy
Best Startup Cities
If you're looking to launch a startup, these cities offer some of the best opportunities for funding and support.
San Francisco, CA
Silicon Valley and the San Francisco Bay area is one of the best cities for startups due to its growing tech innovation for several years. Companies like Apple, Facebook, and are all headquartered here and it's one of the best places to secure venture capital for your startup.
To date San Francisco startups have received around $31.5 billion in venture capital.
Read our California business guide to help you get started.
Austin, TX
Austin is a growing city with many opportunities for startups and creatives, especially in the tech industry. Built in Austin is an online community for Austin startups and tech companies. Austin Startups is another helpful community that provides information and resources to the city's entrepreneurs.
New York, New York
New York is the epicenter for a lot of things, including growing a start-up business. You'll find opportunities in many industries as well as lots of financial backing through various programs like the Start-Up NY Program which helps new and expanding businesses through tax-based incentives and innovative academic partnerships.
Salt Lake City, UT
Salt Lake City is a great place for tech start-ups and provides many opportunities for early funding deals. In recent years, Salt Lake City has added 5 new startups valued at more than $1 billion each.
Pittsburgh, PA
Pittsburgh ranked 13th in the world among the world's best places to launch a startup. With dozens of incubators and accelerators throughout the city, startups can launch and grow in Pittsburgh with plenty of seed funding.
Atlanta, GA
Atlanta is a major hub in the South for various types of businesses and provides several startup incubators such as Ascend Atlanta, ATDC, The Farm, Atlanta Tech Village, GA Tech MBDA, and more.
Boston, MA
Boston has a 6.6% entrepreneurship growth rate and a growing number of funding deals for startups. Boston also has a growing number of people 55 and older successfully starting businesses.
Chicago, IL
Chicago is one of the biggest cities in the Midwest and home to many startups. The Seed Chicago program uses online crowdfunding to help startups get the funding they need. There are also several microloan opportunities to take advantage of in Chicago.
Dallas, TX
The Dallas metro area has a thriving startup scene, limited regulations for businesses, and no corporate income tax. This city is also home to the life insurance tech firm Bestow which gained $15 million in funding.
Provo, UT
Provo is a smaller city, but with a lower cost of living as well. The city has launched several companies like Anscestry.com, WordPerfect, and PowerQuest. Provo has very business-friendly policies, low tax rates, and a growing number of venture capitalists.
"Risk is essential. There is not growth of inspiration in staying within what is safe and comfortable. Once you find out what you do best, why not try something else?" – Alex Noble
Best Cities for Small Business
Small businesses drive the U.S. economy and the Midwest ranks as one of the best regions to open a small business. Here are some small-business friendly cities to consider across the U.S.
Appleton, WI
Appleton, WI is just south of Green Bay and home to more than 74,000 people. This city has a low cost of living and doesn't require every general business to have a license. Depending on the type of business you have, you may also qualify for business advancement grants here.
Minneapolis, MN
While Minneapolis is home to many large corporations and just a short distance from the world famous Mall of America, there is still room for small businesses to thrive in the city. Minneapolis has a growing rate of entrepreneurship, a large population, and several opportunities for small business funding.
Denver, CO
Denver is a great place to launch a creative, tech, or health-based business. But it also sees a number of tourists so it has plenty of diversity and low business taxes.
Henderson, NV
Henderson, NV is a city near Las Vegas and home to more than 300,000 people. The city has a 1.2 population growth rate and Henderson Economic Development Department offers many resources to help businesses get started and grow.
Cleveland, OH
Cleveland, OH is a very entrepreneur-friendly city that has experienced wage growth at 2.9%. This city provides lots of funding opportunities and access to capital along with resources to help small businesses grow.
Best Cities to Open a Restaurant
Like with any other business, opening a restaurant can be risky. You'll want to assess your market options and consider which areas actually have more demand for new restaurants and food businesses. These 10 cities rank as some of the best places in the U.S. to consider.
Arlington, VA
Arlington, VA has almost 400 different restaurants and residents earn a median income of $108,000. This city has a great dining and nightlife scene and restaurant sales are around $4,556 per capita.
Ann Arbor, MI
Ann Arbor, MI is a great place to consider opening unique restaurants with a diverse menu and while the median income is only around $57,000, there are 261 thriving restaurants per capita.
Nashville, TN
Nashville, TN is home to nearly 700,000 people and the city's economy is booming. According to Eater.com, Nashville hosts more than 16 million tourists each year and dozens of people are moving to the city each day. Nashville also has a growing market for food truck businesses.
Franklin, TN
Franklin sits just outside of Nashville and is becoming a major destination for new restaurants. The median income in this wealthy suburb is $98,000 and the number of restaurants has increased 50% over a 5 year period. Restaurant sales in Franklin exceed $190 million annually.
Atlanta, GA
The median income in Atlanta is around $77,000 and on average, restaurant sales are $3,745 per capita. The Georgia Restaurant Association is a membership that can provide resources, advocacy and other types of support to restaurant owners in Atlanta.
Scottsdale, AZ
Scottsdale, AZ residents earn a median income of $77,000. Restaurants see $3,702 in sales per capita. The city has more than 800 restaurants and is known for its vineyard wines and steakhouses.
Plano, TX
Plano, TX has a population of 288,000 and a median income of $79,000. With 228 restaurants per capita, Plano is home to many thriving restaurants and lots of foot traffic.
Washington, D.C.
Washington D.C. has a higher cost of living but the rate of entrepreneurship and wage growth is high. In addition to being the nation's capital and home to tons of history museums, the city brings in lots of tourists and is well-known for its restaurants. Residents look for trendy new restaurants to support and recommend.
Milpitas, CA
Milpitas, CA is in Silicon Valley and home to 80,000 residents. Restaurants in the city see over $200 million in sales and around $3,000 per resident annually.
Southaven, MS
Southhaven, MS has a lower cost of living but the restaurant industry is still growing. Restaurants in South Haven make $105 million annually.
How to Choose a Location for Your Business
Choosing the right location for your business can definitely set it up for success. Here are some steps to consider when making this important decision.
Access to a large and diverse talent pool: Consider who you'll want to hire and what credentials and experience they should have. Then, see if the area you want to open your business in has a large and diverse enough talent pool to meet those needs. Cities with several colleges and universities are helpful to business owners in this way.
Strong and growing economy: Every area has its own economic challenges, but you may not want to consider opening a business in a city where the unemployment rate is high and where people may not have the disposable income to support your business.
Access to funding and investors: If you're looking to open a startup, access to venture capital and other methods of funding is essential. Look to cities that are start-up friendly or have several business funding resources and investors.
Pro-business government policies and incentives: Some areas are more business-friendly than others and will offer financing incentives or even tax breaks.
Access to transportation and infrastructure: Consider how people will get to your business and what the foot traffic will be like.
A diverse and thriving cultural scene: Cities like Austin, Denver, and Nashville has a thriving cultural scene where people are open to exploring new businesses and contributing to the community.
A large and growing population: Check to see how the population has grown in certain cities within the past few years. A growing population and higher median income indicates a better environment for businesses to grow.
A low cost of living: The cost of living will affect your customers and even your local business expenses. Some big cities have a lot to offer entrepreneurs but they are very expensive making it hard to retain customers and make a profit.
A high quality of life: Explore what the quality of life is like in certain cities before opening a business. Are people working long hours or dealing with a long commute each day? Do residents seem to go out and support local businesses? What other successful businesses exist in the area?
Access to a large and diverse customer base: Identifying your ideal customer base is crucial and this can help you target cities that include lots of potential customers and supporters for your business. If you're looking to open an art gallery for example, you'll have to consider whether the city has an art district or people who are interested in this type of thing and willing to spend money on it.
Preparation doesn't assure victory, it assures confidence. – Amit Kalantri, Wealth of Worlds
Tips for Starting a Business
Starting a business involves lots of planning and research, but you can easily break down your to-do list into actionable steps. Here are some tips for starting a business.
Do Some Market Research
Market research helps you understand your target market and customer base while reducing risks.
The SBA recommends you assess the demand for your product or business in a particular area along with economic trends and how much customers are paying for similar products.
Have Someone Review Your Business Plan
Your business plan is a foundational tool that explains how you'll structure, run and grow your business. This can also be used to secure funding from lenders and investors.
Be sure to talk to a local business advisor or an experienced and trusted professional to get honest feedback on your business plan.
Perhaps someone will find an area that you failed to address or offer tips to help you make your plan effective.
Determine How You'll Fund the Business
It's never too early to think about funding once you have a business idea. Explore your options for loans, microloans, equipment financing, and venture capital. You may want to start with your local bank or credit union.
Also, see if your city has a business development office which may be able to provide you with information on local funding opportunities and incentives.
Find some of the best startup loans for businesses on our list.

Check to See Which Licenses You'll Need
Depending on the city, you may need certain licenses and certifications to get started. It's important to look into this early on as well so you can prepare accordingly.
Some cities require extensive licenses and requirements for restaurants and you don't want this process to delay progress with opening your business.
Final Word
Opening a business in certain cities doesn't guarantee success. However you can use a particular location to better reach your target customers, embed yourself within that community, and secure more funding and quality resources.
Use the information in this article to narrow down the ideal city for your business and how to increase the chances of its success there.