All content presented here and elsewhere is solely intended for informational purposes only. The reader is required to seek professional counsel before beginning any legal or financial endeavor.
Knowing how to start a business in Florida is more strait forward than in other states. Florida is known for being business friendly and some of the reasons why are that Florida has no state income tax - no capital gains tax - no inheritance tax - no tax on receipt of monetary gifts.
Although Florida exempts individuals from paying state taxes, you are still required to pay other taxes and federal tax to the US government. You might want to give How To Start a Small Business a look first.
1. Establish The Structure Of Your Business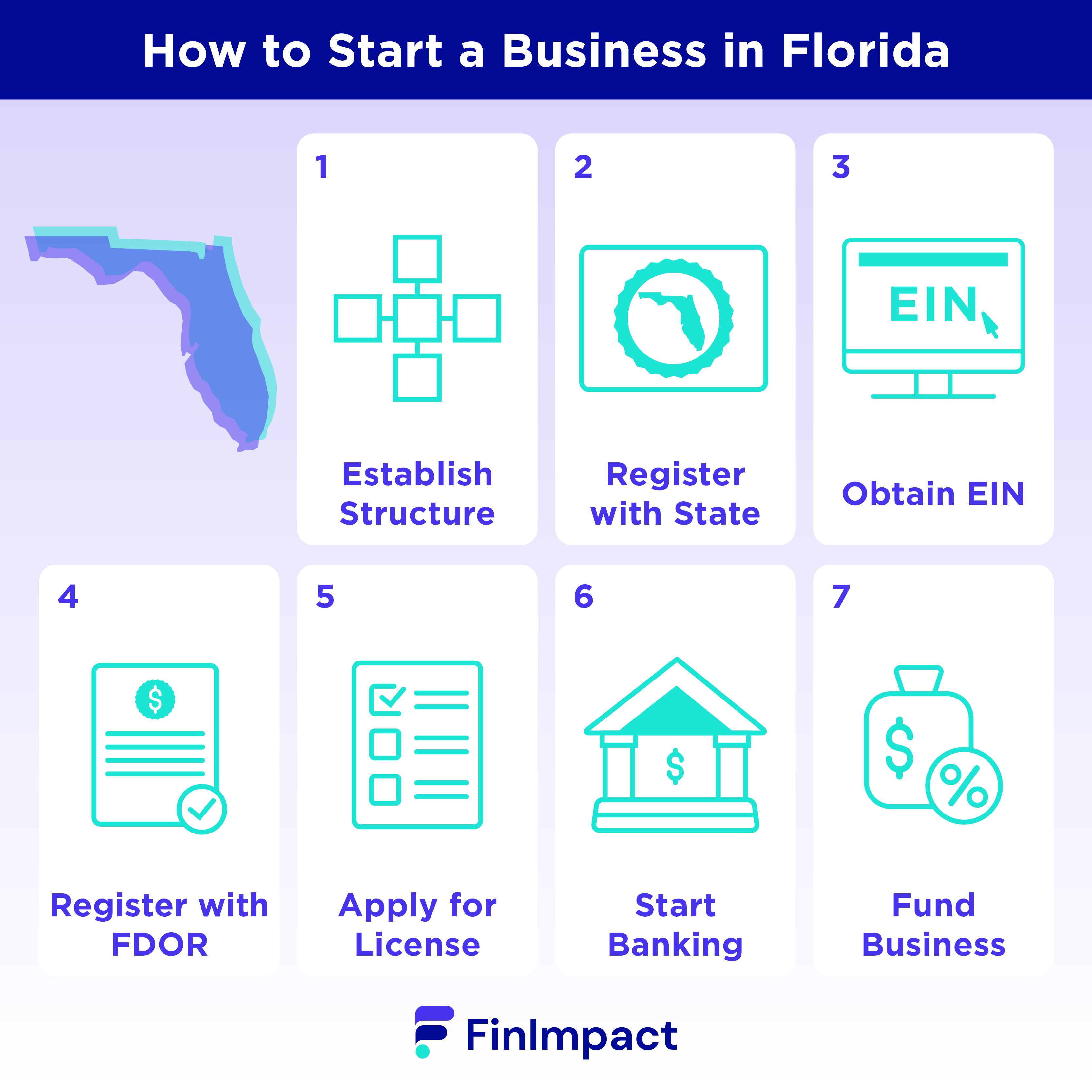 The financial structure of your business will define what your monetary relationship will be both with Florida State and the Federal Government and determine if you need a Florida business license.

This is a crucial and critical first step, when considering how to start a small business. Since not all business structures are appropriate for every type of business. Being clear on this requires seeing advice from a professional CPA, attorney or registered agent. That being said here are those financial structures:
S-corporation
This structure elevates the business owners from the conundrum of double taxation. This exemption requires inspection and approval from the IRS according to specific criteria.
C-corporation
This allows multiple business owners to be taxed separately however it can result in double taxation. This gives easier access to capital in the form of selling shares
Limited Liability Company (LLC)
An LLC is a business structure that protects its owners by providing limited liability by separating the business from its owners. It is easier to create and operate than a S-corporation.
Sole Proprietorship
As the name suggests this is a business entity that is owned by one person. It is designed so the bureaucracy is greatly reduced for the benefit of the owner. However this system makes no difference between the owner and the business. This exposes the owner to an unlimited amount of liability and so business dealings and accounting have to be meticulous.
Knowing what structure is the job of a professional. If you can't afford one there are many organizations that offer either direct advisement or help through networking:
2. Register Your Business
Starting a business in Florida requires you to register to receive a Florida business license. If your business structure is a LLC, Corporation, or Partnership you can register online. You'll need these documents:
Articles of Organization

Conversion forms

Business name

Address to register
The fees for a Florida business registration are subject to change. Currently, it costs around $160 to register an LLC and around $70 to register a corporation in Florida.
You may need to adhere to The Fictitious Name Act to start a Florida business. This act states that if the name of your business is different from the name you originally registered, you must register a 'fictitious name' with the Florida Department of State.
For example, if you plan to operate as a sole proprietor but refer to your business by a name other than your own, you'll need to register a fictitious name with the state.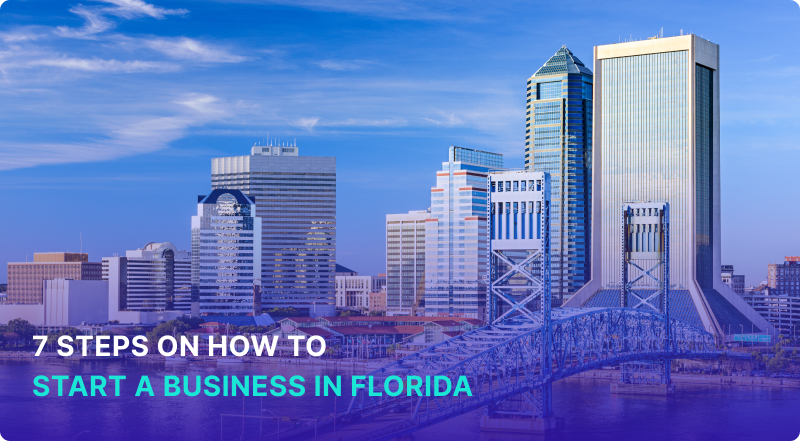 3. Register For an Employer Identification Number
All businesses need an Employer Identification Number or EIN. It's just like a social security number, but for your business and it's necessary when you're filing federal taxes when you're not a sole proprietor. You can apply for one and submit all the necessary documents by visiting the IRS website.
4. Register With the Florida Department of Revenue
You'll need to register with the Florida Department Of Revenue since you will be paying Sales and Use Tax. To be in business, you need to sell or lease something. So state taxes will be collected from each business transaction with a customer. Florida's general sales tax is 6% with a few exceptions.
5. Apply For A Florida Business Licenses and Permit
It's best to check with the state's Business Information Portal to confirm if you'll need a license to operate. This resource helps you break down specific requirements by city and county. You can also utilize Florida's Department of Business and Professional Regulation's (DBPR) website to learn more about the licensing you'll need based on the type of business you have.
6. Open A Business Bank Account
It's important to keep business and personal finances separate. Once you have received your Florida business license and EIN you can open a business bank account with nearly any bank and doing this will make things much easier when working on your Profit and Loss statements as well as during tax time.
7. Funding The Business
Once you legitimize your business by applying for a Florida business license you'll be ready to look into funding options. Business funding is crucial at the beginning stages since it can help pay for equipment, an office space, outsourcing and more. You might wish to look into how to raise capital for a startup. Applying for a startup business loan is one of the ways to secure necessary funding. You might like to visit our list of the best startup business loan lenders and compare loan options available for new businesses.

Torro is a solid option for newer businesses since they offer a start-up line of credit. With Torro, you can get a start-up capital loan for up to $100,000. This particular loan is geared toward businesses that have been operating for 6 months or less. In addition they offer a wealth of business advice and mentoring.

In addition you can apply for a grant to start a small business in Florida by contacting the Small Business Administration. This is a US government scheme to help get small businesses off the ground, helping with business startup costs.
Final Word On Starting A Business In Florida
Florida is welcoming to businesses due to its low start-up costs, simpler requirements, and tax-friendly structure. Regardless of where you are starting your business consulting with a professional or an organization that helps small business is vital. In addition having the correct attitude along the process will ensure that you get there in the end: