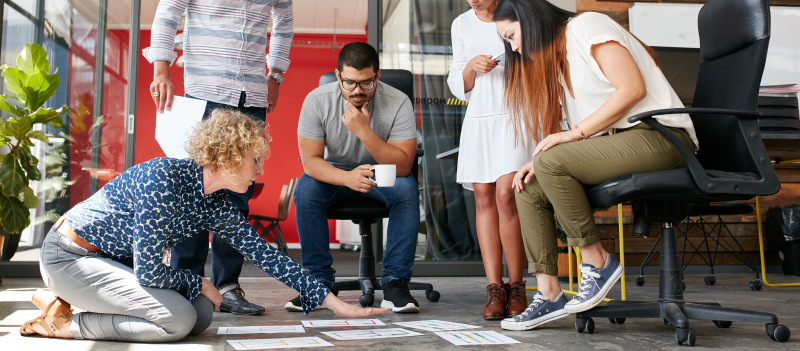 All content presented here and elsewhere is solely intended for informational purposes only. The reader is required to seek professional counsel before beginning any legal or financial endeavor.
It is quite feasible starting a business without a lot of capital on hand. In fact, there are many low startup cost businesses that can help you pursue your dream of entrepreneurship without breaking the bank. These businesses come with low overhead and require minimal funding.
You can start a business without investing a lot of money.
Low Cost Startup Business Ideas
Start a Blog or Podcast
Do you consider yourself an expert about a specific topic? If so, you may want to launch a blog or podcast related to it. As long as you update it on a regular basis with interesting content, you can gain a loyal following and earn money.
Most blogs and podcasts are monetized through product sales, sponsorships, and affiliate marketing. It's not uncommon for blog owners to make between $250 and $2,500 per month in their first year of blogging. Podcasters typically earn around $300 to $5,000 per episode with 10,000 downloads.
Freelance Writing
If you enjoy writing, you can become a freelance writer and produce content for a variety of online and print publications. Your content may be used for websites, blog posts, case studies, brochures, emails, eBooks, social media, and more. Depending on your client, you can get paid per word, a flat rate per project, or per hour. On average, a full-time freelance writer earns between $2,000 to $10,000 per month.
Social Media Management
Social media is more popular today than ever before. If you're creative and proficient in various social media outlets, like Facebook, Twitter, LinkedIn, and Instagram, consider a social media management venture. You may earn a nice living by managing the social media accounts of all types of businesses. You'll create engaging content, post it, and interact with fans or followers. While your income will depend on how many clients you have and how often you work for them, $50 to $99 per hour is a typical rate.
Virtual Assisting
Since many entrepreneurs are busy, they hire virtual assistants to support them with a variety of administrative functions. While every virtual assisting job is unique, many will require you to schedule appointments, make travel arrangements, manage databases, answer phone calls, and plan special events. You'll be able to take the administrative burden off of your client's plates and earn money in the process. Depending on how many clients you have and the types of tasks you perform, you can earn anywhere from $500 to $10,000 per month.
Bookkeeping
Bookkeeping is tedious and time-consuming. If you have experience with it, you might want to start a bookkeeping business. Business owners would outsource their bookkeeping to you and you'd reconcile bank accounts, produce income statements and balance sheets, clean up general ledgers, and work on other related tasks. You may be hired for your services every month or every quarter. The average hourly rate for a bookkeeper is $30 to $45.
Tutoring
If you're patient and good at a certain subject, a tutoring venture should be on your radar. You may tutor children, teens, college students, or even adults in subjects like chemistry, calculus, physics, or reading. Another option is to offer tutoring services for standardized tests like the ACT, SAT, LSAT, or MCAT. You may tutor in your home, clients' homes, or in public places like coffee shops and libraries. Factors like your credentials, the subject you're an expert in, and how many students will determine your earning potential but $1,000 to $4,000 per month is typical.
Personal Trainer
Many people hire personal trainers to help them achieve and maintain their wellness goals. If you're passionate about health and fitness, personal training might be a good fit. You can train your clients virtually or in your home, their homes, or local gyms or fitness centers. Depending on your expertise and preferences, you might also offer add on services like holistic health coaching and meal planning. The average monthly pay for a personal trainer ranges from $2,500 to $6,500 per month.
Office Cleaning
Office spaces, just like residential homes, require regular cleaning. That's why an office cleaning business may be worthwhile. Businesses will hire you to clean their workplaces on an ongoing basis. While cleaning tasks will depend on each client's unique needs, you'll likely vacuum, mop, dust, and take out the trash. Some businesses may hire you on a daily basis while others will prefer weekly or monthly services. Once you've locked in a steady client base, you can expect to earn anywhere from $35,000 to $70,000 per year.
Dropshipping
Dropshipping is when you sell products without investing in inventory. Here's how it works: A customer visits your online store and pays retail price for an item. Then, you pay the wholesale price for their order and send it to them. Your supplier will ship the order to them and you'll pocket the profit. To pursue dropshipping, you can create and optimize your own website or use a platform like Shopify or Etsy. As a dropshipper, you may earn between 20% to 30% profit from each sale or an average of $1,000 to $5,000 per month. Of course, your exact figure will depend on the type and quantity of products you sell.
Event Planning
Are you an organized individual who loves planning special events? If so, event planning is worth exploring. You can plan all types of events for clients, including weddings, birthday parties, baby showers, corporate events, and religious celebrations. Some clients will want to hire you to handle every detail of their event while others will prefer your services the day of the event to ensure it runs smoothly. You can earn anywhere from $12 to $75 per hour plus commissions from vendors.
Professional Organizing
There are many people with cluttered homes or workplaces who are longing for more organization. That's why there's a need for professional organizing. If you love to organize and want to help clients improve their environments, professional organizing may be the way to go. You can organize entire homes or office buildings or just a few rooms. Most professional organizers earn between $50 per hour to over $200 per hour, depending on their clientele and experience.
There are many low cost startup businesses you might want to consider like bookkeeping, office cleaning, freelance writing, and social media management.
How To Keep Your Business Startup Costs Low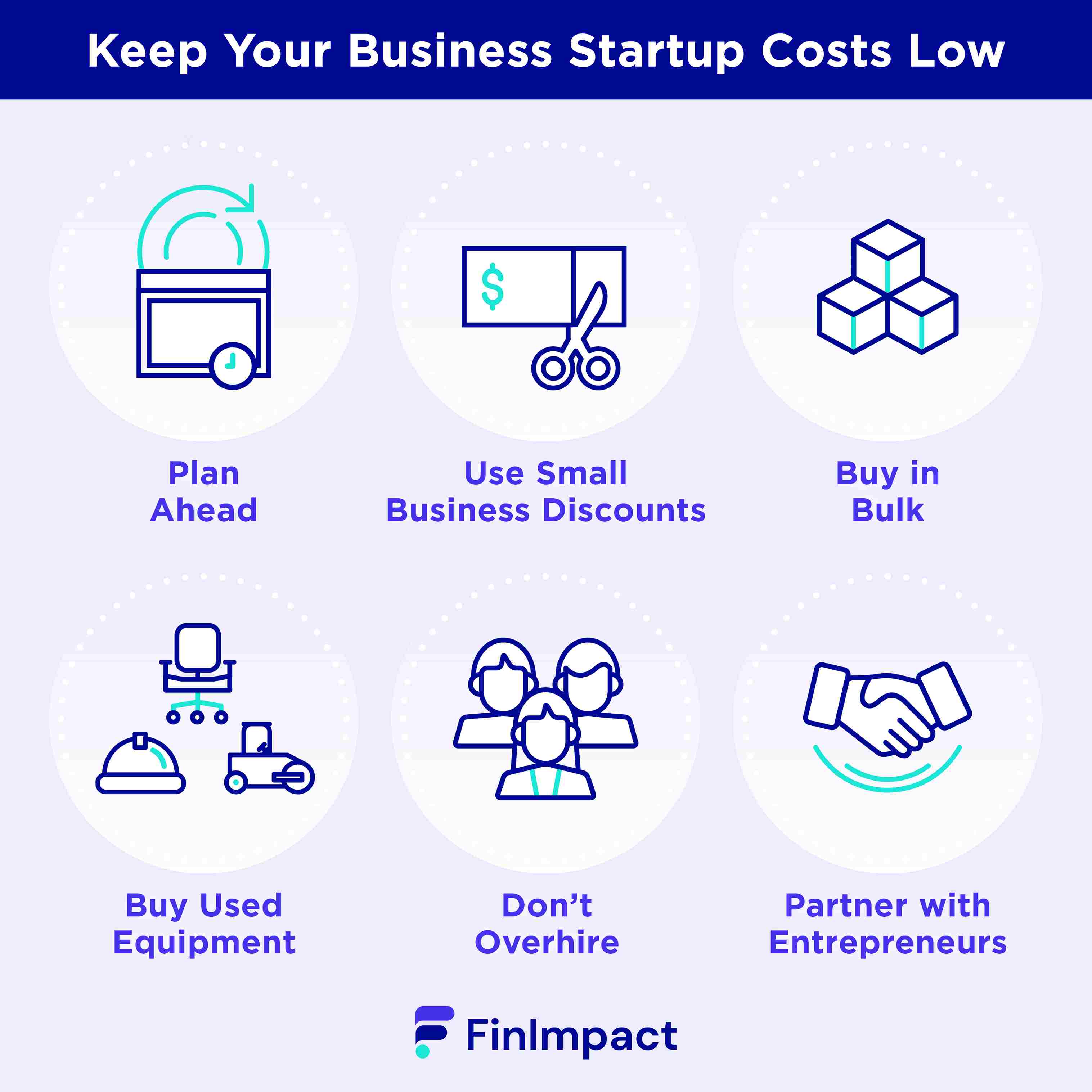 There are a number of ways you can lower your business startup costs and maximize your profits, such as:
Plan Ahead: Before you go out and make purchases, figure out what you really need. Make a list of everything your business needs to operate. This might include

equipment

, computers, office supplies, furniture, and employee salaries. By planning ahead, you can avoid impulse investments and keep your costs down.

Take Advantage of Small Business Discounts: Many suppliers and

vendors

offer discounts to

startups and small businesses

. Do some research and find out which ones you might qualify for. Your local chamber of commerce can inform you of some opportunities and steer you toward the right direction.

Buy in Bulk: While it may be tempting to buy a few items at a time, bulk purchases will save you money. Look for companies with wholesale pricing and discounts on bulk orders.
Consider Used Equipment: If your

startup needs equipment

to operate, it may be a good idea to look for

used options

. You could always upgrade to newer equipment once you've earned some profits and know exactly what you need.

Don't Overhire: As an ambitious

entrepreneur

, you may want to build a large team so you have all the right people from the start. But the reality is labor is not cheap, especially if you're looking for quality talent. Start small and only hire a few workers. You can also go the contractor route until you hone in on the ideal full-time team.

Partner with Other Entrepreneurs: Chances are there are many other entrepreneurs in your local area who are in the same boat as you. Do some networking. Then, you can barter or trade products or services to help one another out.
Could a Low Cost Startup Idea Generate High Profits?
Contrary to popular belief, a low cost startup idea can be very profitable. If you choose the right products or services, attract the ideal customer base, and work hard, you may earn a great living without investing a ton of cash upfront. Let's say you decide to launch a professional organizing business. If you're able to build a steady client base and charge $100+ an hour, the sky's the limit.
The same holds true for freelance writing, social media management, and event planning. As long as you maintain consistent, loyal clients and charge what your products or services are worth, you can generate high profits with a low cost startup.
How to Choose Your Low Cost Startup Business Idea
Since there are so many low cost startup business ideas out there, you may wonder how to choose the right one. Consider the following as you decide.
Skills: Think about what your strengths are. Do you have specialized training or experience in a certain field or industry?
Current Equipment: Ideally, you wouldn't have to spend thousands upon thousands of dollars on equipment. Ask yourself whether you have tools or equipment you can use to avoid making major purchases.
Seasonality: Some low cost startups, like lawn maintenance and snow plowing are seasonal. Others, such as office cleaning and professional organizing will work year-round.
Income Goals: Your income goals will depend on your lifestyle and unique situation. Maybe you'd like to start a low cost startup to replace your salary. Or perhaps you're looking to earn some extra money or monetize a hobby you have.
Audience: A low cost startup business will only succeed if there are customers who are interested in it. Make sure you choose products or services that are valuable to a potential customer base or missing in your local community.
Existing Tools: Are your products or services revolutionary and new to the marketplace? If not, think about who else offers them and how you can gauge their success to help you out.
To choose a low cost startup business, consider your skills, current equipment, seasonality, income goals, audience, and existing tools.
Find Additional Funding for Your Startup Business
Even if you have a feasible low cost startup idea, you might require additional funding to operate or grow. Here are some sources you can turn to for capital.
Startup Business Loans: You can find

startup business loans

at banks, credit unions, and online lenders. Many of them come with lenient requirements and offer large amounts of money.

SBA Loans: Partially guaranteed by the

U.S. Small Business Administration (SBA)

,

SBA loans

offer

low interest rates

and lengthy repayment terms that you may not be able to find elsewhere. The caveat, however, is that the eligibility criteria is strict and it might

take time to receive your funds

.

Investors: There are many

investors

who are looking to

help entrepreneurs succeed

. You can connect to them online or in-person at local events.

Crowdfunding:

Crowdfunding

is a great way to find investors who support your low cost startup business. Some examples of crowdfunding sites that you might want to consider include Kickstarter, Fundable, and Crowd Supply.

Your Own Funds: If you have some cash saved up, consider putting it toward your venture. Just make sure you don't use up all your savings and have a solid emergency fund in place.

Final Word
A low cost startup business is ideal if you're looking for a way to earn some income without having to come up with a lot of capital. Just like any other business, it can succeed if you differentiate yourself from the competition and provide a solution to a problem. Best of luck in your mission to launch a low cost startup business!