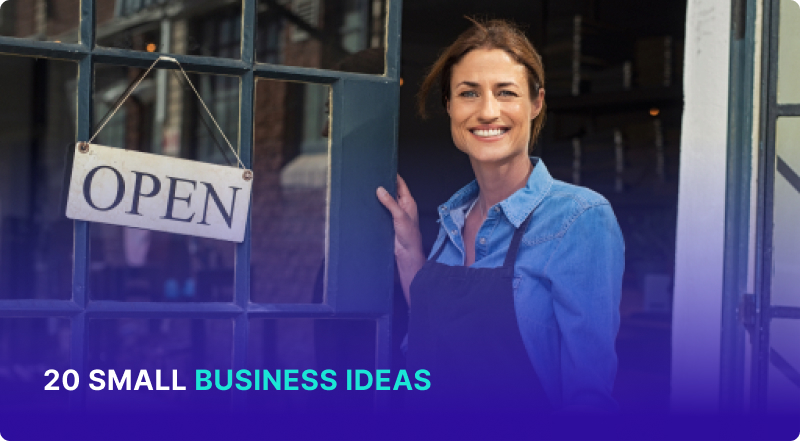 All content presented here and elsewhere is solely intended for informational purposes only. The reader is required to seek professional counsel before beginning any legal or financial endeavor.
From online jobs requiring small startup costs such as social media managers or graphic design, to real estate and accounting, which continue to increase in demand, the right small business idea for you is out there and we're here to help you find it.
1. Accountant
If you like working with numbers, keeping financial records, and updating them as necessary, then accounting may be your calling. Key tasks include preparing and maintaining reports, key financial statements and documents, preparing tax returns, and offering financial advice and guidance.
Pros: The industry continues to grow and accounting is an in-demand career.
Cons: Requires a specialized degree and can be stressful.
2. Bicycle repair
Bicycle ownership continues to grow throughout the U.S. and when a bicycle needs a repair, people need someone to call. Bicycle repair shop owners not only fix issues and provide repairs but also can offer overall maintenance and tune-ups.
Pros: Growing industry, flexible scheduling, and rewarding hands-on work.
Cons: Unpredictable income and may be subject to seasonal trends.
3. Boat cleaning
With 100 million Americans boating each year, someone needs to clean the boats. A business offering a boat cleaning service can do so by providing a mobile detailing service with little overhead.
Pros: Flexible scheduling, low startup costs, and the benefits of repeat business are a few pros to this job.
Cons: You have to hire extra hands to truly expand services and grow your business.
4. Rideshare driver
Rideshare services have bounced back and demand has increased in 2022. Companies like Uber and Lyft need drivers to take people to the airport, run errands, eat out, and whatever else needs to be done by using your own transportation.
Pros: Extremely flexible and you choose what jobs you take or decline.
Cons: You need personal auto insurance coverage specifically for ridesharing and the pay isn't always consistent.
5. Cleaning service
Cleaning services are always in demand, not only for residential purposes, but for businesses too. Tasks include deep cleaning and maintaining a clean environment for a home or office.
Pros: You can either do the cleaning yourself or hire contract cleaners so you can scale your business.
Cons: Business is highly dependent on referrals and cleaning services are often cut during financial hardships.
6. Consultant
Consultants offer guidance and advice on everything from business development to beauty products. This job is ideal for those who like to communicate and make clear, precise points with people.
Pros: A highly lucrative business model where you can tailor your services to your strengths.
Cons: It's typically a contract only and consulting services can be cut at any time.
7. Beauty
If beauty products are your passion, turn it into a business by either creating your own products, offering services such as makeup application or consulting services, or selling profitable beauty products online.
Pros: Beauty continues to be a popular service and is a topic many are passionate about.
Cons: It's a highly saturated market with an overwhelming amount of competitors.
8. Real Estate
Real estate is a hot topic and it will likely be months, and perhaps years, before some markets show any signs of a cool down. Real estate agents help both the buyers and sellers with transactions and negotiate contracts on their clients behalf.
Pros: Highly lucrative and grows through referrals and reputation.
Cons: Can take years to build up the business and your schedule is built around your client's schedule. You also need licenses for each state you plan to sell in.
9. Online Courses
People love to learn and nowhere is this more evident than on the internet. If you have an area of expertise then creating an online course could be a great small business opportunity.
Pros: With the right platform and marketing, your online course can be quite profitable.
Cons: It can take months to get paid for your effort and you have to pay fees to the hosting company.
10. Social Media Management
Social media continues to evolve and businesses and individuals need help managing their accounts. From daily posting, branding, responding to messages, and maintaining editorial calendars, social media managers are in high demand right now.
Pros: Flexible work is available and plenty of it.
Cons: Platform algorithms are constantly changing which means you must evolve and your customers expect almost instant results.
11. Tech Development
If you love all things related to IT then a tech development company could be a profitable small business idea. Technology developers work with companies to advise on technical processes and projects and ensure the workflows make sense for the business.
Pros: Great pay and it's an in-demand skill companies must take advantage of to compete in today's environment.
Cons: Stressful and long hours with long periods of time spent sitting at a desk. Specialized training or certifications are required too.
12. Graphic Design
A graphic designer uses design software to create images and pictures for clients. Projects range from one-page sales brochures to advance web sites and infographics. Multiple industries rely on graphics, which makes it an in-demand skill.
Pros: Can work as a freelancer or employ multiple freelancers with an agency.
Cons: Quite a bit of competition among other graphic designers and the pay is not as lucrative as other services, such as website development or writing.
13. Blogging
Bloggers write and post articles on their own website and have evolved over the last several years as providers of information. Blogging requires writing articles, gathering photographs or taking pictures, staying up on the latest trends for digital marketing, and engaging with a community on social media.
Pros: Rewarding work and low startup costs (

financing a camera

could be a bigger cost, but still manageable). You can earn money through multiple streams of income with a blog.

Cons: Takes months, sometimes years, to earn money through a website.
14. Buy and sell on eBay
You can list your own items or purchase items at a low cost and then "flip" them on eBay. To be successful, you need to offer thorough descriptions, earn positive reviews for service and shipping, and respond to customer feedback and questions.
Pros: Flexible and potential to

earn a substantial side income

.

Cons: Need to sell quite a bit of product to balance out the number of hours and shipping costs most products require.
15. Dropshipping
A dropshipping business means a seller sets up a website to sell products but does not keep the product (or inventory) in stock. Instead, the product is shipped from a third party directly to the consumer. A dropshipping business requires website updating, customer service interactions, and proper product selection for sales.
Pros: No need to purchase inventory, low startup costs, and easily scale your business.
Cons: More expensive than some retail products and you have no control over the quality and shipping of merchandise.
16. Make and sell stuff
If you're more the creative type then making and selling your own products has never been easier. Thanks to sites like Shopify and Etsy, you can easily sell your own physical products, or digital ones. Not only are you responsible for creation, you interact with customers and manage inventory and orders.
Pros: Creative and rewarding work, low startup costs, can be lucrative.
Cons: You have to deal with customer service issues and spend money to market your product and business.
17. Webinars
Creating online webinars involves using a webinar platform for either a live or pre-recorded presentation. The webinars can be on any particular subject and generally the idea is to sell a product or service. You can also offer this service to other businesses to help with the preparation and execution of webinars.
Pros: Low startup costs, flexible schedules, and quick startup are a few advantages.
Cons: You're in charge of any technical difficulties, which can be stressful. You will need to spend money on marketing your service.
For more online business ideas you can check out our in-depth review of online small business ideas.
18. Handyman
No matter what's going on with the housing market, people will always need extra help around the home. From fixing a leaky faucet to installing a ceiling fan, a handyman service becomes the reliable go-to small business solution within the community.
Pros: Low startup costs and profitable business model. It's easy to find clients through referrals.
Cons: Your reputation is everything, including how you work with customers and their demands. It can be a physically demanding job too.
19. Woodworker
A woodworker creates products made from wood by using tools and selling their products. From small projects to large scale construction jobs, businesses and residents alike are always looking for skilled carpenters and woodworkers.
Pros: A creative and rewarding job, you work with your hands all day, with normal working hours.
Cons: You're on your feet all day and hard labor is involved. You also face a greater chance of accidental injury.
20. Online Dating Consultant
An online dating consultant is similar to business consulting, but exclusively for the online dating world. Someone in this role helps other people navigate the world of online dating either for casual or serious purposes.
Pros: Flexible scheduling, limited startup costs, and rewarding work are a few positives.
Cons: Competition is high and you may be waiting a long time to see results or get paid.
10 Steps for Starting a Small Business
Whether you use one of the small business ideas discussed above or you have a business idea in mind already, let's go through the basic steps for starting a business.
Define your idea and niche.
Analyze the market and demand. You can look into the

most profitable small businesses

.

Create a business plan. Put the details behind your business idea on paper and how you will launch, fund, and market your business.
Determine funding needed. Analyze if you will fund the venture yourself, with investors, crowdfunding, friends and family, or through a startup business loan.
Finalize the legal structure. Work with an attorney or certified public accountant to determine the best legal and financial structure for your business.
Register your business with local, state, and federal governments, and the IRS.
Put a business insurance policy in place which offers general liability, business property insurance or employee-related coverage.
Hire employees, if necessary, such as full-time, part-time, or contract.
Select the vendors to do business with.
Market your business through social media channels.

How to Choose The Right Business Idea
There are several strategies for finding the right small business idea for your own business. Start by listing out your own skills, experiences, and preferences. After all, you'll be pouring your heart and soul into this work, so make sure it aligns with something you feel good about and are interested in.
Once you jot down ideas, try narrowing down your list. Research the pros and cons of the serious contenders. Find out if you need additional training or certifications, or what skills you need to improve upon.
Try interviewing or talking with people who are currently in the business you're interested in. What's it really like day in and day out? What do these people wish they knew before they jumped in? Once you have all the information at hand, you can weigh the benefits of your small business idea and if you think it suits your lifestyle and personal goals. For example, if you wish to work from your home look into home business ideas.
Brainstorming Business Ideas
Take brainstorming to the next level to truly hone in on the right small business ideas. Try writing down every idea that comes to mind over a few days, not simply a small point in time. Keep a brainstorming board with you, either on your smartphone or a physical one, or leave notes all over your home. Whatever works for you and keeps the ideas flowing is a great way to brainstorm ideas.
Protecting Unique Business Ideas
When it's time to move forward you have to do more than simply talk about your unique business idea — you have to protect it. There are multiple ways to legally protect your small business ideas and you may need to involve an attorney to ensure all legal aspects are covered. Some steps you might need to take include:
If you are a freelancer or need to hire employees, be prepared to use the following:
Confidentiality and non-disclosure agreement (NDA), which is a contract where businesses working together agree not to disclose any confidential information.

Non-compete agreements.

Work-for-hire agreements.
Getting
Funding For a Business Idea
Even the best ideas need funding to get off the ground. Before opening the doors to your business you'll need to determine the funding needed for a successful start. Funding comes in many shapes and sizes. Some ideas for finding funding are:

Fund it yourself. Use your personal savings to

start your business

.

Friends and family. Ask them for donations or investments, in exchange for equity.
Final Word
You have the dream and the desire to own your own business, but now you need the list of the best small business ideas to get started. Bear in mind, you should start a business that is best suited for your skills and passions, which will help with the motivation.
Before you explore various small business ideas, conducting in-depth research and researching the type of small business you want will provide the encouragement to move forward.