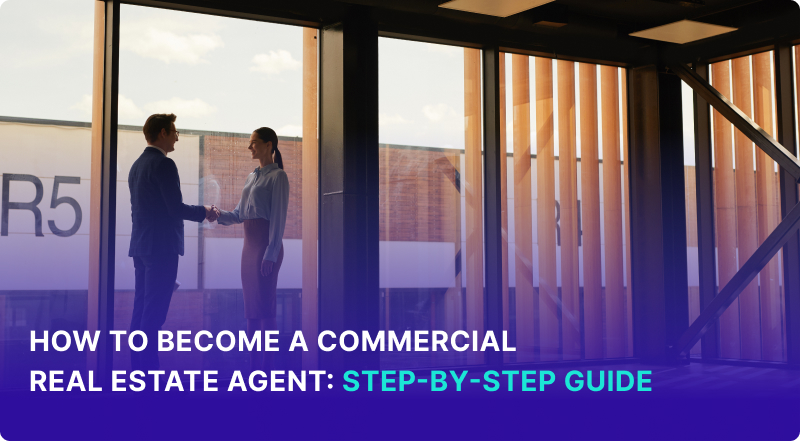 All content presented here and elsewhere is solely intended for informational purposes only. The reader is required to seek professional counsel before beginning any legal or financial endeavor.
Without a doubt, commercial real estate presents a lucrative, yet competitive, field. Commercial real estate agents work long hours in a fast-paced and unpredictable environment to help their clients buy, lease, or sell business properties, - and are rewarded accordingly.
If you find yourself wondering how to become a commercial real estate agent, you need to keep in mind that there are specific skills, duties, and considerations required to succeed in this career. And, of course, you need to have a thorough understanding of commercial real estate loans. In this article, we are going to take a close look at the requirements, steps, and career options available when becoming a commercial real estate agent.
What is a Commercial Real Estate Agent?
A commercial real estate agent is a licensed professional that guides his or her clients through the process of buying, selling, or leasing properties used for business purposes. Usually, these clients are investors looking to gain income from renting out the properties, such as hotels, stores, and office buildings. Typically the commercial real estate agent is versed in how to find investment properties. Commercial real estate differs from residential real estate, where clients are looking to buy, sell, or rent properties to live in them.
How to Become a Commercial Real Estate Agent in 8 Steps
If you are interested in becoming a commercial real estate agent, you would need to follow these general steps to embark on this career:
1. Research Your State's Requirements
You can't become a national real estate agent, - this means that you must meet the unique licensing requirements outlined by your state's real estate regulatory body. A good place to start your research is to visit the ARELLO's (Association of Real Estate License Law Officials) regulatory agency directory.
Here, you can review specific state requirements, such as:
Age
Education requirements
Required courses
Licensing exams
Application process and fees
Background checks
Continuing education requirements
Keep in mind that certain states allow reciprocal licensing with other states. This means that you can receive a license in one state and be able to use it in another one.
2. Meet the General Eligibility Criteria
For most states within the U.S., the eligibility criteria involve the following:
You must be a legal resident of the United States
You must be at least 18 or 19 years of age
You must have a GED or a high school diploma
On top of the general eligibility requirements, you would need to take the specific licensing coursework required by your state. However, the state may waive this requirement if you receive a post-secondary real estate certificate or degree.
Finally, once you are done with the courses, you may need to pass a background check.
3. Complete the Required Courses
If you are wondering how to become a commercial real estate agent, keep in mind that you would need to take specific courses, similar to what a residential agent would take. During your studies, you will learn the basics about the profession, real estate agent's responsibilities, any relevant laws and regulations, information specific to your state, and learn about types of real estate investment.
While the specific course requirements vary from state to state, you can expect your total coursework to last anywhere from 60 to over 130 hours. In addition, some states also offer more specialized training related to the commercial real estate field.
4. Obtain Your Commercial Real Estate License
After you complete your courses, you will be able to register for the licensing exam, which typically costs between $100 and $350.
The exam takes approximately three hours and includes 75 to 150 multiple choice questions divided between two parts: a national section and a state-specific one. Each part of the exam is evaluated separately, and you must pass both in order to receive your license.
5. Join a Brokerage
To activate your real estate license, you must join a brokerage. One option is to work for a brokerage firm that deals with both residential and commercial real estate. While very lucrative, commercial real estate transactions tend to be very complex, taking months to close a deal. To make the transition easier, you may want to begin by working on the residential side of business to gain industry experience while building your professional network and learning important skills.
Of course, you can also start your career by joining a brokerage firm that deals exclusively with commercial real estate deals. These types of brokerages often provide salaried training programs for new employees, where you would be able to learn how to perform commercial transactions.
6. Join Professional Associations
Some real estate companies may require you to join a national or state real estate association. Even when not required, joining a professional association can help you to build your network, demonstrate your credibility, and benefit from other perks offered by the association. Many associations offer continuing education programs, training opportunities, information about how to invest in commercial real estate, and other valuable real estate resources and tools.
7. Choose a Specialization
As you become more familiar with the world of commercial real estate, you may decide to specialize in a more specific field. Depending on your interests or potential financial compensation, you may choose to focus on office, retail, or industrial real estate. Your specialization will show your expertise and set you apart from other agents practicing in a more general area. In addition, it can help you target specific types of clients.
8. Consider Becoming a Broker
Becoming a commercial real estate broker is the next step for many agents looking to run their own business. Similarly to commercial real estate agents, a broker guides the clients through the process of selling, buying, or renting properties. However, a broker is also able to open their own company and employ real estate agents.
In order to become a commercial real estate broker, you need to take the state-required coursework and pass an additional licensing exam. You will also need to renew your license every few years.