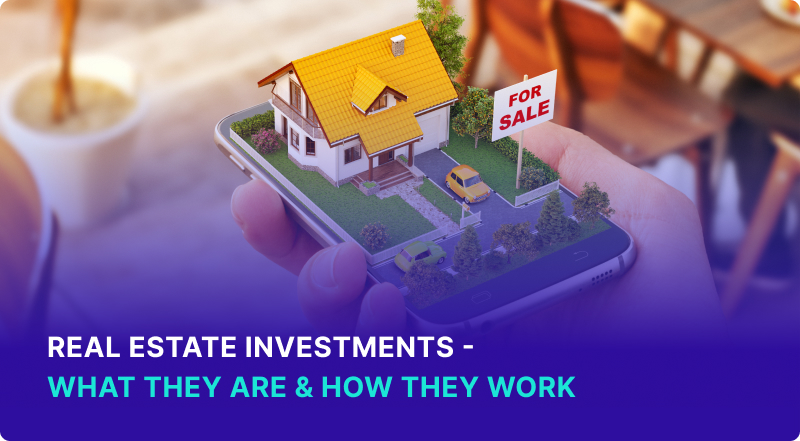 All content presented here and elsewhere is solely intended for informational purposes only. The reader is required to seek professional counsel before beginning any legal or financial endeavor.
There are 8 real estate investment models that follow the same basic principles. When you understand what these principles are you'll be able to discern between all the investment models and make the right decision that will bring the profit you are looking for.
Key Points:

Don't get intimidated by the Jargon - Learn it

Money is not your only investment, it's also your time. Will you have the time to invest?

Don't reinvent the wheel - Find the networks, organizations and professionals to support your investment journey
8 of the most common types of real estate investments
| | |
| --- | --- |
| Residential | Properties used for residential purposes, such as single-family homes, condos,and townhouses. |
| Commercial | Nonresidential properties like offices, retail stores, gas stations, restaurants, and warehouses. |
| Industrial | Properties that support manufacturing, assembly, warehousing, storage, and distribution. |
| Retail | Properties with a focus on selling goods or services to customers directly, such as strip malls, shopping malls, grocery stores, and clothing boutiques, and florists. |
| Mixed-Use | Properties that combine a variety of real estate investments, including commercial, residential and sometimes, industrial units. |
| Crowdfunding Platforms | Online outlets that allow investors to pool their money together and invest in properties that they may be unable to afford on their own. |
| REITs | REITs or real estate investment trusts are companies that own different types of commercial real estate properties. |
| Land | Assets that can give you the chance to earn money without the rules, regulations, and upkeep involved in other real estate investments. |
Residential
Residential real estate is one the most common types of real estate investments. It refers to any place that people live or stay.
This includes:
Single-family homes
Condos
Townhouses
Vacation homes.
To earn money with residential real estate, you'll collect rent or payments from tenants. You can also live in the properties and sell them for a profit when home prices go up. Renting out a spare room for Airbnb guests or buying and flipping a fixer-upper for a profit are a few examples of popular ways to make money with residential real estate.
Commercial
Commercial real estate investments are nonresidential, meaning they're rented or leased by businesses.
This includes:
Offices
Retail Stores
Gas stations
Restaurants
Warehouses.
Similar to residential real estate, you can make money by collecting rent payments or selling properties as their values appreciate. Compared to residential properties, commercial real estate tends to come with longer leases, which may translate to higher and steadier long-term income for you as the investor. The caveat, however, is that commercial real estate is more expensive to maintain. It may be worthwhile considering commercial real estate loans before entering the market.
| | | |
| --- | --- | --- |
| Higher long term income | VS | More expensive to maintain |
Industrial
Industrial real estate consists of any building that supports manufacturing, assembly, warehousing, storage, and distribution. You can think of industrial properties as spaces that allow businesses to make, ship, and receive goods.
Less expensive than other commercial investments like retail and multifamily
A good option if you're a new investor
Long-term leases can simplify the management process and generate steady income.
Retail
Retail real estate is designed for businesses that sell goods and services to customers directly. This includes:
Strip malls
Shopping malls
Grocery stores
Clothing boutiques
Contrary to popular belief, retail properties are still worthwhile investments as long as they cater to experiences and entertainment. With retail real estate, you can enjoy high returns on your investment and longer leases. The greatest downsides to them, however, is that they're sensitive to economic conditions and it's more difficult to find reliable tenants.
| | | |
| --- | --- | --- |
| High return on investment and longer leases | VS | Finding reliable tenants can be challenging |
Mixed-Use
Mixed-use properties give you the chance to reap the benefits of various properties in one investment. An example of a mixed-use property is a hotel that also has a gym and a coffee shop. Mixed-use properties may combine:
Commercial
Residential
Industrial units
Better long-term performance




Generate higher returns




VS

More expensive




Experienced investor
Crowdfunding Platforms
Real estate crowdfunding platforms or simply crowdfunding is a lot like peer-to-peer lending because it involves
Multiple investors coming together
Online to pool their funds
Provides access to investment opportunities that an individual might be unable to take advantage of on their own.
Crowdfunding provides a collaborative platform for any level investor
If you want to try real estate investing, crowdfunding can be a great way to get your foot in the door. There are plenty of crowdfunding platforms on the market such as Crowdstreet, Fundrise, and RealtyMogul.
REITs
REITs or Real Estate Investment Trusts are companies that own various forms of commercial real estate like shopping malls, hotels, and offices. Different types of REITs include:
Retail
Healthcare
Office
Mortgage
| | | |
| --- | --- | --- |
| Invest in shares of RIETs via a stock exchange | Properties are managed directly by a company. | Generate Passive Income |
Land
Land is a unique type of real estate investment because you don't have to worry about regulations and requirements like rent control and lengthy eviction processes. There's also no direct management involved. Additionally, since you can secure a fairly great deal on land, it may help you diversify your portfolio or get started as a newer investor. If you do decide to invest in land, be wary of scams as they are common.
| | | |
| --- | --- | --- |
| Less regulations and requirements | No direct management involved | Diversify portfolio |
What is a real estate investor?
What is a real estate investor?
Someone who adds real estate assets to their portfolio
An individual person, real estate company, or financial institution
Has sufficient capital to invest
Needs no required educational qualifications to start
Has basic knowledge of real estate investing
The classic example of a real estate investor, however, is someone who buys a rental property and collects rent payments from tenants or fixes up a property and sells it for profit. A real estate investor is typically someone who understands how to buy commercial real estate.
Why should you invest in real estate?
There are countless benefits to real estate investing depending on the investments you choose:
Provide you with steady cash flow and boost your monthly income
Long-term security and tax benefits
Opportunity to diversify your portfolio
Give you some peace of mind in retirement or when times get tough
How to get started in real estate investing?
If you would like to pursue real estate investing then here are a few introductory steps.
What is the difference between active vs. passive investing?
Active investing in Real Estate
Hands-on approach
Manage properties directly
Generate rental income or sell them for profit.
Passive investing in Real Estate
Back seat approach
Someone else will buy them, handle the day-to-day operations, and report back to you
Generates rental income or sell them for profit.
How do long-term gains compare to short-term gains?
A capital gain is when you sell an asset, such as a property for a profit. The tax you'll pay on a capital gain depends on how long you own the property before you sell it.
| | | |
| --- | --- | --- |
| Short-term capital gains | Owned less than < 1 year | Taxed as ordinary income at your marginal tax rate |
| Long-term capital gains | Owned more than > 1 year | Particular tax brackets |
Build Wealth with Real Estate Investments
As long as you budget and plan properly, investing in real estate can lead to a stable monthly income and improve your overall financial situation. Just be patient as it might take some time to reap these benefits.
Lendio can help you obtain the financing you need to begin your real estate investing journey. Once you register for free and apply within 15 minutes, you'll be able to explore the various options available to you. This can make it a breeze to choose the best offer for your specific needs and preferences.