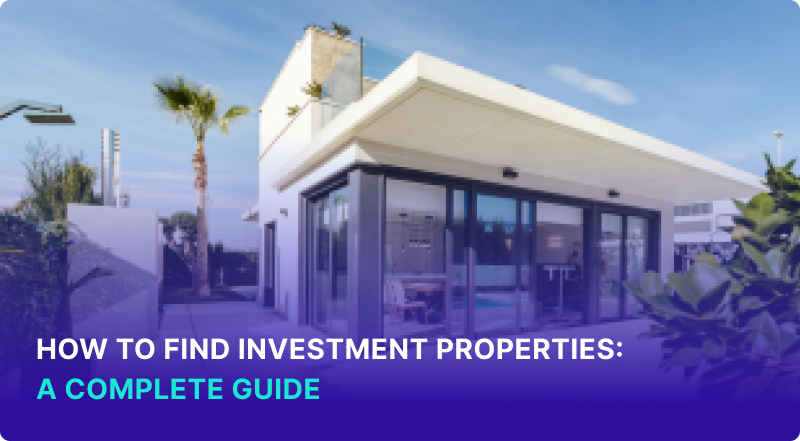 Instead of traveling around, investing time and effort to evaluate properties that turn out to be an investors nightmare, a better way of doing it is to vett the properties before you see them and then see only the ones that showed potential on paper. We are going to show you how the vetting process works:
Key Points:

Research - Research and then - Research

Persevere - it will pay off

Be meticulous in keeping records
How to Find Investment Properties: 8 Methods to Consider
Unlike other, more complex types of investments, you don't need any specialized education to become a real estate investor. You need to recognize what you are looking for and learn how to find cheap investment properties and understand how to buy commercial real estate.
Here are some methods to consider:
1. Browse MLS and Real Estate Websites
To this day, MLS remains the most popular way people search for investment properties. MLS, or Multiple Listing Service, presents the collection of publicly-listed properties that real estate agents are currently selling. This information is then publicly distributed around the web, - so when you are searching websites like realtor.com, you are searching MLS.
However, keep in mind that every potential investor is searching real estate websites for properties to buy. So, you will likely need to compete with other buyers and enter a bidding war.
2. Review Ads in Newspapers
Another excellent method of finding real estate investment properties is to look for specific ads in newspapers. Review the classified section titled "Properties for Sale" or "Homes for Sale," and you will find numerous ads describing all types of real estate for sale.
Most of these properties will be "for sale by owner," even though you might also find some listings by real estate agents. You can also try reviewing the specialized real estate newspapers, but keep in mind that these are usually released weekly or monthly.
3. Talk to Your Social Circle
One of the easiest ways to find investment properties for sale is by spreading the word. Talk to everybody you know - your relatives, friends, colleagues, and neighbors - and let them know that you are looking for various real estate investments. Be clear about the area you are interested in and the specific type of property you need.
Your social circle might know somebody who wants to sell just the right property for you. Sometimes, your friends and relatives might be interested in selling their property that isn't listed on MLS yet. You neve know which individuals within your social circle know how to invest in commercial real estate.
4. Look for "For Rent" Signs
This method is extremely easy to try: simply drive around the area you are interested in and look for "For Rent" signs. Once you find one, look up the house online. If it is not listed for sale online, you have found a potential investment property opportunity!
Older landlords often won't use the online listing websites and will resort to old-school roadside signs. This strategy means that there is a good chance they might be looking to sell the property to get rid of the headache associated with being a landlord.
Keep a sharp lookout for short-term and vacation rentals. Purchasing an Airbnb property could turn out to be an investment opportunity worth considering.
5. Look for "For Sale" Signs
You can drive around the neighborhood of interest and look for "For Sale" or " For Sale by Owner" signs. Write down the phone numbers, names, and other contact Older landlords often won't use the online listing websites and will resort to old-school roadside signs. This strategy means that there is a good chance they might be looking to sell the property to get rid of the headache associated with being a landlord. information mentioned on them so that you can later reach out to the real estate agents or homeowners.
While driving around, keep an eye out for run-down or vacant properties but don't have a "For Sale" sign in front of them. This method is called "driving for dollars." It involves looking for properties that have owners who might be willing to sell but aren't actively advertising.
6. Attend Auctions
Auctions are a great way to find good deals on real estate investment - however, they are a numbers game. You might attend dozens of auctions before you are lucky enough to find a crowd that is not bidding much on a good property deal.
It is worth noting that regular auction attendees tend to be a small group of 10 to 15 people in any given market. Once you become a regular, you will be welcomed into the group and will be able to benefit from the networking opportunity.
7. Hire a Real Estate Agent
Real estate agents know all the ins and outs of searching for investment properties. With their expert guidance and advice, you will be able to save significant money, time, and frustration.
Professional agents know exactly where to find a good investment opportunity and have access to resources not available to the general public. They also can help you find off-market properties and assist in purchasing them for the lowest possible price.
8. Network with Other Real Estate Investors
A solid real estate investment network can greatly help you search for real estate investment opportunities. Other experienced investors may be able to refer you to people who are selling investment properties that match your objectives and suit your requests.
Sometimes, they might even be selling some of their real estates. A good place to begin with, is to attend real estate investing seminars and networking events, where you can start building relationships with other people within the industry.
4 Tips for Finding the Right Investment Property
Finding a profitable investment property may not be easy, but you will be able to purchase the right property with some patience and persistence. Consider different types of real estate investment.
Here are key tips to make your search easier:
Set up a bird dog program: A bird dog program allows you to leverage your network to get more business. Simply offer a bonus to anyone who brings you a lead - cable installers, plumbers, and other contractors who regularly visit numerous houses.
Use the Internet: In today's digital world, countless online property portals make it easy to narrow your search. Even if you don't buy a property, real estate websites will give you a good idea of the price you can expect to pay.
Move quickly: Knowing how to find investment properties for sale isn't enough. If you want to get the deal, you need to move quickly. Whenever you see a "For Rent" sign while driving by, make a call right away. When you find the property you are interested in online, book a showing on the same day.
Stay patient: Remember that finding your dream investment property might take some time. Rather than jumping on any deal you come across, stay patient and monitor the market until you find the exact property you are looking for.