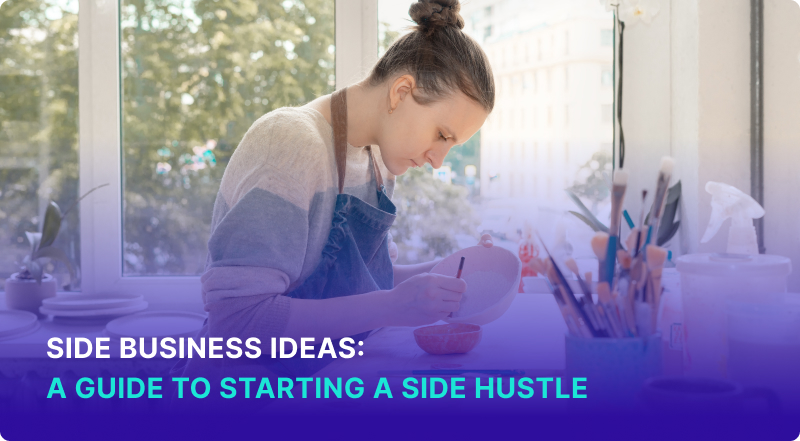 All content presented here and elsewhere is solely intended for informational purposes only. The reader is required to seek professional counsel before beginning any legal or financial endeavor.
Instead of your focus being on saving extra money every month, focusing on earning additional income every month will put you closer to your goals. However, starting a side hustle isn't necessarily a walk in the park. Here are a few things to keep in mind when you're getting started with your first side business.
Key Points:

Get out of your comfort zone: Adjust your expectations accordingly and start exploring side business ideas that will be best suited to your lifestyle, schedule, and preferences.
Put in the time: The best way to get started with your side business is to set an amount of hours weekly, or daily you're able to invest and make sure to put them in.
Start off on the right foot: Do your research thoroughly before getting started. That way, you don't waste your time and efforts on something that may not be aligned with your needs.
Questions to ask when considering a side hustle
Before getting started with your small business ideas, there are three key questions you should ask yourself to ensure the success of your future side business.
Does the idea fit your current schedule? All side business ideas are not created equal. Some ideas are much more time-consuming than others, so you have to figure out how that is going to fit into your current full-time job, home life, and other activities you may have.

Does the idea align with your passions and interests? Even though work is work and is not necessarily fun all the time, it's important for you to choose something that appeals to you. If you choose something profitable, but it's not aligned with your interests, you may quickly get bored of it and drop your side business altogether.

Is the idea financially viable? On the other hand, although you may be crazy about your side business idea, you have to make sure it's profitable. Do your research to find out how much income your new enterprise can make you and whether you can scale it.
The most common mistakes when starting a business
When you're just getting started, it's normal to make mistakes. It comes with the territory, and it's the only way to grow. Before beginning, however, you can avoid these three common mistakes and be one step ahead:
Not checking the demand for a given service or product in your region. See the

most profitable small businesses

for details about sought after products and services.

Quitting your full-time job before the income from your side hustle is equivalent to the income from your full-time job.

Investing all your funds at the beginning of the company's operation.
How to start a business without capital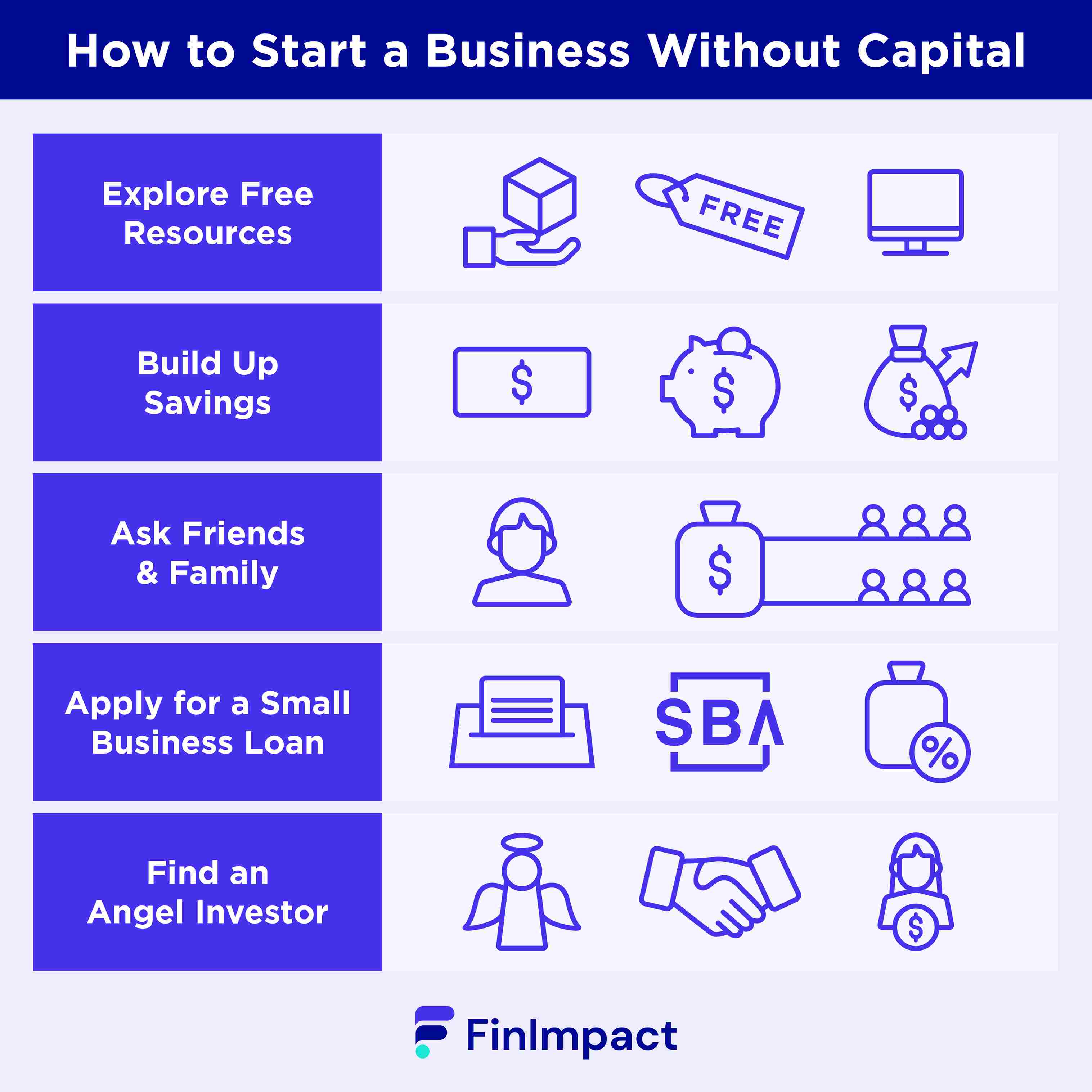 Even though a few side businesses don't require capital, most will. Here are ways you can access funds to get a profitable side business going:
Ask yourself what you can do and get for free: Whether that means getting second-hand gear on Facebook market or a free online course, look for resources that you won't be charged for.
Build up savings for expenses: Leverage your 9-5 to save up for your side business's initial investment. If you choose a profitable side hustle, chances are you'll recover the initial investment sooner than you think and earn a higher income.
Ask your friends and family for extra funds: The worst they can say is no. If you aren't comfortable asking them directly, starting a GoFundMe is also a great option.
Apply for a small business loan when you need extra cash: Whether it's through a bank or online lenders, research your options and figure out which one charges the lowest interest rate. There is a wide variety of online business loans offers dedicated to startups and new companies.
Angel investors: Angel investors provide capital for start-up businesses in exchange for a return on their money or ownership equity. By creating a comprehensive business plan including financial projections, detailed marketing plans, and specifics about a target market, you can approach potential angel investors with confidence.

Side business ideas to try this year
Ready to earn extra money while working your 9-5? Here, we've broken down profitable business ideas you can work on during your downtime.
Resell used clothing and items: Selling clothing items that you no longer use but are in good shape can be a surprisingly lucrative side business without an initial investment. Platforms like Depop, ThredUP, Tradesy, and Poshmark make it easy to sell second-hand clothes, shoes, and accessories.
Declutter and organize people's homes: Organizing any space in your home is a time-consuming business that people are willing to pay for. By taking care of people's sentimental objects and organizing them neatly, you can charge up to $80 per hour, or a $375 flat fee for large projects.
Sell original items on Etsy: If you're an artist, crafter, or artisan, monetizing your creative talents in an Etsy shop is the way to go. This is one of the best side business ideas for ladies. This idea can easily work alongside a 9-5 and with the right product photography and persistence can even become a full-time job.
Rent out your home on Airbnb: Traveling somewhere out of town for the summer? Renting your home while you're not using it can potentially make you an average of $750 per month. This can be one of the most profitable side businesses, if you live in an area that attracts tourists. All you need to do is make sure you have the necessary permissions from your landlord and any other entity to legally rent out your home, and then create an Airbnb host profile.
Become a dog walker: If you're an animal lover, this is the perfect side hustle for you. If you know a lot of your neighbors, offering your services to them directly is the best way to go. Otherwise, you can join a dog-walking/pet-sitting platform, but be aware that they take a percentage of your payment in exchange for finding clients for you.
Become a Virtual Assistant: Busy professionals can always do with a helping hand. Virtual assistants provide remote administrative assistance that lets clients focus on their core tasks instead of admin work. If you're a type A, organized professional with good time management skills, this is just the job for you. Also, the VA industry is experiencing aggressive growth. In fact, a

2021 poll

found VA hiring increased by 41% in 2020 compared to the year before.

Invest in Real Estate: Even though investing in real estate sounds intimidating, grand and basically something for rich people, it's actually a side business that is easy to get into. Companies like

Roofstock

make it simple to invest in real estate and guarantee you'll have a tenant in the property within 45 days or they will cover 90% of the mortgage payment. If you don't have a ton of money to invest but still want to get into real estate you can do it through

DiversyFund

. The company gives you access to commercial real estate for as little as $500. If you want to get started with even less,

Groundfloor

lets you start investing with just $10.

Become a Tutor: Children often struggle with at least one subject at school. This profitable business can be done both in-person, or online. You can start this business as a sole tutor and scale it once you have enough clients by hiring teachers that specialize in specific subjects.
Drive for Uber or Lyft: If you have a valid driver's license and at least one year of driving experience, this is an easy side

business to start

. Your income depends on your location and time of day, but you can begin earning money

without any startup costs

.

Selling eBooks: What's great about ebooks is you only put in the work of writing the book once. By publishing it on Amazon, you can create passive income without the cost of publishing paperback editions.
Travel Critics: If you're a globetrotter, this might just be the job for you. Travel critics write articles and books about destinations, hotels, restaurants, natural wonders and attractions. Often they pick a niche, such as family-friendly vacations or budget travel, and pitch their articles to magazines.
Create an online course: The beauty of this is you just have to create the course once and then focus on marketing. Think about what your friends and family often ask you to teach them about, and create your own course that addresses that need. For more small business ideas you can run online see our in-depth review

online small business ideas

.

Start a blog: Starting a blog is one of the best ways to get paid for your passion. If you have ample knowledge in a specific field or are excited about a particular topic, running a blog is a great business idea for you. To make it profitable, you can place ads in your blog or collaborate with brands by recommending their products in your articles to your readers.
Start a YouTube channel: This profitable business has led to many creators leaving their 9-5 and focusing on making videos. Some of the most popular Youtubers actually make up to several million dollars annually. By building a good amount of subscribers that are fans of your channel, you can start charging companies to create videos that promote their goods or services.
Bed and breakfast: If you live in a place that is attractive to tourists, you can rent your spare room for the night. Make sure you get all legal and safety approvals first.
Cake making/decorating: Cakes are always in demand for birthdays, religious celebrations, and holidays. However, people don't have time to cook as it's a lengthy process. If you enjoy creating culinary delights and have access to a kitchen, you can increase your income with this side business.
Car boot sales: This side business not only increases your earnings, but you can do it from anywhere. By building a reputation selling specialist items, you set yourself up as the product expert and people will flock to you. Make sure you set up social media accounts to promote your business and for people to reach out to you.
Final Word
Deciding which of these side business ideas is best for you takes time. When choosing a side hustle, make sure you pick something that is both profitable, and you enjoy. This way, you make sure your business will bring in extra income and who knows, maybe even turn into a full-time job you're passionate about in the long run.