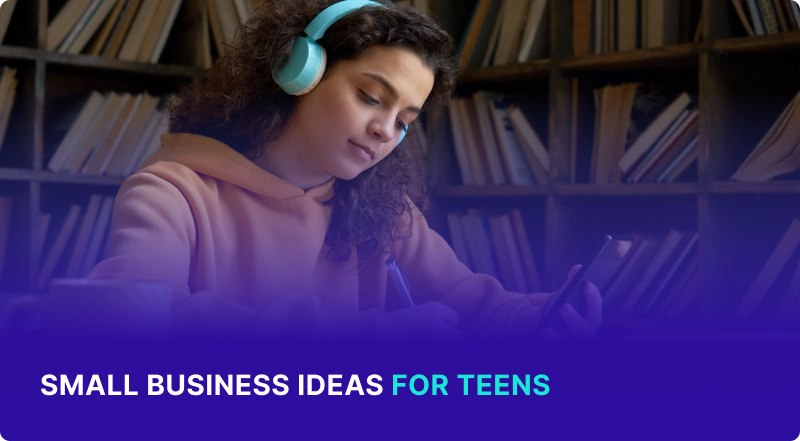 All content presented here and elsewhere is solely intended for informational purposes only. The reader is required to seek professional counsel before beginning any legal or financial endeavor.
As a teen you will learn valuable lessons about entrepreneurship that you can continue to use when you're in college or in any business that you decide to start as an adult. These small business ideas for teens are affordable and relatively easy to start.
Key Points:

Find an idea that excites you: You'll be investing lots of time and effort into your business.
Make sure you have time: So you don't overcommit with your business.
Believe in yourself: If you're determined and hard-working, you can succeed, so believe in yourself and the future of your business.
Best Business Ideas for Teens to Start
A great business starts with great small business ideas. These good business ideas for teens can help you to find inspiration, and you can start any of these businesses with a pretty affordable investment. Some of them require almost no startup funds at all!
Transcribing: If you type quickly and accurately, you can offer transcribing services to journalists, business owners, entertainment companies, and more.
Blogging: Love to write? Start your own blog! Focus on a topic that you're passionate about, and use the blog to share experience, tips, advice, and more with your audience. Check out what other bloggers are doing for some inspiration.
Web Design: You can put your website design skills to use to help others. Whether you have coding skills or just know how to make the most of platforms like WordPress, you can help individuals and businesses to make their sites look their best.
Proofreader: With an attention to detail and some excellent grammar skills, you can offer proofreading services to students, individuals, and professionals. Think about marketing your services to people submitting job applications, students whose papers need a final proofread, or business owners who want to make sure their content is error-free.
Graphic Design: If you have graphic design skills, you can create all sorts of different graphic design businesses. You can offer Photoshop work to photographers (or invest in a camera and create original work), create custom portraits, design logos, create your own custom designs for products, and more.
Art lessons: You can put your artistic talents to use as an art teacher. You could provide art lessons through Zoom, create your own art courses, or see if your local recreation center would hire you to teach a series of classes.
Home tutorial business: As a tutor, you can help other kids to succeed. You can offer tutoring lessons in your specialty subject right out of your own home, so you don't have to travel.
Test prep business: If you have excellent test-taking techniques, you can help to teach other students how to succeed in their tests. These test prep sessions can take place out of your home or even online, thanks to platforms like Zoom.
Music lesson business: Put your music skills to use teaching others how to play an instrument, sing, or even how to read music. You can offer lessons out of your home or travel to students.
Soap making business: Consider making soaps and selling them online, at craft fairs, and even through local small businesses. Soap making gives you a chance to be creative while producing a product that everyone needs.
Jam business: Love making jam? Start making larger batches and sell your products at local craft sales and more.
Babysitting: Offer your babysitting services on nights and weekends when you're not in school. You can even pick up a more regular gig while you're out of school for the summer.
Pet sitting: If you have experience with pet care, you can offer to care for other people's pets while they're away. Alternatively, consider offering dog walking services if you're looking for something a little more regular.
House sitting: As a house sitter, you'll be responsible for taking in the mail, watering plants, and other general house care tasks. This can be a good small business for teens, since it's a low-maintenance way to get started generating income.
Podcaster: Consider starting your own podcast. Focus on a topic that you're passionate about and enjoy discussing. Podcasts are great because you can grow the podcast slowly, only posting new episodes as you have time. For more business ideas that you can conduct online check out our article online small business ideas.
Cake decorator: If you're a talented cake decorator, consider offering your services for local birthday parties and other celebrations. Many events take place on weekends, meaning you could decorate cakes after school is out on Friday.
Lawn care service: If you can get some basic equipment like a lawn mower and some tools, you can offer lawn care services in your neighborhood. This work can often be done on a flexible schedule, including on weekends.
Candle making: Love to make candles? You can sell them online, through craft fairs, and possibly through local businesses.
Handmade Jewelry: If you love creating jewelry, consider making your pastime into a business. Jewelry is small and easy to ship, so it can make for a fantastic online business.
What Makes a Good Business Idea for Teens?
As you explore different easy businesses to start as a teenager, the best ideas will usually share three characteristics. As a teen, you'll have limited transportation, limited availability, and limited startup funds. Your business idea needs to be practical, even with these limitations:
Home-based or easily accessible: If you can't run your business entirely from home, look for an idea that requires minimal transportation. The time you spend traveling is less time you can spend actually working on the business. See home business ideas, for more home-based business concepts.
Flexible hours: A great business idea is one that you can work during your available hours when you're not in school.
Low financial investment: The most practical business ideas are ones that you can start up with a minimal financial investment. You can potentially save up money for the startup costs, and with a minimal investment, your business will also be profitable sooner.
The Benefits of Becoming a Teen Entrepreneur
Becoming a teen entrepreneur requires dedication and excellent time management skills. But if you put the effort into building your own business as a teen, you might see several benefits later on:
Options: By starting a business early on, you'll give yourself different career options for later in life. You could continue the business or explore other options with the experience you've gained.
Education: Running a business is a learning experience. Even if you only run your business for a few years, you'll gain skills and experience that you can use in other businesses and careers.
Foundation for your future: With a little luck, you might start a business that can grow into something much larger with time. You might find that you have laid the foundations of a profitable business that you can pursue full-time as an adult.
How to Start a Business as a Teenager
When you start a business as a teenager, you will follow the same steps that adults follow in starting their business. These steps will guide you through the process and help you to get prepared to start your business:
Brainstorm ideas: Brainstorm a list of potential business ideas. You can even get your friends and family to help. Then, narrow down the list to a few ideas that you're most excited about and that seem most promising.
Conduct research: Conduct some research to determine how promising each business idea is. You will want to research competitors, demand, and pricing to see if you could make a profit running the business.
Implement your plan: Once you've decided on a business, create a plan that includes details on the money you will need to get started, as well as the steps you will follow to start the business. Then, put those steps into place!
Take your business to the next level: With your business up and running, focus on what's working well and see if you can enhance your business. You might want to offer additional products or services, or narrow down your customer focus to make your business and marketing more productive.
What Is The Appropriate Age For Starting A Business?
There is no minimum age to start a business, and you can start your own business when you feel you can handle the pressure of managing the business. You'll also need to be ready to sacrifice a bit of your free time. While you can technically start a business whenever you feel ready, you should keep a few points in mind:
If you need to apply for a business license but are under age, your parents may need to apply for the license for you.
You need to be 18 years old to open a checking account in your name, so be prepared to have a parent's name on your business checking account, too.
Until you have your license, your parents will need to drive you during business-related trips, like picking up supplies at the store or traveling to job sites. Make sure that your parents are willing to make this obligation.