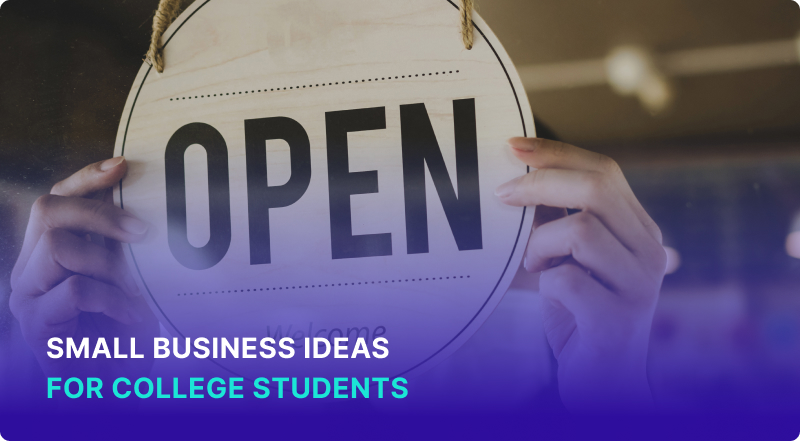 All content presented here and elsewhere is solely intended for informational purposes only. The reader is required to seek professional counsel before beginning any legal or financial endeavor.
When you're a student, education is your priority. This means that whatever small business idea you choose, it will have to work around your academic schedule.
Key Points:

How time-consuming is the job? Something that requires a low time commitment so you can focus on your school work.
Can this benefit your future career in any way? Paid internships are a great way of making money while gaining career experience.
Spend your time wisely. You don't want your studies to suffer because you picked a side hustle that takes away from the time you should be investing into your education.
Is it Possible to Start a Business While Being a Student?
Even though starting a business while you're in college can seem overwhelming at first, once you find the right fit for you, it will be a great help financially, especially with the significant cost of inflation. Additionally, there are no legal, financial, or knowledge reasons that prevent a school, college or university student from starting their own side business idea.
Finding the right small business idea: three questions to ask yourself
Work is work, and as such, each small business idea for college students comes with its singular set of challenges and benefits. To make sure you're setting on the right path, ask yourself these questions:
What am I already skilled at?

What am I passionate about?

What idea solves emerging needs or issues?
18 Small business ideas for college students
By answering the three questions above, you'll get a general idea of what side business would be the best fit for you while you're at school. To help you narrow down the list further, here are 18 flexible small business ideas for college students:
Tutoring: Make the most of your academic achievements by helping younger students who struggle with school work. This profitable business can be done both in-person, or you can tap into the global market by going online. You can start this business as a sole tutor and scale it once you have enough clients by hiring teachers that specialize in specific subjects
Life coaching: When you bounce off ideas on someone with the right experience, decision-making can become easier. Life coaches help clients by providing guidance in making a variety of personal decisions and support them in leading a happy, healthy life.
Design services: Most businesses will require design tasks in one way or another. Promote your services via social media or a website to offer design services such as logos, flyers, packaging, or even websites. You could charge per hour or per project.
Grant writing: Grant writing is a highly technical skill. Businesses require these services to create a proposal for applying for a grant. In the application the writer must provide a detailed explanation of how the grant funds will be used towards achieving the organization's goals.
Monetize your social media: If you have a big following or great engagement on social media, you can look into monetizing your platform. Reach out to brands that are relevant to your brand and offer to advertise their products.
Build a website: Start making money by setting up your own website. Think about what you're very knowledgeable and enthusiastic about that others are willing to learn from and pay you for it. For more business ideas you can conduct online check out our review of

online small business ideas

.

Become a YouTuber: There are various ways you can earn money on this platform. Once you have a solid subscription base, you can get paid from YouTube ads or for sponsored content.
Pet sitting: If you're an animal lover, this job is just for you. Not only do you get to spend time with your fury friends, but you'll be paid for it. If you don't have a client base, you can use apps like Rover and Wag to get clients.
Resume service provider: Writing resumes that stand out is an acquired skill. More often than not, people don't know how to write a successful resume. By taking advantage of this market gap, you can monetize your writing skills and even upsell your services by offering to write a cover letter.
Illustrator: If you're already an artist or graphic designer, offering this kind of service is a great fit. You can offer your illustration services to businesses, authors, or organizations that require visual storytelling.
Artist: If you've developed a unique style in your art, you can sell your works online or in local galleries. Another popular way to monetize your art is to print your works on popular items people love to buy, like tarot decks.
Delivery Service Provider: picking up meals, errands, laundry pickup and groceries can make you up to $29 hourly. Some of the most high paying delivery services include Instacart, Postmates, and UberEats.
Proofreader: Do your friends often come to you to edit their school papers? You might want to look into making editing and proofreading a business. You can offer your services for college papers and reports, resumes and cover letters, blog articles, journals, and other written pieces.
E-commerce merchant: Selling your own creations or items in good shape that you don't need anymore has never been easier. All you need to invest in is some envelopes and parcels and open your etsy or ebay store.
Email Marketing: If you know how to write catchy subject lines and get people to respond to calls to action, working email marketing is a great way to make money. If you don't have clients of your own, you can find them on platforms like Fiverr, Upwork, and PeoplePerHour.
Sell Used Books: Not sure what to do with your old college textbooks? You can offer to buy your classmates' second-hand textbooks and sell them online, or find new students taking the course.
Writing Services: Every business needs to communicate with its clients. This is why offering writing services can be a lucrative business. Make sure you find your niche to have a strong portfolio and create a website offering anything from SEO content to website copy.
Babysitting: Parents are busy. During your downtime, you can make some extra cash caring for little ones.
7 benefits of starting a business as a college student
Still on the fence on whether you should start your own small business in college? Here are seven benefits of working while you're studying:
Gain real world experience in business

Learn skills that may not be taught in the classroom

Build your professional network

Try out an industry before you graduate

Flesh out your resume

Earn extra cash (For more sound business ideas see our review on the

most profitable small businesses

).

Enjoy an income source that works around your studies
Final Word
When you're going through the process of picking which of these small business ideas for students fits you best, keep in mind it should be something that's easy, has low startup costs and works around your academic schedule. By making school the priority, you'll be able to have a healthy financial life through college with low stress.