All content presented here and elsewhere is solely intended for informational purposes only. The reader is required to seek professional counsel before beginning any legal or financial endeavor.
Starting a business is like building a car, If you don't plan in advance and then forget to put in the transmission it doesn't matter how good the car looks, how hard you worked and how much money you spent you simply wont be able to drive it. Do the same with a business and not only will you not make money, you will loose money as well. The starting point is to research, plan and then plan some more.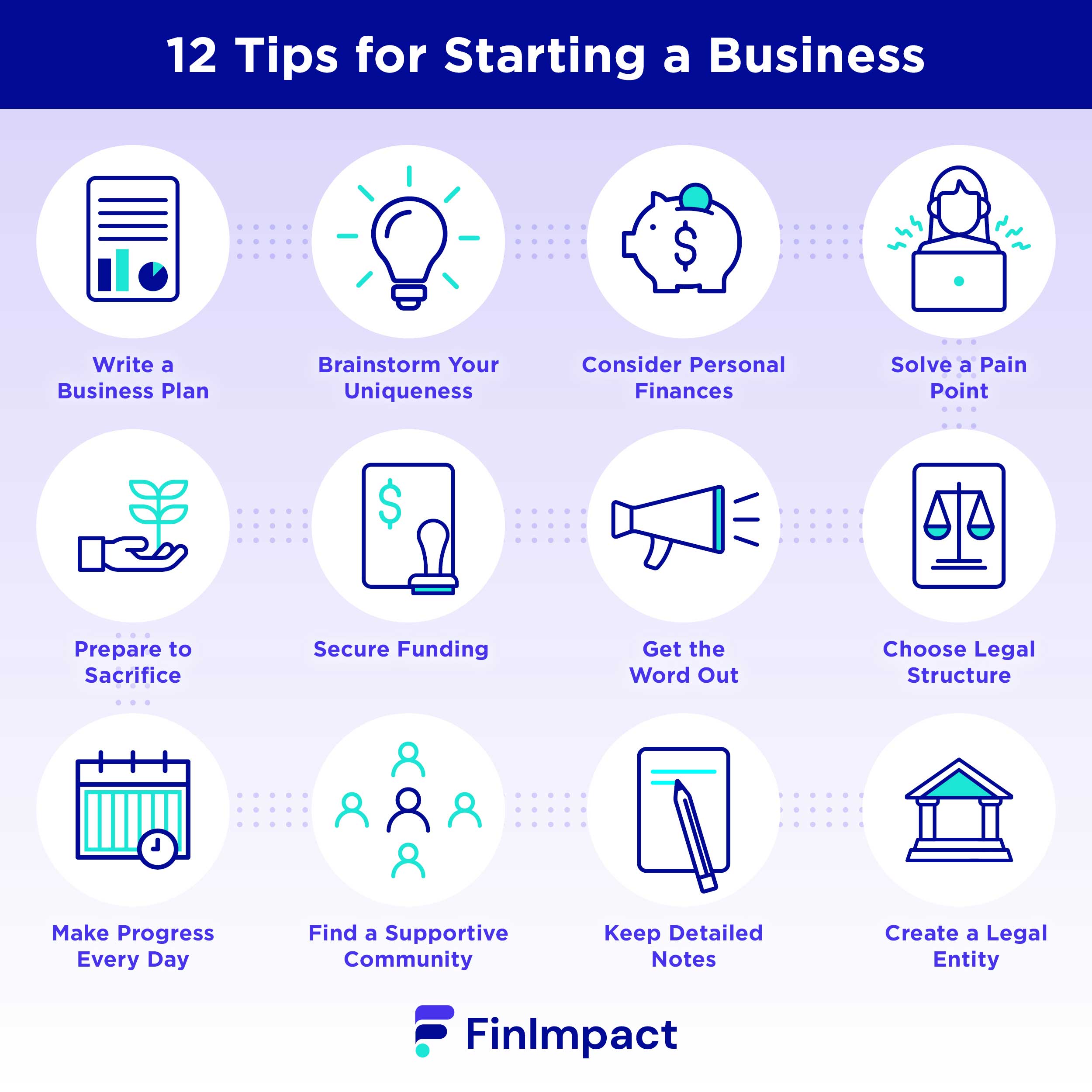 1. Write a Business Plan
Writing a business plan is a crucial part of starting a small business. This document should help you map out an overall vision for your company. Plus, consider the logistical details required to put your plan into action. You'll want to consider how your product will be produced, how to get the word out, and how to get customers to start working with your company. Although it is easy to get caught up in the excitement that comes with a new venture, skipping over this step would be a mistake for any fledgling business.
Don't skip a business plan, this document should serve as a roadmap to your business goals.

Start with the big picture then work on the smaller details.

Dream big and don't skimp on outlining the big goals you have for your business.
2. Brainstorm How to Set Yourself Apart
The business world is incredibly competitive. But that doesn't mean you can't succeed! Study what your competitors are doing. Instead of copying them, look for ways to improve the customer experience.
Be different: You want your business to stand apart from the crowd. A few ways to stand out include your products, values, and customer service.
Customers first: Find out what your customers want and find a way to give it to them.
Look at the competition: Create a better business by seeing what others are doing.
3. Consider Your Personal Finances
It can be tempting to dive in head first when starting a small business. After all, you are passionate about this! But before leaving your day job, stop to look at your personal finances. If you jump ship too early, shaky personal finances could hurt your business. With that, one of my favorite tips for starting a business is to make sure that you can pay your bills for a while before leaving the financial security of your day job.
Consider your savings: Can you afford to go without a paycheck?
Think about your personal money goals: Are you willing to pause saving to pursue starting a business from scratch?
Start saving now: If your finances are solid, then saving up before taking your business full-time is a good idea.
4. Solve a Pain Point
A successful business has found a pain point and created a solution. If you are starting a company, working to solve a customer pain point is the best path to success.
Ask your customers and find out what pain points they have.

Brainstorm how can I solve this problem facing my customers?

Get creative, not all pain points are glaringly obvious. Look closely to spot problems.
5. Get the Legal Structure Right
The right legal structure can make a world of difference. If you aren't sure which structure is best, then it's best to consult with a legal professional. But here's a brief overview of the options:
Sole proprietorship: This is not a separate business entity, which means your personal and business assets are mixed.
Partnership: If forming a business with two or more people, a Limited Partnership or Limited Liability Partnership could be a good option.
Limited Liability Company: An LLC protects your personal assets. But the profits can be passed to your personal income.
Corporation: A corporation is a separate legal entity from its owners.
6. Get the Word Out
You might know that you've started a small business. But you'll need to let your intended customers know! Need some ideas on spreading the word? Here are some ideas:
Hop on social media and create social media accounts for your business.

Cold pitch customers can be scary. But the right pitch could transform your business.

Network and attend events where your customers hang out. Don't underestimate physically speaking to your potential customers.
7. Secure Appropriate Funding
Funding is on the top of the list of things needed to start a business. The good news is that you can find funding from a variety of sources, including:
Yourself: Personal savings or income from other sources could start the process.
Investors: An investor could provide the right influx of funds.
Lenders: Many lenders offer small business loans. Looking for a startup loan? Check out Torro.
8. Prepare to Sacrifice
The cold hard truth is that starting a business is hard. Even if you have success with these tips for starting a business, the road to success will unlikely be an easy one.
As you dive into business ownership, be prepared to make sacrifices.
Financial sacrifices: The financial costs of starting a small business can have a big impact on your personal finances. For example, the cost to open a gym ranges between $245,000 and $400,000.
Time commitment: As a business owner, you'll likely have less time for other things like working out or family time. Although this may change as your business grows, the beginning will require large time commitments.
Mental energy: The mental tax of being a business owner is quite different from being an employee. Make sure you are ready to jump in!
9. Make Progress Every Day
When starting a business from scratch, it is easy to get overwhelmed. That's normal! But don't let it hold you back. Instead, make a concerted effort to make progress on your business each day.
Work on starting your company and make some progress every day.

Set reasonable goals because success takes time.

Take time to celebrate milestones.
10. Find a Supportive Community
As a business owner, you'll face unique problems that your friends and family may not be able to relate to. If you need people to talk to, then look for small business communities in your area. More likely than not, you can find a community of business owners just like you facing similar issues. That support can make all the difference.
Find your tribe

Be helpful

Ask for help
11. Keep Detailed Notes
If you've learned anything from these tips for starting a small business, you've hopefully realized that there are lots of moving parts. As a business owner, you'll have to keep track of everything that goes on with your business. With that, it is a smart idea to take detailed notes along the way.
Write down goals

Write down progress

Write down ideas
12. Make Your Business a Legal Entity
Establish Your Business Entity's Structure: You'll need to determine how the business will interact with the IRS. The choices include sole proprietorship, general partnership, C-corporation, S-corporation, and Limited Liability Company (LLC).
Register Your Business Entity's Name: Registering your business' name protects your business interests. Also, consider filing for a trademark, DBA, or domain name where appropriate.
Obtain an Employer Identification Number (EIN): An EIN is critical for most business operations. The number shields your Social Security Number and allows you to hire employees, pay employees, open a commercial bank account, and more.
Obtain Your Business Entity's Permits and Licenses: Different types of businesses need different permits and licenses in different locations. Research which permits and licenses are necessary for your business.
Protect Your Business Entity with insurance: Business insurance can protect your business from financial disasters. Don't skip this step!
Open A Commercial Bank Account: A commercial bank account for your business is the right way to separate your personal assets from your business assets. You'll need your EIN for this important task.
If you want a in depth understanding of the how, check out this article: Requirements for Starting a Business