All content presented here and elsewhere is solely intended for informational purposes only. The reader is required to seek professional counsel before beginning any legal or financial endeavor.
The cost of opening a gym varies depending on a number of factors including the location of your gym, the size of your gym, and the products, and services offered. The average cost to open a gym ranges between $245,000 and $400,000.
What Are The Costs In Starting A Gym?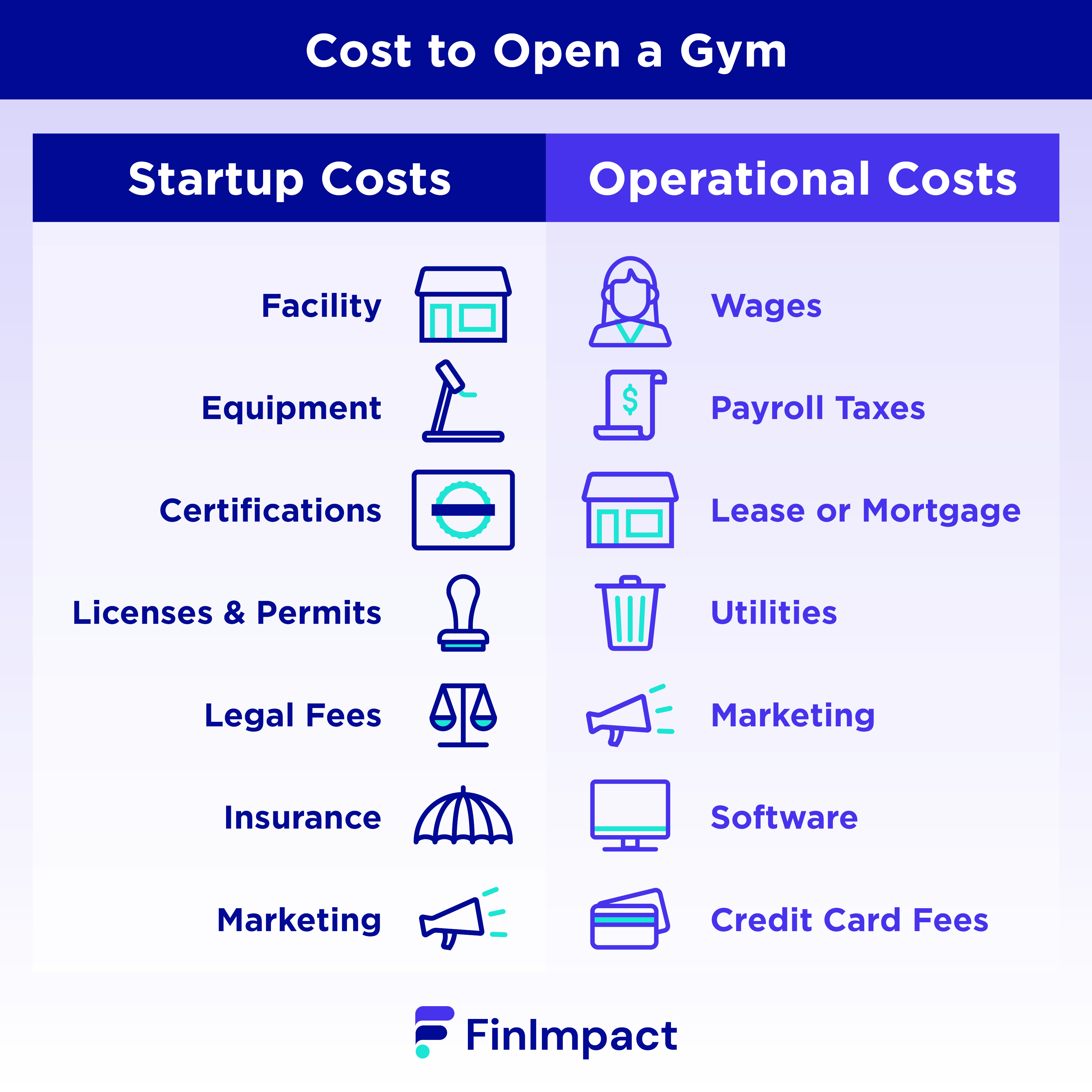 Facility Costs
The facility is where your gym will be housed. Do you want to rent a unique lofty industrial space? Or are you more interested in purchasing a stand-alone building to have a full health and wellness center?
The facility costs will consume a large part of your startup budget.
If you rent the space, you will need to pay first month's rent, last month's rent, one or two months rent as a security deposit, and you may also need to pay something called key money.
This is money paid to the landlord to

obtain the lease

.

This is common in desirable real estate markets and if you don't have much experience in the industry you're opening a business in.
Expect to spend anywhere from a couple thousand a month in rent for a small space to tens of thousands of dollars or more for a large space in a major city.
If you decide to buy the location where you want to house your gym, then your costs will increase, but it will be easier to get a loan, because the real estate acts as collateral.
You will be applying for a commercial real estate mortgage. Expect to put 20% to 30% of the purchase price as a down payment and be prepared to have money in reserves, as well as pay anywhere from 3% to 10% of the purchase price for closing costs.
You may be able to purchase a small gym for $100,000 in a less populated area or you may spend millions on a building in a big city like New York or Los Angeles.
Gym Equipment
Gym equipment financing is available as is gym equipment leasing. There are pros and cons to both. Leasing is usually the more affordable option and it's easier to update your equipment more frequently when you're leasing it. However, if you finance your gym equipment, you own the equipment and can feel it if you get in a bind. Most gyms require at least $30,000 worth of equipment. Typical leasing costs for that amount of equipment range from $1,000 to $2,000 per month based on your credit score.
Some of the types of gym equipment you will need include:
Cardio equipment: Treadmills, stairmasters, elliptical machines, and stationary bikes
Weight equipment: Free weights, weight benches, bars, barbells, and weight machines for arms, legs, back, and abs etc.
Specialty equipment: Yoga mats, pilates machines, exercise balls, and aerobics equipment
Building, Remodeling, and Interior Design
A newly purchased or leased building will need to be modified or redesigned to meet the needs of the gym. You will need to work with a general contractor and possibly an architect to remodel or build the space to suit your business' needs.

Consider things like the floorplan of the gym, where the reception area will be, storage closets, offices, locker rooms, and separate rooms for fitness classes.
Certifications
Certifications are an essential part of startup costs because you may not be able to open your business without them. You may need certain certifications depending on what type of services will be offered. For example, personal trainers will need to be certified, and will need to complete a certification program such as the National Academy of Sports Medicine or the American Council on Exercise.
Licenses and Permits
Licenses and permits that are necessary for opening a gym vary depending on where your gym is located and what goods and services it offers. Typical licenses and permits that are required include:
Business license

: Required by most municipalities to operate a business. Usually costs $100 - $400 and you may be able to apply online.

Health club license: Required in most states to open and operate a gym. The costs usually are in the hundreds of dollars and are submitted with an application with details about your business and how it will operate.
Sales tax permit: Some states offer these for free and others charge nominal fees. These certificates allow you to buy items tax-free and then re-sell them to your customers.
Zoning permit: Your business must conform with the zoning currently in place or you must apply for a re-zoning permit. These vary from less than $100 to thousands of dollars. If you need to go to court to appeal the zoning decision, expect to spend more money and you may need to hire a real estate attorney.
Building permit: If you build the gym or add on to the existing structure or make any major or structural changes, you will need to submit your plans to the governing body in charge. If your plans are approved, you will be granted a building permit. Expect to pay anywhere from $50 for small projects to over $2,000 for major renovations.
Food license: This is required anytime food is prepared, manufactured, or stored. If you plan on having a smoothie bar or serving salads, you need a food license. Costs vary by state and by the type and amount of food you plan to sell. You should also account for how much it will cost to finance restaurant equipment

, even minimal appliances for a smoothie bar.

Music license: This can protect you from copyright lawsuits when you play artist's music during fitness classes and in the gym. Expect to spend at least a few hundred dollars per year on this; the larger your gym is, the more you may have to pay.
Legal Fees
It's always advisable to have a local attorney on retainer. This way you can contact her when you have a legal question, get help with permits, licenses, and legal matters. If you already have someone on retainer, you can figure their fees into your budget from the beginning, and be prepared if your business gets sued.
Business Insurance
Business insurance is required by most mortgage companies, landlords, and for most business permits. Even if it's not required, it's highly recommended. You will need to purchase a few different types of insurance policies; some can be combined and some can be added on to current policies.
Typically a gym owner will need the following types of insurance:
Commercial property insurance

General liability insurance

Worker's compensation insurance

Professional liability insurance
Advertising and Marketing
The most important marketing and advertising you can do is Online! Take advantage of all of the free sites first; use Facebook, Instagram, TikTok, and YouTube. Then look into the cost of paid ads on these sites.
Other types of advertising that may be worth considering are newspaper ads if your area has a popular local newspaper. Radio ads can be effective too. Choose advertising slots during the time most people will be in their cars; morning and evening commutes. You can check out t.v. ads too, but they may be too expensive for a new business.
Computer Systems
You're going to need new, up to date computer systems for your business. You don't want customers to get fed up and leave because the membership signup is taking too long. Some of the equipment you will need to purchase includes:
Computer software and hardware for the reception desk and any manager's offices

Point of sale system

Human resources scheduling software

Accounting and inventory tracking software: if you plan to sell merchandise

Check in and booking software for classes
Office Furniture, Equipment, and Supplies
You should expect to spend at least a few thousand dollars on desks, chairs, reception area chairs and tables for patrons, and some artwork, and even plants to add to the ambiance.
Remember to purchase office supplies such as printer ink, toner, paper, pens, and dry erase boards. You may also need a washer and dryer to wash hand towels, shirts, and sheets, and robes etc. if you offer spa services.
Utility Deposits
Your utilities will be much higher than at your house, so be prepared! Electrical bills may be $5,000 or so per month especially if you're open long hours or need air conditioning year round. Water bills will vary depending on how many showers you have, if you have water fountains, and if you have a swimming pool or hot tubs.
Staff Uniforms
Staff uniforms are part of your initial costs. Typically, you will want to order a couple shirts for each person. Find a local or online printing company that will give you a discount for ordering in bulk. It's usually cheaper to stick with one design on all of the shirts and t-shirts are generally cheaper than hoodies or polo shirts.
Signage
Signage inside and outside is important! Invest in a long lasting sign and make sure that the exterior sign is waterproof, sturdy, and lights up.
Choose colors that will show up on your building, your walls, and your uniform shirts. Also, check and see if you need to get a permit before putting a sign outside your business.
Miscellaneous Gym Supplies
Some miscellaneous gym supplies that you may not have thought about include:
Paper towels

Hand towels

Water bottles

Soap

Cleaning supplies

Scales
Operating Cash
Operating cash is the amount of accessible cash a business has on hand. This is so important when you're first starting your gym. You may not have gotten a business credit card yet and a vendor payment may be due. Typically, keep about 90 days worth of operating cash on hand.
Video: How Much Does it Cost to Open a Gym
Ongoing Cost of Operating a Gym
The ongoing expenses that a gym owner will need to pay to keep their business up and running include:
Employee Wages
These are payments from the gym business to the employee for specific work that has been performed. You may decide to pay your employees on an hourly basis and pay your managers a salary.
You may pay some employees a commission or on a per class basis. Depending on how many employees you have, expect to spend at least several thousand dollars per week on wages.
Payroll Taxes
These taxes are typically calculated as a percentage of the wages that employers pay their employees. They're automatically deducted from the employee's salary and submitted to the federal government. There are five basic types of payroll taxes:
Federal income: The employee decides how much is taken out of their paycheck to go towards their federal taxes. Their withholding choice will affect if they owe or receive a refund at the end of the tax year.
State income: These vary by state, and not all states charge income tax. These taxes are generally paid to the state in which you work and are calculated based on income, marital status, and allowances.
Social security: Mandatory contributions out of every paycheck based on taxable income. This goes towards retirement and disability benefits.
Medicare: Employers pay these taxes, also known as FICA. They help pay for medical costs for people over 65 years old.
Others: These may be voluntary or involuntary and include healthcare deductions, charitable contributions, and court-ordered garnishments
Lease or Mortgage Payments
You will typically pay monthly lease or mortgage payments for the facility you're using as a gym. This may be $2,000 or more than $20,000 per month. Again, it depends on the size of your gym, its location, and the current real estate market in that area. Your mortgage payment may also include property taxes and insurance.
Utilities
Expect to pay the following utilities for a gym:
Water
Electricity: Typically your highest utility bill and will probably be upwards of $2,000 per month. Turn off lights when you're closed and use energy saving light bulbs and appliances as necessary.
Gas: in some places
Heat and air conditioning: may be electric, gas, or billed separately by the landlord
Cable, internet, and phone
Equipment Maintenance
It's vital to keep gym equipment properly maintained so the equipment lasts longer and it costs you less money to fix or replace over the life of the equipment. It also doesn't inspire confidence in gym patrons, if you always have 'out of order' signs on your equipment. Additionally, keeping gym equipment properly maintained can prevent accidents, injuries, and potential lawsuits.
Marketing and Advertising
Marketing and advertising is both a startup cost and an ongoing cost. You only need to create the website once, but you will need to pay for hosting, updates, and management every month. You will also need to advertise frequently.
Gym Management Software
Gym management software is a specialty type of software specifically designed to help gym operators. It can help you keep track of employee schedules, class schedules, memberships, and financial records. It can also keep databases of your members, be integrated with other types of software, and include financial tools to help analyze your numbers from month to month. Gym management software usually costs $100 to more than $200 per month depending on the number of users and the functions that you require.
Credit Card Processing Fees
Assuming you take startup business credit cards, you will be charged credit card processing fees. These fees are charged per transaction and typically cost between 1.5% and 3.5% of the total transaction. For example, if the transaction is $50, expect to pay between $0.75 and $1.75 per transaction. This may not seem like a lot but it adds up, especially if you perform hundreds of transactions per day. Make sure that these costs are built into the prices of your memberships, services, and goods sold.
Factors that Affect the Cost of Opening a Gym
There are so many factors that affect how much it will cost to open a gym. The following are the main influencers in the cost of your new gym:
Type of Gym
If you want to open a small traditional gym with a weight room and a cardio room, your costs will be significantly less than if you open a sprawling family fitness center with kid's areas, basketball courts, and swimming pools.

If you choose to open a specialty fitness center that requires expensive equipment like Pilates reformer machines, that cost will be much greater than opening a gym that just offers yoga classes and doesn't need much equipment.
Typically, the most expensive type of gym to open is a medical fitness and wellness center. The cost is high because the salaries of medical professionals are high, you will need more certifications, licenses, and more space for treatment rooms and supplies.
Location
Large cities, high-end suburbs, and places with built-in traffic are more expensive than more rural areas or smaller cities. Sometimes paying a higher cost can work out because those same cities also charge a premium for gym memberships and fitness classes. However, do your research before you purchase or lease a building.
Franchise vs Independent
You typically spend less money upfront if you're purchasing a franchise gym because the brand is already established and the company may already own the space or may help pay for build-out. However, you have less say concerning the overall operational decisions, and you will have to pay franchise fees.
How to Finance Your Gym's Opening
You can finance your gym's opening through your own savings, borrowing money from friends and family, or by getting a partner or investor. Additional gym financing options include:
Government Loans
Small Business Administration (SBA) offers loans to qualified individuals through a network of SBA qualified lenders. These loans typically require good credit scores and are notoriously slow to fund and require a lot of paperwork. SBA loan amounts typically range from $500 to $5.5 million. They offer long repayment terms up to 25 years. They also have programs specifically for underserved communities.
Private Loans through a Traditional Lender
You can also get a gym loan through a traditional lender such as your bank or credit union. These loans can be applied for online, over-the-phone, or in a branch location. The loan amounts vary by lender and loan program. Credit score requirements are usually at least 650. If you establish a positive banking history with a financial institution, they will often offer the most competitive rates and terms because they can see your track record with money.
Loans through Online Lenders
Online lenders offer a variety of equipment financing loans and gym loans. You can apply for both personal and business loans, often with no collateral, and low minimum credit score requirements. However, rates for these types of loans are typically higher than SBA or bank loan rates. Terms may be less favorable as well. You may be required to make daily or weekly payments until you pay back the loan.