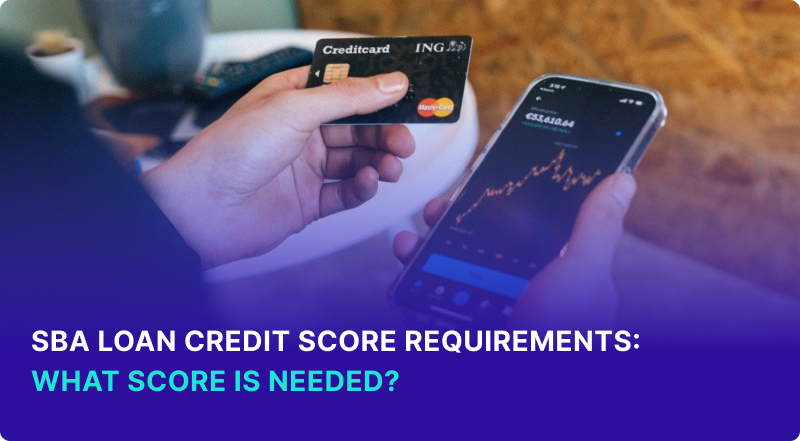 All content presented here and elsewhere is solely intended for informational purposes only. The reader is required to seek professional counsel before beginning any legal or financial endeavor.
Loans from the U.S. Small Business Administration (SBA) offer low rates and long repayment terms. If you apply for one, your credit score will play a significant role in your loan approval because it reveals how likely you are to repay what you borrow.
So what are the SBA loan credit score requirements? They are based on several factors, including the type of SBA loan you apply for and the SBA-approved lender you choose. However, generally, you'll need a minimum credit score in the mid to high 600s.
Key Points:

Be methodical - make sure you approach one step at a time
Be bold - don't be afraid to jump into the deep end
Patience is essential - SBA loans can take a while
Persistence is key - find the motivation to keep going
SBA Loan Credit Score Requirements: Breakdown By Loan Program
While the SBA doesn't provide specific SBA loan credit score requirements, SBA-approved lenders can enforce their minimum requirements, depending on loan type.
Here's an overview of what these requirements might be:
| | |
| --- | --- |
| SBA Loan Type | Minimum Credit Score |
| SBA 7(a) Loans | 650+ |
| SBA 7(a) Express Loans | 650+ |
| SBA CDC/504 Loans | 680+ |
| SBA CAPLines Program | 660+ |
| SBA Export Loans | 660+ |
| SBA Microloans | 620-640+ |
SBA 7(a) Loan Requirements
What are the common SBA 7(a) loan requirements? Known as SBA's "flagship loans," 7(a) loans are the most common SBA loans as you can use them for almost any purpose. You can allocate the funds towards working capital, inventory, equipment, commercial real estate, debt refinancing, and more upon approval.
Depending on how the funds are used, you may secure up to $5 million with terms from 5 - 25 years. The SBA will guarantee 85% of loans that are $150,000 or less and 75% of loans greater than $150,000. Since SBA 7(a) loans are versatile and attractive, you'll likely need a minimum credit score of at least 650.
SBA 7(a) Express Loans Requirements
7(a) Express loans are for small businesses that need a smaller amount of cash in a shorter amount of time. You can use them for many purposes - from working capital to equipment. Once you apply, you may receive a decision within 36 hours. Like traditional 7(a) loans, repayment terms go up to 25 years.
SBA 7(a) Express loans are available as traditional term loans or more flexible lines of credit. Even though they only go up to $500,000, you still need a solid credit score of at least 650 to qualify. It's also important that you've been in business for at least two years.
SBA CDC/504 Loans Requirements
SBA CDC/504 Loans are for businesses that wish to purchase heavy equipment or machinery, land, or new office facilities. The funding for these loans comes from three sources: 50% from the lender, 40% from a Certified Development Company (CDC), and 10% from your down payment.
While a credit score of at least 680 can strengthen your application, your business cash flow is even more important. You need to prove that you currently generate or project enough cash flow to repay your loan. A personal guarantee is also required as it gives the lender the right to pursue your personal assets if you default.
SBA CAPLines Program Requirements
The SBA CAPLines program is a line of credit to help you cover short-term or seasonal working capital needs. You can get up to $5 million and continue to use the funds as you repay them.
There are four types of SBA CAPLines, including contract loans, seasonal lines of credit, builders lines, and working capital lines of credit. Each type is designed to fill various cash flow needs and has unique requirements.
The seasonal lines of credit, for example, require that you solely use the funds on seasonal increases of accounts receivable and inventory. No matter which type of SBA CAPLine you choose, however, you'll likely need a minimum credit score of 660 to qualify.
SBA Export Loans Requirements
SBA export loans support export activities by small businesses. They can help you expand to foreign markets. You may use the funds to promote your exports or cover working capital for out-of-country orders.
There are three types of export loans: the SBA Export Working Capital Program (EWCP), SBA Export Express Loan, and the SBA International Trade Loan (ITL). These loans offer low guarantee fees and quick processing times. You can get approved for an SBA export loan with a credit score of at least 660, proving your business involves exports.
SBA Microloans Requirements
The SBA Microloan Program features SBA microloans, which are small loans that go up to $50,000. You can use them for working capital or purchase supplies, inventory, fixtures, furniture, equipment, or machinery. But they're not intended for buying real estate or paying off debt.
Compared to other SBA loans, SBA microloans have lenient credit score requirements. If you prove your business has a sustainable plan and positive cash flow forecast, you may get approved with a credit score ranging from 620 and 640. You'll also need to provide collateral to cover the loan amount.
Additional SBA Loan Requirements
While SBA credit score requirements are an important eligibility factor, there are other requirements that lenders may consider.
First and foremost, you must meet the SBA's definition of a business, which requires you to:
Be a legal, registered for-profit business
Be located and operating in the U.S. or the U.S. territories
Invest equity (time and money) in the business
Meet SBA's standards on small business size, which vary by industry
Individual lenders may set additional requirements such as minimum time in business, annual revenue, and cash flow history. This information can help them assess your ability to pay back the loan.
In addition, some lenders require collateral, meaning you must secure your loan to an asset like a commercial vehicle or piece of equipment. If you default on your loan, they can seize the asset. You might also have to make a down payment of between 10% and 20% of the loan.
What To Do If You Don't Meet SBA Credit Score Requirements?
If you'd like to get approved for an SBA loan but don't meet SBA credit score requirements, don't worry. There are several ways you can improve your business credit score and increase your chances of approval.
Here are some key ways to improve your business credit score:
Dispute inaccuracies: Regularly review your business credit reports from Dun & Bradstreet, Equifax, and Experian to look for any inaccurate information. If you notice an unpaid debt that you did pay, contact the credit reporting agency to dispute it.
Pay your bills on time: Since late payments can take a significant toll on your credit score, ensure you pay your bills from lenders, vendors, landlords, utility companies, and others on time. Work with your accounting or accounts payable department to ensure they never fall through the cracks.
Borrow from lenders that report payments: Not all lenders report to the business credit bureaus. You can boost your credit by taking out loans from those who do and repaying them on time.
Maintain a low credit utilization ratio: Your credit utilization ratio shows how much credit you're using compared to how much is available. Since credit reporting agencies prefer a lower ratio, pay off your balances regularly and increase your credit limit.
Open a business credit card: As long as you use it responsibly, a business credit card can help your credit score in two ways. First off, it will improve your history of on-time payments. Second, it will lower your credit utilization ratio.
Consider Alternative Financing Options
While SBA loans offer low rates, favorable repayment terms, and larger loan amounts, you do need good credit to get approved for them. If you can't meet the stringent SBA loan credit score requirements but need fast funding, consider alternatives while you improve your credit.
Term loans, business lines of credit, equipment financing, and invoice factoring are all worth exploring. These options can provide you with the capital you need until you have the right credit score for an SBA loan.