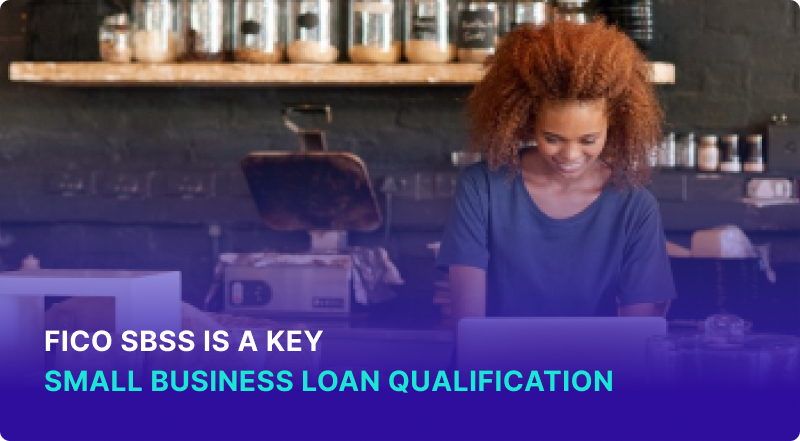 The FICO Small Business Scoring Service (SBSS) is a calculation of your business and personal financial habits to determine the risk for a lender in loaning a business money. The FICO business credit score draws on various sources, including data tracked by credit reporting firms such as Experian, Equifax and Dun & Bradstreet.
Key Points:

Got patience? - The investment of your time will be worth it

Be meticulous in the filing of your business and personal finances

Be courageous - Ask for help and seek advice
What is a Good SBSS Score?
Although personal credit scores range from 300 to 850, FICO SBSS scores have a maximum of 300. Since the U.S. Small Business Administration (SBA) began relying on FICA SBSS in 2014, the minimum acceptable score has ranged from 140 to 155. This score may be used in relation to SBA loans. However, the financial institutions will also have their minimum standards.
Many lenders require FICO SBSS scores of 160 to 180. In addition to establishing a business credit history, having strong financial stability enhances a FICO SBSS score. An experienced profitable business with little debt relative to assets can readily attain a good SBSS score of 180 or higher.
How FICO SBSS Works
Here are some key attributes of the FICO SBSS Score:
A FICO SBSS Score is calculated at the beginning of the business loan application process, for example, at the onset of the SBA loan application process.
Businesses with high FICO SBSS scores qualify for maximum loan amounts and the lowest interest rates.
A FICO SBSS score typically combines the business owner's personal credit score and business credit reports.

The SBSS credit score also considers the length of time in business, number of employees, annual revenue, business assets, business indebtedness, and other factors.
Here are some ways a lender might customize the FICO SBSS Scoring approach:
A lender may customize the FICO SBSS method based on factors that are judged as having the most weight. For example, a lender may prefer one credit bureau over another.

The FICO SBSS system will pull data consecutively from each credit bureau in the order of priority established by the lender until an SBSS credit score is generated.

A lender may make the personal credit history of a business owner the highest determining factor when generating a FICO SBSS credit score. This approach provides an SBSS credit score that gives priority to the personal credit of the business loan applicant.

The system can calculate a FICO SBSS credit score based on the business owner's personal credit.
How is the FICO SBSS Credit Score Calculated?
Personal Credit Consideration
Since FICO SBSS is a customizable proprietary system, a specific calculation formula is uncertain. Nevertheless, the business owner's personal FICO credit score is typically a primary determinant of the FICO business credit score.
Payment history, types of credit, recent credit obtained, and the amount of available credit used influence a personal credit score. A FICO personal credit score of at least 600 is likely to provide a satisfactory FICO SBSS score. FICO personal credit scores of 700 or better are ideal for maximizing FICO SBSS credit scores. You may also wish to look into SBA loan credit score requirements.
Business Credit Elements
Having a separate bank account and credit card for your business and personal use impacts your FICO SBSS score. Keeping business finances separate from personal activity helps you attain a business record at Dun & Bradstreet, Experian business credit report and an Equifax business score.
The business credit bureaus each establish ratings based on information about your business's financial condition. This approach requires unique business accounting records that reveal assets and liabilities and revenue and profit. In addition, a strong record of timely payments to business vendors has a major impact on your business's credit history.
How to Improve Your FICO SBSS score
Focus on Personal Credit
The heavy influence of personal credit scores on FICO SBSS means that the best way to improve a business credit score is to pay personal bills on time. It is also essential to have plenty of personal credit available and use it wisely. You should immediately resolve any unsettled delinquencies of personal borrowing by negotiating a settlement for payment in full.
You can damage a personal credit score if, as a business owner, you rely entirely on personal borrowing power to finance your business. Responsible use of a separate business credit card is advisable. Keep the balance well below the credit limit and pay the balance in full every month.
Establish Separate Business Credit
A separate bank account for the business assures that no personal expenditures in bank transaction history create an inaccurate representation of a business's cash flow.
Applying for a D-U-N-S number through Dun & Bradstreet starts the process of creating a file with D&B. Maintain a prompt payment history with vendors and ask them to report to the business credit bureaus. In addition to Dun & Bradstreet, the Experian and Equifax credit reporting services have business scoring systems.
Extra Valued Info
A FICO SBSS business credit score plays a crucial role in securing financing and is integral to loans with SBA guarantees. A good business credit score will generally arise from a business owner's sound management of their personal finances.
This management includes paying business bills on time, avoiding excessive personal or business debt, and generating positive business cash flow. The resulting good FICO SBSS score will improve your likelihood of obtaining a business loan with a favorable interest rate.