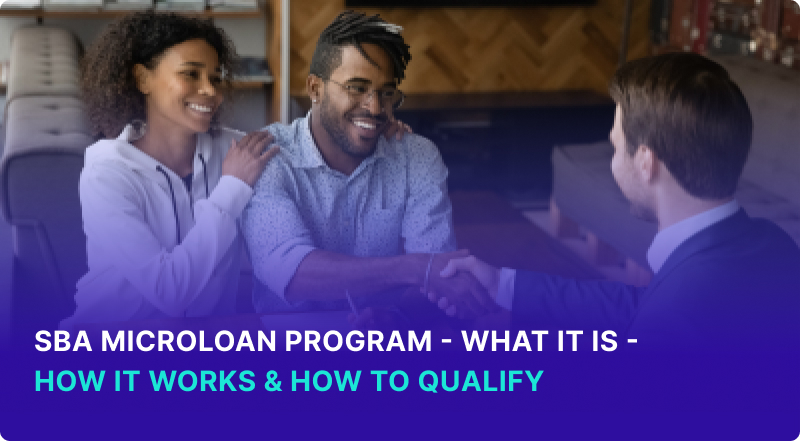 All content presented here and elsewhere is solely intended for informational purposes only. The reader is required to seek professional counsel before beginning any legal or financial endeavor.
SBA microloans are loans consisting of relatively small amounts of money given by lenders that work with the United States Small Business Administration (SBA). The SBA does not provide the money, rather an independent lending company does (like a bank or any other institution) and the SBA guarantees the loan in the event that you do not return the money that you borrowed. The intention is to provide access to funding for those who are slightly disadvantaged and do not have any collateral or assets to offer as a guarantee to a lender.
Key Points:

Take your time - Things that need growth take time

Breath - Persevere and you will get there

Be Bold - Seek and Demand Guidance - The SBA offers great resources.
How Does An SBA Microloan Work?
The SBA sets guidelines for SBA loans and microloans, though lenders have some leeway when it comes to setting things like interest rates and eligibility requirements.
General loan terms include:
Maximum amount: $50,000 (average is about $14,000)
Maximum term: Six years (average is 40 months)
Interest rate: Cost of funds + 7.75% for loans over $10,000, cost of funds + 8.5% for loans under $10,000


- Cost of funds is based on market rates using the rate of 5 Year Treasury Bills
Before applying for a microloan, borrowers must certify that they've tried to secure private financing, such as from a bank or other lender.
How Do I Qualify For An SBA Microloan?
SBA microloans are designed for startups and small businesses that need money to either begin operations or expand their business. You will need to fulfil the SBA loan application process. The SBA's partner lenders have some freedom when it comes to determining things like credit requirements but there are some general rules borrowers must meet.
Loans are only available to for-profit businesses

The business must be within the lender's approved area

Owners must attempt to get private financing before applying for a microloan

Prove income sufficient to repay the loan

Have average credit history (applicants with no credit may still be eligible)

No recent bankruptcies

Provide collateral and a personal guarantee of repayment

Show a reasonable business plan

Neither the business nor owner may be barred from receiving federal funds

No owners over 50% or more of the business may be 60+ days late on child support payments
Keep in mind that both you and your business are important when applying for an SBA microloan. You have to provide a personal guarantee that you'll cover the loan if your business fails. That makes your personal credit as important as your company's credit.
Who Are SBA Microloans Recommended For?
Microloans are designed for specific types of businesses. In general, they're best for brand new or very small companies that need funding.
A typical borrower for an SBA microloan:
Needs to borrow $50,000 or less

Has good credit

Has a good business plan that it can show to potential lenders

Already has positive (or at least break-even) cash flow

Produces a solid revenue ($120,000 or more)

Has a physical location and is not based at the owner's home

Has two or more employees
While most businesses that receive a microloan are like the above, that does not mean that all recipients are the same. Some are startups that are just beginning operations. Others have owners with poor credit or no credit history at all. Others are purely owner-operated.
How To Get n SBA Microloan?
If you're interested in applying for an SBA microloan, the first thing that you need to do is find an SBA intermediary microlender in your area.
The SBA does not offer loans directly. Instead, it lends money to local nonprofits and community organizations and relies on those organizations to make loans on its behalf.
The SBA maintains a list of lenders that you can search based on your location. It also has a list of the top 25 lenders by amount lent.
Once you've found a microlender that you'd like to work with, it's time to submit an application. Each microlender has its own process and specific loan requirements, so make sure to work closely with the lender while applying. You may also wish to look into how long it takes to get an SBA loan.
Most lenders will ask for the following documents when you apply.
Business plan

Business and personal tax returns

Balance sheets and profit and loss statements

Financial projections or budget

Resumes of business owners

Personal financial statements

Personal credit report

Articles of incorporation

Applicable business licenses and permits

List of current business assets
Once the lender receives your application, it will review the information that you provided and make a lending decision. The full length of time from starting your application to receiving funds can be as long as 120 days.
What Can I Use An SBA Microloan For?
One of the benefits of using an SBA microloan is that they're highly flexible. You can use them for many different purposes, including:
Working capital: SBA microloan funds can serve as an additional cash cushion that you can use for different needs that arise.
Equipment purchase: You can use funds to buy equipment that can help improve your business' efficiency or output.
Inventory: If you want to grow your company or add a new product line,

SBA funds

can help you expand your company's inventory.

Supplies: SBA microloans can fund the purchase of raw materials and other supplies that you need to keep your company running.
Machinery: You can use loans to purchase manufacturing equipment or other machinery that is essential to your company.
Technology improvements: New computers, payment systems, and other technologies can help your company run smoothly.
Pros And Cons Of Using An SBA Microloan
Before applying for an SBA microloan, consider all of the advantages and drawbacks.
Pros
Startups and established businesses eligible: Whether you're just getting started or have been around for years, your company can use a microloan to get funding.
Opportunity for underprivileged/underserved entrepreneurs: The SBA partners with local community groups to make loans, which means they're often made available directly to traditionally underserved communities.
Available to borrowers with limited credit: You can qualify for a loan even if you don't have a long credit history.
Available to solopreneurs and freelancers: While many borrowers have strong revenue and multiple employees, you can apply as a freelancer or a business of one.
Low rates and long repayment terms: You can keep your monthly loan costs low by extending the loan term and keeping interest rates low.
Cons
Limited loan amounts: SBA microloans only offer up to $50,000
May not be available to borrowers with bad credit: While you can qualify with a thin file, having bad credit may make it hard to get a loan.
Collateral and/or personal guarantee required: You may need to offer something of value to secure the loan or a personal guarantee to cover the loan out of your own savings if your business can't make payments.
Long application process: It can take months from the time you apply to the time you get the money you need, making it a poor choice for businesses that need quick cash.
Not Eligible For SBA Microloans? Try These Funding Alternatives
If your small business needs to borrow money but isn't eligible for a microloan or finds that a microloan won't fit its needs, consider these alternatives.
Invoice financing: If you often find yourself waiting on payments from your customers, invoice financing is a low-cost way to improve cash flow. Lenders lend you money based on your unpaid invoices. When you get paid by your customers, you send the funds to the lender to cover the loan.
Business line of credit: A business line of credit gives you on-demand access to funds when you need them. You only pay interest on the amount that you borrow but can borrow cash quickly and easily.
Business credit cards: Business credit cards let you make purchases without paying for things upfront. They're ideal for short-term financing when you need to buy supplies.
Business loans from online lenders: For larger projects and investments, a business loan can help you get the money you need. Online lenders are often the best to work with because they keep costs low. Check out our list of online business lenders for more info.
SBA 7(a) loan: 7(a) loans are a different type of loan offered by the SBA. These loans can be as large as $5 million, making them ideal for larger businesses with a need for significant capital.
Conclusion
SBA microloans are designed to help small businesses get the funding they need to grow. Before you apply, gather all of the documents your lender might need and be prepared to wait a few months while the lender funds your loan.
If you need less than $50,000, SBA microloans can be a good choice, especially if you don't have a long credit history. If you have an eligible business, you should apply.
Leasehold improvements: You can use SBA microloan funds to customize your rented office or storefront to make your business more efficient or inviting to customers.