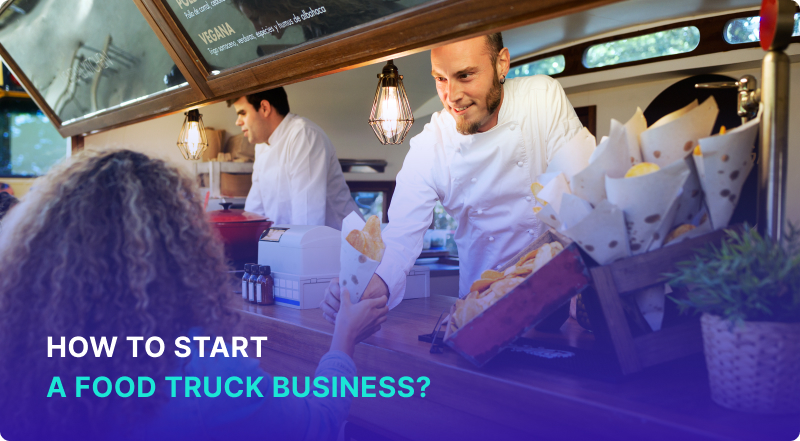 All content presented here and elsewhere is solely intended for informational purposes only. The reader is required to seek professional counsel before beginning any legal or financial endeavor.
Food trucks are an exciting type of business because of their mobility and low startup costs. With a food truck, you can go where your customers are rather than hoping they come to you and avoid expensive fixed costs like rent. If you want to know how to start a food truck, we'll break down what you need to know.
Key Points:

Food trucks are highly mobile, so you can go find your market instead of making them come to you

Don't be afraid to specialize, most food trucks only have a few items

Don't forget the paperwork. You might want to get cooking and serving as quickly as possible, but planning will help you operate efficiently and profitably.
How to Start a Food Truck Business
Starting a business such as a food truck might seem simple, but there are a few steps you need to go through first.
1. Research the Local Food Truck Market
The first thing you should do before opening any business is market research.
Look around at the area you plan to operate in. What does your competition look like? What ideas have succeeded and what have failed? Is there an obvious niche that customers want filled?
For example, if there are twenty taco trucks in your town but no food trucks serving burgers, you might consider starting a burger truck. If every food truck serving dessert has failed within a few months, you might want to avoid that niche.
2. Decide on a Food Truck Concept
Use your market research to decide on the concept for your food truck. Most food trucks focus on a specific type of cuisine and keep their menus simple. Some examples of top selling food truck items include:
Tacos
Cookies and sweets
Ice cream
Grilled cheese
Burgers
Indian food
Pizza
Sandwiches
Choose a cuisine that's likely to succeed in your market and that you know you can make well. You might get inspired by our list of the most popular food trucks in the US.
3. Figure Out Where to Park
Just like real estate, when it comes to food trucks, it's all about location, location, and location.
Think about where you can park your truck to get the most customers and consider local regulations. Some areas ban food trucks from certain areas or require a permit to operate in public parks or beaches.
A good idea is to work with local events, conventions, and places where people congregate, and set up an agreement that lets you park outside the event to serve its attendees.
4. Create a Food Truck Business Plan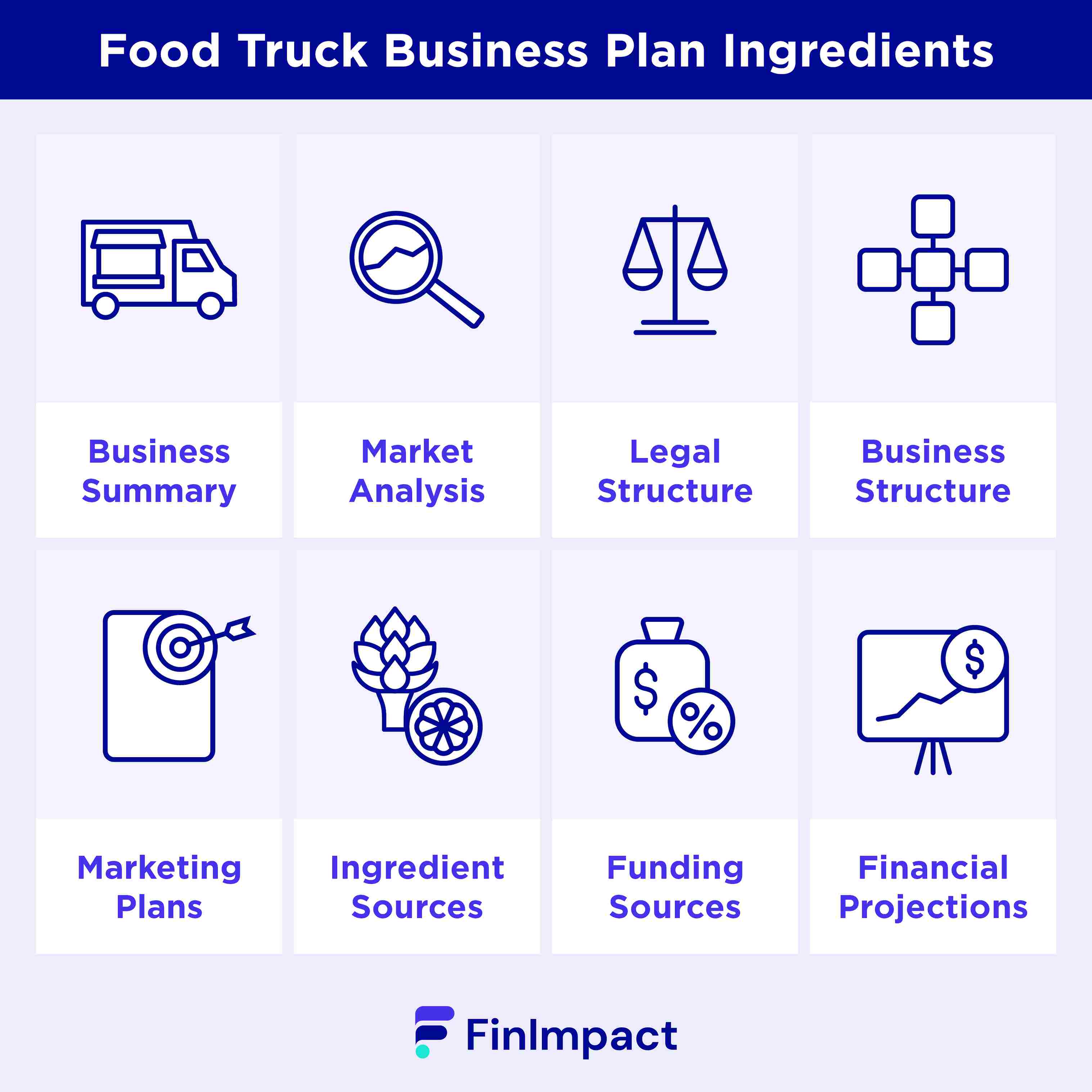 Every company needs a business plan. Once you have the basic idea for your food truck, sit down and put together your business plan. It should include details such as:
A summary of your business – food types, location, pricing, goals
Market analysis
Legal structure
Management and employee structure
Marketing plans
How you'll source ingredients
How you plan to secure funding
Financial projections
5. Find Funding for Your Food Truck
One of the benefits of food trucks compared to traditional restaurants is that they cost much less to start. All you need is a truck outfitted with kitchen equipment and some food and you're ready to cook. You avoid big, fixed costs like rent. Still, you'll need some source of funding.
You can always fund the business out of your own pocket, but you might consider alternatives, such as a small business loan from a local bank, credit union or an online lender. You could also consider applying for an SBA loan or even seeing if food truck sellers offer financing directly. Leasing a food truck is another possibility.
6. Obtain Food Truck Licenses and Permits
Food service businesses need a variety of licenses and permits to operate. These ensure that their operators are trained on safe food handling procedures and won't get any of their customers sick. You'll work with your local department of health for these permits.
You might also need permits to park in certain locations, a liquor license if you sell alcohol, and permits specific to the type of food you sell.
7. Purchase Your Food Truck
The next step is to buy a food truck.
The easiest way to purchase a food truck is to buy one new or used from a dealer or another food truck operator. Food trucks need specialized equipment to prepare food, so getting one that's already outfitted with cooking equipment makes your life easier.
You can also buy an empty truck and outfit it yourself, but this takes far more effort.
Expect to spend between $50,000 and $100,000 for a used food truck and $100,000 to $175,000 for a new one.
8. Acquire Supplies and Equipment for Your Food Truck
Once you've bought a food truck, you'll need supplies that you can use to prepare meals. You might also need to buy some additional equipment. For example, if you're running a sandwich truck, you might need sandwich presses in addition to the equipment your truck came with.
9. Select a Point of Sale (POS) System
A point of sale system (POS) is how you can ring up orders, accept customer payments, and print or send receipts.
There are plenty of POS options for food trucks available, many of which run off a phone or tablet, making them highly portable and easy to use. You can use them to accept cash and card payments easily.
Some popular options include:
TouchBistro
Toast
Square
Clover
10. Hire Employees
While it's possible to run a food truck on your own, it's a lot of work. Plus, you can't work 24/7 and you might want to take time off or go on vacation sometimes. You'll need to hire employees that can help you in the truck and keep things running when you're away.
Most food trucks need between three and five people to run smoothly during a lunch or dinner rush. Your employees need to be dependable, engaged, and able to work under pressure.
Depending on how frequently your truck operates and how frequently you want to work in the truck yourself, you'll need to decide how many people to hire.
Don't forget to account for vacancies, employee vacations, sick time, and the like. If you need four people to run the truck, you'll need to have more than four employees at any one time.
11. Market Your Food Truck Business
Marketing is essential to get your name out there and bring your first customers to your truck.
One of the best marketing tools you have is the truck itself. It works like a mobile billboard as you drive around your city, so make sure it has an appealing design, a memorable name, and makes it obvious what you're selling.
Consider local advertising over the radio, on TV, or through billboards. Once you're operating, loyalty programs are also a great way to generate return customers.
12. Start Serving Customers
Finally, you're ready to start serving customers. Find a place to park, open your doors, and wait for people to start placing their orders.
How Much Does It Cost to Start a Food Truck?
Startup costs for a food truck can vary widely depending on the type of truck, how you finance your business, and where you're operating.
According to the U.S. Chamber of Commerce, the average costs for permits, licensing, and legal compliance alone are $28,276.
You also need to pay for a truck, equipment, employees, marketing, and more. You'll need as much as $114,000 to get your operation off the ground before you make your first sale.
For more details, check out our in-depth article on how much it costs to start a food truck.
How To Finance a Food Truck?
Food trucks are expensive, often costing $100,000 or more.
While you could pay that out of pocket, there's a good chance you'd prefer to finance the cost of a vehicle. Financing lets you spread out the cost of your truck, reducing the amount of money you need upfront.
Some options for financing your food truck include:
Food truck loans from online lenders. Some online lenders offer specialized loans for people who want to buy food trucks. Online loans usually have low rates and can get funds into your bank account quickly.
SBA loans. The Small Business Administration helps small businesses by providing additional guarantees to lenders who offer loans. SBA loans are cheap and can offer huge amounts of financing, but typically involve longer applications and time to fund.
Traditional small business loans. Your food truck company is a small business, so you can apply for a typical small business loan with a local bank or lender. Shop around to find the lender offering the best deal.

Pros and Cons of Starting a Food Truck Business
Food trucks are an exciting business to start, but you have to consider both the pros and cons before you start one.
Pros of Starting a Food Truck Business
Some of the advantages include:
Lower cost than a restaurant. Starting a food truck isn't cheap, but you won't pay as much as you would to open a traditional restaurant.
Flexibility. You can move your truck to where the customers are, which gives you more flexibility.
Keep things lean. Food trucks have only a few employees and simple menus, which can make it easier to focus on what you're best at.
Cons of Starting a Food Truck Business
Food trucks aren't perfect for everyone. Some drawbacks include:
Tight quarters. Don't forget that you'll spend your days working in a small truck that might get very hot, especially in the summer.
Low margins. Food businesses have notoriously low margins, so you'll need a lot of sales to make money.
High competition. Because food trucks are relatively easy to start, there are lots of food trucks out there. You'll have to find a way to stand out from the pack.
Food Truck Business Alternatives
If you're looking to get into the food service industry but don't think a food truck is for you, consider these alternatives.
Food Cart
Food carts are even smaller operations than food trucks and have lower startup costs.
These usually focus on just one or two items, such as hot dogs, pretzels, or ice cream.
They're less mobile than food trucks but can be a good way to start selling food to customers.
Tent Vending
Tent vendors usually set up at events around their areas, such as fairs and festivals, and sell food to customers there. You'll need to have a way to transport your food and equipment to these events, but let you avoid the cost of outfitting a food truck.
Tent vending can be a good option if you're looking to work on weekends or holidays or want to grow a cottage food business or small restaurant.
Cottage Food Business
Cottage food businesses involve preparing food at home on a small scale and selling those products to people from stands, at events, and through other avenues.
If you enjoy baking, pickling items, or making other items in small batches at home, this can be a good way to refine your recipes and sell goods at occasional events without committing to the full expense of opening a food business.
Final Word
Food trucks are an exciting type of business that let you avoid many of the costs of opening a traditional restaurant. Before you start your own, think about your business plan and market niche. Also, make sure you have a plan for how you'll finance the business and a plan for turning a profit.