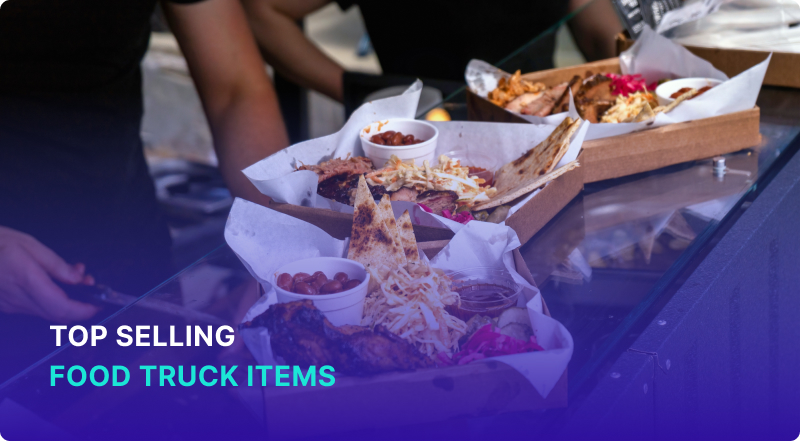 All content presented here and elsewhere is solely intended for informational purposes only. The reader is required to seek professional counsel before beginning any legal or financial endeavor.
Picking the cuisine and items you'll sell on your food truck is the difference between success and failure. In addition, the demographic makeup of the area you will operate in is also a deciding factor toward what cuisines will work or not.
Key Points:

Be resourceful: Think of the contacts you already have that can be connected to the food industry. Find discounts and build relationships with your providers to ensure your food truck will have access to ingredients year-round.
Leverage free marketing: Are your recipes Instagrammable? Inspire your customers to tag your business and encourage them to share with their contacts, it's free

marketing

after all.

Do market research

: Play to your strengths and step into the mind of your ideal customer. Ask yourself, is this the food my ideal customer would eat and is this the location I can park at to find them?
What Are the Most Popular Food Truck Items?
Whether they're trending or have been a long time classic, some cuisines attract more customers than others because of their appeal to mass cravings. Here are several dishes that people constantly keep coming back to:
Burgers: This classic American dish has been served by food trucks since their inception. Not only are they relatively low-cost and easy to produce, but are extremely popular with customers that want a tasty meal. Also, you can put a spin on this classic, making your food truck unique. Veggie burgers anyone?
Pizza: Humans are drawn to foods that are fatty, sweet, rich, and complex. Pizza has all of these components. However, because it's so popular, you'll want to put your own personal spin on it. Is it New York style or deep dish pizza? Think of what your special sauce is.
Loaded Fries: This endlessly customizable menu item is universally enjoyed. Cheese and toppings choices can be mixed and matched and easily catered to customers' tastes. Ideally, you can upsell loaded fries by offering customers pulled pork or other meat on top.
Grilled Cheese: The taste of America's childhood. This easy-to-make comfort food can be simple or gourmet, so it appeals to a wide range of customers' palettes.
Falafel: Not only does this Mediterranean dish offer a crunchy texture and herby flavor, but also brings high nutritional value to the table. Its low-cost ingredients and how portable it is as takeaway make it one of the top-selling food truck items.
Mac N Cheese: A classic American comfort food, mac n' cheese is low-cost and filling. This dish that is reminiscent of many customers' childhood is easy to make and customers can easily take it in a to-go container.
Fried Chicken: Fried chicken is one of the most customizable foods. Whether it's honey-garlic or BBQ style, the outside crispiness and the tender inside are a favorite for lunch or dinner that customers can enjoy at quite a low cost.
Indian Street Food: People often flock to this cuisine because it caters to a varied audience---whether customers are looking for chicken tikka masala or something vegetarian, everyone can indulge in this multilayered street food. Extra points because of its affordable price and being healthy.
Waffles: this delightful dish is not just fun to eat, but is also filling and goes with everything. By offering your customers a variety of classic and creative toppings, people will keep coming back for more.
Tacos: This international sensation has quickly become popular in America. This refreshing dish is great for warm or cold days and fit into every kind of diet.
Barbecue: According to QSR magazine, "Barbecue has a wide appeal with over 95 percent of Americans saying they like barbecue, and nearly one-third saying that they eat barbecue or barbecue-sauced foods in any given week." Basically, you can't go wrong with BBQ.
Poke Bowl and Sushi: The combination of fresh fish, rice, and vegetables not only makes for a healthy meal but is also appealing to customers' palettes. Additionally, these colorful meals are aesthetically pleasing and compelling for younger guests to share on social media.
Hot Dogs: This American phenomenon is both easy to make and easy to eat. Unlike other fast foods, all the condiments stick to the bun. Also, they're great value for money.
Sandwiches: The beauty of sandwiches is that they're a mess-free way to eat on the go. Whether people want a quick bite for lunch or dinner, this versatile meal with fresh ingredients will keep people going on a busy day. Make sure you put your own twist on these to continue to attract new customers.
Juice and Smoothies: Made from fruits and vegetables, these drinks are a great way for people to get their daily dose of fiber without sacrificing flavor.
Cupcakes: Not only is this dessert cute, but it's easy to consume. Whether your customers are up for a quick snack or celebrating a birthday, this sweet treat hits the spot without having to commit to purchasing an entire cake.
Gyros: Greek in origin, this versatile dish is very healthy and rich in iron, which helps your metabolism. Its combination of meats and spices makes it tasty and portable for customers to take with them.
Lobster Rolls: Packed with vital nutrients, soaked in butter and often mixed with lemon, this mouthwatering dish is a crowd pleaser.
Chicken Wings: Smothered in the sauce of your choice, chicken wings are an easy to eat street food. If you're able to create a special sauce of your own, that will be a great selling point that will build customer loyalty.
Fried Fish: Whether it's fish tacos or fish n' chips, this delicious meal is rich in calcium and phosphorus and a great source of minerals. Seafood lovers often flock to fried fish because it's adaptable. The flavor can be customized depending on what you put on it, like hot sauce, lemon, or tartar sauce as possible condiments.
What Are the Most Profitable Food Truck Items?
The profits you make will depend on a combination of the cost of ingredients you use and the amount of customers that come to your business. If you're going for low-cost, consider recipes that don't require expensive imports, consume too much fuel, or need cold storage.
Burgers: This easy to eat American classic is a meal people constantly crave. Pair that with a unique brand and a great location and your food truck will keep customers coming back. Ingredients that make up burgers are often low cost and easy to get.
Crêpes: The profit margin on this mix of flour, eggs, and milk can be between 43% and 90% in some cases. This of course will depend on the ingredients you offer at your food truck to go inside the crêpe.
Coffee: Beans are shelf-stable and easy to pack. So whether you want to sell it for at-home consumption or make a coffee shop for your food truck, it's a drink that will be consumed daily. To increase your profits, make sure your beans have a special flavor, provenance or theme customers can be inspired by.
Churros: Made from flour, baking powder, cinnamon and sugar, churros are inexpensive to make, which means there are plenty of profits to be had from this deep-fried dessert.
Vegan Food: Ingredients in vegan dishes are often cheaper than the "animal" version, with steak often being the most expensive. Grains, beans, seeds, and legumes are good examples of the low-cost ingredients that make up a vegan diet. This means you can make a significant profit margin with a vegan food truck.
Grilled Cheese: A grilled cheese sandwich is a classic that has a wide range in pricing. Often it costs only $0.57 to make it, however places like Serendipity 3 in New York hold the Guinness World Record for the most expensive grilled cheese, charging a whopping $214.
Fries: The golden child of food trucks. Highly desirable by customers, this ultra low-cost snack or side takes two to three minutes to make in a deep frier. You can offer it as your main menu with melted cheese and other toppings, or use it to offset other costs alongside additional menu items.
Ice Cream: As reported by Ice Cream University, the average profit margin of an ice cream shop is around 25%. Even though earnings vary depending on the season, your location, and marketing strategy, ice cream businesses have annual profits between $20,000 to $49,000.
Donuts: Donut shops earn an average of $120,000 - $150,000 annually because donuts can be sold as a standalone product. Add in creative toppings and a great marketing strategy, and you can have low overhead costs while driving the revenue in your business.
Pretzels: As one of the most popular snacks in America, pretzels are set to grow as an industry in the next five years from $24 billion to $29 billion. By jumping on the bandwagon of this expanding industry, you could ensure you have one of the top selling food truck items in the market.
Corn Dogs: This high-profit business is effective because of the low cost of ingredients and the great markup you can put on the finished product.
Chili: Whether it's chili con carne or chili beans, this spicy condiment can be added to a large number of recipes. As long as your other ingredients are low cost and you build a solid customer base this can be one of the top selling food truck items.
Hot Dogs: Most small businesses have a profit margin of around 10% while hot dogs often come in at approximately 36%, making the hot dog business extremely profitable.
Funnel Cakes: This popular desert can have between 73%-82% profit margin as it costs approximately $1 to make and can sell for around $3 per serving.
Pizza: Pizza food trucks perform better than restaurants when it comes to profit margins, often getting 50% compared to their restaurant counterparts that make between 2%-6%.
"Yeah, that's hot dogs that are locally sourced. The Market is a good place to test a business too. Bell Street Burritos, Sweet Auburn Barbecue, they all started there. I like the location, but we're learning, and hopefully we'll launch another stand somewhere. We're also starting to cater, and we sometimes use the Yumbii trucks to cater YumDiggity. We've also started to have sandwiches." – Carson Young, owner and creator of Yumbii
Advice for Creating Your Food Truck Menu
Creating your menu is one of the keys to a successful food truck. Here are a few tips you should keep in mind:
Tip One - Focus on Consumer Demand: You need to have a market and people who are going to buy your product. Once you're sure that there's a wide enough audience for your food, find where the people that want it hang out so that you can tap into that demographic.
Tip Two - Define Your Theme: What's unique about the way you sell your products? Think about the design of your food truck, the way your recipes taste and even how they're presented.
Tip Three - Limit the Number of Menu Items: Have you ever gone to a restaurant where the menu has pages upon pages? It makes it hard for customers to choose, which can discourage other customers who are further behind in line and need to get going. Pick between 3-5 stellar items to have on your menu.
Tip Four – Consider Preparation Time: Nowadays, nobody has time to wait for 30 minutes (especially while standing in the street) for their food. Make sure your recipes can be cooked in 10 minutes or less, and do all the prep work you need before you open your food truck for the day.
Tip Five – Reduce the Amount of Meat: Let's face it, as tasty as meat is, it's expensive on multiple levels, from purchasing it from vendors to refrigeration.
Tip Six -Use Seasonal Ingredients from Local Sources: Not only is there a trend for customers who want to consume responsibly, but using ingredients that are out of season can increase your overhead costs.
Tip Seven – Describe Food in Detail: People want to know what they're eating, especially if they have food allergies. Including a detailed description is both helpful and a great way for customers to get to know your menu better.
Tip Eight -Provide Pictures: Eyes eat first, and not only that, but if you create beautiful dishes, people will be more likely to share on their social media platforms and bring in potential customers (free marketing!).
Tip Nine – Use Psychological Pricing: Have you ever wondered why big corporations price their items just under a round number? Pricing items at just one cent under a round number makes customers feel that they're saving money, which can lead to customers spending more or your food truck having higher value sales.
"Why mustaches? Why pretzels? Because great mustaches aren't born – they're bread." — Greg Golden, owner and creator of Mustache Pretzels
Final Word
Figuring out which the top selling food truck items will be takes time. Not only do you have to find a cuisine that makes your soul sing, but will also be a sensible choice that will bring in revenue. By combining passion, market research, and items that will turn a profit, you'll ensure the success of your food truck.