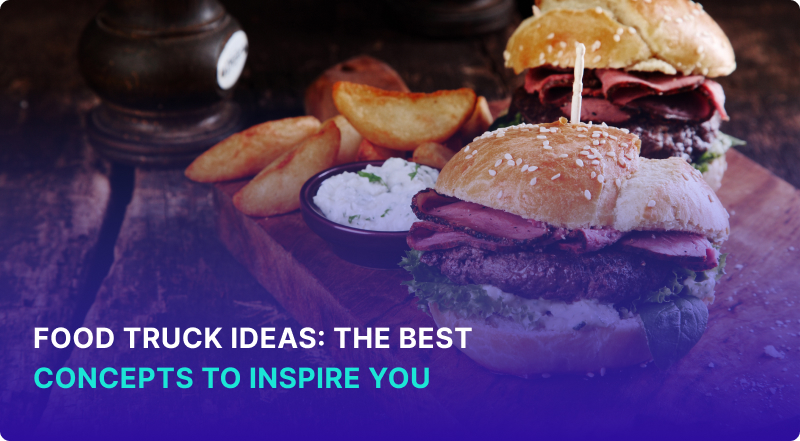 All content presented here and elsewhere is solely intended for informational purposes only. The reader is required to seek professional counsel before beginning any legal or financial endeavor.
Food truck ideas have come a long way ranging from local delights to specialty goods, food truck businesses today cater to all kinds of tastes. However, if you're looking to get started with a food truck business, you should make sure you research different ideas before setting up shop so that you can build a profitable business.
Key Points:

Assess the market: Step into the mind of your target audience. Ask yourself what food do people keep coming back to regularly?
Research: Find ways to get data on what kind of food your future customers eat the most to see if your food truck idea will work long-term, needs fine-tuning, or has to be completely re-thought.
Location, location, location: Opening your business in the right place can be the difference between it being seen and staying in obscurity.
Best Food Truck Concepts
Ready to get started brainstorming food truck ideas? Here are some of the most popular options in the food industry.
Mexican Street Food: Give your customers something to taco 'bout. No, but seriously, Mexican street food is often a street food favorite because customers can have it on the go and don't need any fussy cutlery to consume it. Additionally, ingredients are easy to acquire and more often than not are on the lower end of prices.
Regional Specialties: From New England clam chowder to Southern barbecues, appealing to customers' sense of longing for home is always a quick way to customers' hearts (and stomachs). Offering regional cuisine meals that aren't commonly found in your local area can help you build a loyal customer base.
Vegan Food: Consuming consciously has come to the foreground of peoples' values in the past decade. Whether it's for ethical reasons or health-related ones, plant-based meals are on the rise. According to Fortune Business Insights, the global vegan food market is projected to grow from $26.16 billion in 2021 to $61.35 billion in 2028, making it one of the most in demand types of food.
Indian Street Food: Indian cuisine is known for its diverse range of flavors, making it appealing to a large audience. In addition to its layered tastes and variety, this cuisine offers a significant nutritional value. Indian expats living all over the world have played a key role in popularizing this food, while also making it easy for Indian food lovers to start specialty restaurants everywhere.
Ethnic Fusion: Have you ever heard of Nikkei food? The combination of Japanese and Peruvian cuisine known as Nikkei has become the latest gastronomic sensation. As weird as this mix sounds, fusion foods are gaining traction worldwide. If you can come up with your own mix of two different cuisines, that could be the X factor that attracts customers to your food truck idea.
Organic Food: Two in three Americans credit the past two years with teaching them how important their health really is. Nutrition is where a healthy lifestyle often starts. With people increasingly taking more care with what they consume, having an organic food truck will give your business a competitive edge in today's market.
Gourmet Sandwiches: This ideal lunch meal or after-hours snack requires very little preparation and can be very profitable if you know your customer base well. What's the special ingredient you can add to your sandwiches to make them be the talk of the town? Whether it's wasabi mayo, a fried egg, or topping them off with Japanese spice furikake, make sure you get feedback from customers before putting together a big batch.
East Asian Cuisine: This cuisine offers a combination of salty, sweet, and spicy flavors, along with a variety of textures, which makes it interesting to the taste buds. Popular with Gen X, Millennials, and Gen Z, this food truck idea is best suited to cosmopolitan consumers.
Desserts: Customers with a sweet tooth often love waffles, crêpes, and churros. The good news is that desserts are easy for customers to take on the go on a stick or paper tray, and ingredients are easy to get a hold of.
Beverages Only: Have you ever been at an event where there's a ton of food trucks that offer food but nothing to drink? This is often an issue at events. Offering drinks can be a profitable food truck idea because most people often focus on purely meals. By selling drinks to customers, you would likely be the only food truck doing it and addressing a gap in the market.
Food Truck Menu Ideas
Picking the right food truck idea is key for your business to stand out. The way to achieve this is by mixing elements of popular cuisines with your own personal twist. Here are a few good choices to kick-start your food truck business:
Burgers: This all-American classic is a well-known favorite in the food industry. However, you can't just sell any old burger. Think of what's going to be special about the burgers you offer. Do you have a special sauce? Are they game burgers? Will you add elements from other cuisines? Standing out is key, especially when it comes to classic food like burgers.
Ice Cream: The father of all food trucks, the ice cream truck is where this whole business model originated from. A favorite during the spring and summer, you can give your business a specialty twist by offering gelato or frozen yogurt.
Fried Chicken: This popular comfort food always hits the spot for customers. The contrast between the crispy-crunchy coating and tender chicken is a simple recipe that gives customers a great sense of enjoyment and will keep them coming back for more. Also, as a business, it's simple to prepare with few ingredients that are easy to access.
Cupcakes: This cute dessert is easy to customize and even easier to share. Not only do customers flock to cupcake food trucks for a bite, but also to take your product as a gift. Thanks to their quick baking time and minimal ingredients required, this portable dessert satisfies various tastes and styles.
Coffee: The drink that fuels American productivity. This affordable, simple pleasure helps to get people's blood moving and makes them feel energized. Since this is such a popular drink, considering specializing in a specific kind of coffee will make it easier to draw people to your food truck.
Waffles: This fluffy, sweet meal is filling and safe to be consumed on the go. Made from flour and egg whites, this American favorite is easy to make while keeping your overhead costs to a minimum.
Tacos: Since their humble beginnings in Mexico, tacos have become an international sensation. They've evolved from a simple tortilla with a meat and cheese filling to complex meals with sophisticated flavors. Tacos are a meal that people of all ages look forward to.
Hot Dogs: Whether they're fried, grilled, or boiled, this tasty meal will be cooked in no time. Originating in the East of the U.S., hot dogs have become a widespread American favorite.
Pizza: Humans are drawn to foods that are fatty, sweet, rich, and complex. Pizza has all of these components. Cheese is fatty, meat toppings tend to be rich, and the sauce is sweet. Add into the mix that it's easy to eat while on the move, and you've got yourself a great food truck friendly idea.
Barbecue: Barbecue remains one of the most traditional foods in the United States. People gravitate towards this kind of food because it appeals not only to peoples' taste buds, but also to their sentimental side.
"Everything in the parlor is at least 30- to 50-year-old technology. I think that it's good for people to get immersed in the past with the colors of my video art, vintage TVs, and old audio while you eat grilled cheese." Adam Bork, owner and creator of Food Shark.
Unique Food Truck Ideas
People love a theme or concept when they're looking for what to eat. By providing customers with specialized cuisine, you'll get a loyal customer base. Here are a few unique food truck ideas:
Sushi & Bento Box Food Truck: Bento boxes have grown in popularity, not just because of the nutritional value of the meals, but also because they're also aesthetically pleasing. Often foods are arranged in the bento to look like popular characters like Snoopy, the minions and, as in this case, the Simpsons.
Crêpe Food Truck: Crêpes portability and versatility makes them a great option for a quick sweet or savory snack or a meal on the go. This healthy meal can be for any time of day and filled with flexible toppings.
Juice & Smoothie Food Truck: People want healthier options. Their growing popularity is due to their versatile, quick, highly nutritious and delicious nature. They are the perfect food for busy customers who want to make sure they get all of their nutrients.
Korean BBQ Food Truck: The popular method of grilling meat is one of the healthiest foods on the market. Its recipes have lots of vegetables, meats are cooked without much oil, and fermented kimchi gives it a unique flavor people constantly crave. The best part is, it all fits in a bowl that's easy for customers to take with them.
Chicken Wings Food Truck: Easily shareable and affordable, this is a great "group food" to eat with other people. Additionally, they have four key factors that make people constantly come back for more: they're tasty, cheap, convenient, and healthy.
Seafood Only Food Truck: From fish n' chips to crispy calamari rings, these omega-rich meals offer customers amazing flavors and can be easily put in a to-go cone. This is an ideal lunch or dinner for anyone who wants a taste of the sea but doesn't have time to go to a restaurant.
Gourmet Popcorn Food Truck: Usually a snack for movies, this product is set to become a successful mainstream trend. Instead of going for chips or chocolate, people are choosing to go for the nuttier undertones popcorn has to offer. The great thing about popcorn is you can "dress it up" so to speak and add sweet flavors like caramel or savory toppings like cheddar cheese.
Brunch Food Truck: Cheerful, sociable, and inciting, brunch gives you the best of both worlds. Pushing breakfast back a few hours gives customers ample time to build hearty appetites for the substantial meal.
Baked Potato Food Truck: Ah potatoes, the king of comfort food. This warm meal is ideal for fall and winter months. Its inner white pulp can be mixed with other items such as cheese, butter, sour cream, chives, or bacon bits, making it a satisfying meal and easy to take on the go.
Poke Bowl Food Truck: This colorful Hawaiian dish is not only nourishing, but appeals to customers with a love for aesthetics. These healthy recipes include various kinds of fish and veggies and are highly customizable, which allows for better choices based on your customers' preferences.
Food Truck Name Ideas
When playwright William Shakespeare asked the question, "What's in a name?" in Romeo and Juliet, he was referring to the idea that names themselves are a convention to distinguish things or people. Picking the name for your food truck can be the difference between people remembering the name, which will make them come back, and forgetting about your business. Here are a few food truck names that have been successful with customers:
The Taco Truck: This food truck in Hoboken, New Jersey, got right to the point with the name. But don't let the generic moniker fool you. The Taco Truck sells authentic Mexican street fare, including Al Pastor Tacos, Aguacate Tacos, and a Barbacoa Burrito.
Mac Mart: Making a mean mac and cheese, Marti Lieberman started her Mac Mart Truck in 2013 when she wanted to be her own boss. In addition to her classic seven-cheese mac topped with potato chip panko crunch, there's BBQ in a Bowl, and the Crabby Mac.
Kogi BBQ: Fusing Korean and Mexican food with items like spicy pork tacos and Kogi kimchi quesadillas, Roy Choi has four food trucks moving around Los Angeles.
Ms. Cheezious: The Miami-based food truck company brings a modern twist on the grilled cheese sandwich. Other items on the menu include grilled blue and bacon, and the BBQ pulled pork melt.
The Waffle Bus: Offering an American breakfast favorite, this waffle truck brings both sweet and savory options to the table. From Nutella and banana to fried chicken and bacon waffles, the Houston-based food truck caters to all tastes.
Food Truck Parking Ideas
Once you pick a name for your food truck, you have to think about where you're going to park it. When picking the spot, take into consideration where your ideal customers hang out. Are they college students? Business people? Yoga moms? Below are three places that will help you grow your food truck sales:
College campus: Even though the human brain is only 2% of our body weight, it's the primary consumer of energy in the body, using 20% of glucose-derived energy. When end-of-semester deadlines and exams hit, you can be certain that students will want to save time by having a meal they enjoy right on campus without having to cook.
Business hubs: Whether working late or having a few minutes to have lunch, a typical 9-5 can leave little time for cooking meals. By having your truck strategically parked where a large crowd of corporate folks work, you ensure they can drop by for a quick bite.
Events: Weddings, graduations, or festivals are profitable locations to park your truck. The best part is you don't need to invest much energy in promoting yourself at these events since there's usually a built in audience that's ready to spend.
Food Truck Design Ideas
The way your truck looks is a key part of attracting customers and generating repeat orders. Your truck's design is a key part of your marketing and branding, and one of the most successful ways to stand out from your competition. Here are a few aspects to keep in mind when designing your truck:
Food Truck Lighting Ideas: This is especially important if you want to cater to a nightlife audience. Having attractive neon signs on your truck that your customers will want to take a picture of and post on social media will help spread the word of how great your business is. Consider creating a Pinterest board before you make any decisions to keep all your lighting ideas in one place.
Food Truck Shelving Ideas: Even though your customers can partly see the inside of your truck, the shelving ideas should serve a practical purpose first and foremost. The way you design the shelving of your truck should make it easy for you to quickly access ingredients and be able to prepare meals fast when there's a long line waiting to be served food.
Food Truck Decoration Ideas: The goal of the outer design of your food truck is to be as eye-catching as possible. Whether it's a single bold color or an intricate mural, using bright colors will help attract potential customers. However, before rushing in, take time to reflect on how you want to portray your brand.
Final Word
Coming up with the right food truck idea takes time. Make sure that not only will you be able to consistently cook the same meals day in and day out, but that you pick a menu that has a big enough audience you can access via parking. This way, you'll ensure you will start with the right foot and will be able to build a profitable business in the long-term.
If you need funding to get your food truck business idea off the ground, explore our list of the best food truck financing options.