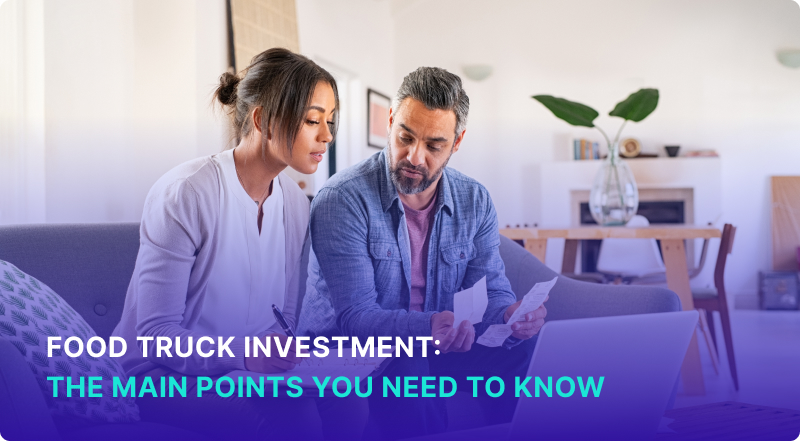 All content presented here and elsewhere is solely intended for informational purposes only. The reader is required to seek professional counsel before beginning any legal or financial endeavor.
Food trucks are a fun way to get into the food service industry, but they're also appealing for other reasons. One is that the typical food truck investment when you're first starting up is much lower than the outlay required for a typical restaurant. That means you can get up and running more easily.
However, just because they're cheaper to start doesn't mean they're cheap. We'll break down the expenses and how to save on them.
Are Food Trucks a Good Investment?
Food trucks can certainly be a good investment. The most successful food trucks earn huge amounts of money, but that doesn't mean you're guaranteed to turn a profit. You'll need to make sure you run your food truck properly to succeed.
How Much Money Do I Need to Invest in a Food Truck Business?
Food truck startup costs can vary wildly. One of the most expensive things you need is a truck, so whether you choose to buy it outright or finance it plays a big role.
Overall, you should expect to spend between $28,000 and $114,000 to get your food truck business off the ground.
How Much Can I Earn with a Food Truck Business?
Food truck earnings can vary based on many factors. Where you operate, what you sell, your ingredient and staffing prices, and other things all play a role.
On average a food truck will earn around $300,000 per year.
Is a Food Truck Business Worth the Investment?
To figure out whether a food truck is a good investment, you need to think about the startup costs, ongoing costs, and how much work you put into the food truck.
The average food truck earns about $300,000 per year, but the salary for owners can be much lower. Typically, owners will take a salary of less than half the food truck's profit, with pay ranging from $24,000 to $153,000 per year.
If you can quickly build a successful business, earning $153,000 per year on a startup cost of $100,000 or even less seems like a good investment. However, keep in mind that people who earn those large amounts probably put in long hours working in their trucks.
Food trucks are cheaper to start than restaurants but aren't cheap
Six Reasons to Invest in a Food Truck Business
There are many compelling reasons to invest in a food truck business.
1. Low Initial Investment
A food truck has a relatively low startup cost, especially compared to other food service businesses. If you finance a used truck and keep your other costs low, you can get up and running for about $24,000 dollars. Leasing a food truck is another solution you might like to consider.
2. Reduced Operating Costs
Even after you get up and running food trucks cost less to operate than typical food service businesses.
Most food trucks have limited menus focused on just a few items. That means lower inventory costs. Food trucks are also small, which means fewer employees and lower labor costs.
You also don't have to worry about the high fixed costs, such as rent, that are involved with having a physical location.
3. Able to Try Various Locations
Unlike traditional restaurants, food trucks are mobile. When you get started, you have the freedom to drive around and try different locations. All you need is a permit to operate in the area. That means that you can spend a month or two scoping out and parking in different parts of your city to see where you find the best success.
4. Access to More Customers
Another benefit of mobility is that you can go where the customers are. Traditional restaurants need people to come to them, meaning they have to invest in expensive locations in high-traffic areas or pay for advertisements.
As a food truck, you can drive to the beach in the summer or set up near a park or large event to put yourself in front of as many people as possible.
5. Decreased Staffing Expenses
A typical restaurant with 25 tables has four back-of-house staff members, five or six servers, and likely some other staff. A food truck is a relatively small space and can fit four or five people in it at a maximum. That means you can avoid hiring large numbers of people and keep staffing costs low.
6. Easy to Expand
A restaurant is limited by its physical space. If it wants to expand, that means an expensive investment in opening an entirely new location. Food trucks are much cheaper to expand. All you need to do is outfit a new vehicle, which can cost as little as $25,000.
With some planning, you can limit the investment you have to make
Tips for Reducing Your Food Truck Investment
Investing in your business is important, but tracking costs, and keeping them as low as possible, can help you boost returns.
Limit Your Ingredients
The lower your ingredient prices, the more money you can keep in profit. This means reducing both the number of ingredients used as well as how much you put into your dishes.
Try to focus on one type of dish and have as much overlap in ingredients as possible between dishes. For example, a taco truck uses similar ingredients in almost every dish, which keeps costs down.
You should also try to avoid waste. Don't make your portions too large for people and limit how much food gets wasted during prep.
Rent Equipment or Buy Used
Equipment, including your vehicle, is your most expensive startup cost. Renting or buying used rather than new can help you save a huge amount of money, especially when you're getting started. Just keep in mind that renting means you never build equity in the equipment, so buying might be a better choice for certain things.
Select Your Market Carefully
Where you sell food also matters. Different areas have different permitting and licensure costs, which can drive up your investment.
Compare Vendor Prices
Don't just buy your equipment and ingredients from the first vendor you find. Take the time to get multiple quotes from different vendors and negotiate for lower prices.
Coordinate Purchases
Many vendors will offer bulk discounts or other deals when you buy large amounts of product at once. If you can coordinate your purchases so you make fewer, larger purchases, you can save money. If you can find another business and place orders together, that can mean more savings.
Don't Overspend on Supplies
Though larger orders can mean discounts, don't overspend. Inventory carrying costs can be a drag on your profits and you don't want food to spoil.
Maintain Limited Staff
Staffing costs can be a big part of your food truck's ongoing costs. Maintaining sufficient staff to run the truck and avoid overworking your employees is important, but at the same time, you don't want to have too many workers.
Explore Various Revenue Streams
Selling food is just one way for your food truck to make money. If you can find other streams of revenue, you can boost your revenue and profits. For example, you can sell a subscription that lets people get coffee from your truck every morning.
Embrace Social Media
Advertising is essential to any business but thanks to social media, you can advertise for almost no cost. Set up social media profiles for your food truck and start posting. If you can get a post to go viral, that can be a huge boon to your profits.
Maintain Your Truck
Maintenance costs money, but it costs much less than paying to repair a catastrophic failure of equipment or your vehicle. Make sure to put in the effort to keep your food truck and the equipment inside it in good shape to avoid costly problems down the road.
Knowing how to earn the most money is the best way to improve your return on investment
Investing in a Food Truck: Is It the Right Choice for You?
Deciding whether a food truck is the right choice for you can be difficult. In many cases, you're buying yourself a job rather than simply building a business. Food truck owner Tyrone Greene mentioned in an interview that he spent "60-80 hours a week researching menus, ideas, legal issues, health code, tax, all kinds of things," when he was starting.
However, if you want to get into the food service industry, food trucks can be far less expensive to start than a restaurant.
Think about your goals. If you want to get into food service and like the idea of a fast-paced work environment, a food truck might be right for you. If you like a more hands-off approach or the stability of a fixed location, consider another option.
Final Word
Food trucks are cheaper to start than other food service businesses, but that doesn't mean they're inexpensive. Taking the right steps can help you reduce the amount you have to invest and improve the profitability of your food truck. If you need funding to get started, consider taking out a food truck loan. You might find the best food truck financing options reviewed on our list.