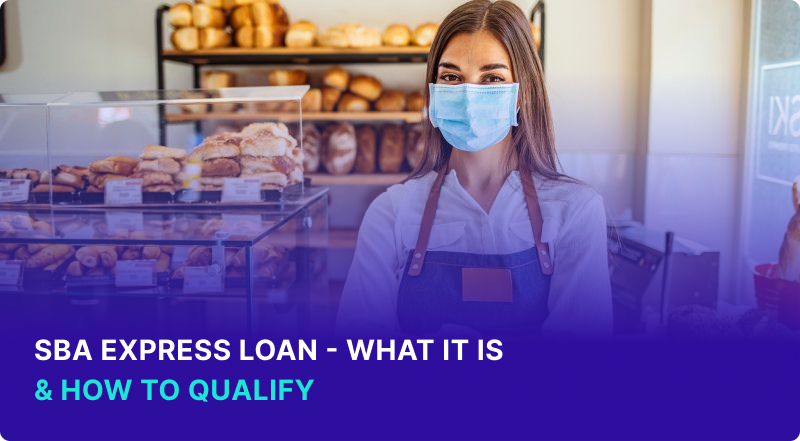 All content presented here and elsewhere is solely intended for informational purposes only. The reader is required to seek professional counsel before beginning any legal or financial endeavor.
The SBA Express Loan program is a type of loan that is backed by the Small Business Administration. The significance of this backing is that it reduces the risk for lenders and opens up loans for businesses that otherwise might not be eligible where approval is within 36 hours and receipt of the funds within 90 days.
How Does An SBA Express Loan Work?
The SBA partners with intermediary lenders to offer SBA loans to companies. Loans must meet certain requirements, though lenders have some leeway to set rates and eligibility requirements.
General loan terms include:
Maximum amount: $500,000
The maximum maturities for SBA loans are as follows:

25 years for real estate - 10 years for equipment - 10 years of working working capital or inventory loan

Interest rate:

Up to prime rate plus 4.25%

Collateral requirements:

May be required for loans over $25,000
Invest Your Time - Lots of paperwork but you will see a return on this investment
Who Are SBA Express Loans Recommended For?
The SBA Express loan program gives businesses a way to borrow money quickly. Many lenders have stricter underwriting requirements thanks to the short time to make a lending decision.
In general, SBA Express loans are recommended for:
Companies that need quick funding at low interest rates

Businesses that have been around for a few years and have established operations

Businesses that can show reasonable revenue and cash flow

Businesses and business owners with fair or good credit and an established credit history
How Do I Qualify For An SBA Express Loan?
If you're interested in an SBA Express loan, your business will need to meet SBA loan credit score requirements and other loan requirements including:
Meet the SBA's definition of a small business
o The requirements depend on your industry and are based on revenue and/or number of employees
Be a for-profit business operating in the United States or its territories
Be at least 51% owned by a US citizen or lawful permanent resident
Not operate in an ineligible industry
Not have outstanding federal debt, such as tax debt or student debt
Have reasonable owner equity to invest
Have acceptable credit - 650 or above is common though it can vary from lender to lender
Have already invested financial resources, such as personal assets, in the business
Have strong annual revenue ($100,000 or higher)
Individual lenders are free to set their own requirements, with some restrictions. However, if you meet the above you have a good chance of qualifying for a loan.
Where To Get An SBA Express Loan?
If you're thinking about applying for an SBA Express loan, your first step is to find a local SBA intermediary lender. The SBA doesn't make loans directly. Instead, it offers funds and guarantees to partner lenders that make loans on its behalf.
SBA lenders include regional and national banks as well as non-profits. You can find a lender on the SBA website.
Some popular lenders for SBA loans include:
Citizens Bank
TD Bank
U.S. Bank
Northeast Bank
Associated Bank
Each lender will have its own application process and underwriting requirements. Common information you'll be asked for includes:
Historical and projected financial statements
Your business credit report
Business and personal tax returns
A business plan
However, every lender should require SBA form 1919, which asks for information such as:
Business Ownership information
SBA loan application history
How you will use your SBA Express loan
The number of employees and years self employed

Short-term and long-term working capital

Accounts payable

Purchasing inventory

Seasonal financing

Construction financing

Purchasing real estate

Purchasing equipment, furniture, machinery, supplies, and materials

Covering construction and/or renovation costs

Establishing or acquiring a new business, or expanding an existing business

Refinance a debt that no longer meets your business' needs

Refinance to a new loan that reduces the loan payment by 10% or more