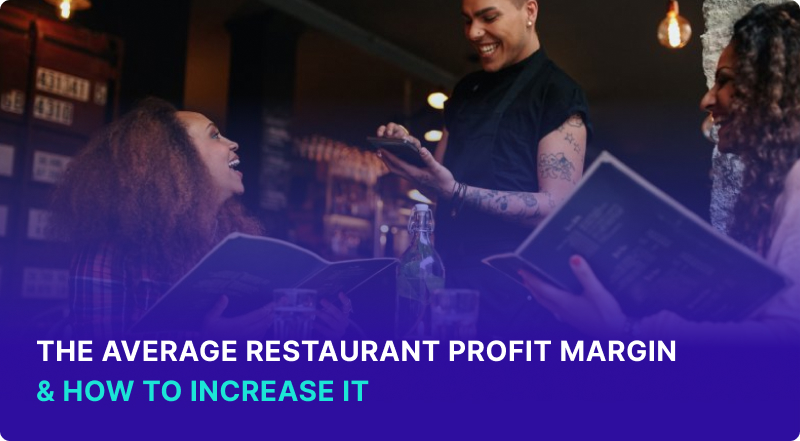 All content presented here and elsewhere is solely intended for informational purposes only. The reader is required to seek professional counsel before beginning any legal or financial endeavor.
The Average Profit margin measures the amount that you make after having deducted all the costs for production. Currently restaurants are experiencing anywhere between 3% to 6% profit margin which is quite low compared to other industries. A restaurant profit margin is an essential measure for any business to track in order to understand where and how to increase profitability.
What is the Average Profit Margin for Restaurants?
Profit margins are important for any business, but they're especially important to keep track of if you're in the restaurant business. That's because the restaurant industry is notorious for thin margins. On average, a restaurant can expect a profit margin of 3% to 6% overall.
Keep in mind that the average is just an average. Some restaurants, particularly ones that rely on high-margin products like alcohol or high-end dining can have margins as high as 15%. However, you can't rely on that and it's difficult to hit that number when you're getting started. Others see lower margins or even lose money.
What is a Restaurant Profit Margin?
Restaurant profit margin compares the amount of money that a business earns to the amount that it spends. It's expressed as a percentage. The percentage indicates what percentage of revenue ultimately becomes profit.
For example, if your restaurant has a profit margin of 6%, then you earn $6 of profit for every $100 that your business brings in. The remaining 94% of revenue goes toward covering operating costs, such as paying employees, buying supplies, and financing restaurant equipment. You will want to give thought to your potential restaurant profit margin when considering how to open a restaurant.
Average Restaurant Profit Margins by Type
Different types of restaurants work differently, so you can expect different margins depending on which type of business you open.
Full-Service Restaurant Profit Margins
Full-service restaurants are the typical sit-down restaurant. Customers visit, sit at a table, order food from a waiter or waitress, and wait for it to arrive. These restaurants can be simple family-style locations or high-end, fine dining establishments. The average full-service restaurant sees margins of 3% to 5%.
Fast Food Restaurant Profit Margins
Fast food restaurants are less fancy than full-service ones. Customers usually order food from a counter and take it to go or sit down to eat in a small eating area.
Fast food restaurant margins average 6% to 9%.
Food Truck Profit Margins
Food trucks let you travel to where the customers are and offer small menus of food that's easy to eat while out and about. They don't require a large physical location or lots of staff, letting you avoid a lot of overhead.
The average food truck profit margin ranges from 6% to 9%.
Catering Profit Margins
Catering services provide meals at events such as weddings, parties, or community organization meetings. Their average profit margins range from 7% to 8%.
How to Improve Your Restaurant's Profit Margin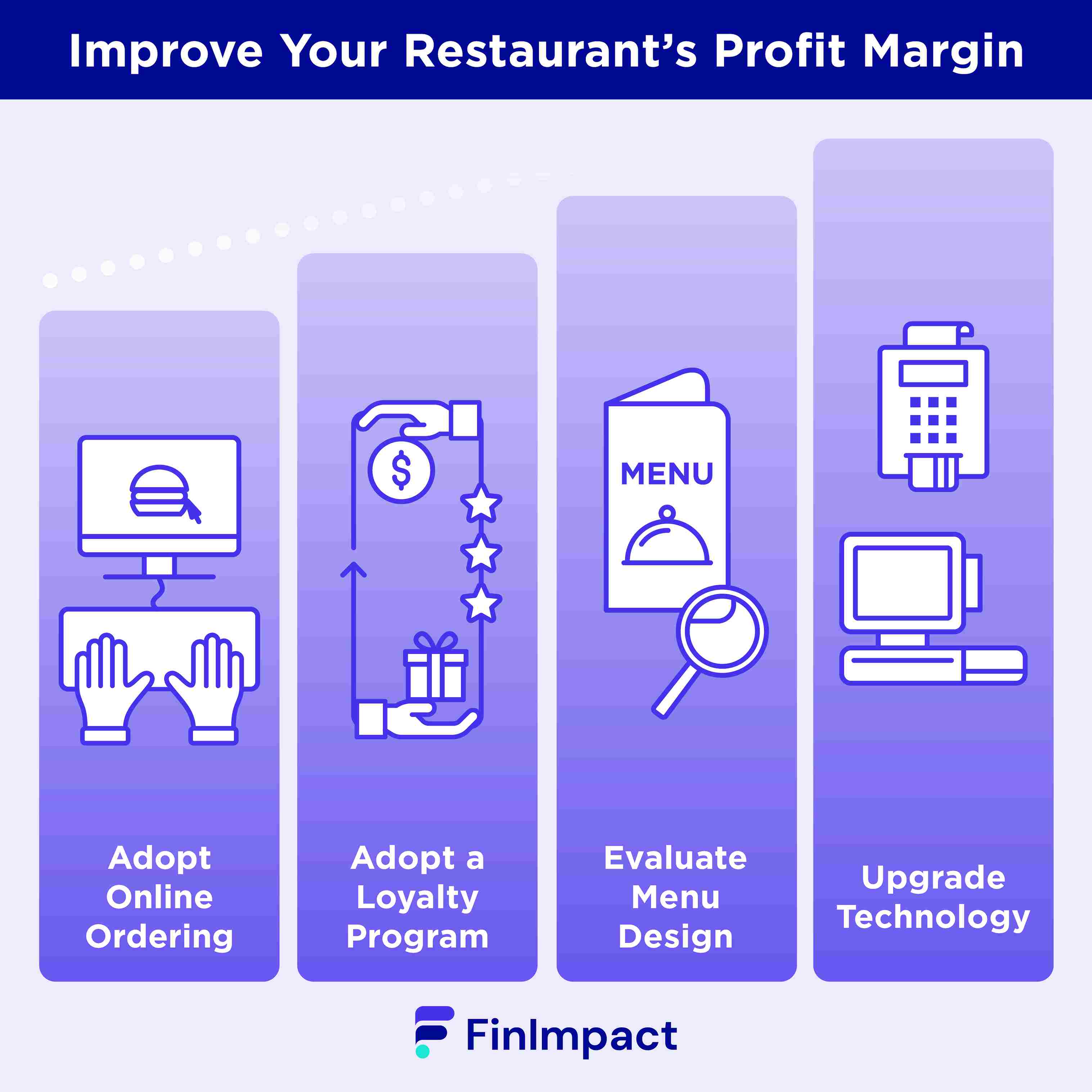 Increasing your business' profit margin means more money in your pocket. There are two main ways to go about raising margins: increasing sales volume" and decreasing costs. See how to increase restaurant sales for further information.
Increasing Sales Volume
Boosting sales volume and revenue is one way to raise profit margin.
The Benefit of Selling Low Margin Food
Different products have different profit margins. In the restaurant industry, food has relatively low margins while drinks tend to have higher margins. As a business owner, you might be thinking that it's a good idea to only sell high margin items to boost your profit margin.
However, focusing only on high margin items can reduce your sales, lowering your overall profit. For example, bars focus on high-margin alcohol, but people who aren't interested in drinking rarely go to them. On the other hand, someone who goes to a restaurant for food will frequently buy a beer or other high margin beverage.
Selling lower margin items can help draw in more customers who may then purchase high margin products. Some businesses even sell certain items at a loss in the hopes that those products will draw in customers who ultimately buy other things.
Decreasing Costs
The lower your costs, the higher your profit margin will be, even if you don't pull in more revenue. You might wish to check out how much does it cost to open a restaurant if you are just embarking on your restaurant business journey.
Reduce Cost of Goods Sold (CoGS). Cost of Goods Sold measures all of the expenses required to sell a product. If you can reduce this, such as by buying cheaper supplies, you'll get to keep more of your revenue.
Control Labor Costs. You have to pay cooks, waitstaff, and other

restaurant employees

. While fair compensation is essential to keeping good employees happy, reducing labor costs by ensuring you don't over-staff during quiet times can help you keep more of your revenue.

Reduce Waste and Theft. Waste and theft are common sources of lost money. Try to

reduce the amount of food wasted

and eliminate theft to keep these costs low.

Decrease Staff Turnover. Staff turnover creates a significant cost for your business as you work to hire and train replacements. Lower turnover lets you avoid these costs and keep more of your restaurant's revenue.
Most Profitable Restaurants
If you're looking for some of the most profitable restaurants, these are good options.
Bars. Food is typically the lowest-margin item on a restaurant's menu while drinks, including alcohol, are among the highest. Opening a bar means more alcohol sales, which means higher profit margins.
Diners. Diners often offer simple food at reasonable prices in relatively plain establishments. You get to keep costs low while offering a style of restaurant that is almost universally liked.
Food Trucks. Food trucks let restaurant owners avoid all of the overhead costs of operating at a physical location. All you need is a truck and to pay for gas. They also let you get higher sales by driving to where the customers are.
Delivery-only. Delivery-only restaurants only need a kitchen. They don't need large seating areas and have no need to hire waitstaff, letting them eliminate many of the costs of operating an eatery.
Pizzerias. Most people like pizza, meaning that pizzerias often have a high demand for their food. The basic ingredients for pizza: dough, tomato sauce, and cheese are also inexpensive, letting pizzeria owners see higher profit margins.