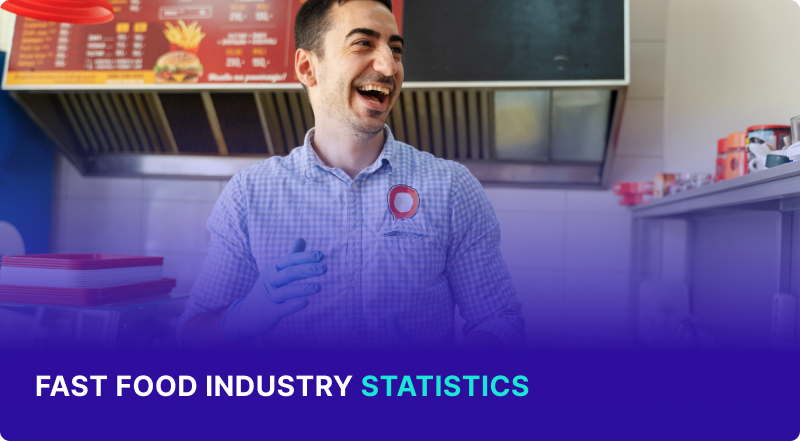 If you're considering entering the fast food industry, it's important for you to review essential fast food industry statistics. For example, did you know that 31% of fast food restaurants in the US focus on hamburgers and that Subway is the largest fast food restaurant by number of stores?
Knowing the market is essential to succeeding in the market, so here as some essential pieces of information about the US fast food industry.
Key Points:

Fast food is one of the largest portions of the US restaurant industry

Knowledge is power – knowing more about the industry will help you succeed

Growth is essential – a successful fast food restaurant will expand over time and not just hold steady
Fast food industry general statistics
The fast food industry plays a major role in the US economy. Here's some essential stats.
In 2021, the fast food industry took in $296.55 billion in revenue
The average meal at a fast food restaurant costs between $5 and $7, though prices are rising
Approximately 33% of Americans eat at least one fast food meal each day
Men consume more fast food than women
Fast food consumption is higher amongst high-income consumers than low-income consumers
Fast food is most popular with the 20-39 year old demographic
Knowing fast food industry facts like this can help you when deciding what kind of restaurant to open, how to open a restaurant, and how to market it. For example, you might choose to focus your marketing on 20-39 year old men based on their higher proclivity for buying fast food.
Fast food restaurant statistics
One of the most common models in the US fast food industry is franchising. This involves paying fees and royalties to a parent company in exchange for their processes and branding. Knowing statistics about different types of food sold and different brands can help you decide the type of restaurant to open and can provide you with insight into how to buy a restaurant franchise.
By number of locations, Subway is the largest fast food restaurant chain
Almost one-third of US fast food stores focus on selling hamburgers
McDonald's locations are among the highest-earning franchises, bringing in roughly $3 million in revenue annually
Most major fast food franchises cost at least $1 million to open.
US Fast food industry market size over time
The fast food industry is constantly growing, seeing revenues increase over time.
| | |
| --- | --- |
| Year | Fast Food Industry Revenue (in billions) |
| 2012 | $216.96 |
| 2013 | $223.24 |
| 2014 | $230.71 |
| 2015 | $249.28 |
| 2016 | $263.42 |
| 2017 | $275.12 |
| 2018 | $284.91 |
| 2019 | $295.91 |
| 2020 | $256.03 |
| 2021 | $296.55 |
Overall, the industry has grown at a rate of roughly 3% per year over the past five years.
Driving factors
There are many factors that drive the growth in the fast food industry.
One factor is rising incomes. Higher earners are more likely to purchase fast food on a regular basis and incomes have consistently grown since 2012, leading to consumer with more money to spend on fast food meals.
The increasing number of households with more than one member also contributes as households consisting of multiple people tend to consume more fast food.
Technological changes, such as mobile ordering and food delivery apps have also let fast food restaurants reach more consumers and increase their throughput.
Restraining factors
The fast food industry's growth is limited by some factors. These are important to consider before opening a business.
For example, the coronavirus pandemic cut the industry's revenue due to closures of restaurants and reduced foot traffic in areas around fast food chains. This event forced many restaurant owners to address how to increase restaurant sales.
Increasing consciousness about the nutritional value of fast food has also caused some consumers to avoid it. Fast food tends to be high in calories, fat, and sugar and low in valuable nutrition. People looking to eat healthy will avoid these restaurants.
Fast food industry and COVID statistics
The coronavirus pandemic had a major impact on the fast food industry. Understanding how the pandemic affected and continues to affect the industry can help you prepare for future disruptions.
Pickup and delivery orders to fast food restaurants rose 12%
Average order size has grown by 8%
Weekday order volume has increased, with Tuesday, Wednesday, and Thursday seeing order volume grow by 13% - 21%
Foot traffic to fast food restaurants has decreased by 45% since the beginning lockdowns, slowing sales
Fast food industry trends and predictions
While it's impossible to know the future with any certainty, there are some safe predictions about the future of the fast food industry.
The fast food industry's revenue have grown by about 3% per year for the past five years and should continue a similar path
Fast food will continue to expand delivery options to reach more consumer
Smart appliances will become a growing trend that help fast food locations save time, reduce energy costs, and eliminate waste