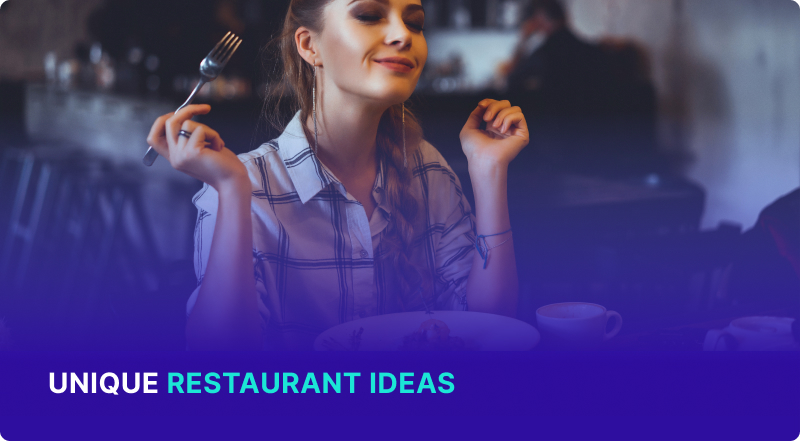 All content presented here and elsewhere is solely intended for informational purposes only. The reader is required to seek professional counsel before beginning any legal or financial endeavor.
The restaurant industry is highly competitive. You can easily find dozens or hundreds of restaurants in almost any city or town across the United States. On top of providing quality food and good service, to succeed, you need a way to make your restaurant stand out.
A unique theme, menu, or even decorations can make your restaurant fun and exciting. That will help keep your customers coming back for more.
Key Points:

Be different – a unique restaurant can draw in people and get them to come back

Don't be afraid to experiment

Try new things, keep what works, and don't be afraid to get rid of the things that don't
20 Unique Restaurant Ideas for 2023
If you want to know how to open a restaurant in 2023, consider these unique ideas.
1. Farm to Table Dining
Farm to table dining is all about the quality of your ingredients and where you source them from. You'll need to make partnerships with local farms and other food companies so you can provide the best possible food with the freshest ingredients available.
This is a great way to get connected with your local community and offers good opportunities for cross-advertising.
2. Make Your Employees a Priority
In the restaurant industry, restaurant turnover rate is a major problem. Make your employees a priority and let them show some of their personality while they work. Your customers will enjoy getting to know your waitstaff and be happy to eat somewhere with a lively and friendly atmosphere.
3. Create An Eco-Friendly Establishment
You can focus on creating an ecologically friendly restaurant, using compostable cutlery and plates, and focusing on minimal waste. This will also influence your menu and help you create unique and interesting dishes as you focus on minimizing the amount of food that you discard.
You can even partner with local food banks and charities to ensure nothing gets thrown away and to help your local community.
4. Make Your Food Interactive
People love to get dinner and a show. You might consider making a more interactive restaurant by adding stage performances or musicians. You could even make the food interactive, such as by having chefs cook meals for customers right at their table.
5. Put History to Work for You
Depending on where you're located, you can tap into the local history when designing your décor and menu. For example, if you live in a port city you can build a restaurant themed after the age of sail and focus on seafood. If you're located in your city's historically Italian neighborhood, you can open an Italian restaurant and decorate it as such.
6. Use a Guest Chef
Consider bringing in a guest chef to keep your menu fresh and interesting. If you want, you could even try to bring in a rotating schedule of chefs so that you can revamp your menu with new food every so often.
The constant changes will keep people coming back to try new things and you can keep old favorites on the menu. It may also help you remain on-top of your menu costing.
7. Try a Pop-Up Concept
A pop-up restaurant lets you operate with a small menu and gives you the opportunity to experiment with different types of dishes. You can use the pop-up model just to test new things or run the entire business that way.
8. Offer Tastings
Tastings often focus on very high-quality ingredients and small plates. That gives customers an opportunity to try a variety of food and to really savor each bite. Tastings will let you focus on a higher-end clientele and give you the chance to try some new dishes.
9. Eliminate Tipping
One thing that some restaurant customers dislike is having to worry about tipping. Looking at prices, mentally adding tax and tips to figure out their real cost, and deciding how big a tip to offer can be stressful. Plus, customers may worry about whether employees are properly compensated.
You can try opening a no-tipping restaurant and instead pay your servers a strong wage. Customers may appreciate that unique take on things.
10. Go Futuristic with Robots
If you like the idea of being on the cutting edge, new technologies have allowed businesses to automate many aspects of cooking and even taking orders or delivering food.
While it will require an investment, you can go with a futuristic theme to tie it all together.
11. Food truck
If you want to take your show on the road, you can try opening a food truck. You'll get to bring your meals to wherever the crowds are. Plus, if you have a physical location, your truck can be a great source of advertising as you drive it around town.
12. Café
If you want a more relaxed vibe, you can consider opening a café focused on drinks and small pastries. These can be a great meeting place for people, and you can create a fun, welcoming community where people can come relax and have a cup of coffee.
13. Pop-up
Pop-up restaurants open randomly around town, typically temporarily. You can use pop ups to sell your food at events, test new styles of meals, and advertise your primary location.
14. Family-style dining
For many people, going to a restaurant is an event and an opportunity to bond with their family. You can design your restaurant to cater to families, offering large dishes designed for sharing.
Family-style dining also means building an atmosphere that is conducive to patrons of all ages, so you'll want a lively, fun vibe. Adding musicians or performers can be a unique way to add that atmosphere.
15. Specialty restaurant
If you're serious about a specific type of food or cultural cuisine, you can open a specialty restaurant focused on that type of food. You can find a niche in everything from fancy French cuisine to a simple sub sandwich shop.
16. Offer cooking classes
Offering cooking classes is a great way to get people to come to your restaurant because they get the opportunity to both eat great food and learn how to make it.
You'll want to make sure to hire friendly staff that are also good educators and to has the space you need to let your patrons learn to cook. Your customers will get to create lasting memories and may come back for more lessons as you add different types of dishes.
17. Make it interactive
There are plenty of ways to get customers involved, from offering lessons to adding a stage show with audience participation. If you can make your restaurant into an event instead of just someplace to grab dinner, that's a unique niche you can fill that will get people coming back.
18. Have a defined theme
Everyone has been to that generic American diner or Irish pub that all serve the same meals. While sometimes, that experience is exactly what someone wants, making your restaurant stand out is important.
There are lots of ways to theme your restaurant. For example, you can focus on a specific type of culture or style of food. You can also get more unique, making your restaurant reminiscent of a drive-in theater or baseball park. Your imagination is the only limit.
19. Make it picturesque
A restaurant can serve great food, but if the atmosphere is terrible then people probably won't want to come back for a second meal.
Make sure to design your restaurant so that it has a good atmosphere and is somewhere that people don't mind spending an hour or two while they eat. You can go a step further and try to get a uniquely picturesque location, like a patio overlooking great scenery, to make the view a draw on top of the food.
20. Partner with a brewery or winery
With restaurants, food is just one part of the equation. Beer, wine, and liquor are also major reasons that people go out to eat.
If there are good craft breweries or wineries in your area, talk with their owners and try to form a partnership. You can offer top quality, local beer on tap and some local wines as well. This can help get customers who like to support local companies and help you stock top-notch products.
You can also take advantage of cross-promotion opportunities, advertising your restaurant to the brewery or winery's customer base.
Conclusion
While every restaurant needs to offer quality food and good service, those are only a few of the reasons people like to go out to eat. Coming up with a unique concept for your restaurant may seem like a challenge, but it will truly help you stand out from the competition. That will help you draw in new customers and retain the ones that visit your restaurant.