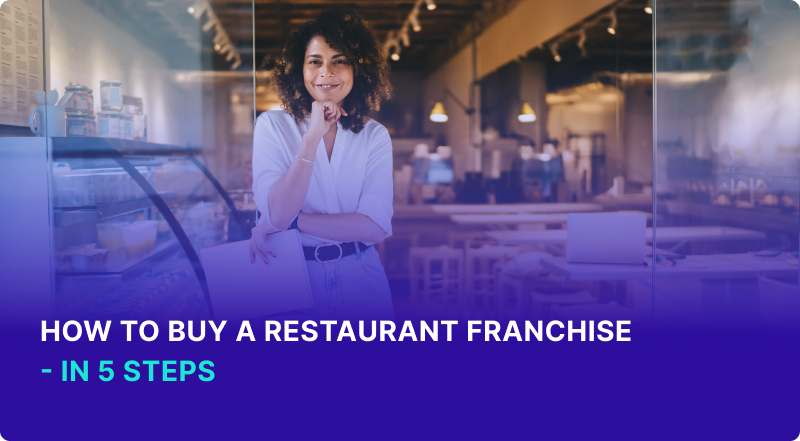 All content presented here and elsewhere is solely intended for informational purposes only. The reader is required to seek professional counsel before beginning any legal or financial endeavor.
A restaurant franchise is a chain of restaurants where each one is owned by local individuals as opposed to the parent company. Those individuals pay the parent company for the right to use the business name, branding and business model. Each owner of the franchise pays the parent company a specified amount of fees or royalties however, the owner will also receive from the parent company marketing, business support and business mentoring.

Buying a restaurant franchise means you get support from the national franchising business...
1. Get to Know Your Market
The most important thing to do before starting is to get to know your market. You can't just buy and open a franchise restaurant blindly. If there are already a dozen McDonald's in town, you probably don't want to be the thirteenth location. If people in your area don't drink coffee, Starbucks or Dunkin' probably won't succeed.
Research what your future customers want and what options are already around, then try to meet their needs.
2. Scout a Location
In both real estate and restaurants, it's all about the location. You want to make sure you put your new franchise in the right place. Make sure it's easy for people to get to and one that they'll be near often. No matter how good a restaurant is, people aren't going to drive 45 minutes out of their way to visit.
You'll see more success if people can stop in for a quick bite on the way home from work.
3. Choose a Franchise
Choosing a franchise is possibly the most complicated step. You have to consider multiple factors, such as:
How much nearby competition is there for similar food?

Do I have experience running this kind of restaurant?

Are local consumers interested in this type of food?

How much does the franchise cost?
If there's a massive demand for a certain kind of restaurant, it still may not be a good idea to open that franchise if you have no experience making that kind of food. You'd have to learn very quickly.
This step is part art and part science and you should make sure to take the necessary time to think things over.
4. Create a Business Plan and Obtain Financing
One benefit of buying a franchise is that it requires less planning. You get a ready-made operating manual, menu, and advertising. Still, you'll need to have some kind of plan to show why your specific franchise will succeed.
Look into how to write a business plan for a restaurant and put together a business plan to show how you'll grow and become profitable and use that plan to work with lenders to get the money you need to start your franchise.

5. Start your business
Once you've found a location, chosen a franchise, and secured a restaurant business loan, it's time to start your business. Buy the franchise license, go through the franchisor's training, connect with the local network of franchisees, and get ready to start selling food.
In exchange for the support, you give up a percentage of your earnings...
What are the pros and cons of a franchise?
Franchises have a lot of benefits, but there are also drawbacks to consider when considering how to open a restaurant.
Pros:
Easier to start. It's often easier to start a franchise than an existing business. It saves you the effort of designing your own restaurant and menu and advertising your new brand.
Ready-built methods and advertising. When you buy a franchise, you'll get access to the same materials and methods they use to make their food. You'll also immediately benefit from any brand awareness and loyalty that the company has, as well as any advertising it does.
Support network. Franchises will offer support to their franchisees, giving them operating advice and helping them succeed. You can also work with a network of other franchisors to get advice and assistance with starting up your own location.
Cons
Higher costs. Buying a franchise is usually more expensive than starting your own restaurant. To start, you have to buy the rights to open a franchise. Those costs can often run into the six figures. And if you're thinking of financing any restaurant equipment, in most cases you are required to purchase equipment, supplies, and inventory from the franchisor only.


You also have to pay royalties, which are usually a percentage of your overall revenue.

Must follow franchise rules. If you buy a franchise, you have to operate within the franchisor's rules. That means minimal experimenting with the menu, advertising, and methods.
Things To Consider While Opening A Restaurant Franchise
While opening a franchise restaurant, there are many things you have to consider, including:
Who is the Franchisor? Are you working with a massive, established brand or a smaller chain that's looking to expand?
What is the Financial History of the Franchise? Does the company have a history of success? That can give you better chances of building a successful business.
Is the Franchise Right for You? Different types of franchises require different kinds of skills and expertise. Make sure the one you choose matches your skills.
Who is the Franchisor's Competition? Some franchises are natural competitors. Starbucks and Dunkin' or McDonald's and Burger King are prime examples. If there are competitors nearby, how will that impact your business?
What Kind of the Support Franchisor would give? Some franchisors offer more hands-on support, which can be helpful if you're new to franchising.
What Are the Financial Obligations? You have to pay an upfront fee plus ongoing royalties to operate a franchise. Consider how these will impact your bottom line.
Are You In Sync with the Franchise Agreement? You have to follow all of the terms of the agreement, so make sure that there aren't any terms you will struggle to adhere to.
You are restricted in how you can operate the business, but get ready-built operating methods and advertising...
Tips for Buying a Restaurant Franchise
If you're buying a restaurant franchise, make sure to follow these tips.
Learn background about the franchise operation and study what is called a Franchise Disclosure Document" (FDD). This document will tell you everything you need to know about how the franchises run, what your obligations will be, and how the franchisor will support you.
Check the company's projected overall return on investment. Buying a franchise is an investment. Make sure the company you're about to partner with is doing well financially, knows

how to increase restaurant sales

, and is projected to see continuous growth.

Inquire about the company's management team. As a franchisee, you'll be working closely with the franchisor. Make sure that the management team is easy to work with and that they're dedicated not just to the corporation's success, but to the success of their franchisees.
Interview and talk to current and former franchise operators. Your best source of information about running a franchise is other franchisees. Ask about how successful they've been, the difficulties they've faced, and why they ultimately sold their franchise?
Research the long-term viability of the company? You want your franchise to succeed over the long term. Avoid franchises that rely on new fads.
Examine the market where you want to locate the restaurant franchise. Is your market oversaturated with other franchises of the same or similar brand? Do customers even want to buy the type of food you'll be selling?
Investigate the level of complexity to operate. Some franchises require little expertise to run while others have very involved operations that require experience. Make sure that the franchise you open won't be too complex and that it lines up with your experience.
Determine your intended management scenario. Do you plan to take an active role in running the franchise or hire someone else to manage it? Taking an active role might be more work, but means more money in your pocket.
Find out about the average system sales growth. The franchisor will offer information about average franchise growth. Make sure the growth they advertise is both reasonable and sufficient for your business to succeed.
Some franchises will offer grants or loans to help you get started, but these can come with strings attached, such as requiring higher royalty rates. All-cash investments are often the better way to go.
Buying an Existing Franchise vs. Starting a New One
If you want to try opening a franchise, you can either start from scratch, work with the franchisor directly to open a new location or buy an existing location from another franchisee.
Both options have pros and cons that are important to consider.
Buying an existing franchise can be much easier than starting from scratch. You get an established location, building, and trained staff. People are also already familiar with the store, so you won't need to advertise your new location.
However, there's a reason the franchisee is selling. It can be innocuous, such as retiring or simply cashing out of their investment. However, they might be selling because the business isn't doing well, their location has a poor reputation or has trouble retaining staff. You need to do due diligence to make sure you aren't inheriting problems.
Starting a new franchise is more difficult because you have to work with the franchisor to find a location, buy or rent a building, hire and train staff, and basically start your company from the ground up. However, this gives you much more control over your business because you start with a clean slate.
Keep in mind that if you buy an existing franchise, you might also inherit details of its franchise agreement which can differ from those of new franchises, so make sure to read the fine print.
Final Word
Buying a restaurant franchise means buying a pre-built menu, operating method, brand, and advertising. It can save you from having to build your own company from the ground up, but there are costs involved. Do your research to make sure your franchise will succeed in your area and that franchising is the right path for you.