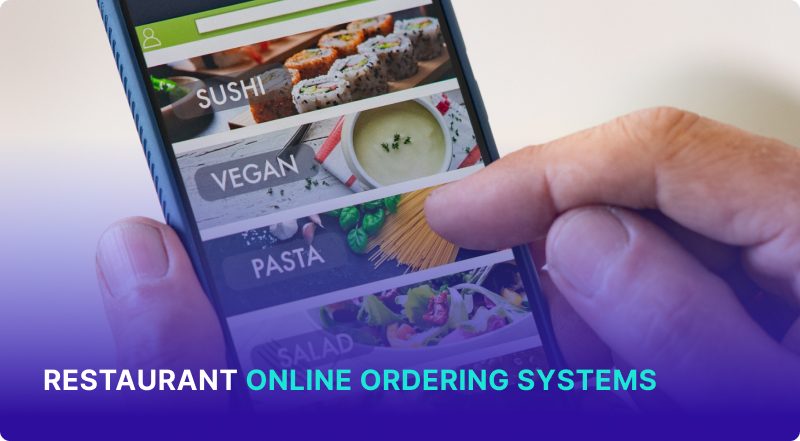 All content presented here and elsewhere is solely intended for informational purposes only. The reader is required to seek professional counsel before beginning any legal or financial endeavor.
Restaurant online ordering systems allow customers to place orders through a website or an app. These systems provide a convenient avenue through which people can order and pay for both takeout or delivery — without having to call the restaurant or even leave their sofas. Online ordering not only makes customers' lives easier, but it also acts as an essential stream of revenue for businesses.
Key Points:

Conducting thorough research on the best digital ordering system for restaurant operations is crucial if you want to both boost profits and bolster customer loyalty.

Online ordering for restaurants can be conducted directly through a restaurant's website, in partnership with a third-party, or through POS integration.

It's important to strike a balance between finding a system that's convenient for your customers and choosing a platform that makes financial sense for your business.
Understanding Restaurant Online Ordering Systems
Online ordering systems harness the power of the internet to allow customers to order food directly from their computer or phone. These systems let people view the menu, select items, make modifications, pay, and tip in one easy, electronic location. These systems can be linked to a POS system, company website, or be accessed through a third-party provider.
Why Are Restaurant Online Ordering Systems Important?
In today's post-Covid world, consumers value convenience more than ever before. Takeout and delivery have become increasingly important aspects of most restaurants' operations, so using a system that streamlines both processes is crucial for attracting and retaining customers, as well as for maximizing the number of orders that can be fulfilled.
The importance of online ordering can be seen in the data: Since 2014, online delivery has grown a whopping 300% faster than in-house dining.
Benefits of Online Restaurant Ordering Systems
Online ordering for restaurants can be a game-changer in terms of boosting profits and keeping customers happy. The benefits of a restaurant ordering system can impact almost every aspect of your business, and you'll likely see a sizable return on your investment once you start utilizing a system that makes sense with your business model.
Increased order volume: At their core, restaurant online ordering platforms are designed to help you make more money by allowing you to take more orders. When people don't want to dine in, providing them with a way to place their orders online means you won't lose a sale just because someone wants to enjoy food from home.
Happier customers: No one wants to go through an arduous ordering process when they're hungry and ready to eat. A good food delivery system or takeout system makes ordering a breeze, since all it takes is a few easy clicks for customers to select and pay for their food.
Brand visibility: Having a strong online presence can result in attracting more customers — both in-house and off-premise. Many online ordering systems put your business in front of more eyes, so utilizing them can work double-duty as a savvy marketing strategy.
Streamlined process: One of the best things about digitizing your takeout and delivery operations is that doing so allows technology to do the heavy lifting when it comes to taking orders and processing payments. Your staff can dedicate their time to taking care of in-house orders rather than scrambling to answer the phone and process payments.
Ways a Restaurant Can Set Up Online Ordering
As off-premise dining has become an increasingly important part of running a restaurant — and as technology has improved — owners now have a plethora of options for how to set up online ordering. These options can often seem overwhelming, so it's helpful to understand the three main ways you can set up online ordering:
Through the restaurant website: Allowing customers to order directly from your website means you're cutting out the middleman (AKA a third-party). Though you'll get to keep more of the profits and pay less in fees, this strategy is more labor-intensive. Thankfully, there are several POS systems that provide direct integration capabilities.
With a third-party ordering app: Using a third-party can be good for businesses that don't have much time or many resources to dedicate to their online ordering business. Plus, many already have large customer bases which can translate to capturing new business on your end. However, this convenience comes with a hefty price tag.
Using a third-party app with POS integration: This type of online ordering platform consolidates various third-party apps and allows you to manage them through your POS. Since many restaurants take advantage of multiple platforms, this type of system can save you from costly mistakes that can come from juggling multiple platforms.
How Much Does a Restaurant Online Ordering System Cost?
As with most things that help your business make a profit, there are costs associated with using an online ordering system — especially third-party platforms. Most systems entail set-up costs, fees, and even commissions. However, chances are you'll end up making more money than you spend, and you can look into additional funding opportunities like restaurant loans, grants, and investor partnerships.

What to Look for in a Restaurant Online Ordering System
When it comes to restaurant online ordering platforms, some are better than others. While one online ordering system might be perfect for one restaurant, the same system might not be a good fit for another. That said, there are a few general features you should look for when choosing a platform:
Customizable settings: Having the ability to easily add or remove items from the menu, update delivery time estimates, and define your delivery parameters is crucial to making the most of any system.
Pricing structure: At the end of the day, an online ordering platform should make your business money. If you don't have enough orders to justify one system's fees, it's probably wise to consider other options.
Integration capabilities: Choosing a platform that works in tandem with your POS can make receiving orders and tracking data easier, not to mention save you from the headaches associated with trying to manage non-integrated systems.
Support: No matter how state-of-the-art your ordering system may be, you're still going to run into snags from time to time. This means inquiring about a platform's customer support is essential.
Intuitive interface: Both your customers and your staff need to be able to operate your system quickly and easily (and with minimal mistakes). A clunky system can lead to customers ordering from elsewhere because they're frustrated, as well as food being wasted due to human error.
The 20 Best Online Ordering Systems for Restaurants
Doing your homework is key when it comes to finding the best online ordering system for restaurants. To make your research a little easier, we've put together a cheat sheet to clue you in on the features, pros, and cons of some of the most popular online ordering platforms on the market:
CAKE: CAKE by MadMobile integrates with your POS and allows you to manage delivery and takeout through their platform or in tandem with third-party providers. It offers curbside pickup and various customer-facing features like texting. It can be used as a stand-alone system or to enhance an existing POS. Rates start at $69/month.
ChowNow: ChowNow markets itself as a 'commission-free" platform. It allows customers to order through the ChowNow app, or via direct website integration. Although not having to pay commission on orders that are made through the app is helpful, the monthly fee is on the higher end of the spectrum. Prices start at $149/month.
CloudWaitress: This system allows you to build your own online ordering website and app. You don't have to purchase new hardware, and there are no binding contracts. However, this system doesn't help with boosting brand awareness as well as others and doesn't offer third-party integration. It offers some free features, but most prices start at $39/month (keep in mind that adding on features is expensive with this system).
Clover: This online ordering system can be accessed through the Clover App, or it can be integrated with BentoBox websites. There are no set-up or subscription fees, but you have to use their POS to print orders, which is a major drawback. Pricing starts at $14.95/month but varies greatly depending on your business and plan (and whether you already have their POS).
DoorDash: DoorDash is a popular third-party delivery app. It uses its own delivery personnel and can accommodate both delivery and pickup orders. DoorDash also offers various customer programs like DashPass. The biggest drawback is the fees, which will cost you a minimum of 15% on delivery orders and 6% on pickup orders.
FreshBytes: This is a commission-free platform that's designed specifically for small and medium-sized businesses. It allows you to create a digital menu that customers can access through your website or app. It also partners with DoorDash, but not with other services, which can be limiting. Potential customers can request a demo for pricing.
GloriaFood: This is a low-cost solution that allows you to add ordering functionality to your website, free of charge. However, it's more of a DIY approach, and you'll need to pay for anything other than the most basic plan.
iMenu360: iMenu360 allows you to handle online ordering through your website. It has the ability to integrate with your POS, as well as optional third-party integration. Their pricing structure is based on a monthly fee, but the cost of that fee will depend on your business.
JotForm: As its name suggests, JotForm helps you set up ordering forms to collect online orders from customers. It's customizable and affordable but lacks the ease and convenience other approaches can provide. Prices start at $35/month.
MenuDrive: This platform offers website set-up as well as POS integration. This system has a strong focus on marketing and SEO ranking, but it's costly with its $149/month fee + 3% commission + $0.20 transaction fee.
Menufy: Menufy maintains and hosts your ordering website and then lists it on its platform. The downside is it's not as popular as other systems, so listing your website there might not be as beneficial. Menufy's hosting services are free, but they charge a $1.50 fee per order (which can be paid by the customer) as well as 2.75% + $0.30 on payments.
Ordering.co: This platform is geared towards large businesses and franchises. It allows you to use your own delivery drivers, or integrate with third-party platforms. It has many robust tracking and analytics features, and the basic plan only costs $0.50 per order.
Restolabs: This is another no-commission option that features a range of integrations, including the ability to allow customers to order directly through your website. Plans start at $69/month.
Revel Systems POS: Revel is a POS that offers online ordering functionality, so you'll need to use the entire system to access the online platform. Although it has a range of features, it's pricey and costs a minimum of $99/month plus a $674 implementation fee.
Square Online: Square is another POS that offers online ordering features. It allows you to integrate other ordering services into your system, which makes it convenient, but only if you're already using Square. Plans vary, but there is a free option (as well as a basic option and a premium option).
The Ordering App: This is Google's ordering app, and it allows you to accept orders online as well as integrate with your POS. It's a less robust option than many platforms in terms of features, but it does have the power of Google on its side. It's also affordable since it only charges a low, 1.5% fee on orders.
Toast POS: Like several other POS platforms that offer online ordering features, you must use Toast POS to access its online ordering capabilities. Toast is subscription-based and doesn't charge commission. They offer a free plan, as well as other packages and even custom pricing.
Tock: Tock is primarily a reservation app, but it also has online ordering functionality. If your restaurant doesn't do many events or take a lot of reservations, you may be better off with a more specialized platform. However, it can be a good option if you want to take an "all-in-one" approach. Prices start at $199/month, plus fees.
Upserve: Upserve is a POS and an online ordering system that strikes a nice balance between offering a branded feel and being able to integrate with large third-party providers. You'll have to switch over to the Upserve system to use its online ordering, which may or may not make sense for your business. Plans start at $69/month.
Zuppler: Zuppler allows you to create an online menu that can be accessed directly from your website, as well as from Google searches. It integrates with numerous POS systems and third-party delivery systems. Pricing depends on your business, and you must contact them for details.
How to Choose the Best Online Ordering System for Your Restaurant
Choosing an online ordering system is a big decision. As you weigh the pros and cons of various platforms and options, it's helpful to consider each option by asking yourself the following questions:
What's my ideal budget?
What are the 'must have' features my business needs in order to be successful?
What kind of hardware and software does my restaurant already use, and how can each platform integrate with my existing technology?
How much marketing support do I need?
What are my takeout and delivery goals, and how can each platform accommodate my ideal order volume?
How popular/accessible is each platform in my area?
Tips for Preparing Your Restaurant for Online Ordering
When you're ready to start making the most of modern technology to boost your bottom line, the first thing you should do is congratulate yourself on setting your business up for success. As exciting as entering the world of online ordering may be, there are a few tips you should keep in mind to help the transition go smoothly.
Staff accordingly: You might need a few extra hands on deck to be able to prepare online orders in a timely manner. You may need to consider hiring new staff members or asking existing team members to work additional shifts.
Be patient: Learning how to adapt to a new system takes time. If you're new to the takeout and delivery scene, be patient as your staff adjusts and learns. It also may take time for customers in your area to start ordering consistently, so don't be discouraged if you don't get as many orders as you'd like right off the bat.
Don't neglect in-house orders: Even if your kitchen is slammed with delivery and takeout orders, don't forget to think about the fact that the customers in your dining room are completely unaware of what's happening behind the scenes.
Final Word
From understanding how an online system can benefit your business, to knowing how to choose the most practical platform, to learning how to set up online ordering, for restaurant owners, the more knowledge you have, the better. If you're worried about the initial investment, or you're worried about your restaurant's finances in general, you can always look into additional funding sources like small business loans.